The Punter's In-Play Blog: Varner worth chancing at a juicy price in New Orleans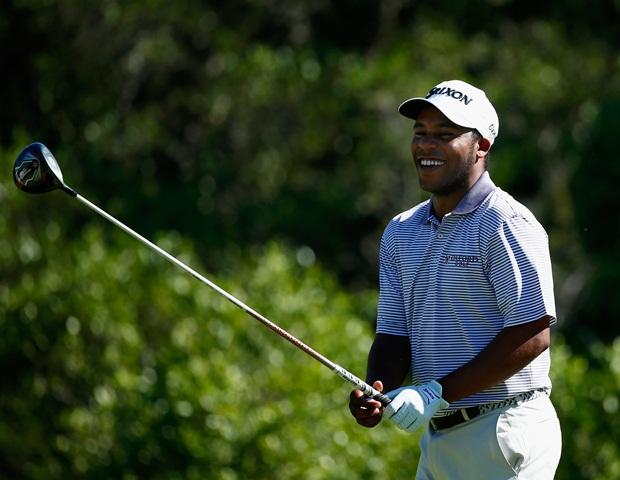 Harold Varner III – value at over [40.0] says The Punter
The Volvo China Open has been completed but yet more bad weather has caused chaos at the Zurich Classic of New Orleans. Read the latest on the prospects of this week's PGA Tour action finishing anytime soon here...
"Most of yesterday was written off by the weather and the forecast suggests it isn't going to be much better today, or tomorrow! The majority of the field is yet to begin round three and a 54-hole tournament is now a distinct possibility."
10.10 - May 2, 2016
The leaders managed just five holes of round three at the Zurich Classic of New Orleans yesterday and in total, the tournament has now lost over 15 and half hours play. Officials have declared that the event has been reduced to 54-holes and they're going to attempt to get it done today, beginning at 7 a.m local time, but that's by no means guaranteed...
According to the PGA Tour website, the National Weather Service calls for 60% chance of rain beginning at 11 locally, with a 10-35% chance between 7 and 10. If the rain arrives first thing it's going to be impossible to get done today so fingers crossed it stays away!

10:05 - May 1, 2016
Just a very quick update to say I'm just doing what everyone else is at the Zurich Classic of New Orleans and that's waiting to see what the weather does.
Most of yesterday was written off by the weather and the forecast suggests it isn't going to be much better today, or tomorrow! The majority of the field is yet to begin round three and a 54-hole tournament is now a distinct possibility.
This is what PGA Tour official, Steve Carman, had to say yesterday about the prospects of play today. "Depending on how it goes, we could keep them in the same groups and play the fourth round. I told the players that if we have any stoppage they need to make plans to play here Monday, provided we can play here Monday. I feel confident that we'll be here Monday."
Carman went on to say this about the prospects of a reduced event. "Our number one goal is to play 72 holes by the end of the day Sunday, We're going to make every effort to do that. The next alternative is to play 72 holes by the end of the day Monday. If we can't, then we would go back to 54 holes and we would make every effort to finish 54 holes by the end of the day Monday.''
It's not ideal but it is what it is and I'll be back tomorrow with either my De-brief or another update on this blog.
At least the Volvo China Open got finished on time and whilst bitterly disappointed by Alex Noren's finish, victory by in-running pick, Haotong Li, made for sweet compensation. The 20-year-old won comfortably by three strokes and I'll have more on that tomorrow.

11:45 - April 30, 2016
Last week's each-way selection, Lucas Bjerregaard, who missed the cut in Shenzhen, has shot a seven-under par 65 to get alongside Filipe Aguilar at the head of affairs at the Volvo China Open and with poor weather forecast tomorrow, the final round will begin early. The leaders will tee-off at 2.50 UK time and it'll be live on Sky Sports from 3.30 tomorrow morning. Here's the third round leaderboard with prices to back at 11.40.

Lucas Bjerregaard -16 4.3100/30
Filipe Aguilar -16 6.411/2
Alex Noren -14 8.07/1
Tyrrell Hatton -14 10.09/1
Nicolas Colsaerts -14 10.519/2
Haotong Li [14 12.011/1
Gregory Havret -13 32.031/1
-12 bar and 42.041/1

It's very frustrating to see Bjerregaard bang there a week too late and he's most certainly the man to beat now. He played brilliantly today and it really is only a matter of time before he converts on the European Tour. This looks like a great opportunity to get off the mark but having missed the boat at the off at around 90.089/1 and having stupidly ducked him after round one at 55.054/1 (a price I came very close to taking) I have to let him go now at just a shade over 3/1.
The man alongside the young Dane, 41-year-old Chilean, Aguilar, has bags of experience and two European Tour titles and he'll be a tough nut to crack but I'm happy to stick with my original selection, Noren, and to add to my bets with one of the three men alongside him.
Noren made a few mistakes today but he played well on the whole and he's far from out of it at just two strokes adrift and the three alongside him all have claims too but the one I like is China's Haotong Li.
Nicolas Colsaerts has never impressed in-contention and is looking to win for the first time in ages, and Tyrrell Hatton is looking to win for the first time on the European Tour. Haotong Li is also looking to get off the mark but he very nearly won the Shenzhen International last year and he doesn't look to lack nerves. Winning his national title from the penultimate three-ball is a huge ask for the 20-year-old but at around the 11/1 mark, he looks worth chancing.
There are 23 players within six shots off the lead and someone will give it a go from off the pace tomorrow but whether I can muster the enthusiasm for the early start to try and catch them in-running remains to be seen.
Over in the states, where some players have as many as 12 holes of the second rounds to play, the Zurich Classic of New Orleans will resume shortly. Venezuela's Jhonattan Vegas and 28-year-old Californian, Jamie Lovemark, currently show the way but one of my in-running picks, Brian Stuard, trails by one and he still has six holes to play of round two.
My pre-event pick, Patton Kizzire, is tied for fifth and only four of the lead and I've now added another in-play pick - Paul Krishnamurty's Find Me a 100 Winner fancy, Harold Varner III. He's one of a number of players in-contention looking for his first win on the PGA Tour and given seven of the last 11 winners of the event have been maidens that isn't a negative. He's a best price of 33/1 on the High Street so I was more than happy to back Harold at 44.043/1 this morning.

10:50 - April 29, 2016
Last week was a stop-start affair with sizable delays on both the European and PGA Tour and we're off again this week! Almost five hours were lost in New Orleans yesterday and Joe Affrunti, who was in the final three-ball, is yet to play two holes of his first round. The current leader, Brian Stuard, who shot eight-under-par in the morning, may not even get to start round two today and I'm going to wait and see how the day pans out before getting involved.
And I'm leaving the Volvo China Open alone for now too as they suspended play a couple of hours ago and they've just announced that there'll be no more play today.
Filipe Aguilar, who shot a seven-under-par 65 in round two, leads on -11 but he's just one ahead of Bend Wiesberger and my man Alex Noren and there are fully 20 players currently within four of the Chilean's lead. I've added to my pre-event bets with Marcel Siem, at an average price of 30.029/1, but I haven't got any value. The leaderboard shows him in a tie for fourth and just two off the lead but they haven't updated his play on the fifth hole yet and he made double-bogey there!
The leaderboard is packed with quality players and there are lots of dangers to the leaders. Tyrell Hatton, Alex Levy, Joost Luiten and Thorbjorn Olesen are all lurking and recent each-way plays, Peter Hanson, who Joe Dyer has picked out a couple of times, is again knocking on the door, and it could be a classic case of premature tipulation by me or Dan Geraghty. He picked out Hao Tong Li last week and I was on Lucas Bjerregaard. They both missed the cut in Shenzhen but they've turned up to play this week! Li is three off the lead and Bjerregaard just two.
The weather forecast suggests a windy afternoon tomorrow and I'm hoping conditions are even worse than forecast. I rate Noren as one of the best wind players in the world so it can blow as hard as it wants as far as I'm concerned.

18:20 - April 28, 2016
There are many times golf has me scratching my head in disbelief and today was another such occasion. South African veteran, Hennie Otto, who has three European Tour titles to his name, was playing so poorly coming into this week that he was matched at 1000.0 before the off.
He hasn't finished inside the top-ten since he won the Open de Italia nearly two years ago and he hasn't made a cut on the European Tour since October. He shot 77-79 at the Open d Espana a fortnight ago and at the Shenzhen International Open last week he hit a pair of 73s to again miss out on weekend employment. This morning he shot a nine-under par 63 to set the early pace at the Volvo China Open.
In second place, and just two behind Otto, is Austria's Bernd Wiesberger and he's a worthy favourite at around 4.77/2 given he tees off early tomorrow. The wind picked up in the afternoon today so Bernd's seven-under-par was a cracking effort.
Wiesberger isn't the only danger to Otto though. In-form Dutchman, Joost Luiten is tied for seventh and four adrift, alongside my pre-event pick, Alex Noren, and there's a group of 11 players tied for 10th on four-under-par.
The forecast suggests that the early starters tomorrow should enjoy the slightly better conditions and with Noren in-the-mix I'm going to wait and see what I find when I wake up and perform a very tentative scroll up the leaderboard.
I wrote in my Zurich Classic of New Orleans preview that I may add to my sole selection, Patton Kizzire, before the off but as it transpired I didn't. I wanted to back Scott Stallings, Kyle Reifers and Jonas Blixt but none of them drifted to meet my wagers - although I have backed them all now.
I didn't get any value on Blixt but as the pre-event favourite, Jason Day, has started well and everyone playing in the afternoon wave has drifted, I got reasonable odds on Stallings and Reifers. I've also backed the current leader, Brian Stuard, in-running, because he was another I looked at before the off...
As set out in the preview, I was looking for really strong putters that were looking for their first wins on the PGA Tour, that ideally had form on other Pete Dye designed courses, and I let Stuard slip through the net. I knew he hadn't won on the PGA Tour and I knew he was a cracking putter but he was out of form and I didn't look closely enough to spot the Pete Dye Design clues. I should have dug a bit deeper - he sat second after two rounds of the Travelers Championship last year before tumbling down to 25th and he finished fifth at the RBC Heritage in 2014. He should not have been matched at 1000.0 before the off and I should have backed him before today.
I scrambled on at an average of 110.0109/1, after he'd played nine holes, and if you want to keep up with my live bets, do follow me on Twitter because unless I'm trading vigorously and making lots of trades, I do tweet my bets as and when they're made.
Play has just been suspended in the States with Stuard on the 18th fairway.

Volvo China Open Pre-Event Selections:
Alex Noren @ 30.029/1
Haydn Porteous @ 80/1 (each-way selection) & 110.0109/1
Jinho Choi @ 125/1 (Sportsbook)

Volvo China Open In-Play Picks:
Marcel Siem @ an average of 30.029/1
Haotong Li @ 12.011/1


Zurich Classic of New Orleans Pre-Event Selection:
Patton Kizzire @ 80.079/1

Zurich Classic of New Orleans In-Play Picks:
Brian Stuard @ 110.0109/1 average
Jonas Blixt @ 150.0149/1
Kyle Reifers @ 160.0159/1
Scott Stallings @ 200.0199/1
Harold Varner III @ 44.043/1


*You can follow me on Twitter @SteveThePunter

Discover the latest articles