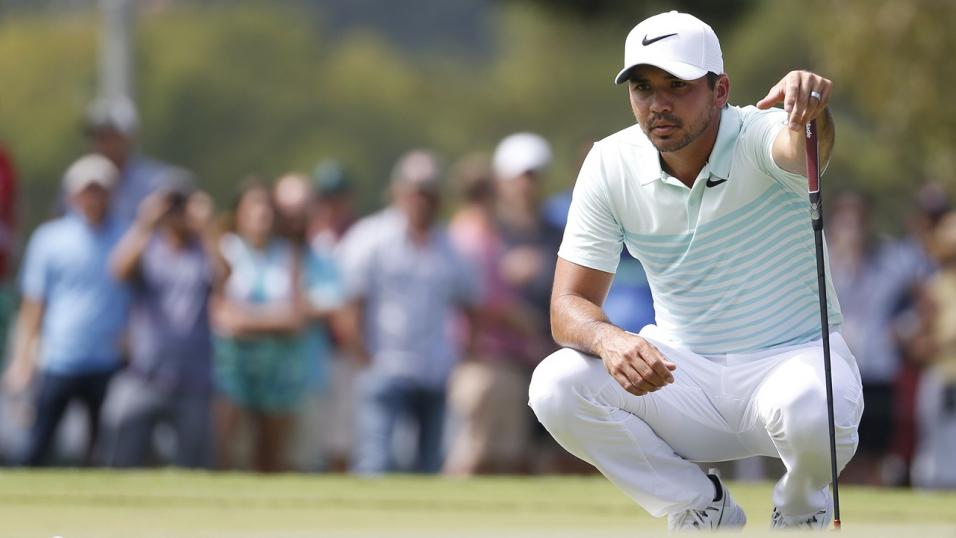 Jason Day – the odds-on favourite at Quail Hollow
It's pay day at the GolfSixes and the Wells Fargo Championship so our man has taken a good look at both events before all today's action. Read his final in-play thoughts for the week here...
"Day has been playing neat and tidy golf with few errors all week. He's recorded just one bogey in each of his first three rounds and that's a great performance given he only ranks 58th for Greens In Regulation. Unsurprisingly, he's been putting brilliantly, and he ranks number one for Scrambling. If keeps that up today he'll take an awful lot of stopping,"
08:40 - May 6, 2018
There was a bit of confusion during day one of the GolfSixes yesterday. It wasn't immediately clear whether there would or wouldn't be a playoff for second in Group A, with conflicting information as to how the placings would be decided but in the end, there was one and the European Women beat defending champs, Denmark, with a par at the first extra hole.
It was quite simple really, in the event of a tie, the team that won the most holes during the round robin stage advanced and results between teams were irrelevant. The England Women's team lost their final match to Sweden in Group D and the two finished tied but the English went through because they'd won six holes and the Swedes had only won five.
In another slight change to last year's format, the Group A winners' Thailand, play the runners-up in Group B, South Korea in the first of today's quarter-finals. Last year Groups A and D and B and C were paired, this year it's A and B and C and D. Below are the four quarter-final ties, match starting times, Sportsbook match prices and (in brackets) Sportsbook prices to win the event.
12:40
Thailand 4/5 (9/2)
South Korea EV (13/2)
12:55
Ireland 8/11 (5/1)
England Women 11/10 (8/1)
13:10
Australia 8/11 (6/1)
European Women 11/10 (14/1)
13:25
England 4/5 (4/1)
France EV (6/1)
The fact that it's 4/1 the field with only eight teams remaining tells us all we need to know. This is wide open and hard to predict. From what I saw, the Irish impressed me yesterday, but I'm happy to leave the event alone and see how our three each-way picks fare today.
My picks, South Korea, will have their work cut out to get past the Thai pairing of Kiradech Aphibarnrat and Thongchai Jaidee but if they do, the place part will be in the bag, and if the English men beat the French and the European women conquer the Aussies, that'll be another two places cashed and a guaranteed pair in the final. Fingers crossed.
Over at the Wells Fargo Championship, we saw plenty of change again yesterday. Peter Uihlein and Phil Mickelson were the big movers from off the pace but the halfway favourite, Jason Day, has hit the front and gone odds-on. Here are the latest standings with prices to back at 8:30.
Jason Day -10 [1.88]
Nick Watney -8 [10.5]
Paul Casey -7 [10.5]
Bryson DeChambeau -7 [13.0]
Peter Uihlein -7 [22.0]
Aaron Wise -7[26.0]
Charl Schwartzel -6 [36.0]
Johnson Wagner -6 [70.0]
Sam Saunders -6 [85.0]
Phil Mickelson -5 [50.0]
-4and [80.0] bar
Charles Schwartzel, Sam Saunders and Quail Hollow member and tournament invite, Johnson Wagner are tied seventh and four off Jason Day's lead and the stats suggest we can't look beyond them...
Vijay Singh won here from six adrift 13 years ago, but he sat second with a round to go and he was aided considerably by the 54-hole leader, Sergio Garcia, who played poorly on Sunday. Rory McIlroy shot 62 in 2010 to go from four behind after three rounds to four in front after four and three course winners, Joey Sindelar in 2004, Lucas Glover in 2011 and Rickie Fowler a year later all won from three back but every other course winner, since the inaugural event in 2003, has been within two of the lead. And every winner has been inside the top-seven places with a round to go so although we've seen all sorts of change between rounds one and two and two and three, we probably need to focus closely on the leaders now.
Jason Day is a strong favourite and rightly so. He's led or co-led with a round to go 17 times previously and he went on to win on eight occasions. He's led by a couple of strokes three times and he's successfully converted every time, but he's been beaten on the last two occasions he's led or co-led and two-stroke leaders in 72 hole stroke play events on the PGA Tour since 1996 have a 45% strike rate. Those last two stats would suggest he's too short at odds-on but I certainly wouldn't be in a rush to take him on.
Day has been playing neat and tidy golf with few errors all week. He's recorded just one bogey in each of his first three rounds and that's a great performance given he only ranks 58th for Greens In Regulation. Unsurprisingly, he's been putting brilliantly, and he ranks number one for Scrambling. If keeps that up today he'll take an awful lot of stopping,
Nick Watney, alone in second, hasn't been in such a strong position for more than three years (sat tied fourth and two off the lead through 54 holes at the AT&T Pebble Beach in Feb 2015) and he hasn't won for six years, so he doesn't look like one to go to war with. He's almost certain to feel no end of pressure today given he hasn't been in-contention for so long and he's not for me.
Paul Casey is far from easy to get across the line and yet again, he looks too short to back. He won the second of his two PGA Tour titles from off the pace at the Valspar Championship earlier this year but he's far more likely to flop this close to the lead on a Sunday than he is to put pressure on Day and he's not for me either.
My pre-event pick, Bryson DeChambeau, shot 40 on the front nine on Thursday so he's battled back brilliantly to get in-the-mix but he'll be a bit disappointed not to be even closer to the lead given he failed to birdie the drivable 14th or the par five 15th yesterday. He's bang there if Day has a bad round and he looks a better proposition than Casey but I'm just not confident of Day flopping.
Peter Uihlein, who hasn't been close to ruthless in-the-mix in Europe, and Aaron Wise, who's yet to finish better than tenth on the PGA Tour, are hard to fancy. Charl Schwartzel isn't prolific on American soil and if I had to pick one to at a price that might just put in a run it would be Quail Hollow member of the last ten years, Johnson Wagner, but it's all about Jason now and I suspect it may just be his day.
I'll be back tomorrow with the De-Brief.
10:45 - May 5, 2018
The GolfSixes kicks off this morning, with the first tie beginning at 10:52, and the live coverage starts on Sky starts at 12:00 but we've already reached the halfway stage of the Wells Fargo Championship and it's an intriguing picture after 36 holes. Here are the latest standings with prices to back at 10:40.
Peter Malnati -7 [19.5]
Jason Day -6 [3.65]
Aaron Wise -6 [18.0]
Paul Casey -5 [6.2]
Charl Schwartzel -5 [14.0]
Johnson Wagner -4 [55.0]
-3 and [26.0] bar
Yesterday's in-play pick, Peter Malnati, has hit the front but the chances of him staying there are very slim. Incredibly, Tiger Woods, who was tied for the lead after 36 holes in 2007, is still the only winner to be leading or co-leading at Quail Hollow at halfway since the event began in 2003. And even more surprisingly, every other winner has trailed by at least two at this stage.
At the USPGA Championship here last August, Kevin Kisner and Hideki Matsuyama were tied at the top at this stage, but they finished fifth and seventh and the winner, Justin Thomas, had sat tied for seventh and five adrift.
The last winner of this event here, James Hahn in 2016, was 13th and five back at halfway and that wasn't an unusual result. Every winner bar Woods in '07 has come from two, three, five, six and even nine back at halfway so it's perhaps not wise to go diving in on Jason Day at less than 3/1. If he were to go on and take the title, he'd be the first to do so from one adrift at halfway.
We witnessed all sorts of change yesterday with first round leader, John Peterson, falling to a tie for 28th and warm favourite, Rory McIlroy, only just making the cut. Peterson shot 12 shots worse than he'd done on Thursday and Rory followed up his promising opening three-under-par 68 with a very disappointing five-over 76 and several players reversed their form the other way.
I'd just about given up on pre-event pick, Bryson DeChambeau, who shot 75 on Thursday, but he's only five adrift now, having shot ten strokes better yesterday. Bryson's six-under-par round was the best of the day by two strokes. He moved up more than 100 places between rounds one and two and it just shows what can be done here.
Rory won't need any reminders of how much it can all change here. He sat tied for 48th and nine back in 2010 before rounds of 66 and 62 saw him go on to win by four! Whether we'll see anything quite that dramatic again is debatable but it might not be wise to side with the leaders.
The course was changed after the last edition of this event and prior to last year's US PGA Championship and a lot of players are struggling to get to grips with the new conditions. Putting has been the big talking point this week so far and several players are struggling with pace. After his round yesterday, Justin Thomas had this to say about conditions.
"The golf course couldn't be more different. Completely different grasses, the greens are a little slower than they were at the PGA and they're firmer now than they were at the PGA. So, in terms of golf course similarities it's pretty opposite."
When asked how he's adjusted to the greens, Thomas replied: "It's hard, after playing so many rounds here I'm accustomed to putts being really, really fast that aren't fast and when I play for it not to be fast I hit it 12 feet past. My speed yesterday was maybe the worst it's ever been in my life so it's pretty frustrating."
The leaderboard is dominated by players that have adjusted to the putting surfaces the best and the first five currently have Putting Average rankings for the week reading first, tenth, fourth, third and fifth so if we're going to get another off-the-pace winner, they're going to have to fathom out the greens fast.
It's a fabulous tournament and an intriguing puzzle and I'm more than happy to keep my powder dry for now and see what today brings. I was tempted to play Thomas, while Tyrrell Hatton is just the type to get to grips with the greens, but I'm going to be prudent for now.

10:40 - May 4, 2018
The GolfSixes (previewed here) kicks off tomorrow but we've already had one round of the Wells Fargo Championship, where Rory McIlroy is the man to beat.
John Peterson shows the way after an opening six-under-par 65, courtesy of two eagles in his last three holes, which Peterson seemed to put down to the presence of his son.
What a day...haven't ever had back-to-back hole outs. My son showed up on 7 for the first time to watch me and I eagled the next two holes. It's only one round though....look to keep the momentum going at 8:30 off one tomorrow. #letsgeauuuxxx

? John Peterson (@JohnPetersonFW) May 4, 2018

Peterson played in the afternoon and unusually, the late starters enjoyed the better of the scoring. The afternoon starters averaged exactly a stroke less than the morning wave but they still averaged 72.33 so Rory McIlroy, who teed off first thing, did well to shoot 68 on his first start back following his disappointing final round at Augusta.
Playing the back-nine first, Rory started really well, getting to three-under-par after just six holes, so he may view 68 as slightly disappointing but given how well he plays the course (winner twice), he's the man to beat after his respectable start.
Peterson leads by two but this is far from a front-runners course and plenty of winners have come from off the pace here. Derek Ernst in 2013 and Jim Furyk 12 years ago, both won having been tied for the lead after the opening round but the last four course winners have trailed by six, five, five and four strokes after day one so it's clearly a wide open affair.
I've topped up on pre-event pick, Patrick Reed, who shot level-par, at [46.0] and I've thrown a few pounds at huge outsider Peter Malnati at [140.0] but other than that, I'm more than happy to bide my time and see what today brings.
GolfSixes Pre-Event Selections:
Korea each-way @ 16/1 (Sportsbook)
Wells Fargo Championship Pre-Event Selections:
Patrick Reed @ [27.0]
Bryson DeChambeau @ [65.0]
Beau Hossler @ [140.0]
In-Play Picks:
Patrick Reed @ [46.0]
Peter Malnati @ [140.0]
*You can follow me on Twitter @SteveThePunter