The Punter's In-Play Blog: Nacho a tasty price in Morocco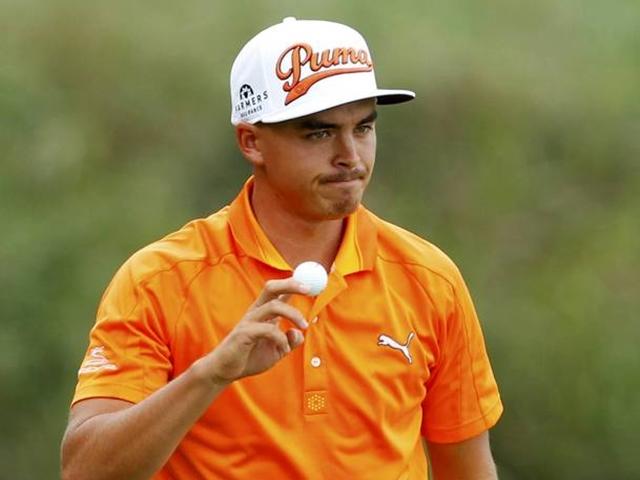 Rickie Fowler – a firm favourite at Quail Hollow
The weather has behaved itself so far this week and both events on track so read what Steve thinks about the current state of play on both tours here...

"Rory McIlroy converted a four-stroke lead last year and two years ago, J'B Holmes won by a stroke having led by the same margin through 54-holes but prior to that, the five winners before Holmes were all trailing by at least two strokes after three rounds. Sergio Garcia once gave up a six-stroke lead here at Quail Hollow and third round leaders don't have a terrific record. Fowler looks short enough to me."
9.20 - May 08, 2016
I very nearly turned my back on the Trophée Hassan II and I may yet wish I had!
Chris Hanson leads on -6, with Clement Berardo and David Dixon a stroke back on -5. Little-known Englishman, Joshua White is alone in fourth on -4 and the only man on -3 is Korean youngster, Jeunghun Wang. After that, seven players are tied for sixth on -2 and a further eight players are on one-under-par. Logic would suggest the winner will be one of those 20 currently under-par but given the inexperience of most of them and the forecast blustery conditions today, the winner could conceivably come from even further back.
It really is a tough one to call and I toyed with laying the first three in the betting - Hanson, Berardo and Dixon. All three look extremely vulnerable and I can definitely see the winner coming from off the pace. Hanson and Berardo have no experience of being in this sort of position and although Dixon has won before, it was a long time ago. The 39-year-old's sole success came from off the pace at the Saint-Omer Open in 2008, before the tournament was relegated to the Challenge Tour.
Of the leading bunch, I quite like Wang but he was disappointing yesterday and he's not exactly a huge price. I have a suspicion that the winner will come from the pack on -2 or -1. I can just see someone putting in a run on the back-nine to post a score that the nervous latter starters can't match and the one I like is Nacho Elvira.
The 29-year-old Spaniard won three times on the Challenge Tour last year and that experience could stand him in good stead today. He's been putting really well this week so if he has a decent ball-striking day he could be the one. I took 26.025/1 for a bit of interest but the 22/1 industry-wide best price with the Sportsbook still looks reasonable if the price goes on the exchange.
Over in the States, it all went pear-shaped for my picks at the Wells Fargo Championship yesterday. Rory McIlroy three-putted the first green and that pretty much set the tone for the whole day. He couldn't get going and shot a one-over-par 73 but my other three fared even worse!
In-play picks, Daniel Berger and Patton Kizzire, both shot disappointing 74s and Phil Mickelson's day went from bad to worse to horrific. He started off playing reasonably well and was very unlucky on the par five seventh when his second shot struck a sprinkler head and flew the green. What would have been a possible eagle chance and an almost certain birdie opportunity turned into a scrambled par and from thereon in he was fighting his score. I didn't hold out much hope for him given he was four off the lead playing the 18th hole but I didn't expect his chance to be entirely shot 20 minutes later! Here's his play-by-play for his 54th hole...
• Shot 8 in the hole
• Shot 7 putt 11 ft 4 in., 4 ft 7 in. to hole
• Shot 6 24 ft 5 in. to green, 7 ft 0 in. to hole
• Shot 5 59 ft 5 in. to left rough, 31 ft 4 in. to hole
• Shot 4 62 ft 6 in. to left fairway, 28 ft 2 in. to hole
• Drop in left rough, 35 ft 2 in. to hole
• Shot 3 Penalty
• Shot 2 161 yds to water, 32 ft 10 in. to hole
• Shot 1 288 yds to right intermediate, 156 yds to hole
What a mess! Anyway, here's the 54-hole leaderboard this morning with prices to back at 9.10 UK and Ireland time.
Rickie Fowler -9 2.0811/10
Roberto Castro -8 9.08/1
Justin Rose -7 5.59/2
James Hahn -7 15.5
Scott Langley -6 32.031/1
Andrew Loupe -6 32.031/1
Lucas Glover -5 40.039/1
Tim Wilkinson -5 60.059/1
Retief Goosen -4 100.099/1
-3 and 90.089/1 bar

Rory McIlroy converted a four-stroke lead last year and two years ago, JB Holmes won by a stroke having led by the same margin through 54-holes but prior to that, the five winners before Holmes were all trailing by at least two strokes after three rounds. Sergio Garcia once gave up a six-stroke lead here at Quail Hollow and third round leaders don't have a terrific record. Fowler looks short enough to me.
He successfully converted a two-stroke lead in Abu Dhabi in January but anyone that was on board him in Phoenix a few weeks later (myself included) won't be in a rush to back him at just a shade over evens here. He was matched at just 1.031/33 in Phoenix when he went to the penultimate hole with a two shot lead before he inexplicably found water off the tee on 17. He eventually lost a playoff to Hideki Matsuyama.
Roberto Castro was impressive yesterday but the pre-event 600.0599/1 shot is still looking for his first win on the PGA Tour and Justin Rose has to rate as Rickie's biggest danger.
Rose was putting deplorably when he missed the cut when defending in New Orleans last week but he's improved in that department. He still only ranks 34th for Strokes Gained Putting and 42nd for Putts Per Round this week though so he either needs to find a few more to drop today or he needs the rest of his game to keep him on track. He's clearly the obvious danger to Fowler but if there is any value it may sit with the man alongside Rose - James Hahn.
Hahn has been in the wilderness since winning the Northern Trust Open last year but he was impressive in-the-mix that day and at 16.015/1 he looks fairly priced.
The two players trailing Fowler by three strokes - Andrew Loupe and Scott Langley - are both looking for their first titles and neither has ever impressed in-contention and the same can be said of Tim Wilkinson a further shot back.
There are times when you just have to accept it hasn't gone your way and move on and this is one of those tournaments for me. McIlroy and Mickelson have been hugely disappointing and I look sure to incur a heavy loss. I'm not going to make things worse by trying to dig myself out of trouble. Experience has taught me that all you get is a bigger hole with those tactics. I was tempted to play Hahn but I'm happy to move on to next week and accept my losses, although I have had a very tiny bet on Lucas Glover.
The 2009 US Open champion has found it impossible to compete with an ice-cold putter and he hasn't won anywhere since taking this title five years ago. He isn't putting well again this week but at 40.039/1, I thought he was worth throwing a few pounds at.
I'll be back tomorrow with the De-brief.

10.50 - May 07, 2016
I've looked long and hard at the state of play at both this week's events at the halfway stage and after much deliberation I've decided to leave them both alone for now.
The Trophée Hassan II is hard to sort with a leaderboard jam-packed with players looking to win for the first time on the European Tour. Young Korean, Jeunghun Wang, was very impressive at the recent Hero Indian Open and he looks like a star in the making but the market is reflecting that. He's one of three players tied for second behind Italy's Francesco Laporta and he's heading the market at around 7.06/1.
At the Wells Fargo Championship, bogeys at the last two holes stopped Rory McIlroy's charge up the leaderboard and he now trails halfway leader, Andrew Loupe, by six strokes. That's a lot of ground to make up over the next two days but he's won here from further back than that and winners from off the pace are commonplace at Quail Hollow.
The stats suggest it's a really tough place to make the running and Tiger Woods is the only player to ever convert a halfway lead. In fact, he's the only winner not to be trailing by at least two strokes at halfway. In front doesn't look a good place to be.
Rory was a remarkable nine strokes back at halfway when he won in 2010 and he and Rickie Fowler had both trailed by half a dozen strokes after 36 holes before they played off for the title (won by Fowler) in 2012.
Trevor Immelman lost a playoff to Jim Furyk in 2006 having trailed by six at this stage and Sean O'Hair took the title in 2009 having trailed by five.
I get the feeling Rory's golf is just a bit too sloppy for him to get the job done from where he is but I haven't given up on him and Phil Mickelson and Daniel Berger are both on the premises, so I'm not without chances. And I also added last week's pre-event pick, Patton Kizzire, in-running yesterday. Although I made a bit of a hash of that!
I scrambled a small wager on an average of 38.037/1 when he had four feet for birdie on the 8th (his 17th) but he missed that and then bogeyed the last!

08:30 - May 06, 2016
I enjoyed watching the first round of the Trophée Hassan II yesterday and it wasn't long before I felt I'd done the right thing siding with Open de Espana winner, Andrew Johnson. The Kikuyu rough proved troublesome and Johnson's arrow-straight game should serve him well around the Red Course at Royal Golf Dar Es Salem.
No stats have been produced in Morocco so I can't back it up with figures but it looks like accuracy all round is going to be very important so I'm hopeful that, provided he can keep his game in good order, Johnson can continue to compete. He currently sits two off the lead in a tie for ninth but with fully 51 players within four of the first round lead, it's ridiculously tight.
Over in the States, at the Wells Fargo Championship, warm favourite and pre-event pick, Rory McIlroy, started really poorly and when he double-bogeyed the 18th hole (his ninth of the round) to slip to +4 for the day, he sat dead last and was matched at 29.028/1.
Rory had been in demand all week and he was matched at a low of 4.03/1 when he teed off his first round but it was soon apparent that he wasn't at his best. He recovered really well to finish on +1 and although he's eight strokes off the lead he's still the second favourite. He's certainly not out of it given he trailed by five after day one last year and won by seven!
Steve Wheatcroft and Andrew Loupe are tied at the top on -7 but it's Kevin Chappell that heads the market. Dave Tindall's Top-10 fancy sits two back in tied fourth and I can see why he's favourite. He fits the top-class PGA tour maiden winner identikit highlighted in the preview but the same can be said of Loupe, Anirban Lahiri and Dave's main fancy, Daniel Berger. And Berger's the one I like at the prices now.
The 23-year-old Floridian looks to have slightly more scope than the aforementioned maidens and he looked a fair price to me at 16.015/1 this morning. He's generally a 12/1 shot on the High Street and that looks about right.
I've had a tiny bet on Berger but that's it for now. Both events are still wide open and with little to go on in Morocco and with the Wells Fargo having a history of slow starters faring well, I'm happy to air on the side of caution at this early stage.

Trophée Hassan II Pre-Event Selections:
Andrew Johnston @ 25.024/1
Christiaan Bezuidenhout @ 80.079/1

Wells Fargo Championship Pre-Event Selections:
Rory McIlroy @ 6.25/1
Phil Mickelson @ 29.028/1

Wells Fargo Championship In-Play Picks:
Daniel Berger @ 16.015/1
Patton Kizzire @ 38.037/1

*You can follow me on Twitter @SteveThePunter
Discover the latest articles