The Punter's In-Play Blog: Haas leads the Valspar but can he buck the trend?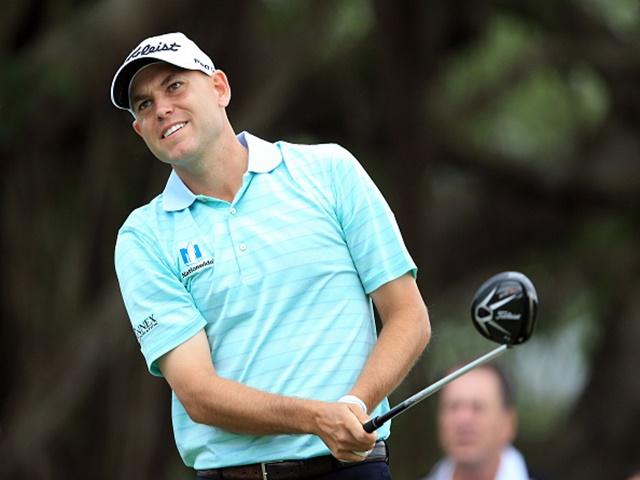 Bill Hass – the third round leader in Florida
Scott Hend has won the True Thailand Classic so it's on to the final round of the Valspar Championship. Can third round leader, Bill Haas, hold on? Read what Steve thinks here...
"Haas has led or been tied for the lead six times on the PGA Tour and he's gone on to win on three occasions. With such a poor closer as DeLaet his closest challenger, I fancy he's a fair price at over 2/1, despite the poor record of 54-hole leaders at Copperhead, so I've swerved the idea of laying him."
11:40 - March 13, 2016
I wasn't confident about Scott Hend closing out the True Thailand Classic but he did it in style. I'll have more on that in tomorrow's De-brief but for now I'm going to concentrate on the Valspar Championship so here's the third round leaderboard with prices to back at 11.30.

Bill Haas -8 3.1511/5
Graham DeLaet -7 5.59/2
Ryan Moore -5 10.519/2
Charley Hoffman -5 11.521/2
Patrick Reed -4 12.011/1
Charles Howell III -4 28.027/1
Steve Stricker -4 29.028/1
Charles Schwartzel -3 32.031/1
Jordan Spieth -2 23.022/1
-2 and 36.035/1 bar

Having closed off yesterday's entry with, "If I had to pick one now it would probably be Bill Haas at around 14.013/1 but I'm happy to leave it alone and see where we stand tomorrow." It's a bit frustrating not to have gotten involved but history suggests he's far from home just yet. Ever since the event moved from the autumn to it's now usual March slot, in 2007, third round leaders have struggled to convert here.
Kevin Streelman won in 2013, having been tied with Justin Leonard and George Coetzee with a round to go and Jim Furyk converted from the front in 2010 but the winners often come from off the pace here now...
Jordan Spieth trailed by just two 12 months ago before he went on to win in a playoff but the two he beat in extra time- Patrick Reed and Sean O'Hair - had trailed by five and four strokes respectively. The 2014 winner, John Senden, had trailed by two with a round to go and the 2012 victor, Luke Donald, had been three behind after 54 holes. And the 2008, 2009, and 2011 winners - O'Hair, Retief Goosen and Gary Woodland - were all behind with a round to go.
With perennial maiden, Graham DeLaet, sitting second, my initial instinct was to look to lay the front two and see where that takes me but after further reflection, I've gone off that idea. Although Haas isn't always convincing to watch in-the-mix, he's actually got a decent record from the front and with a gap of two strokes to the two players tied for third, he's too big to go taking on.
Haas has led or been tied for the lead six times on the PGA Tour and he's gone on to win on three occasions. With such a poor closer as DeLaet his closest challenger, I fancy he's a fair price at over 2/1, despite the poor record of 54-hole leaders at Copperhead, so I've swerved the idea of laying him but I don't fancy backing him.
I missed my chance with Haas yesterday and I'm happy to leave him today. If he goes on to win so be it but if he is to wobble, my in-running play, Patrick Reed, could very easily be the man to benefit. He clearly loves this course, he's a stout competitor and he's improved his score every day so far this week. If he does so again today he could very easily go one better than he did last year and I'm more than happy to have him onside.

12:25 - March 12, 2016
The third round of the True Thailand Classic has been completed so here's the third round leaderboard with prices to back at 12.20 UK time.

Scott Hend -14 3.185/40
Peter Uihlein -12 4.94/1
Thomas Pieters -11 6.25/1
Pelle Edberg -11 16.015/1
Benjamin Hebert -10 23.022/1
David Lipsky -10 23.022/1
Shaun Norris -10 30.029/1
-9 and 40.039/1 bar

Dan Thomas' each-way fancy, Scott Hend, who I also backed before the off, has hit the front but I'm not at all convinced he'll stay there. He led this event last year at this stage and he hit a low of 1.635/8 during round four but he couldn't hang on. I can see something similar happening this time around.
After making a nice birdie on 13 today he three-putted 14 before he chipped in quite brilliantly at 15 for birdie, but the signs are there that tomorrow won't be easy. He can get nervous in-contention and he certainly looked a bit shaky today. This is a course where shots can soon get dropped and if he stutters tomorrow and gets beat I won't be surprised.
Peter Uihlein is the clearest danger and I've got him onside too now. And I feel a bit lucky to have been able to do so at a reasonable price. He was matched at just 3.02/1 when he looked sure to birdie the 17th today but he missed a tiny putt there and failed to birdie the par five finishing hole and he's now a fair price.
After a second successive six-under-par 66, another pre-event pick, Thomas Pieters, who's also Dan Geraghty's each-way fancy, has moved up nicely, and if he's the player I think he is, he really should outclass this opposition. He had flu-like symptoms at the start of the week and that perhaps explains the lacklustre start on Thursday but I'd like to think he could kick on now and I fancy it'll be him or Uihlein that takes the prize.
In-play pick, Pelle Edberg, finished strongly today with a miraculous par on 16 and back-to-back birdies but he was all over the shop for much of his round and he's very hard to fancy. This is his 200th European Tour start and he showed today exactly why the first 199 have proved to be fruitless. He doesn't lack for support, with lots of friends cheering him on, but he was awful today and his nerves are clearly a problem.
We've reached the halfway stage of the Valspar Championship and it still looks like an event to treat with extreme caution. Will MacKenzie and Paul Krishnamurty's Find Me a 100 Winner pick, Steve Stricker, are tied at the top on five-under-par but Bill Haas, Graham DeLaet and Daniel Berger are on -4 and six players are tied for sixth and just two off the lead. There are currently 32 players at par or better and its wide open. And even those that are over-par have a chance given past results.
Last year's winner, Jordan Spieth, only trailed by one at halfway but the two winners that preceded him, John Senden and Kevin Streelman, were eight and seven back at halfway and Robert Garrigus lost in a play-off in 2012, having also trailed by seven after 36 holes. Nobody can be written off at this stage and I'm going to leave the event alone for now.
My in-play pick, Patrick Reed, putted poorly yesterday and he dropped a couple of shots at the end of his round but on -1 he's still in it and so now are three of my four pre-event picks. At seven off the lead, Luke Donald looks to have plenty to do but my other three are all inside the top-24 and ties. If I had to pick one now it would probably be Bill Haas at around 14.013/1 but I'm happy to leave it alone and see where we stand tomorrow.

11.55 - March 11, 2016
One or two players are yet to finish their second rounds at the True Thailand Classic but the leaderboard looks set and it makes for fairly pleasant viewing. Dan Thomas' each-way pick, Scott Hend, who is also one of my pre-event picks, is tied for the lead with Pelle Edberg, and I've got him onside too...
Regular readers will know I've backed the big-hitting Swede many a time but I left him out this week as I thought he looked a bit short at around 120.0119/1 before the off! I knew he had the power for the venue but he'd never broken 70 in two visits here, he wasn't in great form either, and given he still hasn't won on the European Tour that didn't look an overly generous price. I was totally unaware that he had a house on the course though and I was completely oblivious to the fact that he'd spent Christmas and the New Year practising at the venue!
I didn't know any of that until the live coverage started on Sky, which was unfortunate as I definitely would have backed him before the off had I known. I'm not going to beat myself up about not finding that out though, it's not possible to know everything about every player and I'm more than happy that I scrambled on board early on yesterday. Thanks entirely to the research I'd done before the off...
As detailed in the In-Play section of the preview, the scoring section (according to last year's hole averages) are holes one to six and holes 17 and 18, so when I woke up yesterday to see him three-under par through five holes, having started on the 10th hole, I felt I had to get him onside. Some High Street firms were still quoting him at a triple-figure price but not for long and I was happy to get on at an average of around 50.049/1. Whether he can hold his nerve over the weekend is highly debatable but I'm just glad I'm on. Edberg finally breaking his duck on a course where he has a house and me not being on would be too much to bear! And Scott Hend's nerve has to be a doubt too.
The powerful Aussie led going into round four last year and traded at odds-on but couldn't get across the line so I'm mildly hopeful rather than confident and I've added David Lipsy to the portfolio too now.
The American is amongst a group of players currently tied for fourth and just three off the lead and I thought he was worth a very small interest at an average of 18.017/1 on the exchange and at 16/1 on the Sportsbook.
Over in the States, the Valspar Championship looks as hard now as it did before the off. With the warm favourite and defending champ, Jordan Spieth, shooting a very poor opening round of five-over-par, Keegan Bradley, Ken Duke and Charles Howell III share the early lead on four-under par. Chesson Hadley is alone in fourth on -3 but there are three men tied for fifth and 17 tied for eighth on -1.
As highlighted in the In-Play Tactics section of the preview, winners can come from a long way back here so it's no surprise to see the market go 15.014/1 the field after round one and I'm loathed to get too involved still. Of my four pre-event picks, only Danny Lee, who shot one-under-par, appears in with some sort of chance and I've added two further modest plays.
Patrick Reed found water off the tee on the ultra-tough 16th hole and went on to record a double-bogey six but that was his only mistake yesterday and he countered the mistake with two birdies. He made the playoff last year after sitting tied for 80th after round one so tied 25th and four back is a decent start in comparison. I thought he looked a decent price at 32.031/1 given his class and his liking for the course.
I've also had a tiny bet on Brian Harmon at 120.0119/1 who sits on one-under-par and three off the lead. His sole win to date came at the John Deere Classic and as highlighted in the preview, given four men have won both events recently, that could be a good angle in.

True Thailand Classic Pre-Event Selections:
Thomas Pieters @ 25.024/1
Scott Hend @ 44.043/1
Prayad Marksaeng @ 50/1 (Sportsbook)

In-Play Bets
Pelle Edberg @ an average of 50.049/1
David Lipsky @ an average of 18.017/1
Peter Uihlein @ 5.49/2
Scott Hend layed @ 3.185/40

Valspar Championship Pre-Event Selections:
K.J Choi @ 65.064/1
Luke Donald @ 80.079/1
Danny Lee @ 80.079/1
George McNeil @ 330.0329/1

In-Play Bets
Patrick Reed @ 32.031/1
Brian Harman @ 120.0119/1


*You can follow me on Twitter @SteveThePunter
Discover the latest articles