The Punter's US Masters In-Play Blog: Is Rory ready for redemption?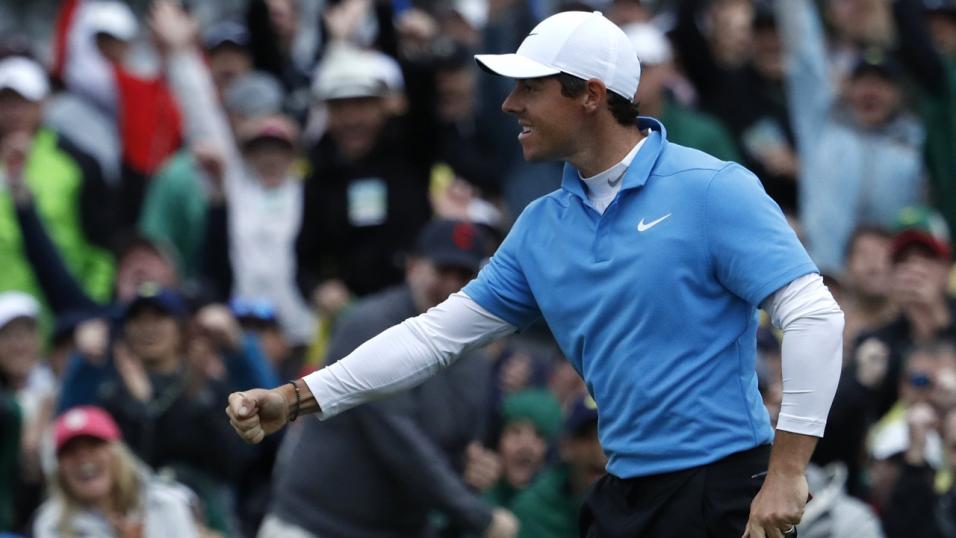 Rory McIlroy – three behind Patrick Reed with a round to go
Ryder Cup rivals, Patrick Reed and Rory McIlroy, look set for another sensational shootout but is it a two-man race, or can someone else muscle in on the action? Read what our man thinks ahead of round four here...
"The question I've pondered, is who has the most pressure today? Reed looking for his first major or Rory seeking victories in all four? I've gone around in circles and I suspect there's not much in it. It really is a tough one to call but with a three-stroke advantage, if I had to pick one of the two at their prices this morning it would be Reed."
12:25 - April 08, 2017
As it was forecasted to do, rain fell at Augusta yesterday and as a result, easier conditions set up some incredible scoring at the US Masters. Halfway leader, Patrick Reed, recovered form a bit of an iffy start to fire an impressive five-under-par 67 and for the first time in US Masters history, three men shot 65 in the same day. McIlroy, Rickie Fowler and Jon Rahm all shot seven-under-par 65s and had Tommy Fleetwood not bogeyed the last, four men would have achieved the feat.
The sub-air systems used to dry out the putting surfaces will have been working their socks off overnight but the fairways should still be fairly soft so it's hard to know just how easy the course will play today. A drop of rain was forecasted to fall overnight, and an overcast morning won't help to dry the course either. The wind is due to drop steadily throughout the day so I suspect we'll see the usual back-nine Sunday fireworks that we wait all year to enjoy.
Here are the latest standings with prices to back at 12:15.
Patrick Reed -14 2.265/4
Rory McIlroy -11 3.052/1
Rickie Fowler -9 10.519/2
Jon Rahm -8 17.5
Henrik Stenson -7 48.047/1
-6 and 65.064/1 bar
Reed was especially impressive yesterday. By the time he teed off on the eighth hole he'd been caught by Rory but he was able to regroup and stretch away again to lead by five. He made a three-putt bogey at 16 and he'll feel frustrated his birdie putt on 18 didn't drop, so one could argue he didn't finish off the round brilliantly but his par on 17 was gritty enough and all things considered, with the pressure of the lead, he performed magnificently. What can we expect today?
As I wrote yesterday, he was almost invincible in the early part of his PGA Tour career but Reed backers need to be aware that on the last two occasions he's led with a round to go, at the 2014 Quicken Loans National (led by two) and at the Wells Fargo Championship last year (led by one), he fired fourth round scores of 77 and 75 to finish 11th and 12th. They could be seen to be one-offs in the fullness of time and there was nothing in his body language yesterday to suggest he's about to 'bottle it' but it's definitely something to be aware of.
This is the 12th time in US Masters history that someone's taken a three-stroke lead into the final round and six of the previous 11 went on to win. That would suggest the price about Reed converting is about right but Justin Ray's tweet below is a little less encouraging.
This is the 12th time since 2000 a player without a major to his credit has held his 1st career 54-hole lead in a major in the Masters. Only 2 of the previous 11 went on to win: Phil in 2004 and Trevor Immelman in 2008.

? Justin Ray (@JustinRayGC) April 8, 2018

Reed needs to buck that final trend about non-majors with the lead and he needs to get back to playing without fear with the lead on a Sunday. He also needs to overcome the pressure of winning his first major but he's going to relish playing with Rory today and I fancy that's a bigger plus for the American than it is for McIlroy.
Rory will be going into today's final round feeling as though he's slightly fortunate to be only three adrift and that could give him plenty of momentum. Reed was fortunate to see his eagle attempt drop on the 15th yesterday but he didn't enjoy half as much luck as his closet challenger. Rory's eagle on eight was even more fortuitous and he also caught a break on the fifth and the 13th and had Reed birdied and Rory parred 18, the American would be much closer to that illusive Green Jacket.
Rory would have loved to have been nearer to Reed with 18 to play but all things considered, Saturday couldn't have ended any better than it did and he'll feel, quite rightly, that he now had a fantastic chance to become only the sixth man in history to complete the career Grand Slam of major titles.
If Rory is going to win his fifth major, it's going to be the first one he's won when not leading through 54 holes but I really don't see that as an issue. He's won from the front and he's won from behind but it's not easy to gauge how he'll fare today. He won the Bay Hill Invitational from two adrift last month but he's also given up golden opportunities in both Abu Dhabi and Dubai this year when on both occasions he trailed by just a stroke with a round to go.
The question I've pondered, is who has the most pressure today? Reed looking for his first major or Rory seeking victories in all four? I've gone around in circles and I suspect there's not much in it. It really is a tough one to call but with a three-stroke advantage, if I had to pick one of the two at their prices this morning it would be Reed.
They could both play brilliantly, and if they do, we're in for a real treat but they could both struggle under the pressure and if that happens, others come in to the equation...
This could be a great scenario for Rickie Fowler. If he's to win a major I suspect he'll need some help to do so and if the front two get into an insular battle that descends into a nervy tussle, Fowler might just get lucky. He's gone into the final round of a major inside the top-three places on five previous occasions since 2011 though and it hasn't ended well. His in-contention play has been poor of late and I don't fancy him at all. In fact, I've layed him to finish inside the top-five at 1.68/13.
Jon Rahm is the only man to match Reed's scoring over the last two days and if he keeps up the charge I fancy he's the man to benefit from an unlikely collapse by both leaders. The stats suggest he has almost no chance though. He trailed by nine after round one and only two men in history have won a major having trailed by so far.
All things considered, a shootout between the top two looks far and away the most likely outcome and I can see why Reed is the one shortening up this morning. Three strokes is a big advantage if it develops into a match and he's definitely the one to beat. Even so, it makes sense to adjust my book again so I've layed back Reed and I've had a small bet on Rahm at 17.5. There's something about the Spaniard that suggests he's capable of anything and confounding stats is certainly within his realm.
I'll be back tomorrow with the De-brief.

12:25 - April 07, 2017
On another typically tricky Augusta day, Patrick Reed birdied half the holes he played at the US Masters and he leads by two but with five major champions filling five of the six places behind him, he's going to be hard pushed to join the club himself. Here's the halfway leaderboard with prices to back at 12:20.
Patrick Reed -9 4.77/2
Marc Leishman -7 8.615/2
Henrik Stenson -5 11.521/2
Rory McIlroy -4 7.413/2
Jordan Spieth -4 7.613/2
Justin Thomas -3 12.5
Dustin Johnson -3 12.5
Justin Rose -2 28.027/1
Bubba Watson -2 30.029/1
Rickie Fowler -2 36.035/1
Louis Oosthuizen -2 75.074/1
Tony Finau -2 170.0169/1
-1 and 75.074/1 bar
Apart from showing some strong current form, Patrick Reed didn't fit too many trends before the off, but he's not one to be dismissed lightly now he's in pole position. He's a tenacious character who used to be utterly ruthless in contention. He originally earnt his PGA Tour card by repeatedly Monday qualifying for tournaments when nobody knew who he was. Monday qualifiers are notoriously hard with large fields and few spots up for grabs but that didn't stop Patrick and once he'd earnt enough prize money to get his card on Tour he flew - winning the first three of his five PGA Tour titles in the space of only eight months.
Reed's held a clear lead at halfway three times previously and he's converted every time but he's definitely not the fearless campaigner of old. Time on Tour does that, and one could even argue he's even been a little wobbly at times of late. He should have at least got in to a playoff at the Valspar Championship last month but he bogeyed the last and when he sat tied for the lead at the US Open three years ago, it didn't end well. Rounds of 76 and 71 at Chambers Bay saw him finish 14th.
Reed's Ryder Cup legacy is already assured so we know he's a big-time player and all things considered, he's far more likely to hang around and compete than he is to implode under the pressure.
Joe Dyer's excellent each-way shout, Marc Leishman, doesn't win anywhere near as often as he should, although he's twice come close to major glory. He lost a playoff at the Open Championship in 2015 and he played alongside Adam Scott in the final round here five years ago when Scotty won. Leishman finished fourth.
He's only won three times on the PGA Tour and once on the European Tour and his first two victories came courtesy of really late rallies from off the pace. He scrambled brilliantly yesterday when he looked like leaking a few strokes late on and he's still not for me. As talented as he is, of all the leaders, he's the one I'd be least inclined to trust in-the-mix. My opinion could be permanently skewed however. I was onboard Leishman a year after he'd finished fourth when he birdied the first three holes of round two to hit the front but went on to miss the cut! It's hard to view a player as bombproof after that!
Henrik Stenson isn't for me either. At 42, age is possibly against him and he was poor in-contention when leading at Bay Hill recently. This is far and away his best performance at Augusta to date but I'm waiting for the poor stretch of holes to come along and I much refer those just behind him.
I've been really impressed and a little surprised at how well Rory McIlroy has gone about his business so far this week. He kept his patience well yesterday after a sticky spell on the front nine and he'll enjoy playing with Stenson today. Rain is forecasted to take the sting out of the greens and I think that'll help Rory too. The negatives are that he still has that back-nine collapse in 2011 in his memory bank and more recently, he fell from second place to outside the top-ten just two years ago with a third round 77. On the same score, Rory is in front of Jordan Spieth in the market and I think that's wrong.
Jordan struggled early on yesterday but battled back well and he's the man with all the best course form in the locker. As well as a Green Jacket. I fancy he may have had his dodgy spell and if he wasn't already onside, I'd be backing him now.
Dustin Johnson and Justin Thomas can't be split on the leaderboard or in the market but I much prefer the latter. He's been playing the better golf of late and I don't think he's as likely to play a few destructive holes. Thomas is the one I've been most tempted to back but I'm going to hold off for now. The stats suggest he started too slowly (see yesterday's update) and I just wonder if the fact he could go to the top of the world rankings will have a negative effect on his game again too. He doesn't have the Augusta pedigree yet either so I'm reluctantly leaving him for now. Had he been two points bigger I'd be getting him onside but I'm happy to hold fire for now. And if Reed had been fractionally shorter I'd have taken some profit there but I fancy Thomas will trade bigger and Reed shorter so I'm doing nothing for now.
As Justin Ray's tweet below shows, the top-seven is arguably as far down the leaderboard as we can go but I haven't quite given up on yesterday's in-play pick, Justin Rose, or my ante-post pick, Bubba Watson, who both sit amongst the group of players tied for eighth on two-under-par.
The largest 36-hole deficit overcome to win the Masters in the last 50 years is 6 shots, done on 5 occasions. That would leave just 7 players: Reed, Leishman, Stenson, McIlroy, Spieth, DJ, JT. I'm hesitant to limit the number of contenders to just that list.

? Justin Ray (@JustinRayGC) April 7, 2018
I'll be back again tomorrow with a look at the state of play with a round to go.

09:20 - April 06, 2017
Despite a bogey five at the 18th hole, for the third time in four years, pre-tournament favourite and 2015 winner, Jordan Spieth, has ended day one of the US Masters in front. Here is the first round leaderboard with prices to back at 09:10.
Jordan Spieth -6 3.211/5
Matt Kuchar -4 18.017/1
Tony Finau -4 40.039/1
Rory McIlroy -3 6.611/2
Henrik Stenson -3 20.019/1
Patrick Reed -3 30.029/1
Adam Hadwin -3 65.064/1
Rafa Cabrera-Bello -3 50.049/1
Haotong Li -3 85.084/1
Charley Hoffman -3 48.047/1
Phil Mickelson -2 18.5
Rickie Fowler -2 24.023/1
Marc Leishman -2 50.049/1
Zach Johnson -2 100.099/1
Bernd Wiesberger -2 200.0199/1
-1 and 34.033/1 bar
The big story on day one was the comical demise of Sergio Garcia's title defence, which was sunk without trace on the par five 15th when the Spaniard put five balls in the water to record a record-equalling worse ever score of 13 on any single hole at Augusta. He went on to shoot 81.
The eagerly awaited return of Tiger Woods ended in a hard-earned one-over-par 73 and Tony Finau shocked everyone by recovering from Wednesday's dislocated ankle by shooting a four-under-par 68. I dread to think how many people heartily opposed him in his three-ball!
China's Haotong Li shot a three-under-par 69 to keep alive the possibility of the Dubai Desert Classic - US Masters double landing for a third year in-a-row, following Danny Willett and Sergio's successes in 2016 and '17 and Rory McIlroy broke 70 on day one for just the second time in his Augusta career. The only other occasion that he achieved the feat was in 2011. A year more acutely remembered for his back-nine collapse on Sunday than his opening 65.
I haven't been able to locate the AM-PM scoring split yet, but the afternoon starters appeared to enjoy much the better conditions yesterday and the leaderboard is dominated by those that had a lie in on day one.
Past results suggest we really do need to be concentrating on the leaders. The last 12 US Masters winners have all been inside the top-ten after round one and the only players to win from outside the top-ten since Mark O'Meara won from tied 25th and five strokes adrift 20 years ago, are Augusta specialists, Tiger Woods and Phil Mickelson.
Spieth is clearly the most obvious candidate but there are certainly reasons to be cautious. Since Ben Crenshaw in 1984, only two first round leaders or co-leaders have gone on to win - Trevor Immelman, ten years ago, and Spieth in 2015. And Justin Ray's tweet below is also off-putting for Jordan fans.
This is the 11th time in the last 40 years that a past champion of #TheMasters has led/co-led after the 1st round. None of the previous 10 went on to win. Last to do it: Jack Nicklaus in 1972.

? Justin Ray (@JustinRayGC) April 6, 2018

If anyone can defy the stats it's Spieth. I still think he's far and away the most likely winner and I'm not tempted by any of the other short-priced contenders.
Rory is just too inconsistent to take a short price about, I find it very hard to envisage Matt Kuchar finally winning a major, I'll be amazed if Phil Mickelson doesn't make too many mistakes and at 47 I fancy he's too old. Stenson's Augusta record is lamentable, and I can't trust Rickie Fowler in-the-mix at all.
Dustin Johnson and Tiger Woods may already have too much to do but I do fancy three players might just represent a bit of value. I've decided to lay enough of my Spieth wager back to put myself in profit for the week and I've also backed Patrick Reed, Justin Rose and Zach Johnson.
This is Reed's fifth visit to Augusta and yesterday was the first time he broke 70. That could transpire to be a one-off but he came in to the event in form and although it's been a while, he does know how to win.
Rose has got a lot of work to do from outside the top-20 and six back but he knows how to remain patient and there are few in the field with a better Augusta CV. And talking of Augusta CVs, Zach Johnson, the 2007 winner, is too big at a triple-figure price after an opening two-under-par 70.
I'll be back tomorrow with a look at the state of play at halfway.

Pre-Event Selections:
Jordan Spieth @ 17.016/1
Bubba Watson @ 50/1 (ante-post)
Kyle Stanley @ 560.0559/1

In-Play Trades:
Jordan Spieth layed @ 3.211/5
Patrick Reed @ 32.031/1
Justin Rose @ 34.033/1
Zach Johnson @ 100.099/1
Patrick Reed layed at 2.305/4
John Rahm @ 17.5
Top 5 Finish Market
Rickie Folwer layed @ 1.68/13

*You can follow me on Twitter @SteveThePunter
Discover the latest articles
Read past articles