The Punter's In-Play Blog: Can DJ hit it straight enough to hold on?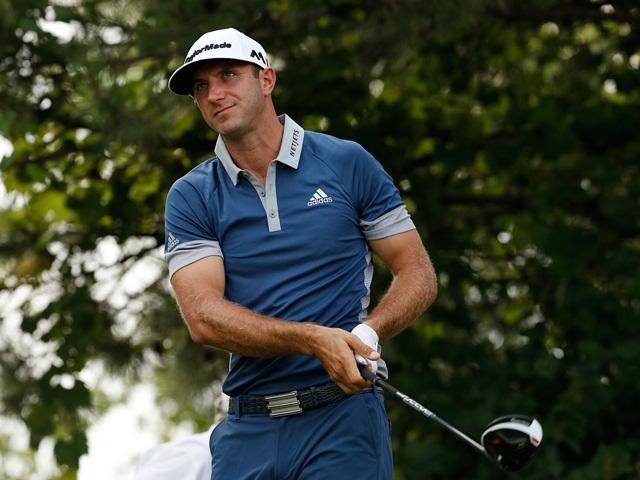 Dustin Johnson – tied for the lead at the Tour Championship
With just a round to go in Germany and Georgia, our man looks at the current state of play at both events. Read Steve's final in-running thoughts of the week here...
"I'm feeling as ambivalent about DJ's chances as I've felt all week. His strike rate when leading after 54 holes is decent enough. He's led or tied for the lead seven times and he's successfully converted on three occasions. He has the obvious class to convert from the front and the last four winners of the event have led or co-led with a round to go but I'm not in the least bit interested in backing him at around 2.35/4."
10:35 - September 25, 2016
Bernd Wiesberger knew full well that he needed to go really low to get anywhere near Alex Levy's lead yesterday at the Porsche European Open and when he'd eagled the par five 10th hole and birdied the 11th to get to -13 and to within four, it looked as though he may even bridge the gap.
Matched at 3.02/1 in-running, a couple more birdies over the last seven holes would have seen him put some serious pressure on the Frenchman but it didn't pan out like that unfortunately, far from it in fact. Instead of birdying the par five 12th he found the hazard in front of the green with his second shot, failed to get up-and-down after his drop and lost all his rhythm from that moment on. A bogey there and another at the par three 14th were accompanied by five pars and the door is wide open for Levy with a round to go. Here's the current leaderboard with prices to back at 10:30.

Alex Levy -17 1.422/5
Michael Jonzon -13 25.024/1
Ross Fisher -12 14.5
Martin Kaymer -11 13.012/1
Bernd Wiesberger -11 19.018/1
Florian Fritsch -11 70.069/1
-10 and 90.089/1 bar

In the last 20 years, 33 players have entered the final round of a European Tour event with a four stroke lead and 24 of them went on to win (73%). That makes Levy a fair price at around 1.42/5 but its well worth highlighting that the last one to fail was a certain Frenchman...
Levy led the BMW Masters in China by four strokes two years ago but he shot 78 in round four and was beaten in a playoff. Conditions were tough that day and he won't be blown off course today but he will encounter a different course to the one he destroyed on Friday. It had started to dry out yesterday so scoring shouldn't be quite so silly low today but he certainly holds all the aces.
I'm happy to leave the event alone and shout on Wiesberger but I wouldn't put anyone off laying the leader. The only reason I didn't back him from the start this week is that he's been poor in-the-mix when I've backed him before and he went AWOL last week when in-contention after back-to-back birdies at the third and fourth holes had thrust him into the mix in round four.
Over in the States, Dustin Johnson was matched at just 1.412/5 to win the Tour Championship as he sauntered to three-under-par through five holes of round three but he lost his way a bit after that and after a double-bogey at the 17th, he needed to birdie the last to tie Kevin Chappell at the head of affairs. Here's the third round leaderboard with prices to back at 10:30.

Dustin Johnson -8 2.3411/8
Kevin Chappell -8 6.25/1
Rory McIlroy -6 4.47/2
Ryan Moore -6 11.010/1
Hideki Matsuyama -5 17.5
Jason Dufner -4 50.049/1
-3 and 65.064/1 bar

I'm feeling as ambivalent about DJ's chances as I've felt all week. His strike rate when leading after 54 holes is decent enough. He's led or tied for the lead seven times and he's successfully converted on three occasions. He has the obvious class to convert from the front and the last four winners of the event have led or co-led with a round to go but I'm not in the least bit interested in backing him at around 2.35/4.
Johnson got into trouble yesterday when he missed the fairways and it's hard to see him not missing a few today and that will be the key to who wins. I'm still not convinced that Chappell can break his PGA Tour duck in an event of this magnitude and I'm more than happy with the wagers I placed yesterday on Rory McIlroy and Ryan Moore.
I'm sitting on my hands for now but I'll probably trade the final round in-running and I'll be back tomorrow with the De-brief to document how it all went.

13:00 - September 24, 2016
Unsurprisingly, after yet more fog this morning, the Porsche European Open has been reduced to a 54 hole event and the third round won't start until tomorrow. Alex Levy has understandably shortened up dramatically given he leads by five over Ross Fisher, and it very much looks as though my man, Bernd Wiesberger, needs to close the gap today in round two today to make the event remotely competitive tomorrow.
The big Austrian has played seven holes though and is currently still seven behind Levy so he has his work cut out. I feel a bit sorry for his situation as it's so hard to go low when it's so abundantly obvious you have to and he's already missed a couple of birdie putts that he really should have made.
There have been no such problems in the States and the Tour Championship has serenely reached the halfway stage so here's the 36 hole leaderboard with prices top back at 12:50.
Kevin Chappell -6 8.415/2
Hideki Matsuyama -3 17.5
Kevin Kisner -3 38.037/1
Rory McIlroy -2 10.09/1
Paul Casey -2 20.019/1
Ryan Moore -2 40.039/1
-1 and 30.029/1 bar

Given Kevin Chappell is still seeking his first PGA Tour title, odds of just a shade under evens for Dustin Johnson look more than fair. He only has a 50% strike rate when leading or tied for the lead at halfway (4/8) but he's at the top of his game right now and unless Chappell can improve considerably on anything he's done in-contention previously, this is a great chance for DJ.
I wouldn't want to be too dismissive of Johnson's chance but my reservations about the US Open winner remain the venue. I'm being picky but when evaluating a short-priced favourite, who's now an odds-on favourite, negatives about the course have to be heeded. Johnson has had one or two great rounds here but in six appearances he's never bettered fifth and he's also only once broken par in round three.
I take on board he's a much improved player and that with figures that read 27-22-23-10-5-5, he's on an upward curve at East Lake, but I'm happy to stay against him. I fancy Chappell will get jittery today and I don't think that will help DJ and if he shoots something in the 70s the event could look very different by this time tomorrow.
Given I see Johnson as neither a back or a lay at his current price, I could very easily sit back and just observe but there's no fun in that so I have had a tiny bet on Ryan Moore, who clearly likes the venue, and I've had an equally small bet on Rory McIlroy. Those two, along with Paul Casey, are trailing by five and three of the last eight winners have made up that exact same deficit to win.

21:20 - September 23, 2016
A week after the Italian Open was severely hampered by the weather; the Porsche European Open is desperately trying to get back on track after losing nine hours play over the first two days. The early leader yesterday, Bernd Wiesberger, didn't hit a stroke today and it might be a while before he tees off tomorrow with the threat of more early fog looming.
The story of the day belonged to Frenchman, Alex Levy, who not only caught and passed my man, Wiesberger, who'd shot an eight-under-par 63 opener, he's on the verge of completing round two in eight or nine-under-par also!
The conditions are ridiculously easy with no wind, soft conditions, and lift, clean and place in operation but even so, that's some going by Levy and I won't be the only one kicking myself this evening. He has form winning in rain-softened conditions at the Portugal Masters and after a great week in Italy, his chance was obvious enough. After 35 holes he's already reached 17-under-par and he's already been matched at 2.01/1.
Levy is far from the only player enjoying himself out there though. It won't be an official score because placing is in operation but Robert Karlsson will shoot the European Tour's first 59 tomorrow if he can birdie the last three holes of his second round. And he missed a tiddler for par on the fifth hole (his 14th of the round) too
Unaware of whether the tournament will be 54 or 72 holes, I'm going to leave the event alone right now but if I get up and see play is delayed again I'll be getting with Levy. He's a great price right now if they only play three rounds.
I'll take a look at the Tour Championship tomorrow but that looks like it could develop into something of a damp squib too with Dustin Johnson taking control. Jason Day has withdrawn again and Kevin Chappell is the only player currently within four strokes. Next week's Ryder Cup can't come soon enough!

12:15 - September 23, 2016
The first round of the Porsche European Open is still in progress, thanks to fog delays yesterday and again today, and I'm going to let the tournament roll for now.
I backed two of the first three in the betting before the off and they've started the tournament in very different fashions. My each-way selection, Bernd Wiesberger, has finished his first round and he leads the way, after an eight-under-par 63, but Thomas Pieters, who began the event as the favourite, has been very disappointing.
The big-hitting Belgian birdied the first when he eventually began round one late yesterday afternoon but when darkness stopped play he was two-over par through nine. He's recovered those lost shots this morning but he's a long way off the pace.
The scoring in Germany is really low so it's going to be almost impossible to play catch-up and especially so if the event gets reduced to 54 holes. I think they will get the full 72 holes in as there's no bad weather forecast but there is a possibility of more fog.
The likes of Wiesberger may not even start his second round today and with Pieters and Martin Kaymer in the Ryder Cup, I can't see them allowing the tournament to run into Monday. A lengthy fog delay tomorrow and the prospects of another one on Sunday could see the organisers running scared so concentrating on the leaders makes sense.
Over at the Tour Championship, 10 players are separated by just two strokes and the majority of the big guns have started well, with six of the top-seven in the FedEx Cup standings inside the top-12 and within three of the lead.
Unfortunately, the odd man out is Patrick Reed, who went into the event ranked second. He was one of my two selections but after a three-over-par 73, I fear his chances of winning have already gone but it's not impossible. Phil Mickelson shot 73 and trailed by seven after round one when he won in 2009.
My only other pick, Si-Woo Kim, has started better though. He's amongst the group of three players tied for fourth behind leaders Dustin Johnson, Kevin Chappell and Hideki Matsuyama.
The big surprise for me after the first round is how well Matsuyama is putting. That's most definitely his Achilles heel but after round one he ranks first for Putting Average, Putts Per Green and Strokes Gained Putting so something's clicked.
Dustin Johnson has firmed up at the head of the market but I'm still not convinced this track is ideal for him. I'm mildly tempted to get with Jordan Spieth at 8.07/1 but it's a crowded and competitive leaderboard so I'm going to hold fire here for now too.
I'll be back this evening with another look at the Porsche European Open at the close of play.

Porsche European Open Pre-Event Selections:
Thomas Pieters @ 11.010/1
Bernd Wiesberger @ 16/1 on the Sportsbook

Tour Championship Pre-Event Selections:
Patrick Reed @ 23.022/1
Si-Woo Kim @ 80/1 (Sportsbook each-way)

In-Play Bets
Rory McIlroy @ 10.519/2
Ryan Moore @ 42.041/1

*You can follow me on Twitter @SteveThePunter