The Punter's In-Play Blog: Thomas unopposable in Hawaii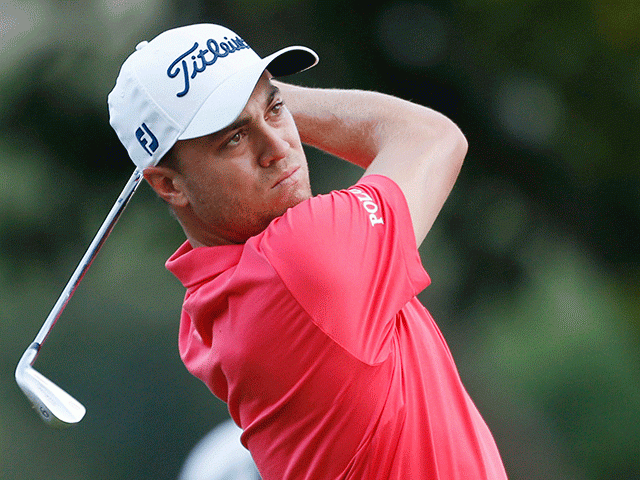 Justin Thomas - seven clear and impossible to oppose in Hawaii
Graeme Storm has got the better of Rory McIlroy after a protracted playoff in South Africa and Justin Thomas looks impossible to beat in Hawaii...
"Thomas is trading at just 1.141/7 to win but it's impossible to make a case for opposing him. His closest rival, Zach Johnson, is a former win of the Sony Open and he's shortened up today from 42.041/1 to 27.026/1 as punters look to take on the leader but he's short enough now."
15:50 - January 15, 2017

After rounds of 59, 64 and 65, Justin Thomas takes a seven-stroke lead into the final round of the Sony Open. He's only the seventh player in the last 20 years to take such a lead into the final round of a PGA Tour event and the first six all won.

Thomas is trading at just 1.141/7 to win but it's impossible to make a case for opposing him. His closest rival, Zach Johnson, is a former win of the Sony Open and he's shortened up today from 42.041/1 to 27.026/1 as punters look to take on the leader but he's short enough now. Odds in excess of 40.039/1 were perhaps on the generous side given he knows the track intimately and he's a multiple major winner but it's very hard to envisage anything but an easy win for Thomas now.

I'll be back tomorrow with the De-brief and possibly my Abu Dhabi Championship preview. The market is up on the exchange and it will be interesting to see how popular Rory McIlroy is after today's playoff defeat to Graeme Storm in South Africa.

18:50 - January 14, 2017

Having played his last 41 holes bogey-free, Graeme Storm has moved three strokes clear of the field at the BMW SA Open at Glendower but Rory McIlroy is still the man to beat. Here's the latest leaderboard with prices to back at 18:40.

Graeme Storm -17 3.02/1
Rory McIlroy -14 2.526/4
Jbe Kruger -13 19.5
Jordan Smith -13 23.022/1
-12 and 32.031/1 bar

A scruffy finish by Rory McIlroy in round three has left him with a bit to do tomorrow but he's still, quite rightly, the clear favourite to win. Storm has been brilliant so far and has looked in complete control of his game and his emotions but tomorrow could see that all change.

Storm's led with a round to go six times previously and he's successfully converted twice but both victories were more than 12 years ago on the Challenge Tour. And as highlighted in the In-Play section of the preview, although Brandon Stone converted a two-stroke lead last year, 54-hole leaders in this event and 36-hole leaders in the three-round BMG Classic here, haven't got a great record. On the plus side, 54-hole leaders on the European Tour over the last 20 years have a 69% strike rate but how many of those that successfully converted were being chased down by someone of Rory's calibre?

All things considered, I'm happy to swerve Storm and having layed McIlroy after round one, I want to get him in the book but I'm going to try and be clever and wait until tomorrow.

Rory hasn't enjoyed the start of the course so far this week and he's played the first six holes collectively in one-over par. Storm has played them in seven-under-par. I accept that Storm could get very nervous tomorrow and start slowly but given how they've both played the opening holes so far this week, waiting to see how they start tomorrow makes sense. I fancy Storm to trade shorter than he is now and I'll look to oppose him in-running but if that plan fails it won't be disastrous as I've trimmed my potential losses today by trading Rory.

On paper, this looks like a two-man race but I'm not convinced it is. Charl Schwartzel, who was matched at 1.011/100 in-running, gave up a five shot lead here two years ago, allowing Andy Sullivan to come through and win from seven back. And in a four year period, between 2010 and 2014, two winners of the BMG Classic won from four adrift and one won from five back.

The finish is tough, with holes 16, 17 and 18 ranking first, second and fifth toughest so far this week. Anyone that can get really hot on the easier holes on the back-nine, and successfully negotiate the tricky trio at the end, could just post a low enough total to win.

Peter Uihlein finished his third round really poorly today but he's been playing very well over the last two days and he could be the one to post a score. The American trails by five but I thought he looked worth throwing a few pounds at - at 38.037/1.

Over at the Sony Open, Justin Thomas backed up his brilliant 59 on Thursday with a scintillating 64 in round two to reach -17 and to post the lowest 36-hole score in PGA Tour history. He's five clear of Gary Woodland and seven clear of everyone else and I'm leaving the event alone.

I wouldn't be surprised if he had some sort of mental let down at some stage but there's been no sign of any problems so far and the stats are bang in his favour now. A total of 16 players have led by five at halfway on the PGA Tour in the last 20 years and the only three to fail were Fred Funk, Jeff Maggert and Spencer Levin. The other 13 all went on to win and I couldn't put anyone off backing Thomas at around 1.68/13 to make it 14 from 17. I'm not one for backing an odds-on shot but that price looks very fair.

18:05 - January 13, 2017
Having switched the golf off at the close of play at the BMW SA Open, I've only just seen that Rory McIlroy was injured this morning, which probably goes some way to explaining his strange start at Glendower today.

There's more on the story here and it probably explained why he's been weak in the market for the last hour but you know what they say about the injured golfer!

17:50 - January 13, 2017

A storm front moved in before the second round of the BMW SA Open could be completed today but few players have to return in the morning to finish off their second rounds and the event has taken shape. Graeme Storm, on -12, leads Peter Uihlein, Jbe Kruger and Trevor Fisher Jnr by two strokes with a group of five players, which includes Rory McIlroy, in a tie for fifth.

As was the case before the event and after the opening round, the question we all have to ask ourselves now is how will Rory fare? And that's a devilishly tricky question to answer if today's bizarre performance is anything to go by.

According to the commentators on Sky, he had a double hit somewhere along the way before they went live today and by the time he'd played four holes he was two-over par for the day, despite birdying the third hole! Three pars followed and he was matched at a high of 6.05/1 before the live coverage began.

Having layed him after the opening round, I thought hard about backing him back but I wanted to see for myself how he was playing. I really wish I hadn't though because the first time we saw him on Sky he was stiffing his second shot on the par five eighth hole to within eagle range and his price collapsed.

The eagle landed on eight and birdies followed at nine, 10. 12, 13, 14 and 15! It was a remarkable run of play. He looked in total control of his game and I was rueing not backing him back. He was matched at just 1.618/13 and having been eight of the lead after seven holes of round two, he was within one with still three holes to play. A par followed at the par four 16th but a lengthy wait on the 17th tee seemed to knock him off kilter and scruffy bogeys were made at the last two holes. It was a strange start, a brilliant middle, and a disappointing finish and which Rory turns up tomorrow is anyone's guess.

As brilliant as Rory is, it's bizarre how quickly he losses focus and how often he goes from the sublime to the ridiculous and trying to work out what he's going to do from hole to hole is hard at times, let alone day to day. I obviously regret not backing him back but I'm going to carry on opposing him for now.

If he plays like he did after the seventh hole today he'll take the world of beating but he's clearly still a bit rusty after taking time off and his inability to sail a steady ship suggests there'll be more dropped shots over the weekend. I'm going to stick with what I have for now and I'm also leaving the Sony Open alone for now too.

Last week's winner, Justin Thomas, leads by three strokes after a sensational 59 and he's now trading at less than 3.02/1. That looks short enough given how far there is to go, the stats, and the likelihood of some sort of comedown.

In the last 20 years, 26 players have led by three after round one on the PGA Tour but only eight of them went on to win and first round leaders don't have a fantastic record at the Sony. Brad Faxon, K.J Choi and Ryan Palmer have all won wire-to-wire this century and in 2000, having led by three after round one, Paul Azinger romped to a seven-stroke win, but it's hard to win from start to finish and especially so on the back of a win the previous week.

Thomas is going to have to show an immense amount of mental fortitude to win back-to-back tournaments virtually wire-to-wire (he sat second after round one and led thereafter last week) and for those reasons I'm happy to leave him alone and wait and see what today brings.

Play is underway and it's live on Sky at midnight.

12:55 - January 12, 2017

The Sony Open on the PGA Tour, which I've previewed here, hasn't yet started and the first round of the BMW SA Open (previewed here) is yet to finish but as I've already had involvement there in-running, I thought I'd kick off the blog.

World number two, Rory McIlroy, began the BMW SA Open as a warm favourite, trading at around the 3.55/2 mark, so after an opening five-under-par 67, which at the time of writing sees him sit tied for second behind Trevor Fisher Jnr, it's arguably slightly surprising that he's odds-against on the exchange, given he's no bigger than evens anywhere on the High Street, but I fancy he's opposable.

He started his first round this morning on the 10th hole and after a run of four straight pars he made four birdies in-a-row. When another was added at the par five second hole, he hit a low of 1.834/5 and had he posted seven of eight under I don't think anyone would have been surprised but he finished the round quite scruffily. There were bogeys at the fourth and fifth before a sublime tee-shot on the sixth set up a tap-in birdie there and he also birdied the par five eighth, but only after a dreadful tee-shot. It wasn't especially pretty and he'll have to play better if he's going to win, even allowing for how weak the field is.

Another reason to think he's worth taking on is his poor record when starting fast. His win ratio when beginning a tournament with the lead is a remarkably low 23.8%. When he's sat first or second after round one he's gone on to win 32.1 % of the time so second is a better place for him to be than first, and when inside the front three, his strike rate drops back to 26.5%.

Of course, it has to be considered that this is an extremely weak field and that the second and third favourites before the off, Brandon Stone and Andy Sullivan, have both started poorly but on those stats and the evidence of his play on the front-nine this morning, I'm happy to oppose him at just a shade of odds-against with so much of the tournament still to play.

BMW SA Open Pre-Event Selection:
David Horsey @ 40/1 (Sportsbook)

In-Play Trades
Rory McIlroy layed @ 2.0621/20
Peter Uihlein backed @ 38.037/1

Sony Open Pre-Event Selections:
Pat Perez @ 55.054/1
William McGirt @ 80.079/1
Fabian Gomez @ 110.0109/1
James Hahn @ 190.0189/1
Brian Stuard @ 200.0199/1
Mackenzie Hughes @ 300.0299/1


*You can follow me on Twitter @SteveThePunter
Discover the latest articles