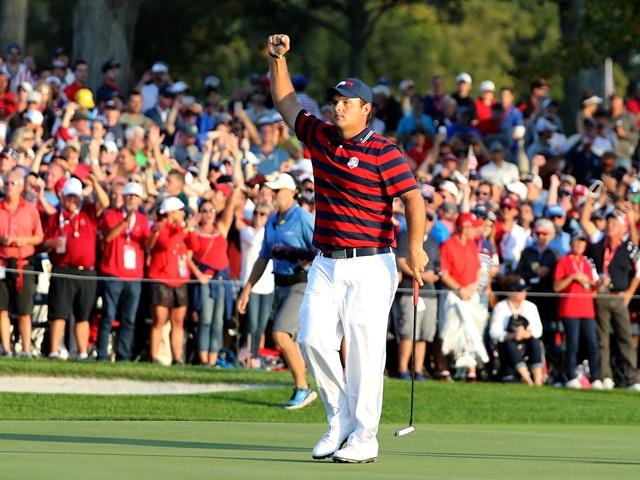 Patrick Reed – value to beat Rory in the first match up
The Ryder Cup looks to be heading America's way after a poor finish to yesterday's four-balls by the Europeans but with 12 singles matches to saviour, there's plenty to look forward to. Read our man's take on all the ties here...
"The American team's big gun takes on Europe's talisman in the tie-up EVERYONE wanted. It's a mouth-watery match but Reed is the value and the 2/1 offered up by the Sportsbook this morning has to be taken."
10:40 - October 02, 2016

For much of yesterday afternoon's four-ball session, it looked highly likely that we'd go into today's singles session with the Ryder Cup still very much in the balance. Europe were matched at around [2.5] at one stage early on but a late surge by the Americans have seen them go clear and they now lead 9 ½ - 6 ½.

Fingers will no doubt point to Darren Clarke's selection of Martin Kaymer, who was again poor, and also to his continued faith in Lee Westwood, whose poor potting was cruelly exposed. He played well enough in the main but missed three putts inside five feet on the back nine, including this tiddler that would have resulted in a 9-7 score line had it dropped.

It's been a fascinating couple of days with talking points aplenty but I'll leave the full stewards enquiry for the De-Brief and concentrate on the singles ties for now.

Patrick Reed vs. Rory McIlroy 17:04
We kick off with the clash of the titans. The American team's big gun takes on Europe's talisman in the tie-up EVERYONE wanted. It's a mouth-watering match and hard to predict but Paul Krishnamurty's bang on with his assessment. Reed is the value and the 2/1 offered up by the Sportsbook this morning has to be taken.

Jordan Spieth vs. Henrik Stenson 17:15
Spieth hasn't been close to his best so far and he looks vulnerable against the solid Swede. Anything odds against looks fair for Stenson.

J.B. Holmes vs. Thomas Pieters 17:26
The market is struggling to split this in-form pair and so am I. By positioning him so far up the order, Clarke has put a lot of faith in Pieters but this could be a step too far against a really tough opponent who's relishing the event.

Rickie Fowler vs. Justin Rose 17:37
Fowler certainly hasn't shone this week and Rose should be too strong. The Englishman has two wins and a draw in Ryder Cup singles matches so far and it's hard to see him getting beat for the first time by a seemingly out of form Fowler. Is he putting well enough to be backed at around the even money mark though? Not for me.

Jimmy Walker vs. Rafael Cabrera-Bello 17:48
This looks like another toss of the coin tie and one to swerve. Walker hasn't been great so far and Rafa will be keen to show Clarke that he should have partnered Sergio Garcia yesterday afternoon. He'll be pumped up for sure but can he take down the USPGA champion on a long course that should suit the big-hitting American better?

Phil Mickelson vs. Sergio Garcia 17:59
This is a fascinating match-up between two Ryder Cup vets. Sergio's seeking to win his fourth singles match in eight appearances and Lefty is looking for his sixth win in 11. The American will be keen to have a positive 6-5 Ryder Cup singles record to (possibly) retire on and he'll be very keen to avenge defeat to Sergio in 2004. If forced to pick one it would be the American but it's another no bet heat for me.

Ryan Moore vs. Lee Westwood 18:10
The Worksop Wonder has been thrown a bone here. Poor Lee will be feeling dreadful after his (not unexpected) poor putting performance yesterday but he has a chance of redemption against a tired Moore - who didn't play well yesterday afternoon. No bet.

Brandt Snedeker vs. Andy Sullivan 18:21
Sneds looks strong here. He's fired up, putting well and arguably shouldn't have missed out on yesterday afternoon's session. I think he'll be too tough for Sully and evens is a very decent price.

Dustin Johnson vs. Chris Wood 18:32
Paul's nailed this one too. DJ should be too strong for Wood on paper but the value is most certainly with Bristol's finest and I was more than happy to take [4.2] about him on the Sportsbook.

Brooks Koepka vs. Danny Willett 18:43
This is another really tough tie to call that I'm going to swerve. Koepka is and should be the firm favourite but I wouldn't be in the least bit surprised to see Willett shine. No bet again.

Matt Kuchar vs. Martin Kaymer 18:54
If you don't mind taking a shade of odds-on, Kuchar looks the bet of the night. Kaymer has been poor all week and over-relied upon. He looks tired and ripe for another beating.

Zach Johnson vs. Matthew Fitzpatrick 19:05
I'm in absolute agreement with Paul yet again and I don't even mind being accused of being one of those awful armchair captains! If by some miracle, and it will be verging on that, the Europeans have clawed back the deficit, the least experienced player on the team has been given the responsibility of playing in the final tie. It's a baffling decision but I don't think it'll make any odds. I expect a strong start by Europe this evening but I fancy the Americans to have taken control and won the Ryder Cup way before this tie comes to an end. I also expect Zach to have too much guile for young Matt but I'm not keen on taking odds-on.

To summarise, my only bets are listed below.

Patrick Reed to beat Rory McIlroy @ 2/1 (Sportsbook)
Brandt Snedeker to beat Andy Sullivan @ Evs (Sportsbook)
Chris Wood to beat Dustin Johnson @ 16/5 (Sportsbook)
Matt Kuchar to beat Martin Kaymer @ [1.95]

18:30 - October 01, 2016

After a nail-biting finish to the morning's foursomes, which saw the Europeans edge out the US 2 ½ - 1 1/2, the Americans take a 6 ½ -5 ½ lead into the afternoon four-balls, detailed below.

Koepka/D. Johnson v Pieters/McIlroy
Holmes/Moore v Willett/Westwood
Mickelson/Kuchar v Kaymer/Garcia
Reed/Spieth v Stenson/Rose

I'm surprised to see Lee Westwood and Martin Kaymer back in action - they were both very poor yesterday. Captain Clarke has put faith in the old guard and I'm not sure that's a wise move but we'll see.
The top match is tough to call - a fresh Dustin Johnson letting rip alongside Brooks Koepka could easily be a match for Europe's strong pairing of Rory McIlroy and Thomas Pieters and that's most certainly a no bet heat for me.

Danny Willett could be the key man for Europe in match two as on yesterday's evidence, Westwood won't contribute much and the way Ryan Moore played his way into yesterday, I fear the Americans may have too much.

The third heat looks even harder than the first to call. I'm surprised to see Phil Mickelson out again and Brandt Snedeker can feel hard done by after the way he's played alongside Koepka. An aging Lefty looks a weak link but Kaymer could be equally feeble. No bet.

In a repeat of yesterday's opening four-ball, Patrick Reed and Jordan Spieth will face Henrik Stenson and Justin Rose and I can see a similar outcome. The European duo were brilliant and no mercy was shown as they battered the Americans 5&4 and they look a good bet to get the better of the shell-shocked pair again.
I say shell-shocked because Reed and Spieth, having been four up through 12, and having been matched at [1.01] to win, have just been pegged back by the Spanish pair of Sergio Garcia and Rafa Cabrera-Bello to draw their foursomes match. They were leaking oil, looking tired, and they'll do really well to rise to the challenge of playing Europe's best pairing.

09:10 - October 01, 2016
So overwhelmingly good were the Americans and so abjectly poor the Europeans, that after the first session yesterday morning it looked as though the 41st Ryder Cup could rapidly turn into something of a damp squib.

A golf bag from the 1975 Ryder Cup with the late great Arnold Palmer's name emblazoned proudly upon it had been placed prophetically on the first tee to inspire the home team and it certainly did the trick. Davis Love's men raced to a 4-0 lead and the Europeans drifted right out to [8.6] in the winner market.

The last time any team had won the opening session so emphatically had been at Laurel Valley in Pennsylvania 41 years ago when The King captained the States to an emphatic 21-11 victory over Great Britain and Ireland.

The Europeans must have been shell-shocked after such a poor start and they were in real danger of losing the event on day one but Darren Clarke's men are made of stern stuff and thanks to a quite brilliant afternoon session, which the Europeans won 3-1, we still have a tournament to saviour.

After Paul Willett's vulgar piece was published on Monday, there was always a chance that this Ryder Cup would have a particular edge to it and it certainly has so far. The American crowd were very loud in the morning and not in the least bit sporting either. Cries of "get in the water" and cheers whenever a European faltered were particularly disappointing and Rory described it as "hostile" at the close play.

Rory, who partnered Thomas Pieters in the afternoon, created his own controversy though with this slightly bizarre celebration after his spectacular eagle on the par five 16th defeated Matt Kuchar and Dustin Johnson to make it 5-3.
Finishing your match Rory McIlroy-style. #TeamEurope pic.twitter.com/hpUCT227Ja

? Ryder Cup Team EUR (@RyderCupEurope) September 30, 2016

Rory described it as having put an exclamation mark on the day and he dismissed the fact that he'd failed to shake hands with Dustin's brother and caddy, Austin Johnson, as merely an oversight but having seen the clip below, it looked pretty deliberate to me.
I wonder what Austin did to piss off @McIlroyRory? @NoLayingUp @KylePorterCBS pic.twitter.com/PCCR6H4FFx

? Forrest M (@mctrees02) September 30, 2016

The terrific European comeback changed the mood entirely and as Darren Clarke was interviewed on Sky at the close of play, the European fans could clearly be heard belting out the traditional football mocking of "you're not singing anymore". It felt as though the tide had turned and not before time, the Europeans had been in grave danger of drowning!

I get the feeling that the Europeans can ride the momentum early on today and having studied the morning's foursomes, I think Captain Clarke has pretty much got it spot on. Gone are the woeful duo of Lee Westwood and Martin Kaymer and in come debutants Chris Wood and Matthew Fitzpatrick.

McIlroy and Pieters look a good thing at evens with the Sportsbook to win the opening match against Phil Michelson and Rickie Fowler, who were arguably America's most fortunate winners in yesterday's first session, and like Paul Krishnamurty, I also like the pairings of Henrik Stenson and Matt Fitzpatrick and the Spanish duo of Sergio Garcia and Rafa Cabrera-Bello. The Sportsbook go 7/4 about Europe winning the foursome session and that looks more than fair.

As much as I fancy the Europeans to carry the momentum in the first session, I fear for how they'll fare this afternoon if they do. This event typically ebbs and flows and if they do make the most of the morning I can see the Americans striking back hard this afternoon.

For the record, I had just one wager yesterday, doubling up Dustin Johnson and Matt Kuchar to beat Lee Westwood and Thomas Pieters with Sergio and Kaymer to beat Zach Johnson and Jimmy Walker so I could do with a bit of a rally myself.

If time allows it, and provided I have a wager, I'll be back after the first session with a look at the afternoon four-balls.

But I'll leave you with one bit of rather unusual information though. If you've had a bet in the Top Overall Scorer market then you should be in a decent position. After all, 16 players currently tie for the lead on one point!

Pre-Event Selections:
Europe to win the Ryder Cup @ [3.25]
Rickie Fowler - Top United States Scorer @ 12/1 (Sportsbook)
Danny Willett - Top European Scorer @ 12/1 (Sportsbook)

In-Play Bets
Day One - Double
Johnson/Kuchar to beat Westwood/Pieters (won)
Garcia/Kaymer to beat Johnson/Walker (lost)

Day Two
McIlroy/Pieters to beat Mickelson/Fowler @ evens
Europe to win the foursomes session @ 7/4
Afternoon plays
Holmes/Moore to beat Willett/Westwood @[2.32]
Stenson/Rose to beat Reed/Spieth @[2.24]
*You can follow me on Twitter @SteveThePunter