The Punter's In-Play Blog: Stone's at the helm but is the Portuguese title there to be stolen?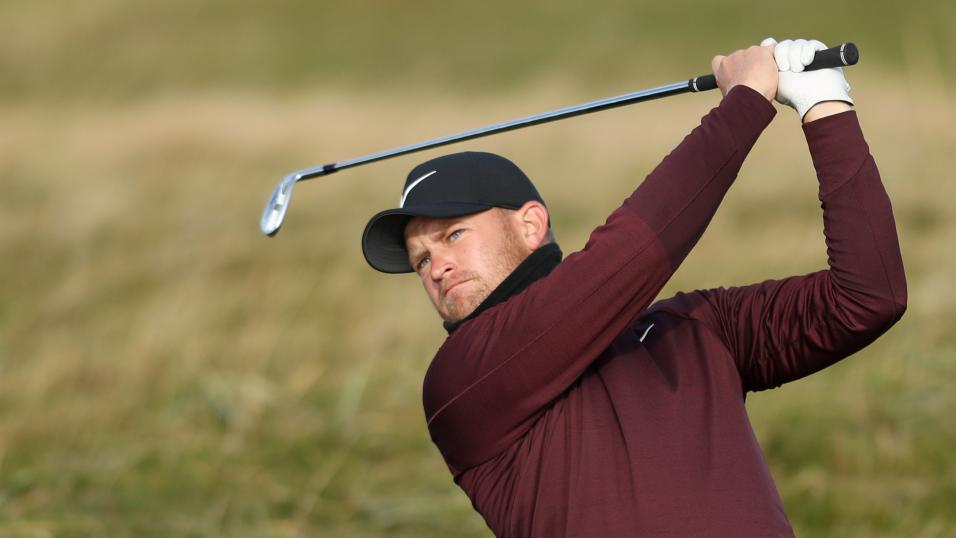 Tom Lewis - a juicy price to win the title for a third time
Brandon Stone has hit the front with a round to go at the Portugal Masters and he's a fair price to convert according to Steve. Read his latest in-play thoughts here...
"Lewis was trailing by four when he won by two in 2011 so he knows he's still in this and I've had a small wager at 32.031/1."
22:20 - October 26, 2019
I read the early statement saying that round three of the ZOZO Championship would follow round two today but missed the later memo detailing that it wouldn't, that the event would definitely go to a Monday finish, and that only the second round would be played today, so that's my bad. Tiger Woods has gone two strokes clear at halfway in Japan and as Justin Ray details below, he usually delivers from here.
Win percentage on PGA Tour when leading by 2+ shots after 36 holes --

Tiger Woods: 89.5% (17-for-19)
Rest of PGA Tour last 20 years: 36.0%

? Justin Ray (@JustinRayGolf) October 26, 2019

Given I haven't watched any of the event to date, due to the time it's on, I'm going to continue to swerve it and concentrate solely on the Portugal Masters, where there is just one round left to play. Here's the 54-hole leaderboard with prices to back at 22:10.
Brandon Stone -15 2.8615/8
Dean Burmester -13 6.611/2
Oliver Fisher -13 8.07/1
Steven Brown -12 19.5
George Coetzee -11 14.5
Haydn Porteous -11 25.024/1
Jeunghun Wang -11 27.026/1
Justin Walters -11 32.031/1
Matt Wallace -10 21.020/1
Tom Lewis -10 30.029/1
Eddie Pepperell -10 32.031/1
Renato Paratore -10 70.069/1
Adrien Saddier -10 120.0119/1
-9 and 190.0189/1 bar
Since 1996 on the European Tour, 166 players have led by two with a round to go in a normal 72-hole event. Only three of the last 13 have successfully converted, but the last man to lead by a couple, Bernd Wiesberger at the Scottish Open, went on to win and 73 of 166 (44%) obliged, suggesting Brandon Stone is a fair price at close to 2/1.
Stone is already a three-time European Tour winner and that's one more title than the three men closest to him on the leaderboard combined. Joe Dyer's each-way fancy, Dean Burmester, won the Tshwane Open back in 2017, my pre-event pick, Oliver Fisher, has only once before tasted success, way back in 2011 in the final renewal of the Czech Open and Steven Brown is yet to win.
With nothing to lose and everything to gain, Brown could be dangerous. He began the week ranking 150th of the Race to Dubai and he probably needs to win just to keep his card but in all probability the pressure is going to be too much and it's no surprise to see him trading at a juicy price, despite being only three off the lead.
Fisher lost his way on the front nine today before four birdies in-a-row from the 12th put him back in-contention but I'll be looking to take some profit if he starts well tomorrow. I'm not confident of him converting and I can see why Burmester is trading at a shorter price but if Stone is to fail from the front, the winner could well come from much further back...
Last year's winner, Tom Lewis, was second with a round to go and only two back and the three winners before Lewis were all up with the pace. Andy Sullivan was five clear in 2015, Padraig Harrington trailed by a stroke after 54 holes in 2016 and Lucas Bjerregaard was leading by a stroke with a round to go two years ago but the five winners between 2009 and 2014 were all trailing.
Lee Westwood only trailed by three in 2009 but the next four winners were seven, four, four and six shots adrift with a round to go so winning from off the pace is perfectly possible. Pre-event favourite, Matt Wallace, who trails by five is the most obvious candidate but the defending champ, Lewis, alongside Wallace, who also won the title in 2011, is a highly plausible alternative. Lewis was trailing by four when he won by two in 2011 so he knows he's still in this and I've had a small wager at 32.031/1. And I haven't given up on pre-event pick, Eddie Pepperell, yet either...
He shot a disappointing one-under-par 70 today but he loves the course and he could easily bounce back tomorrow. He looked like winning the Scottish Open that Stone won last year, trading at a low of 1.865/6 with just four holes to play, so it would be sweet revenge if he could rebound tomorrow to steel the title.

21:40 - October 25, 2019
It soon became apparent that it was going to be impossible to get started at the ZOZO Championship in Japan today and the organisers swiftly postponed play for the day. The second round will start tomorrow morning (local time) but there'll be no spectators at the venue and the tournament looks certain to go to a Monday finish.
Friday's conditions @ZOZOChamp.

Competition is set to get back underway Saturday, with the tournament concluding on Monday. pic.twitter.com/GRWgVQF47o

? PGA TOUR (@PGATOUR) October 25, 2019

I didn't get to see any of the opening day's play and I don't intend to get up early to watch any of the second/third round action either so I'm going to continue to sit on my hands for now. I'd quite like to see Tiger Woods win again and he has a 50% strike-rate when leading after the opening round but he's 43 now and attempting to play two rounds in a day is far from ideal. I'm not in the least bit tempted to play him at 6.05/1, or anyone else for that matter. There are too many unknowns for my liking so I'm going to concentrate of the Portugal Masters, where pre-event 140.0139/1 pick, Oliver Fisher, has struck the front. Here's the 36-hole leaderboard with prices to back at 21:30.
Oliver Fisher -12 5.85/1
Jeunghun Wang -11 7.613/2
Justin Walters -11 10.519/2
Brandon Stone -10 10.519/2
Eddie Pepperell -9 9.28/1
Haydn Porteous -9 22.021/1
Darren Fichardt -9 30.029/1
George Coetzee -8 14.5
Tom Lewis -7 22.021/1
-7 and 30.029/1 bar
There's been almost no draw bias in Portugal this week, with both afternoons proving to be around a stroke harder than the two mornings but the top three on the leaderboard, and five of the top-seven, were all drawn AM-PM. Brandon Stone was matched at a low of 9.08/1 after he'd reached ten-under-par this morning but he drifted slightly as Fisher, Jeunghun Wang and Justin Walters all went by him, He briefly touched 12.011/1 before Fisher bogeyed the 18th.
We've had 11th previous renewals of the Portugal Masters and so far, we've seen two 36-hole leaders win and nobody has won from any further than five strokes adrift at halfway but it only looks a matter of time before that record is broken. Richard Green won when trailing by seven with a round to go in 2010 and David Lynn was six back with just 18 to play, having been tied for the lead at halfway.
Last year's winner, Tom Lewis, who's lurking menacingly again this time around, sat tied for 16th and five back at this stage 12 months ago and we've seen some really big moves on a Saturday so an off the pace winner can't be ruled out. Scott Jamieson moved from 52nd to second when he shot 60 here in round three in 2013 but the weather forecast suggests a move of that nature is unlikely tomorrow. The wind is forecast to blow at around seven knots, gusting to 12, in the morning but it's not expected to get any higher as the day wares on.
That's good news for the leaders and good news for my portfolio, that includes, Fisher, Eddie Pepperell, who I also backed before the off, and Wang, who I backed during round one. I've now added Stone but I'm certainly not counting my chickens. I had a couple of pre-event picks in-contention until the second hole of round four last week and that all ended in tears.
I'll be back again after round three, either tomorrow night or early on Sunday morning.
14:50 - October 24, 2019
The opening round of the Portugal Masters is well underway and the target for the afternoon starters is South Africa's Louis de Jager. The pre-event 450.0449/1 chance shot an eight-under-par 63 and he currently leads by two over a trio of players that includes one of my pre-tournament picks, Oliver Fisher, who probably should have been one or two strokes better off. I watched a fair bit of his round this morning and he missed a number of chances.
Pre-event favourite, Matt Wallace, has already hit a low of 4.1 but after making four birdies in-a-row around the turn, he played his last seven holes in two-over par and that's been pretty typical of Wallace this season. He's been quite streaky and he's often hit the brakes at just the wrong time.
I've already had a tiny in-play wager here, getting Korea's Jeunghun Wang onside at 55.054/1 this morning after he'd got to two-under-par through five and that's been a decent move so far as he ended the round on five-under but I'm kicking myself for not backing another that was on my shortlist, Brandon Stone. He's opened up his first round with three straight birdies so it looks like I may have missed the boat!
Over on the PGA Tour, at the inaugural staging of the ZOZO Championship in Japan, Tiger Woods and the US Open winner, Gary Woodland, share the lead after the opening round on -6. This is just the sixth time Woods has played in Japan and we probably shouldn't be surprised by the fast start. He has form figures there reading 15-8-1-1-2 but the market considers Japan's Hideki Matsuyama as the most likely man to win the PGA Tour's first event in his homeland. Matsuyama is available to back at 5.04/1 after a five-under-par 65 sees him sit alone in third, two strokes clear of the remainder.
Matsuyama starts his second round an hour and twenty minutes before Woods and Woodland kicks his second round off exactly an hour before him and that may well be significant. Bad weather has been forecast all week for Friday and the predictions haven't changed much. Play has been brought forward in an attempt to swerve the worst of the weather and unless it changes before tomorrow, the early the players start the better, as it it's only going to get worse as the day progresses.
As detailed in the preview, other than a tiny token bet on Danny Lee, my plan here was to sit this one out and see how the land lies at halfway and there's been no deviation from the strategy. The forecast suggests a more benign weekend and I expect the scoring to improve and the leaders to be hard to pass so I'll be back in the morning with another look then.
Portugal Masters Pre-Event Selections:
Eddie Pepperell@ 26.025/1
Chris Paisley @ 40.039/1
Andy Sullivan @ 40.039/1
Oliver Fisher @ 140.0139/1
Jeff Winther @ 140.0139/1
Ben Evans @ 510.0509/1
In-Play Picks:
Jeunghun Wang @ 55.054/1
Brandon Stone @ 11.010/1
Tom Lewis @ 32.031/1
ZOZO Championship Pre-Event Pick:
Danny Lee @ 170.0169/1
*You can follow me on Twitter @SteveThePunter
Discover the latest articles
Read past articles