The Punter's In-Play Blog: Spieth three clear at Royal Birkdale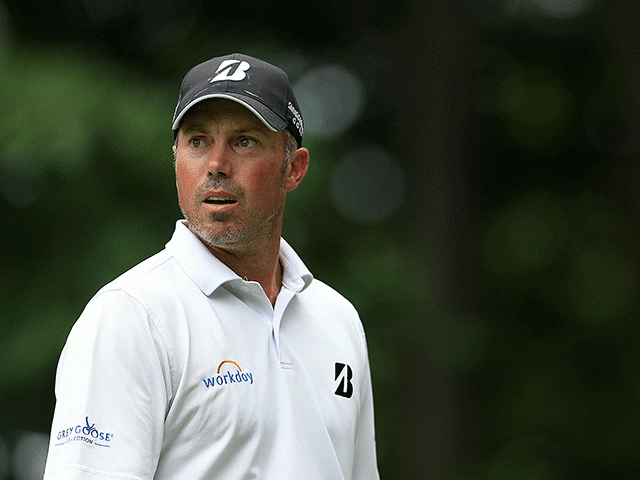 Matt Kuchar, the clear second at Royal Birkdale after three rounds
After his second 65 of the week at Royal Birkdale, Jordan Spieth has cruised three clear with a round to go. Can anyone stop the world number three from wining major number three? Read what Steve thinks with his final in-running post for the week here...

"Kuchar is a 1/7 chance to finish inside the top-five on the High Street but I'm happy to lay him at 1.241/4 in the Top 5 Finish market. I know Kuchar's three clear of the rest but if Spieth breaks him early on and he just losses heart, or if he just doesn't have his A game with him, he could very soon start struggling and with others scoring well, with a lot less pressure, it's quite possible that he could fall out of the places altogether and have a really bad day."
09:25 - July 22, 2017

The big story on day three of the Open Championship was Branden Grace's record-breaking eight-under-par 62. It was the lowest anyone had ever shot in a major championship and it probably helped that he was completely unaware of what he was doing!

It wasn't until he'd made par on the 18th, after a brilliant up-and-down, that his caddie, Zack Rasego, told him he'd just made history. "What are you talking about?" was Grace's response. He genuinely had no idea that he was shooting the lowest round ever recorded in a major championship. "I was just in the zone, taking it hole by hole." he told interviewers afterwards.

With little to no wind, rain-softened Birkdale played about as easy as it ever will and his achievement was belittled by some but that's churlish. Only once in nine previous Open Championships has the winner got to double-digits under-par at Royal Birkdale and the world number one, Dustin Johnson, who shot 64, was the only other player to get within two strokes of Grace's score. It was an incredible effort and one that deserves nothing but praise.

Grace's monumental effort has seen him climb up in to the top-five with a round to go but with third round leader, Jordan Spieth, firing an impressive five-under- par 65 - the same score as he achieved on Thursday - Grace finds himself fully seven strokes back. Here's the 54-hole leaderboard with prices to back at 08:15.

Jordan Spieth -11 1.392/5
Matt Kuchar -8 6.25/1
Brooks Koepka -5 29.028/1
Austin Connelly -5 120.0119/1
Hideki Matsuyama -4 42.041/1
Branden Grace -4 75.074/1
Dustin Johnson -3 95.094/1
Henrik Stenson -3 130.0129/1
Rafa Cabrera-Bello -3 220.0219/1
Chan Kim -3 700.0699/1
Rory McIlroy -2 150.0149/1
-2 and 500.0499/1

Jordan Spieth has drifted from a low of 1.330/100 since round three finished and it's hard to see why. It's very difficult to envisage him losing now given how well he's playing. As impressive as he was during rounds one and two, I thought he played even better in round three and with Matt Kuchar the only player within six strokes of him, I find it really difficult to envisage him losing from here.

Spieth has held a clear lead nine times previously and he successfully converted on seven occasions. If anything, he should have shortened up from 1.330/100, not lengthened.

Kuchar, who was one of Dave Tindall's each-way fancies before the off, has done brilliantly to this point and I couldn't have argued with anything Dave wrote before the start. His performance in Scotland last week was eye-catching and at 39, he fitted the age profile of recent Open winners. He was on my shortlist too but the problem with Kuchar is he just doesn't win often enough.

To counter that, one of Kuchar's seven PGA Tour wins came at the WGC-Match Play in 2013 and one could argue that this has developed into a match play scenario. If Kuchar can keep on Spieth's coattails for as long as possible anything could happen. Spieth's a tremendous talent and as reliable in-the-mix as anyone in this post Tiger Woods era but we can all remember his collapse at Augusta last year.

Spieth's won since then and I'm not suggesting for a second that the fearless 23-year-old is going to turn in to a jibbering wreck but it's not beyond the realms of possibility that nerves hit him hard. This is the first time he's been in-contention in a major since that bizarre collapse at Augusta and he's been in front for three days. Winning wire-to-wire is hard and it's not inconceivable that we get some drama. The problem I have, is that I just can't see Kuchar holding his nerve even if Spieth wobbles.

Given Kuchar's undoubted talent, his haul of seven victories is quite meagre. He hasn't won for more than three years now and that victory came courtesy of a somewhat fluky holed bunker shot at the 72nd hole at Harbour Town, after it looked like he'd messed up yet again. He does get nervous and he's nearly always worth taking on in-the-mix.

Kuchar is a 1/7 chance to finish inside the top-five on the High Street but I'm happy to lay him at 1.241/4 in the Top 5 Finish market. I know Kuchar's three clear of the rest but if Spieth breaks him early on and he just losses heart, or if he just doesn't have his A game with him, he could very soon start struggling and with others scoring well, with a lot less pressure, it's quite possible that he could fall out of the places altogether and have a really bad day. I've also layed him in the Top 8 Finish market at just 1.071/14.

If you're looking for further reading ahead of today's final round, Paul Krishnamurty has looked at the Without Spieth market here and he's also picked out some two-ball bets.

I'll be back tomorrow with the De-Brief.

23:10 - July 20, 2017

On a wet and windy Friday at Royal Birkdale, Zach Johnson shot a remarkable four-under-par 66 and Rory McIlroy bounced back to form with a two-under 68 but they were two of only seven men to break par. Conditions varied throughout the day but they rarely improved much above awful and Jordan Spieth's one-under-par 69 to take a two-stroke 36-hole lead was a quite brilliant knock in the conditions. Here's the current leaderboard with prices to back at 23:00.

Jordan Spieth -6 2.6613/8
Matt Kuchar -4 9.89/1
Brooks Koepka -3 10.09/1
Ian Poulter -3 17.5
Richie Ramsay -2 50.049/1
Rory McIlroy -1 8.88/1
Gary Woodland -1 65.064/1
Richard Bland -1 140.0139/1
Austin Connelly -1 220.0219/1
Level par and 30.029/1 bar

For the second day in-a-row, Spieth hit just five fairways and he hit even less greens than he had done on Thursday - eight as opposed to 15 - but a red-hot putter, a chip-in from off the green on the 10th hole for par and a fairly lucky eagle at 15, made after a mishit approach ran along the ground to around 15 feet from the pin, helped him to a gritty and determined under-par score but I have to wonder how long he can keep it up?

I traded Spieth back and fore all day today but I got caught out when he chipped in for par at 10. I layed all my position back, leaving him as a small winner in the book, at 4.1 as he played the ninth. I thought I'd timed it brilliantly as he made a complete mess of the 10th. He drifted out to 7.613/2 and he looked sure to get bigger but it all changed after that.

After the chip-in on 10, he holed a huge birdie putt on 11 and he almost holed his tee-shot on 12. The 7.613/2 had long gone and he was right back on track. I obviously regret giving up my position when I did but I didn't necessarily do the wrong thing. It was a remarkable passage of play and one that couldn't have been envisaged. So what now?

I don't want to side with Spieth now. I know he has an incredible ability to score and he's clearly the man to beat but I don't think he's playing well enough to go backing at less than 2/1 given how poorly he's playing form the tee, how long there is to go and how much the weather is going to change.

The wind is going to lay down tomorrow and there's no rain forecast, and on a rain-softened course, there will be some low scores. Of course, Spieth himself could go low, but if he doesn't, and if his ragged long game takes its toll and the putts don't drop, he could soon find himself caught and even passed.

I've toyed with taking Spieth on but I've decided to leave him as a small winner and to back a few players at speculative odds just off the pace. Pre-tournament picks, Ian Poulter and Alex Noren aren't out of it yet and the latter looks a decent price at around 50.049/1 given he's only six back and more than capable of low scores. I don't like Matt Kuchar at a single-figure price or Rory McIlroy, given he's fully five adrift, and while I respect the chances of Brooks Koepka, I'm going a bit further down the leaderboard for a couple of speculative plays...

Gary Woodland, on -1, was too big at 70.069/1 at the close of play so he's been added but the one I really like is world number two, Hideki Matsuyama. I backed the Japanese star for this event during the US Open but I layed the bet back when I saw the forecast for this week. Matsuyama lost his way at the Irish Open in round three when wind and rain threw him off his stride and the same thing happened today after he'd been matched in-running at just 7.06/1. I get the impression he's not anywhere near his best in wet weather but he can fly again tomorrow in dry and benign conditions. I thought 30.029/1 was a very fair price.

I'll be back tomorrow night or on Sunday morning with another look prior to round four.

20:30 - July 20, 2017

I opened my curtains this morning to see wind and rain lashing the bedroom window and I thought we might be in for a really interesting first day at the Open Championship. Conditions were tough for the first few hours and when Mark O'Meara, the 1998 winner at Royal Birkdale, hit the first shot of the tournament out of bounds, it looked as though he might be setting the tone but conditions eased considerably within a couple of hours. Those very early starters really were unfortunate but by the time the three-ball of defending Champion, Henrik Stenson, pre-event favourite, Jordan Spieth, and Players champ, Si Woo Kim, arrived at the first tee at 09:47 the sky was brightening and the wind was dropping.

Pre-tournament pick, Ian Poulter, made the very early running but he was soon hauled in by world number three, Spieth, whose iron-play and putting was superb. He only hit five of 14 fairways but on every occasion he didn't he recovered easily thanks to the rough being far from penal and the market quite rightly views him as the man they all have to beat. Here's the leaderboard with prices to back at 20:20.

Jordan Spieth -5 5.85/1
Brooks Koepka -5 10.519/2
Matt Kuchar -5 15.5
Paul Casey -4 16.015/1
Charl Schwartzel -4 23.022/1
Justin Thomas -3 30.029/1
Rafael Cabrera-Bello -3 34.033/1
Ian Poulter -3 42.041/1
Charley Hoffman -3 60.059/1
Richard Bland -3 200.0199/1
Austin Connelly -3 440.0439/1
-2 and 20.019/1 bar

Dan Geraghty's each-way pick, Brooks Koepka, is alongside Spieth and he's the first reigning US Open champ to lead or co-lead the Open Championship after round one since Lee Trevino at Royal Birkdale, way back in 1971. Is that an omen maybe? Trevino went on to win.

Spieth and Koepka are the only players inside the top-five that don't play until tomorrow afternoon and judging by the weather forecast, they could still be leading by the time they tee-off. I've toyed with getting them onside but it's tricky, if the forecast doesn't change, they're actually going to be getting the worst of the weather so although I can see their prices shortening because everyone struggles in the morning, they may very soon struggle themselves, and there's always a chance one or two early starters do make a move.

It's also possible that the volatile forecast changes for the umpteenth time this week. As it stands, we're due a wet and windy day. The rain is forecasted to stop for a while in the afternoon but before we view that as a possible window of opportunity for Spieth, Koepka and all the other afternoon starters, the wind is due to increase.

Three of my pre-event picks broke par today - the aforementioned Poulter, Alex Noren (-2) and Henrik Stenson (-1) but they're all playing in the afternoon so I'm keeping my fingers crossed there's a change in the forecast and they get a chance to move forward. There's a very long way to go and they're most certainly not out of it but I'd love to be getting involved in-running.

When I opened the curtains this morning, I felt sure I'd be busy trading this afternoon and this evening and that I'd have a clear picture of how things might pan out but I don't.

If the forecast is correct, and the early starters do get the better of the draw in the morning, then the one I'd fancy best to make the most of it is Charl Schwartzel. I've toyed with backing him at 23.022/1 but I can't see the point of backing him now, or anyone else for that matter.

I envisage the scoring going up considerably tomorrow so taking a price about anyone tonight is risky. I'm going to wait and try to gauge what's a good score in the morning. I'll be keeping a constant eye on the weather and I'll be looking to take up some positions as the morning wave of starters finish their rounds.

I'm not happy with the situation and I'm not happy with the players I'm likely to be considering taking positions about if they post a decent score and the weather worsens. I don't see the likes of Matt Kuchar, Paul Casey, Charley Hoffman or Rafa Cabrera-Bello winning so there's every chance I continue to sit on my hands tomorrow. Either way, I'll be back at halfway when I'll be feeling much less apprehensive about the weather.

The draw can determine who wins this major and when the weather forecast is up in the air, like it's been all week, then discretion is probably the better part of valour and although it might not make for great reading, I'm more than happy to remain cautious for now.

Open Championship Pre-Event Selections:
Rickie Fowler @ 20.019/1
Henrik Stenson @ 30.029/1
Phil Mickelson @ 55.054/1
Alex Noren @ 55.054/1
Padraig Harrington @ 110.0109/1
Ian Poulter @ 110.0109/1
Soren Kjeldsen @ 180.0179/1

In-Play Picks
Hideki Matsuyama @ 30.029/1
Gary Woodland @ 70.069/1

*You can follow me on Twitter @SteveThePunter
Discover the latest articles