The Punter's Open In-Play Blog: Noren value to win from off the pace again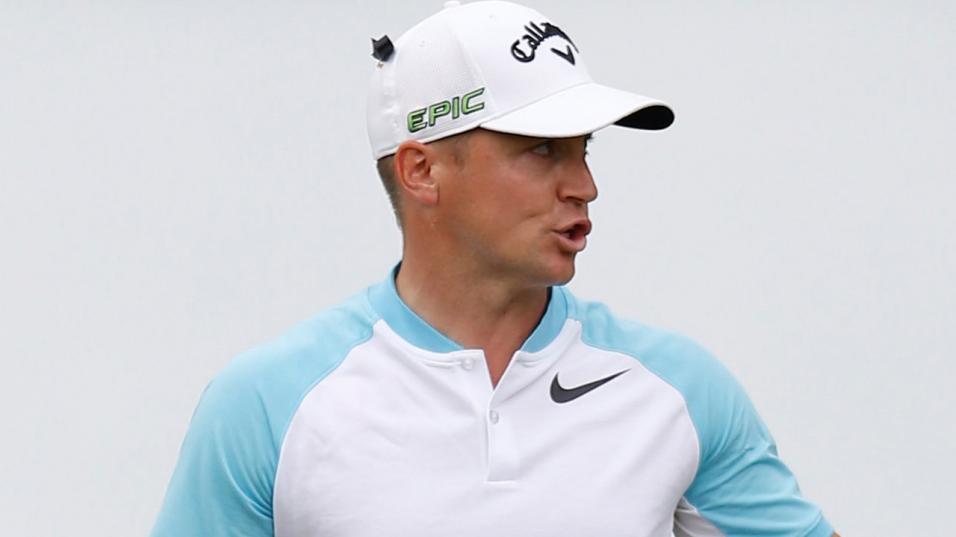 Alex Noren - looking to pounce from off the pace again
We've reached round four of the Open Championship and the leaderboard is tight so read our man's take on all the contenders ahead of today's final round here...
"At 36 and with ten European Tour events to his name, Alex Noren is primed to win a major and from off the pace is the most likely way he'll win one. His last two victories, at the BMW PGA last year and the Open de France last time out, came courtesy of sparkling final rounds and on both occasions he overcame a deficit of seven strokes."
09:20 - July 22, 2018
Receptive greens, benign conditions and some friendly pin positions resulted in a day of better scoring at Carnoustie in round three yesterday. We saw charges from off the pace by Justin Rose, Francesco Molinari and Tiger Woods and the defending champ, Justin Spieth, made the biggest move amongst the leaders. Here's the 54 hole leaderboard with prices to back at 9:10.
Jordan Spieth -9 3.1511/5
Xander Schauffele -9 7.06/1
Kevin Kisner -9 8.27/1
Kevin Chappell -7 22.021/1
Francesco Molinari -6 16.015/1
Tiger Woods -5 19.5
Rory McIlroy -5 20.019/1
Tommy Fleetwood -5 22.021/1
Alex Noren -5 28.027/1
Zach Johnson -5 38.037/1
Matt Kuchar -5 48.047/1
Webb Simpson -5 50.049/1
Justin Rose -4 44.043/1
-4 and 100.099/1 bar
There are one or two names on the leaderboard that won't be familiar to casual golf observers but there's absolutely no doubt that the cream has risen to the top at this year's Open. The conditions have been largely kind but Carnoustie is sufficiently stern that only the very best find themselves in with a chance to lift the Claret Jug with a round to go but who will it be? Here's my take on the contenders.
Defending champion, Jordan Spieth, is the man to beat but anyone playing him today at around the 2/1 mark needs to prepare themselves for a bumpy ride. Ever since his bizarre collapse at Augusta in 2016, Jordan hasn't been a straightforward conveyance in-the-mix. He very nearly threw away last year's Championship, having led by three at this stage, and he'd done the same thing a month before at the Travelers Championship, where he eventually won a playoff with a miraculous holed bunker shot.
If he is going to prevail, he's going to become the first player under the age of 25 to win consecutive Opens since Young Tom Morris achieved the feat 149 years ago! Morris won three in-a-row between 1868 and 1870. And Morris and Tiger Woods are the only two players to have won four majors before the age of 25. Should Jordan make a successful defence, this would be his fourth major.
The fact that he's defending doesn't put me off. A number of players have done so recently and on the last occasion we visited Carnoustie, in 2007, Tiger Woods had just won the 2005 and 2006 editions and the winner, Padraig Harrington, went on to successfully defend the title at Royal Birkdale. Spieth's attempting to emulate Padraig but by winning here after Birkdale, instead of before.
His bogey-free six-under-par 65 yesterday was a brilliant round. He only ever looked in danger of dropping a shot on the 12th (the hardest hole on the course) and if he remains calm today and plots his way around Carnoustie he's going to take the world of beating. With the wind due to be more of a factor today, a level par effort may even be enough as I suspect his nearest challengers at this stage, aren't the ones he needs to fear...
Xander Schauffele is the real deal. He won the Greenbrier Classic and the far more prestigious Tour Championship in his rookie season last year, having finished fifth in his first US Open, and after a slow start to this year's campaign, a second at the Players Championship and a sixth at the US Open advertise his ability to come to the fore at the world's biggest events.
Schauffele was tied 20th 12 months ago so he isn't playing in his first Open Championship but if he were to win he'd certainly be one of the least experienced champions and it would be the first time ever that two under 25s had won consecutive Open Championships (stat courtesy of the excellent Justin Ray). His wins at the Greenbrier and at East Lake will stand him in good stead but he does have to shake off a horrible experience last time out. Schauffele went in to the final round at the Greenbrier heading the market and trailing by just a stroke but after an opening par he bogeyed the next five holes straight and he eventually followed his third round 65 with a final round 75. It was an ugly defence and its a round he needs to learn from and learn from fast. He has the ability to do so but flapping in an event of that size isn't a big plus. Somewhat bizarrely, this is the first time in his career that he's led or co-led after any round.
I was really impressed with how Kevin Kisner hung in there yesterday as his playing partner, two-time major winner, Zach Johnson, stuttered. He's doing everything well so far but as I wrote yesterday, I just have my doubts as to whether he's quite up to winning a major. As he's done here, he led the US PGA Championship last August through the first three rounds before slumping to seventh in round four and I fancy we'll see something similar this time too. I could be doing him a huge disservice and if I'm wrong about him it would be far from the first time I've called it wrong but he's not for me and neither is the man alone in fourth, Kevin Chappell.
Chappell's been a regular on the PGA Tour for eight years now and he's a typical high quality seasoned PGA Tour pro. He hasn't lived up to the expectations caused by a third at the US Open on debut in 2011 and his victory at last year's low-key Texas Open is his only success to date. He lost a playoff to Rory McIlroy at the Tour Championship in 2016 and there have been a couple of other near misses but is he capable of delivering in a major championship? Again, I could very easily be wrong, but I have my doubts. He opened-up with three straight birdies to throw his hat in the ring yesterday but then played the next eight holes in two-over-par. That wasn't a surprise and if he struggles a bit today, that wouldn't be either. He looks a big price given how close he is to the lead but the market isn't wrong.
Alone in fifth, and only three off the lead, is the most in-form player on the planet - Francesco Molinari. The Italian didn't have a terrific US Open, finishing 25th, but in his two starts prior to Shinnecock he won the BMW PGA Championship at Wentworth before finishing runner-up in his national event and in his two starts since the US Open he's hacked up by eight strokes at the Quicken Loans National to win his first PGA Tour event and he finished second again last week at the John Deere Classic. His ball striking is as pure as it gets but whether he has the bottle to win a major is questionable and there doesn't appear to be much value in his price this morning.
After a cautious and deliberate start to round three, Tiger Woods went through the gears to shoot an impressive five-under-par 66 yesterday and only a fool would discount one of the greatest players the world has ever seen. He's managing the course meticulously and he's found his range with his putter (something that's been severely hampering him of late) but as crazy as it may seem, I'm a bit worried that nerves will get to him today.
At 42, Tiger's certainly not too old to win this. Over 40s have won four of the last seven Opens and Jack Nicklaus was 46 when he won the last of his 18 majors at Augusta in 1986 but Woods hasn't won one in more than 10 years now and he led or co-led after round three when winning all of his previous 14 majors. Since he's returned from injury this time, he's contended a few times but he's looked a bit edgy in-the-mix and he's just fallen short. I'd love to see him win but I just can't see it happening. I hope I'm wrong.
Rory McIlroy was a frustrating player to watch yesterday. Everything seemed to be in good order (even the putter) but silly mistakes cost him dear and poor course management on the 18th cost him yet another bogey. His fourth of the round. He won't be able to flit shots away today like he did yesterday in benign conditions with easy pins and with the wind up this afternoon, I think he's one to swerve. It's been a gallant performance up until now but his game is just not where it can be and it's not quite up to getting it done here. Everything clicked on Sunday at the Arnold Palmer Invitational in March and he went from two behind to three clear. He'll need an even more impressive performance to win today I can't see it happening.
After a quite brilliant second round, Tommy Fleetwood, perhaps understandably, struggled a bit yesterday but he rallied superbly to stay in touch. He loves the course, he's in great form and if he repeats his final round performance at the US Open he'll win. If he plays like he did on Friday he may well win too. The negative for Tommy is how much he wants it. He's spoken openly about how much he'd love to win it and I hope that doesn't count against him. There's no reason to think he can't play well again today and I fancy his chances more than I fancy the chances of Woods or Rory but for me, the value this morning is with Sweden's Alex Noren...
At 36 and with 10 European Tour events to his name, the world number 11 is primed to win a major and from off the pace is the most likely way he'll win one. His last two victories, at the BMW PGA last year and the Open de France last time out, came courtesy of sparkling final rounds and on both occasions he overcame a deficit of seven strokes. At around 30.029/1, he's only a few ticks shorter than he was before the off and he looks a great price to me.
Having backed Spieth at halfway at 11.010/1 and Molinari at 100.099/1, I've been given the opportunity to put my book in to some sort of decent shape and I've traded quite a bit to minimalise losses but I've made sure I've got a few onside and I've backed Zach Johnson, Webb Simpson and Justin Rose at big odds too. Zach's Open win in 2015 came form off the pace and he'd be far from the first to bounce back after a poor third round to win. Rose can soon get on a roll if he can build on yesterday's great round and Simpson's US Open win came from six off the lead with a round to go.
I'm largely taking on Schauffele, Kisner, Chappell and Rory and I haven't backed last year's runner-up, Matt Kuchar, but I wouldn't discount him entirely. He did absolutely nothing wrong last year and it would be nice to see him gain compensation but I have to draw the line somewhere.
I very much doubt that I've finished trading and as highlighted in the In-Play Tactics section of the preview, I'll be looking to see if someone posts a score from off the pace given how difficult the finish is here. The last two winners at Carnoustie trailed by ten and six strokes with a round to go and in the last five years we've seen Open winners come from five and six adrift so with the wind up today, an off the pace winner is a distinct possibility.
I'll be back tomorrow with the De=brief.

09:10 - July 21, 2018
We've only reached the halfway stage of the 147th Open Championship but it's already been a renewal to remember. Everyone encountered hard and fast conditions on day one but with rain on Thursday night and throughout much of Friday, putting colour back in to the parched fairways, round two was a bit of a mixed bag. The earlier starters endured long periods of sustained rainfall yesterday before the latter starters enjoyed more favourable conditions but there were big name casualties from both halves of the draw...
The world's one and two, Dustin Johnson and Justin Thomas, have missed the cut and so too have the well-fancied Sergio Garcia, Branden Grace and Russell Knox, along with fiery Spaniard, Jon Rahm, who was matched at just 8.27/1 after he birdied the first hole of his second round! The likes of Justin Rose, Patrick Reed and Henrik Stenson just scraped in to the weekend, having played their opening rounds in a combined score of +3, and we're left with a real puzzle to ponder at the halfway stage. Here's the latest leaderboard with prices to back at 09:05.
Zach Johnson -6 8.88/1
Kevin Kisner -6 19.018/1
Tommy Fleetwood -5 7.413/2
Xander Schauffele -5 18.5
Pat Perez -5 29.028/1
Rory McIlroy -4 8.415/2
Tony Finau -4 21.020/1
Matt Kuchar -4 22.021/1
Erik Van Rooyen -4 70.069/1
Zander Lombard -4 110.0109/1
Jordan Spieth -3 11.010/1
Rickie Fowler -3 11.010/1
Kevin Chappell -3 100.099/1
-2 and 30.029/1 bar
Tommy Fleetwood heads the market narrowly and rightfully so. He's the course record holder at Carnoustie, he posted the best second round score, in arguably the worst of the conditions, he's contended in each of the last two US Opens and he's a thoroughly trustworthy performer in-contention. He does have to back that up today though and that will be harder being so much closer to the lead, and so much closer to the winning line.
A pair of 69s have put Rory McIlroy bang in-contention for his second Claret Jug and I fancy he'll enjoy today's rain-softened and benign conditions. I can see him playing well again and trading shorter by the close of play but he's averaged 30 putts per round so far though, so that's still a big concern, and how will he like the conditions on Sunday when the wind picks up and the course firms up again?
The 2015 winner, Zach Johnson, was all the rage before the off after signing off at the John Deere Classic with a closing 63 on Sunday and he's kept that form going nicely. He's impressed greatly over the first two days but he looks a bit short to me at around the 7/1 mark. He won at St Andrews from outside the top-five and three adrift with a round to go and I'd prefer his chances here if he wasn't leading. Since converting a two-stroke 36-hole lead at the 2004 Bell South Classic, Zach has led or co-led eight times on the PGA Tour but he's only once converted and that was only after he'd shot 74 in round three to go from three clear to two back before rallying to win at the 2014 Tournament of Champions.
On the same score (-3), Rickie Fowler and defending champ, Jordan Spieth, are locked together at the same price and that doesn't make much sense to me. Fowler has been tied 11th or better in six of the last seven majors at this stage but he's still searching for his first success. In contrast, the younger Spieth has already won three of the four majors with only the US PGA Championship needed to complete the set.
To his credit, Fowler plugged on well in round two given the distraction of playing partner Rahm's ugly implosion and I'd absolutely love to see the likable American get the major monkey off his back but there's no way he can be considered value when compared to the ruthless Spieth at the same price.
Spieth hasn't won anywhere since taking this title 12 months ago but his putting has been holding him back terribly. He currently ranks an incredible 117th for Putts Per round on the PGA Tour but he's enjoying these slower greens and so far this week he ranks third for that stat. In comparison, Rory ranks 55th.
Of the remaining market leaders, co-leader, Kevin Kisner, is the one who's game looks best equipped to keep the challenge alive. He's scrambling really well and he ranks number one for Putts Per round so far this week but I just wonder if a major win is outside his reach. He held a great chance to win the US PGA Championship last year before a tame fourth round saw him drop from first to fourth and he wasn't even competitive in the WGC-Match Play final in February.
Any number of players, and several I haven't mentioned at all, are in with a great chance now and we look set for a cracking weekend's entertainment but it's still ridiculously hard to call. As highlighted in the In-Play Tactics section of the Preview, Ben Hogan, who was tied for the lead with a round to go in 1953, is the only Open winner at Carnoustie to lead at any stage before winning. No first or second round leader has ever won an Open here and the last two winners, Paul Lawrie and Padraig Harrington, trailed by ten and six strokes after three rounds so as Paul Krishnamurty highlights here, we could yet witness all sorts of drama.
My pre-event picks have been poor, and my Jon Rahm play after round one turned into a disaster so I'm firmly behind the eight-ball going into the weekend. Given the open nature of the tournament, I'm taking it easy at this stage but I have had a very small bet on Spieth at 11.010/1, together with some more speculative plays from off the pace with class acts, Francesco Molinari, Jason Day and Louis Oosthuizen, who all trade at triple-figure prices. All three are on level par but that's only six adrift and they could be very much closer come the end of round three.
20:50 - July 19, 2018
Round one of the Open Championship hasn't quite finished but the top of the leaderboard looks set so here's the current standings with prices to back at 20:40.
Kevin Kisner -5 27.026/1
Tony Finau -4 17.5
Erik Van Rooyen -4 75.074/1
Ryan Moore -3 46.045/1
Brandon Stone -3 50.049/1
Brendan Steele -3 120.0119/1
Rory McIlroy -2 11.521/2
Jon Rahm -2 11.521/2
Justin Thomas -2 16.015/1
Zach Johnson -2 36.035/1
Russell Henley -2 70.069/1
Chez Reavie -2 200.0199/1
Pat Perez -2 140.0139/1
Danny Willett -2 70.069/1
Matthew Southgate -2 75.074/1
-1 and 17.5 bar
All the best-laid plans etc. My pre-event picks have largely had a terrible day and my first in-play bet, on Phil Mickelson, didn't work out great either, so it's back to the drawing board but I really don't want to go rushing in. Tomorrow's weather forecast suggests sitting and waiting is the best strategy for now.
The forecast proposes lots of rain and a fair bit of wind in the morning so the early starters are likely to struggle and those teeing off in the afternoon may continue to shorten in the market.
I played Jon Rahm at 20.019/1 at just before 4pm today (see below tweet) and he's now vying for favouritism but I can see why. If the weather pans out as forecast, rain could soften up the greens and clear up just as the wind drops tomorrow. Players, like Rahm, teeing off after 15:00 tomorrow, could catch a huge break.
Rahm looks like the sensible play atm with all his market rivals out on the course. If the forecast is correct, his late tee time tomorrow will be very advantageous

? Steve Rawlings (@SteveThePunter) July 19, 2018

My plan is to monitor the play and the weather in the morning and maybe make a move around lunchtime. As always with links golf, the weather is a massive factor and as always with weather forecasts, we can't take them for granted. I'm actually tempted to trade out of Rahm now for a profit given he's almost halved in price and given I'm not convinced he'll play so well in poorer conditions but I can't really see a downside in holding on for now. I can't see him drifting before he tees off.
At the same time as I backed Rahm, Rickie Fowler was trading at 25.024/1 (now 17.016/1) and the likes of Tony Finau and Justin Rose have also shortened up so I'm regretting not piling in to a few more players now but I have got a small bet matched on Rahm and Fowler's playing partner, Chris Wood, at 140.0139/1.
Open Championship Pre-Event Selections:
Dustin Johnson @ 16.015/1
Patrick Reed @ 44.043/1
Tyrrell Hatton @ 55.054/1
Ian Poulter @ 80.079/1
Thorbjørn Olesen @ 150.0149/1
In-Play Picks
Jon Rahm @ 20.019/1
Phil Mickelson @ 80.079/1
Chris Wood @ 140.0139/1
Jordan Spieth @ 11.010/1
Francesco Molinari @ 100.099/1
Jason Day @ 150.0149/1
Louis Oosthuizen @ 180.0179/1


*You can follow me on Twitter @SteveThePunter
Discover the latest articles
Read past articles