The Punter's In-Play Blog: Kuchar kicks clear but is Aaron the wise wager?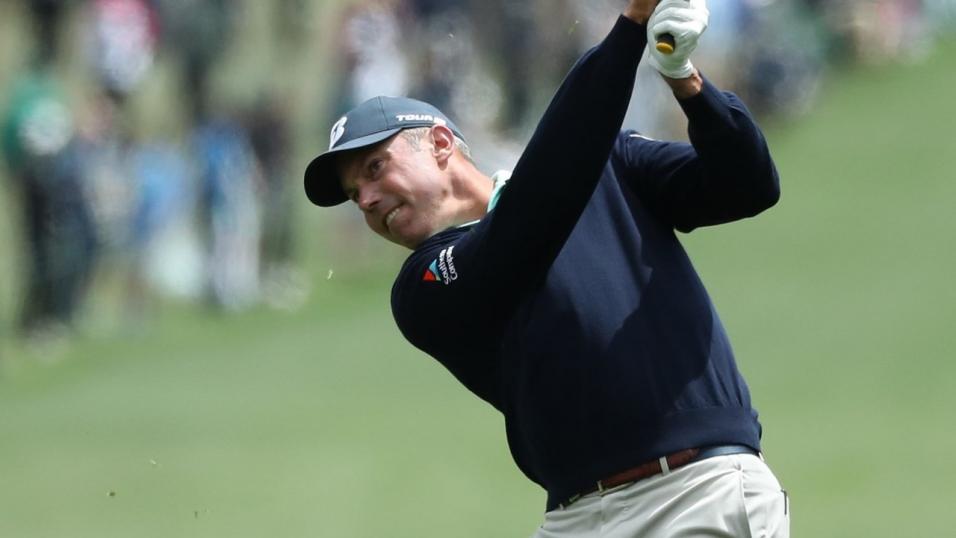 Matt Kuchar - four clear in Mexico
Matt Kuchar has kicked four clear in Mexico but is he a good thing to convert at odds-on? Steve takes a look at the current state of play with his final in-running update for the week here...
"Just two week's after Cameron Champ successfully converted a four-stroke lead in the Sanderson Farms Championship, it's the turn of Matt Kuchar to maintain the high success rate. Since 1996, 49 players have held a four-stroke lead on the PGA Tour and Champ was the 36th to convert. That's a 73% strike-rate so Kuchar's price immediately looks fair."
11:25 - November 11, 2018
The Nedbank Golf Challenge is drawing to an entertaining close live on Sky Sports, and I'll have plenty on that event in tomorrow's De-brief but for now I'm concentrating on events in Mexico...
A six-under-par 65 on Saturday, following a pair of 64s over the first two days, has seen Matt Kuchar move four clear of the field at the Mayakoba Golf Classic. Here's the 54-hole leaderboard with prices to back at 11:20.
Matt Kuchar -20 1.538/15
Whee Kim -16 13.012/1
Danny Lee -15 21.020/1
Richy Werenski -15 24.023/1
Cameron Champ -14 27.026/1
Aaron Wise -14 30.029/1
J.J Spaun -14 42.041/1
-13 and 55.054/1 bar
Just two week's after Cameron Champ successfully converted a four-stroke lead in the Sanderson Farms Championship, it's the turn of Matt Kuchar to maintain the high success rate. Since 1996, 49 players have held a four-stroke lead on the PGA Tour and Champ was the 36th to convert. That's a 73% strike-rate so Kuchar's price immediately looks fair.
When we also consider that his closest challenger, Korea's Whee Kim, is yet to win outside of his homeland, and that the two players tied for third were both big outsiders before the off and Kuchar starts to look a very fair price. There are negatives though...
Kuchar hasn't won on the PGA Tour for more than four years and he's led nine times previously worldwide with a round to go and he's only successfully converted on three occasions. The last of those three wins came at the very low profile Fuji International and Kuchar is one of the 13 players to fail to convert a four-stroke lead on the PGA Tour when he threw away the Houston Open four years ago.
All things considered, Kuchar is priced up correctly and although I'm sorely tempted, I don't want to take him on. He's been flaky in-contention on numerous occasions and he's not one I'd want to go to war with at odds-on but his immediate challengers are unlikely to apply maximum pressure. It's quite possible that the veteran Floridian gets an easy ride and even if he wobbles a bit, he'll get home safely, but I have had a small bet on Aaron Wise at 30.029/1.
Wise is on the same score as Cameron Champ but he's a couple of ticks bigger and I don't really know why. They're both tremendous prospects but Wise was quite a bit shorter before the off, he has much more experience than Champ and so far this week, he's the man topping the Putting Average stats. This is Kuchar's to lose now but a small wager on Wise made sense to me at the prices available.
I'll be back tomorrow with the De-Brief.

14:45 - November 10, 2018
The third round of the Nedbank Golf Challenge has been completed and a two-shot swing on the final hole of the round has kept the tournament tight. Sergio Garcia led by four on the 18th tee but following a bogey for the Spaniard and a birdie for Louis Oosthuizen, the gap is just two with a round to go. Here's the 54-hole leaderboard with prices to back at 14:35.
Sergio Garcia -10 1.845/6
Louis Oosthuizen -8 4.67/2
Lee Westwood -7 12.5
Thomas Detry -7 14.013/1
Mikko Korhonen -7 21.020/1
Ross Fisher -6 28.027/1
-4 and 210.0209/1 bar
On the last two occasions that Sergio has led by two with a round to go he's been beaten but those instances were five and six years ago in FedEx Cup Playoff events on the PGA Tour. Since he finished fourth at the Deutsche Bank in September 2013, having led by two through 54 holes, Sergio has led or been tied for the lead eight times and he's never finished worse than second, winning on four occasions.
It's never easy to win wire-to-wire and every time he's threatened to run away, he's erred but he looks a good thing to convert now. As highlighted yesterday, I'm not a big fan of Oosthuizen in-contention and the only other challengers aren't exactly renowned closers so I've backed some of my lay back at 1.855/6. I'm still against him but I've reduced my potential losses and I've also had a small wager on Ross Fisher at 28.027/1.
Fisher clearly loves the track and I can see him posting something tomorrow that might just ask a question of the Spaniard.
Over on the PGA Tour, we've reached the halfway stage of the Mayakoba Golf Classic in Mexico and after a pair of seven-under-par 64s, Matt Kuchar leads by two at the halfway stage. Here are the latest standings with prices to back at 14:40.
Matt Kuchar -14 4.3100/30
Cameron Champ -12 7.613/2
Danny Lee -11 20.019/1
Patton Kizzire -11 21.020/1
Ricky Werenski -11 25.024/1
Brian Gay -11 25.024/1
Anirban Lahiri -11 29.028/1
Whee Kim -11 34.033/1
Dominic Bozzelli -11 55.054/1
Adam Hadwin-10 25.024/1
Kramer Hickok -10 55.054/1
Jonas Blixt -10 65.064/1
Kyong-Hoon Lee -10 120.0119/1
-9 and 20.019/1 bar
Rickie Fowler (-8), Emiliano Grillo (-9) and Abraham Ancer (-9) are all prominent in the market, priced at between 20.019/1 and 23.022/1, but they have their work cut out already if the first 11 renewals are anything to go by. With the exception of the 2016 winner, Pat Perez, who sat tied for 11th and five off the lead, every winner has been inside the top-ten and no more than four adrift at halfway.
Kuchar, who's using a local caddie this week because his regular caddie, John Wood, has taken the week off to attend a reunion, is the favourite and that's no surprise given five of the 11 winners to date have been leading or tied for the lead at this stage but the 40-year-old hasn't won since 2014 and there are a whole host of challengers on his tail should he let up fractionally.
Cameron Champ is rapidly becoming something of a sensation and I have to admit I'm surprised to see him contending here. In my ignorance, I had him down as someone to play at a more open track where his prestigious length would be far more advantageous but he's clearly got plenty of game and he's not just a smash and grab merchant. So far this week he ranks first for Driving Distance, ninth for Driving Accuracy and first for Greens In Regulation. He's clearly playing brilliantly tee-to-green but whether he's value to follow up his maiden win so quickly with such a congested leaderboard is debatable.
It's a very difficult event to call but I'm more than happy to have a couple of contenders (Patton Kizzire and James Hahn) and I've added one more too. Yesterday's In-Play picks didn't exactly excel (shot two and three-under-par) so hopefully Brian Gay can keep going after his eight-under-par 63 yesterday. So far this week he ranks second for Par 4 Scoring and seventh for Putting Average (the key stats this week) so a second Mayakoba ten years after his first is perfectly possible. I thought he was just worth adding for small stakes at 26.025/1.

18:20 - November 09, 2018
Sergio Garcia started his second round in perfect style with back-to-back birdies and he was soon matched at a low of 1.584/7 as the likelihood of him running away with the Nedbank Golf Challenge appeared to grow. He stuttered a bit on the back nine but once through the horrible 15th, which both Ross Fisher and Charl Schwartzel played in nine strokes, it looked likely that he'd hold a commanding lead going in to the weekend but he bogeyed 16 and then this happened at 18.
A 360 degree horseshoe to finish for Sergio...

He'll still lead into the weekend though. pic.twitter.com/V3jX9SCDFo

? The European Tour (@EuropeanTour) November 9, 2018

Here's the current state of play with prices to back at 18:10.
Sergio Garcia -9 2.427/5
Louis Oosthuizen -8 3.55
Mikko Korhonen -6 24.023/1
Shane Lowry -4 26.025/1
Lee Westwood -4 32.031/1
Dylan Frittelli -4 40.039/1
Aaron Rai -4 110.0109/1
-3 and 50.049/1 bar
Although he still leads, Sergio is a bigger price now than he was when I layed him after round one but I feel a bit irritated not to be in a better position than I am. Fisher was flying when he made the nine at 15 and he followed that with three straight bogeys so he now trails by the eight shots he dropped in the last four holes and both Haotong Li and Matt Wallace finished their rounds poorly too. Li dropped four strokes over the last four holes and Wallace three over the last two and they both now trail by six. It could quite easily have been a very different leaderboard and Sergio could quite easily be trading at quite a bit bigger.
Sergio looks a fair price to me now. I'm not a big fan of Oosthuizen, who just doesn't win as often as he should and the Spaniard could easily kick on again after a slightly disappointing round today. Joe Dyer's each-way pick, Mikko Korhonen, is certainly a threat but there's a two-stroke gap to the remainder and if Sergio gets off to a decent start he'll be odds-on again in no time.
I've toyed with backing Sergio back, and putting myself in profit, laying Oosty as well as Sergio now, or leaving things alone and that's the decision I've made. I've got a bit of wiggle room and I'm going to see how tomorrow goes. Ideally, I'd like to see Oosthuizen trade much shorter so I can get him in the book too and see where I go from there but I'll just have to see what tomorrow brings. Li and Wallace are more than capable of putting in a charge and alongside those two on -3 and six off the lead is the defending champ, Branden Grace, who's also more than capable of a decent weekend charge so although Garcia and Oosthuizen are clear at the top, it's far from over.
Over at the Mayakoba Golf Classic, one of my picks, the defending champ, Patton Kizzire, had the most unusual starts to his first round. His prospects didn't look great after he'd double-bogeyed the third hole but he went on extraordinary run after that, going birdie-eagle-eagle-birdie! Highlighted below.
6-under 65.
Back-to-back eagles.@PKizzire enjoys @MayakobaGolf.

"I like it here ... the beach, the hotels, the golf course, it all just kind of fits." pic.twitter.com/h2LFjqxpf8

? PGA TOUR (@PGATOUR) November 9, 2018

Kizzire has just followed his opening six-under-par 65 with a five-under-par 66 but that's not good enough to lead. Recent Sanderson Farms winner, Cameron Champ has just fired a sensational 62 to lead by a stroke on -12. I'll take a look at this event in detail tomorrow at the halfway stage but I have backed a couple of players in-running, who have just begun their second rounds - Russell Henley and Brian Harman.

17:40 - November 08, 2018
The first rounds of any tournament are usually fairly sedate affairs. The old saying is that you can't win a tournament on Thursday but you can certainly lose one. Sergio Garcia is testing the adage to the limit this week though, given an eight-under-par 64 at the Nedbank Golf Challenge sees him lead by four after round one, and, incredibly, he's already been matched at odds-on! Here's the first round leaderboard with prices to back at 17:30.
Sergio Garcia -8 2.0811/10
Charl Schwartzel -4 17.5
Mikko Korhonen -4 36.035/1
Mike Lorenzo-Vera -4 44.043/1
Louis Oosthuizen -3 13.5
Branden Grace -3 26.025/1
Andy Sullivan -3 28.027/1
Matt Wallace -3 30.029/1
-3 and 50.049/1 bar
Garcia has never before held anymore than a two-stroke lead anywhere after the opening round but overall, his record when leading or co-leading after the first round is good. He's been clear or tied 23 times in total and he's gone on to win on five occasions. That's a more than reasonable return but what is striking is how he's suddenly improved his conversion rate. Incredibly, he won on just one of the first 19 occasions he led or co-led after round one but he's gone on to win on each of the last four occasions but looking deeper in to the stats, he still looks worth taking on...
Just ten men have led by four strokes after round one on the European Tour since 1996 and Carl Pettersson is the only man to go on to win - at the Algarve Open de Portugal back in 2002. However, that event was reduced to just two rounds and even that went to a playoff, so four-stroke 18-hole leaders on the European Tour have a woeful record.
Given Garcia's undoubted class, I thought it might be worth checking out the record of four-stroke leaders on the stronger PGA Tour and it's quite a bit better. We've only seen seven men end the first round four clear since 1997 but three of them went on to win. Most recently, Brandt Snedeker at the Wyndham Championship in August. On those stats (albeit a small sample size), around even money for Garcia looks fair but I'm still not convinced. We've seen ten men lead or co-lead since Lee Westwood won here in 2009, having led after round one, and they've all been beaten.
I've layed Garcia at 2.111/10 but I won't necessarily leave the position alone all week. I'm around tomorrow morning so I'll monitor the situation and maybe adjust my position, depending on how he plays. If he romps away and I end up doing my dough so be it but my instinct tells me he's too short with so much of the tournament still to play. If he romps away and I end up doing my dough so be it but my instinct tells me he's too short with so much of the tournament still to play.
They're off and running at the Mayakoba Golf Classic and Matt Kuchar is the early leader on seven-under-par. One of my picks, James Hahn. Also got to seven-under but he bogeyed two of holes last three so that was a bit disappointing. I'll take a more detailed look at that event tomorrow.
Nedbank Golf Challenge Pre-Event Selections:
Alexander Bjork @ 70.069/1
Matthias Schwab @ 140.0139/1

In-Play Trades:
Sergio Garcia layed @ 2.111/10 & backed @ 1.855/6
Ross Fisher backed at 28.027/1
Mayakoba Golf Classic Pre-Event Selections:
Jordan Spieth @ 19.018/1
Patton Kizzire @ 150.0149/1
Corey Conners @ 220.0219/1
James Hahn @ 280.0279/1
Stephan Jaeger @ 290.0289/1
D.A Points @ 800.0799/1

In-Play Picks:
Russell Henley @ 55.054/1
Brian Harman @ 90.089/1
Brian Gay @ 26.025/1
Aaron Wise @ 30.029/1
*You can follow me on Twitter @SteveThePunter
Discover the latest articles
Read past articles