The Punter's In-Play Blog: Piercy the best option on a tricky looking leaderboard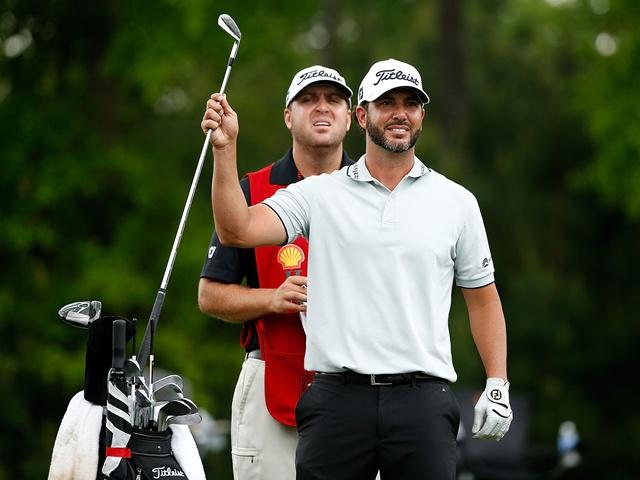 Scott Piercy – the best option ahead of round four in Mexico
The fourth and final round of the OHL Classic will begin shortly so read Steve's thoughts ahead of today's final round here...
"In addition to having a small wager on Piercy, I'll be keeping an eye on the early play for a closer or two from off the pace. In nine previous editions, eight winners have been within three of the lead with a round to go, so winning from off the pace isn't easy, but John Huh was trailing by seven after three rounds when he won in 2012 so it can be done. This leaderboard looks collectively vulnerable and I wouldn't be surprised if someone five, six or even seven back claimed the spoils."
13:40 - November 13, 2016
After a dramatic turnaround at the Nedbank Golf Challenge, my in-play pick, Alex Noren, looks set fair to win his fourth European Tour title in as many months but I'll look at that result tomorrow. For now I'm going to concentrate on the state of play on the PGA Tour...
The early start at the OHL Classic caught me out a bit yesterday and they're off early again today with the leaders teeing off at 16.10 UK and Ireland time. Here's the third round leaderboard with prices to back at 13:30.

Gary Woodland -18 2.9215/8
Pat Perez -17 5.14/1
Scot Piercy -16 4.94/1
Seamus Power -15 21.020/1
Webb Simpson -14 19.018/1
-13 and 24.023/1 bar

At around the 2.915/8 mark, Gary Woodland is trading at quite a bit bigger on the exchange than he does on the High Street but I can see why people want to take him on. The last four third round leaders at the event have all failed and Woodland has only won once from the front with a round to go. He's led or tied for the lead on the PGA Tour five times in total and the only time he successfully converted was at the Reno-Tahoe Open in 2013 and that wasn't even a stroke play event. They use the modified stableford scoring system there and that creates a slightly different feel to stroke play. All things considered, he looks a bit vulnerable.
After a scintillating nine-under-par 62 yesterday, Pat Perez finds himself in second spot but he looks one to oppose. In 378 PGA Tour starts, the 40-year-old has manged victory just once and he's often let his temper get the better of him in-contention. He also has to back up yesterday's low round and I'm more tempted to lay him at odds-on in the Top 5 Finish market than I am to back him to win.
Scott Piercy isn't especially prolific either but his record of three wins from 219 starts is far better than Perez's and almost by default, he looks the best option at this stage at almost 4/1. He was very impressive when he won the Barbasol Championship last July and he did little wrong at the US Open and the WGC-Bridgestone Invitational this summer when on both occasions he held his nerve fairly well during round four to finish second but his recent efforts haven't been too convincing.
He should have done much better than he did at the Safeway Open last month and he ruined his birthday last week when he fell from sixth to 24th on Sunday at the Shriners Hospitals for Children Open in his home town of Vegas. That poor effort would have stung and I can see him fairing much better this week.
PGA Tour rookie, Seamus Power, sat sixth and just two off the lead at the Safeway Open a fortnight ago but didn't handle the occasion well at all - firing 77 in round four to tumble down the leaderboard and finish tied for 29th. The chances are, he'll learn from that experience and perform better in-the-mix this time around but I wouldn't like to bet on it.
Webb Simpson will have his supporters but I'm still not convinced by his putting and in addition to having a small wager on Piercy, I'll be keeping an eye on the early play for a closer or two from off the pace. In nine previous editions, eight winners have been within three of the lead with a round to go, so winning from off the pace isn't easy, but John Huh was trailing by seven after three rounds when he won in 2012 so it can be done. This leaderboard looks collectively vulnerable and I wouldn't be surprised if someone five, six or even seven back claims the spoils.
I'll be back tomorrow with the De-Brief.

19:40 - November 12, 2016
On a tricky, windy round three at the Nedbank Golf Challenge, only seven players managed to break par. One of the seven, Jeunghun Wang, somehow managed to shoot a remarkable eight-under-par 64 and he now leads by three with a round to go. Here's the third round leaderboard with prices to back at 19:30.
Louis Oosthuizen -8 3.711/4
Andy Sullivan -7 7.413/2
Alex Noren -5 22.021/1
Branden Grace -5 22.021/1
Henrik Stenson -4 21.020/1
Jaco Van Zyl -4 110.0109/1
-3 and 95.094/1 bar

My day was every bit as bad as Wang's was good. In-Play pick, Alex Noren, and pre-event selection, Chris Wood, both shot very disappointing three-over-par 75s but they played brilliantly compared to my each-way selection, George Coetzee.
A double-bogey at the first was a poor start for George but he parred every other hole on the front-nine before he birdied the 10th and at that point he was back in the frame and back on track. Or so I thought. What followed was bloody awful. He managed to par the 12th and the 18th but he made three bogeys and three double bogeys coming in to play the back-nine in 44! George was matched at 5.24/1 yesterday, today he's a 1000.0 shot and he trails Wang by 15 strokes!
Wang is the fifth player to lead the Nedbank by three with a round to go. Trevor Immelman and Jim Furyk both successfully converted but Jamie Donaldson and Ernie Els were both beaten. Ernie was unlucky to bump into an inspired Sergio Garcia, who fired 63 to catch him from six back before winning the event in extra time and the Big Easy was the only one of the four to break 70. Immelman won after firing 71 and Furyk won by two strokes, despite shooting a two-over-par 74.
Over the last 20 years, 57 of 78 three-stroke 54-hole leaders have converted on the European Tour. That's a win percentage of 73%, suggesting Wang isn't too short at around 2.35/4 but other factors suggest he might be...
Although he's already won twice on the European Tour this year, this is the first time Wang has led with a round to go, so he's in uncharted waters. He won the Trophée Hassan II from three back in May and a week later he claimed the Mauritius Open from a stroke behind. If others come at him tomorrow he'll have to break par and that won't be easy after today's heroics. Backing up a brilliant round is notoriously difficult. And he's also going to be up against a partisan crowd, cheering enthusiastically for major champ, Louis Oosthuizen.
If Wang is to fail, Oosty is the obvious candidate to benefit but he's not for me. He's an odd player to weigh up and it's unusual to see him bang in-contention. He reserves his best for the really big tournaments and especially the majors but his record of converting his chances isn't spectacular. On the last ten occasions he's been within three of the lead with a round to go he's only converted once.
Having played the favourite before the off and staked enough already, I'm not getting any further involved in the tournament. If the leaders falter, Stenson and Noren still have a squeak but I was sorely tempted by Andy Sullivan at 7.413/2. Sulli can go very low, his maiden title was the South Africa Open in January last year, and he looks big in comparison to Louis given there's just one stroke between them.
Over at the OHL Classic, the third round is well under way and live on Sky and Gary Woodland is clear of the remainder and odds-on. I'll take a look at that one tomorrow.

17:40 - November 11, 2016
Pre-event favourite, Henrik Stenson, struggled at the Nedbank Golf Challenge today and it looked as though a two-hour weather delay, after he'd played nine holes, might do him a favour. I thought he might regroup but a tiny missed birdie putt at the par five 10th hole set the tone and at the close of play he trails fellow Swede, Alex Noren, by seven strokes.
It was all a bit farcical at the end and poor Ross Fisher dropped two shots on the 18th as he played the hole in the dark. More bad weather is forecast tomorrow and play will start earlier. It's live on Sky at 07:00 tomorrow (UK & Ireland time) and here's the halfway leaderboard with prices to back at 17:30.
Louis Oosthuizen -6 6.86/1
Chris Wood -6 9.89/1
George Coetzee -6 12.5
Jaco Van Zyl -6 19.018/1
Fabrizio Zanotti -6 30.029/1
Alejandro Canizares -5 50.049/1
Branden Grace -4 16.015/1
Ross Fisher -4 20.019/1
Matthew Southgate -4 90.089/1
Henrik Stenson -1 18.017/1
-3 & 36.035/1 bar

Alex Noren heads in to the weekend with a two-stroke lead, in search of his fourth European Tour title in 11 starts. This is the fourth time he's held a clear advantage at the halfway stage on the European Tour and on the other three occasions he went on to win. He's hard to oppose and I'm glad I'm already on board having backed him during the opening round yesterday.
The biggest danger is clearly course winner and home favourite, Louis Oosthuizen, who was the biggest mover of the day with his bogey-free six-under-par 66. Although Louis doesn't have a tremendous tournament record, he won the Dimension Data at Sun City on the Sunshine Tour back in 2007 and he's the man I'm most fearful of.
My pre-event pick, Stenson, played really poorly today and given nobody has won at the course in any event in the last 20 years from outside the top-eight places at this stage and that nobody's won from as far as seven back before (Sergio trailed by six at halfway in this event in 2001), he really is up against it.
I've pretty much given up on him but my other pick, Chris Wood, played well today. His driving got a little bit ragged on the back-nine and I'm hoping that's not a sign of things to come over the weekend but he's a big danger to Noren now. My each-way fancy, George Coetzee, is amongst those tied for second as well so I'm not in a bad place at all.
I'll take another look at the OHL Classic at the halfway stage but Gary Woodland looks highly likely to still be leading. He backed up an impressive first round 64 with a 65 today and on -13, he leads Scott Piercy by two with the afternoon wave yet to start.

10:30 - November 11, 2016
After kicking the tournament off with a bogey-free eight-under-par 63, the in-form Chris Kirk leads after the opening round of the OHL Classic. Three men sit tied for second and one of them is someone I've backed in each of the last two weeks!
Ben Crane did okay at the Sanderson Farms Championship, where he finished tied for 23rd, but he withdrew from the Shriners last week in round one because of injury. I did consider him yet again before the off this week as this looks like his sort of test but last week's withdrawal was clearly off-putting so I left him out.
This golf betting lark can drive you a bit potty at times and this is one of those occasions. All four of my pre-event picks were rubbish yesterday - three of the four failed to break par - so seeing Crane in such a lofty position just rubbed salt in to the wounds.
As you'll see from the clip below, Crane and his caddy are right in cinque this week, and I've thrown a few pounds their way. The chances are he'll tumble down the leaderboard now I've backed him but I can live with that. Maybe it's just a case of working out which level of mental torment is easiest to deal with. Throwing a few pounds in Crane's direction, only to see him struggle and finish unplaced or don't back him and watch him win? For my fragile sanity I can't risk the latter but I really rate Crane - he knows how to win - and I genuinely think he's a value price this morning at 36.035/1.
There is a special bond between player and caddie. pic.twitter.com/gcVwRkOuR2

? PGA TOUR (@PGATOUR) November 10, 2016

I'll be back this afternoon with another look at the Nedbank Golf Challenge after the second round has finished. It's currently live on Sky Sports 4 and Fabrizio Zanotti is the new leader after recording the tournament's first ever hole-in-one.

17:35 - November 10, 2016
The first round of the Nedbank Golf Challenge has finished and I'm quite pleased with how it's gone. Pre-event picks, Henrik Stenson and Chris Wood, both shot three-under-par 69s, as did my each-way selection, George Coetzee, and the trio all sit just a stroke off the lead held by Ross Fisher, Jeunghun Wang and Felipe Aguilar.
During play, I also backed Alex Noren at 11.010/1 and that's the price he's trading at now. He also finished the day on -3 and if the stats are to be believed, he's in the right place.
Every winner since 1998, bar Danny Willett in 2014, who trailed by five, and Sergio Garcia, who trailed by three in 2003, has been within two strokes of the lead after the opening round so concentrating on the leaders makes sense. And given the calibre of the group at the top, it's highly likely that we'll get another winner that's up with the pace from the get-go.
Pre-event favourite, Stenson, who birdied holes 15, 16 and 17 to close to within one of the lead, has understandably hardened up at the head of the market and he now trades at less than 2/1.
Over at the OHL Classic, Webb Simpson has shot a six-under-par 65 to post the early clubhouse lead and only one of my four has played his opening round so far. Charley Hoffman birdied his last three holes to shoot a level-par 71 so I'm hoping for better from my other three.

Nedbank Golf Challenge Pre-Event Selections:
Henrik Stenson @ 9/2 (Sportsbook)
Chris Wood @ 40/1 (Sportsbook)

In-Play Pick:
Alex Noren @ 11.010/1

OHL Classic Pre-Event Selections:
Harris English @ 35/1 (Sportsbook)
Fabian Gomez @ 100.099/1
Charley Hoffman @ 120.0119/1
Brian Stuard @ 210.0209/1

In-Play Picks:
Ben Crane @ 36.035/1
Scott Piercy @ 5.04/1

*You can follow me on Twitter @SteveThePunter
Discover the latest articles