The Punter's In-Play Blog: Sergio looks set to win again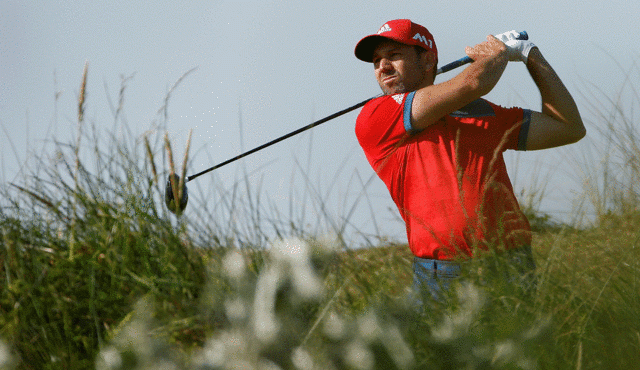 Sergio Garica - the halfway favourite at the KLM Open
There's just a round to go at the KLM Open and the Greenbrier so our man takes a final in-running look at the state of play at both events here...
"Sergio is without doubt the man to beat and while I've toyed with taking him on further, I'm happy to leave the book alone for now. Given the calibre of the chasers, I think he should be odds-on this morning."
09:00 - September 15, 2019
I meddled a little bit with both tournaments in-play yesterday so I've included my new positions against each player on the two leaderboards, as well as their current scores and prices to back on the exchange, starting with the KLM Open at 08:40 UK time.
Sergio Garcia -15 2.0421/20 -£206
Calum Shinkwin -15 4.216/5 -£205
Nicolai Hojgaard -13 19.018/1 +£425
James Morrison -12 24.023/1 +£425
Matt Wallace -11 15.5 +£196
Matthew Southgate -11 34.033/1 +£425
Steven Brown -11 70.069/1 +£425
Joakim Lagergren -10 85.084/1 +£425
Thomas Pieters -9 70.069/1 -£215
-9 and 150.0149/1 bar
So experienced is joint -leader, Sergio Garcia, that he's already led or been tied for the lead with a round to go in a 72-hole stroke play event 31 times previously and his strike rate is decent. He's gone on to win 15 times. He was beaten last time he led, at the Nedbank Challenge last year, but he converted four of his five previous leads, including quite a famous one at Augusta two years ago.
I've enjoyed the venue this week, it's a cracking little course where accuracy from the tee has been very important and that's right up Sergio's street. He's without doubt the man to beat and while I've toyed with taking him on further, I'm happy to leave the book alone for now. Given the calibre of the chasers, I think he should be odds-on this morning.
This is the fourth time that Callum Shinkwin has been tied for the lead with a round to go and the third time on the European Tour. He fired a final round 68 at the NBO Golf Classic on the Challenge Tour in 2015 but it wasn't enough and he finished third, beaten by two. He then traded at 1.011/100 in the Scottish Open two years ago before he messed up the par five 18th to slip into a playoff with Rafa Cabrera-Bello, which he went on to lose, and he fell from tied first to sixth when he shot 78 at the Indian Open in March. He looked very impressive yesterday but today's payday and he's looking to win for the first time.
I layed Shinkwin in-running yesterday at 4.216/5 when he chipped in for birdie at the ninth and that looked great timing. He played the next four holes in one-over-par and he drifted right out to a double-figure price but he birdied three of his last five. He relished playing with Garcia yesterday and that could stand him in good stead today but I'm happy to be against him.
Matt Wallace has been matched at 1000.0 in-running but yesterday's sensational nine-under-par 63, which was three strokes better than anyone else shot, has put him in with a squeak. It won't be easy to back that up today but he's clearly back to his best after his break and after a slow start to the week here. I've backed him back to make him a small winner in the book and he's the one most likely to threaten the leaders but I do think Sergio looks a solid proposition at odds-against.
Over in the States, weather stopped play late on yesterday at the Greenbrier Classic and I went to bed. I'd tidied my book up quite nicely and I hoped things would look even better this morning but they don't. The leader, Joaquin Niemann, who had been trading at 2.915/8 when I called it a day, picked up another birdie and Scottie Scheffler, who I had traded a few times but who I was still opposing, was a 25.024/1 chance when I left it but he birdied the last two holes and he's back in it now. Here's the leaderboard with prices to back and my positions at 08:50.

Joaquin Niemann -15 2.3811/8 -£381
Nate Lashley -13 8.615/2 +£511
Richy Werenski -13 10.519/2 +£636
Robby Shelton -13 11.521/2 -£109
Scottie Scheffler -12 13.5 -£347
Adam Long -12 17.5 +£636
Harris English -11 36.035/1 +£636
Joseph Bramlett -11 55.054/1 +£636
-10 and 36.035/1 bar
Niemann hit a low of 2.0621/20 when he birdied the 10th to take a three-stroke lead yesterday but he gave it straight back at the 11th and he was none too convincing after that. He started to miss a few fairways and I was hoping he might even drop another stroke coming in but a birdie at the par five 17th has seen him open up a bit of a gap again.
Niemann's bogey at the 11th yesterday is his only dropped shot all week so he's been very consistent and with the course firming up, he's most certainly the man to beat, but as I've stated repeatedly all week, no first, second, or third round leader has ever gone on to win this event and we've seen winners come from as far as three, four and even seven strokes back with a round to go.
After Kevin Chappell's 59 on Friday, the organisers reacted and pins were tucked away a bit yesterday. The five-under-par 65s shot by Richy Werenski, Nate Lashley and Joseph Bramlett were the best we saw all day so whether it's even possible for someone to go as low as Chappell did or Stuart Appleby did to win the inaugural event in 2010 is highly debatable. Like Chappell, Appleby shot 59 to win from seven adrift, and I'd be very surprised if anyone gets close to breaking 60 today but I suspect the set-up won't be quite as tough as it was yesterday.
I'm going to trade the event in-running and I'm certainly more positive than I was yesterday morning. I feel like the leader is beatable and I definitely have a few runners onside.
Paul Krishnamurty's Find Me a 100 Winner, Nate Lashley, who hacked up by six strokes at the Rocket Mortgage Classic in June is still onside, Adam Long is a PGA Tour winner, who showed plenty of guts when he held both Phil Mickelson and Adam Hadwin at bay to claim the Desert Classic (now known as the American Express) in January, and I like the look of Werenski. He's a winner on the Korn Ferry Tour, he's come close a couple of times on the PGA Tour (most notably when losing a playoff at the Barracuda two years ago) and at 27, he looks ready to claim his first PGA Tour title. If I had to name one to side with form here, he'd be the one.
I'll be back tomorrow as usual with the De-brief.

09:55- September 14, 2019
Scott Jamieson has hit the front at the KLM Open but it's Sergio Garcia that heads the market. Here's the 36-hole leaderboard with prices to back at 9:40.
Scott Jamieson -11 6.411/2
Sergio Garcia -9 5.49/2
Matthew Southgate -9 13.5
Calum Shinkwin -9 16.5
James Morrison -9 23.022/1
Sam Horsfield -8 13.5
Nicolai Hojgaard -8 60.059/1
Thomas Pieters -7 12.011/1
-7 and 25.024/1 bar
Scott Jamieson looked a fair price at 7.26/1 last night and even though he's now shortened up almost a point overnight his price still looks reasonable given 33% of two-stroke leaders in 72-hole tournaments on the European Tour have gone on to win since 1996 (56/172) but the last five have all been beat and Jamieson can't be described as resolute. His sole victory came in the weather-disrupted and now defunct Nelson Mandela Championship seven years ago but that was staged over only 36 holes and he trailed by six after round one. Other than that strange win, his performances in-contention have been poor...
Jamieson has never held a clear lead after two rounds but he's been tied for the lead after 36 holes five times and he's failed miserably every time. He's been leading after three rounds five times without winning and he failed to convert at the Volvo Golf Champions in 2013, having led by five with a round to go!
He's a lot more experienced now and he performed admirably in-the-mix at the Nedbank two years ago (led by one and beaten by one) so he could go on to win and to improve dramatically on his woeful record but I wouldn't be in a huge rush to side with him.
Given I've only layed three of the top-16, my book doesn't look too bad at this stage but it can all change very quickly and things look far bleaker at the Greenbrier, where two players I layed before the off, Joaquin Niemann and Scottie Scheffler, dominate the market. Here's the halfway leaderboard there, with prices to back at 9:45.
Joaquin Niemann -13 4.216/5
Scottie Scheffler -13 4.77/2
Robby Shelton -13 8.07/1
Adam Long -12 13.5
Kevin Chappell -10 22.021/1
-9 and 24.023/1 bar
Having layed everyone under 100.099/1 before the off here (see details at the bottom of the piece), my book here doesn't look great but I certainly haven't given up all hope.
In his first PGA Tour start since November, Kevin Chappell showed just how low you can go here, when becoming just the second man in PGA Tour history to make an incredible nine birdies in-a-row on his way to an 11-under-par 59 in round two yesterday. Mark Calcavecchia, at the Canadian Open ten years ago, is the only other man to record nine straight birdies and Chappell's 59 was the PGA Tour's 11th sub-60 round.
Low scores are certainly out there so the leaders will have to keep the pedal down and history is against them. As highlighted in the In-Play section of the preview, no first, second or third round leader, or co-leader, has ever gone on to win the Greenbrier. If you haven't got involved yet - laying the three players tied at the top at a combined 4/5 might make sense and I've dug my hole a bit deeper by doing exactly that. My book now looks like this...
Lay Book
First 20 in the betting layed at 95.094/1 and below before the off
Three co-leaders at halfway layed
Niemann -£400
Scheffler -£400
Shelton - £396
Others layed before the off now lose £102 and below and the field wins £589
I need Adam long and Chappell (who I haven't yet layed) to hang around and/or a few moves from deep to get back on track before round four, otherwise it's going to be a damage limitations job tomorrow night.

10:50 - September 13, 2019
I've gone about things a bit differently this week - laying everyone priced at less than 50.049/1 before the off at the KLM Open and everyone priced at under 100.099/1 in the Greenbrier. In addition, I had a couple of small wagers in both events, and I've detailed it all below.
When I've traded events in this way previously, I've often looked back and regretted laying others a bit too soon so I'm going to try and sit on my hands a bit longer this week. For example, the first round leader at the KLM Open, Callum Shinkwin, who tends to go backwards after a fast start, has been matched at as low as 18.017/1 so I could now get him layed to reduce my potential losses and increase my potential profit but I'm not going to. Shinkwin was trading at around 200.0199/1 before the off so he wasn't layed before the start.
I could have also layed Kurt Kitayama this morning at some point. He hit the front and was matched at a low of 15.014/1 when he birdied three of his first five holes and with hindsight, I should have got him in the book because he bogeyed four holes in-a-row around the turn but I've decided to hang fire for now. There will be others that shorten up and then shorten up again because they don't follow a good run with a string of bogeys though so I just need to be patient.
The second round of the KLM Open is well underway and live on Sky (behind the red button) and it's a bit strange issuing an update without actually doing anything but if I had to name one to keep and eye on, and one I'm especially wary of, it would be home hero and two-time winner - Joost Luiten. Starting on the back-nine yesterday morning, Luiten began really slowly, playing the first nine holes in three-over-par but he played the front nine in six-under! That was an improvement of nine strokes and he should be raring to go this afternoon.
Over at the Greenbrier, Robby Shelton leads by a couple of strokes after the opening round and I should perhaps get him in the book given no first, second or third round leader has ever gone on to win the event but I'm going to stick to my guns and leave it alone for now.
The defending champ, Kevin Na, following a six-under-par 64, is one of the five players tied for second and, at the risk of stating the obvious, he looks like a big danger now. He won the event by five strokes last year and he was much further back at this stage.
After a 69 in round one, Na trailed by eight in a tie for 64th! We can view that two ways. Either Na looks a great bet now that he's started so nicely at a track that clearly suits, or, this is clearly somewhere that a slow start can be overcome and the event is still wide open. Given Na was one of the 20 players I layed before the off, I hope it's the latter.
KLM Open Positions:
Mikko Korhonen backed @ 65.064/1
Brandon Stone backed @ 310.0309/1
Lay Book
First 12 in the betting layed at 48.047/1 and below
Worst Case Scenario - Thomas Pieters -£340
Field wins £300
Greenbrier Positions:
Sam Burns backed @ 150.0149/1
Fabian Gomez backed @ 160.0159/1
Lay Book
First 20 in the betting layed at 95.094/1 and below
Worst Case Scenario - Harold Varner -£390
Field wins £331

*You can follow me on Twitter @SteveThePunter
Discover the latest articles
Read past articles