The Punter's In-Play Blog: Hubbard the play in hard-to-call Houston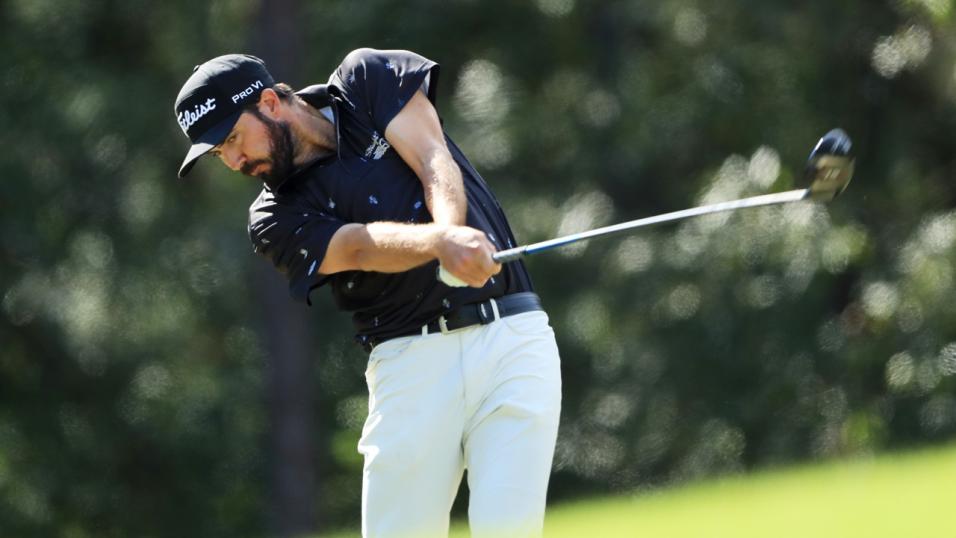 Mark Hubbard - just one off the lead in Texas
There's just a round to go at the Houston Open and the in-form Lanto Griffin shows the way but can he convert from the front to win his first PGA Tour title?
"The two at the top, Lanto Griffin and Mark Hubbard, have very similar profiles and they're hard to split. I'm not convinced Griffin deserves to be so much shorter with just a one stroke lead though and I'm happy to play Hubbard at 7.613/2."
14:45 - October 13, 2019
After some horrible weather, and a lengthy delay on Friday, the Houston Open is back on track. Here's the 54-hole leaderboard with prices to back at 14:40.
Lanto Griffin -11 4.03/1
Mark Hubbard -10 7.613/2
Beau Hossler -9 8.88/1
Cameron Tringale -9 9.28/1
Peter Malnati -9 14.5
Carlos Ortiz -8 17.5
Austin Cook -8 23.022/1
Brandon Wu -8 25.024/1
Sepp Straka -8 25.024/1
Talor Gooch -8 27.026/1
Scott Harrington -8 34.033/1
-7 and 36.035/1 bar
This is a really tricky puzzle to solve and the previous results don't help much. As highlighted in the In-Play Tactics section of the preview, the 2017 winner, Russell Henley, trailed by four with a round to go and both the 2014 and 2015 winners, Matt Jones and J.B Holmes, were trailing by six with just 18 to play but the vast majority of winners here have been right up with the pace...
Prior to 2014, Adam Scott in 2007, who benefited from a late Stuart Appleby collapse, had been the only winner not to be within two strokes of the lead with a round to go here, two of the last three winners were tied for the lead with a round to go, and every winner bar Holmes in 2015 has been inside the top-four places after 54 holes.
The two at the top, Lanto Griffin and Mark Hubbard, have very similar profiles. They've both just graduated form the Korn Ferry Tour and at 31 and 30, they've both been around the block a few times. Griffin has three wins to his name (two on the Korn Ferry and one on the Latinoamérica Tour and Hubbard has one win in Canada and one win on the Korn Ferry already in the bag. Both players have fair but not spectacular records in-contention and they're hard to split. I'm not convinced Griffin deserves to be so much shorter with just a one stroke lead though and I'm happy to play Hubbard at 7.613/2.
If there's a Golfing God and he's an extremely kind deity then Beau Hossler's name is already on the trophy. He was desperately unlucky to lose a playoff to Ian Poulter last year and there'll be plenty of fans pulling for him. I much prefer his chance to that of the often-flaky, Cameron Tringale, but the value amongst the three tied for third could well be with Peter Malnati.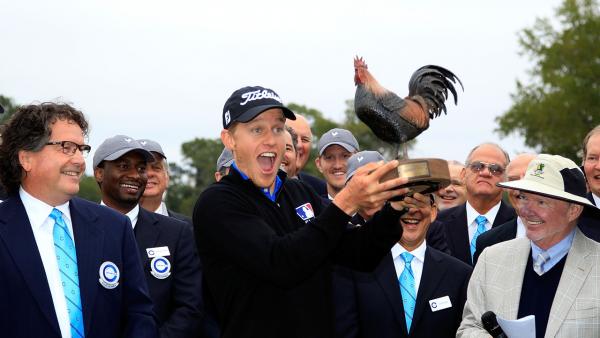 With his wife due to give birth in a fortnight, this is Malnati's final event for a while so he ticks a couple of boxes - the Nappy Factor and the bounce-back. He'll be disappointed with his one-over-par 73 yesterday but he'd be far from the first to rebound in round four and claim the prize. His price looks fair.
Austin Cook, who I backed after round one, is still on the premises and so too is Paul Krishnamurty's Find Me a 100 Winner pick, Brandon Wu. I'll be cheering those two on but the dangers are plentiful. The promising Sepp Straka is one to watch and I can see Denny McCarthy putting in charge from four adrift.

19:45 - October 12, 2019
There's been plenty of change on the Italian Open leaderboard today thanks to an entertaining third round at Olgiata.
J.B Hansen, who started the day alone in second, has tumbled to a tie for 13th after a disappointing three-over-par 74 and Andrew Johnson was the only man within three of the lead at halfway to shoot an under-par round but his one-under-par 70 has still seen him slip from tied third to tied seventh. The other four players to start the third round alongside Johnson all shot 71 or worse and Justin Rose, who began the day trading at around 7.06/1, failed to record a single birdie. He now sits tied for 51st after a seven-over-par 78!
In racing terms - the leader, Matthew Fitzpatrick, has been given a soft lead. He still maintains the advantage but only thanks to a fantastic finish. He too looked to be floundering on what transpired to be a tough afternoon but four birdies in his last six holes saw him return to the top. Here's the 54-hole leaderboard with prices to back at 19:35.
Matthew Fitzpatrick -13 2.3411/8
Kurt Kitayama -12 6.611/2
Robert Macintyre -11 7.26/1
Matt Wallace -10 9.08/1
Bernd Wiesberger -10 11.010/1
Soren Kjeldsen -9 60.059/1
-8 and 70.069/1 bar
Fitzpatrick heads the market at a solid 2.3411/8 and that certainly isn't too short. He's the 11th man to lead a European Tour event by a stroke with a round to go this year and four of the previous ten successfully converted. This is the sixth time he's led or been tied for lead after three rounds and he's performed admirably - winning three times and finishing second twice. He's made just four bogeys all week so far and he's going to be hard to beat.
That said, we saw today how quickly things can go awry around Olgiata and taking just a shade of odds-against about anyone around here doesn't make much appeal - especially given how strong the chasers are.
Kurt Kitayama in second may have gone off at 250.0249/1 (the same price I took about him last week in Las Vegas!) but he knows how to win and he's already won twice this season on the European Tour, Robert McIntyre, in third, who like Kitayama made his move from off the pace today, is looking for his first victory but it won't be long before it comes, and it's impossible to discount the two men tied for fourth and three off the lead.
Having seen a couple of chances to win slip this season, Matt Wallace has had a similar season to the leader but he's a ruthless closer who's due a win (won three times last season) and Bernd Wiesberger, who won the last Rolex Series event (the Scottish Open) is looking to win his third title of the season. If Fitzpatrick slips, it's hard to envisage his nearest challengers melting away like they did today.
It's hard to make a really solid case for any of the four closest chasers on price - although I'm very tempted by Wiesberger at 11.010/1 - but there is one player I'm happy to take a chance on.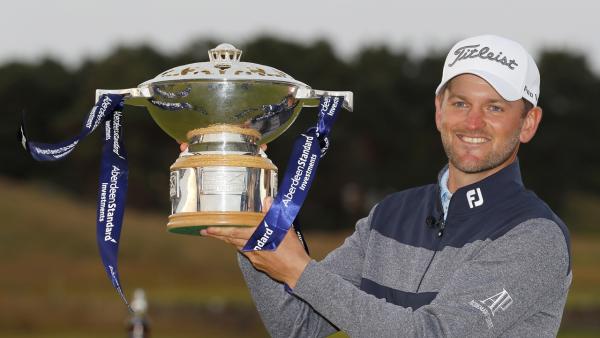 I backed Korea's Jeunghun Wang last week in Spain, having written this in the preview.
"I quite like a spike in form from seemingly nowhere as the market is often too slow to react so I was also happy to take a triple-figure price about multiple European Tour winner, Jeunghun Wang, who finished fifth last week in Scotland."
It didn't pay off as he missed the cut but he's clearly found something given he shot a bogey-free seven under-par 64 today. He trails by five so has plenty to do still but 140.0139/1 is just a bit too big given there are only six men ahead of him.
The Houston Open has been severely hampered by the weather but the third round is now up and running. I'm happy to leave the event alone for now and I'll be back tomorrow to take a better look with just a round to go. There are just two strokes separating the top nine players and it looks like a minefield.

22:00 - October 11, 2019
The halfway leaderboard at the Italian Open is littered with accurate types with form at tree-lined tracks and looking at the stats so far, despite the length of the course, driving distance has been an irrelevance. Aaron Rai, the winner of the Hong Kong Open in November at tight and fiddly tree-lined Fanling, is tied for eighth, despite only ranking 105th for Driving Distance and Matthew Fitzpatrick, who finished second to Rai at Fanling, leads by a stroke, ranking only 77th for DD. Here's the 36-hole leaderboard with prices to back at 21:55.
Matthew Fitzpatrick -10 3.55
J.B Hansen -9 15.014/1
Justin Rose -7 7.413/2
Rory Sabbatini -7 23.022/1
Andrew Johnston -7 32.031/1
Graeme McDowell -7 34.033/1
Shubhankar Sharma -7 40.039/1
Matt Wallace -6 17.016/1
Andrea Pavan -6 21.020/1
Erik Van Rooyen -6 25.024/1
Bernd Wiesberger -6 26.025/1
-6 and 32.031/1 bar
Fitzpatrick and JB Hansen have put a tiny bit of daylight between themselves and the rest and that might be significant if past results at Olgiata are any sort of guide. As highlighted in the In-Play section of the preview, Ian Poulter (another Fanling winner) led here wire-to wire when he took the title in 2002 and the five players to win here on the Challenge Tour were all up with the pace all the way - three of the five winners were in front at halfway, and the other two sat inside the top-three places and were only two off the lead.
Hansen won twice on the Challenge Tour last year but he's yet to win on the European Tour so Fitzpatrick is the clear and obvious favourite to win his sixth title. This is the seventh time Fitzpatrick has led or co-led at halfway and he's looking to convert for a third time.
He won his first European Tour title at tree-lined Woburn having been tied for the lead at halfway in 2015 and he converted a three-stroke lead at the Nordea Masters the following year but he's failed to convert from the front on the last three occasions he's led.
I'm not sure I'd read too much into that but it's just enough to stop me from backing him with so many quality players within four strokes of his lead. A slightly pedestrian third round tomorrow will in all likelihood see him caught and passed so I'm happy to continue to swerve him.
Fitzpatrick was very high on my shortlist for obvious reasons and I only didn't back him because I thought he was a bit short at less than 30.029/1 given the depth of the field and the length of the track so it's frustrating to see him leading but he still looks fractionally short to me.
There are a number of players that could make a move tomorrow and Mike Norman's each-way fancy, Andrea Pavan, who grew up playing Olgiata, is as likely as any. His course experience, coupled with the support of the home crowd, could count for plenty over the weekend and he's an interesting contender but the one I've thrown a few pounds at is Mikko Korhonen.
The Finn was in-contention last week before falling away during the third round but I thought he was worth chancing at 60.059/1 given he's no bigger than 40/1 on the High Street.

10:50 - October 11, 2019
The second round of the Italian Open is well underway and live on Sky Sports but it's an event I'm quite happy to leave alone for now. World number five, Justin Rose, has hit the front but he is one of a host of big names in-contention and it's lovely to see last week's fancy, Mikko Korhonen, in-the-mix. That may have been a lie.
The one I really liked this week was South Africa's Christiaan Bezuidenhout but he withdrew before the off, leaving me with just two picks and neither is threatening the lead at this stage.
Danny Willett finished his first round nicely yesterday and I was quietly confident he'd make a nice move this morning but he was poor first thing - playing his first nine in one-over-par. While my only other pick, after the withdrawal of Bezuidenhout, Guido Migliozzi, has played really well so far today, but he gave himself a lot to do after a poor first round.
This feels like a tournament to be cautious of so I'm happy to continue to sit and watch for now and I'll be back with a more comprehensive look at the halfway stage - either this evening, or first thing in the morning.
Over on the PGA Tour, at the Houston Open, the early starters were advantaged to the tune of 1.67 strokes on day one. The first six on the leaderboard, separated by two strokes, all played in the morning and 12 of the top 14 enjoyed an early start. Both of my two picks, Henrik Stenson and Jhonattan Vegas, were lucky enough to be drawn early yesterday but neither took advantage. It's not all doom and gloom, however. I tried to back another three outsiders but didn't get matched on any of them. None of them played well.
It's absolutely no surprise to see course specialist, Russell Henley, just one off the lead after the opening round and he now heads the very open market at 8.615/2. Having backed Henley to win here a couple of years ago at 60.059/1, I couldn't talk myself into backing him at around 25.024/1, and I'm stubbornly sticking to the opinion that - that was the right decision but I could be losing the argument (with myself!).
Greens In Regulation has been the important stat in Houston so that bodes well for Austin Cook, tied for the lead on -8, and Nick Watney, who sits tied for seventh and three back. They rank first and second for GIR after the opening round and Watney is one of the two players inside the top-14 that tees off this morning - having played in the afternoon yesterday.
Watney hasn't won for seven years and he's more than capable of throwing away a decent start so I'm happy to swerve him still but I have had a tiny bet on Cook at 12.5. Looking at the weather forecast, I don't think the early starters today are going to make up the lost ground (wind and rain forecast) but if last year's result is anything to go by, if you fancy someone who's started slowly, don't be put off. Ian Poulter won the event having trailed by nine and having sat tied for 123rd after the opening round!
Italy Open Pre-Event Selections:
Danny Willett @ 32.031/1
Christiaan Bezuidenhout @ 55.054/1 W/D - N/R
Guido Migliozzi @ 90.089/1
In-Play Picks:
Mikko Korhonen @ 60.059/1
Jeunghun Wang @ 140.0139/1

Houston Open Pre-Event Selections:
Henrik Stenson @ 13.012/1
Jhonattan Vegas @ 80.079/1
In-Play Picks:
Austin Cook @ 12.5
Mark Hubbard @ 7.613/2
Peter Malnati @ 15.014/1
*You can follow me on Twitter @SteveThePunter
Discover the latest articles
Read past articles