The Punter's In-Play Blog: Leaders look hard to beat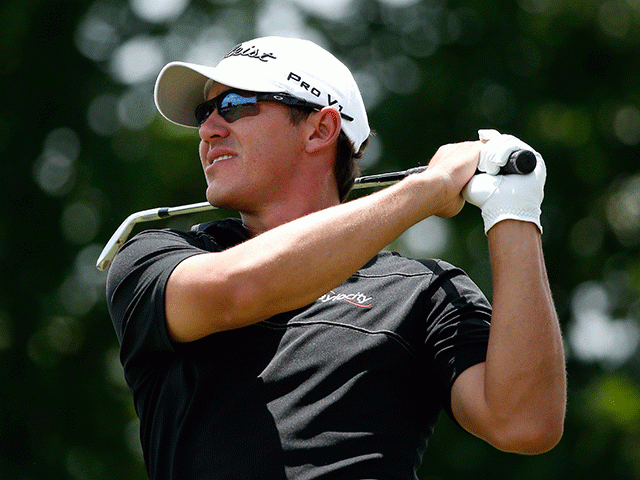 Brooks Koepka, than man two clear in Texas
There's just a round to go at both the Irish Open and the AT&T Byron Nelson so read Steve's take on the latest state of play at both events here...
"Third round leaders have a cracking record at this event and Koepka's going to take some catching. Since 1970, 28 of the 45 winners (62%) were leading or co-leading with a round to go and six of the last eight winners were in front through 54 holes."
10:00 - May 22, 2016
After a couple of weather delays yesterday, 12 players needed to come back this morning to finish off round three of the Irish Open and home favourite, Rory McIlroy, now takes a three stroke lead into today's final round. Here's the current state of play with prices to back at 9:50.
Danny Willett -6 8.27/1
Russell Knox -5 21.020/1
Richard Sterne -5 46.045/1
-4 and 75.074/1 bar

Having sided with Willett on Friday and having backed Knox yesterday, I'm hoping for a Rory slip-up now but I can't see it happening. While those around him threw strokes away, Rory played out a professional bogey-free third round and if he can repeat that today, the title will be his.
Willett wasn't at his best yesterday and it's likely that he'll make more mistakes today (he made three bogeys on the front-nine yesterday) and if anyone really wanted to oppose odds-on Rory, Knox at over 20.019/1 may be a better option to the Masters champ but it's hard to look past the leader.
Odds-on layers will argue that he gave up a three-stroke lead just two months ago at the WGC-Cadillac Championship and that he once capitulated at Augusta when four clear with a round to go but in soft conditions and with all the support with him, I can see him nursing it round in one or maybe two under today and I think that'll be enough.
The biggest threat could come from the weather and with stormy conditions forecasted, the fourth and final round is already underway. It's live on Sky Sports at 10:30 and McIlroy, Willett and Knox will tee-off in the final three-ball at 11.
Over at the AT&T Byron Nelson, after a third round which saw the lead change several times, Brooks Koepka will take a two-stroke advantage into today's final round.
Halfway leader, Ben Crane, very soon relinquished his lead and Sergio Garcia took up the running by a couple of strokes but back-to-back bogeys saw him slip back before Jordan Spieth took over. Garcia was matched at just 2.767/4 and Spieth hit odds-on but the world number two's game was off all day and with tee shots repeatedly going astray, he did well to play the back-nine in level par in the end. Here's the leaderboard with prices to back at 09.55.

Brooks Koepka -16 2.789/5
Jordan Spieth -14 3.259/4
Matt Kuchar -13 9.617/2
Sergio Garcia -13 10.09/1
Bud Cauley -13 26.025/1
Kyle Reifers -12 55.054/1
-11 and 55.054/1 bar

This event is similar to the Irish in that I'm on the man in second chasing down a gap that I'm not convinced can be bridged.
I put far too much faith in the often super-human Spieth yesterday and now I'm in a bit of a quandary. It looked likely that Koepka and Spieth might be tied with a round to go as they played the final hole of round three or that they'd be at least only one in it but it didn't transpire as I'd hoped. Koepka holed out for par from 10 feet and Spieth missed for par from eight feet and the gap of two looks big.
Third round leaders have a cracking record at this event and Koepka's going to take some catching. Since 1970, 28 of the 45 winners (62%) were leading or co-leading with a round to go and six of the last eight winners were in front through 54 holes.
Given those stats, how poorly Spieth played yesterday and the calibre of the others chasing Koepka, he looks a very fair price at around 2.89/5 and my instinct tells me I'm doing the wrong thing to stick with Spieth. I layed my in-play bet back considerably at 3.185/40 last night, but I'm keeping him onside and I'm not convinced I'm doing the right thing.
The stats would suggest that Koepka's the play today at the prices but I've found it impossible to back out of my Spieth wager completely and get with him. I've already witnessed Spieth do some incredible things on the golf course so I'm going to hope I see some more magic today. He looked all over the shop at times yesterday and he'll have to find something very quickly if he's to right the ship and win but I've certainly not given up, despite what the stats suggest.
I'll be back tomorrow morning with the De-brief.

09:10 - May 21, 2016
The organisers of the Irish Open would have ideally preferred better weather this week but they can't complain about the current leaderboard, with Danny Willet and Marc Warren just a shot in front of home favourite, Rory McIlroy. Here's the halfway leaderboard with prices to back at 08:55

Danny Willett -8 3.39/4
Marc Warren -8 11.010/1
Rory McIlroy -7 2.486/4
Matthew Southgate -6 130.0129/1
-4 and 46.045/1 bar

The market perceives this to be a three-man race already with Rory the man to beat but it might not be anywhere near that simple. When the European Open was staged here between 1995 and 2003 and then again in 2005, four of the ten winners were in front at halfway but five of them trailed by at least three at this stage and both Bernard Langer (1995) and Kenneth Ferrie (2005) were six adrift after 36 holes.
It's possible that someone from five, six or maybe even seven back could come through to take the spoils and there are some monster prices about given the calibre of the leaders. I've thrown a few pounds at the 2012 winner, Jamie Donaldson at 70.069/1 and I've also backed Englishman, Chris Wood at the same odds. After finishing their second rounds strongly, both men are five adrift and alongside one of my pre-event picks, Richie Ramsay, on -3.
I've also backed Scottish PGA Tour player, Russell Knox, at what looks like an absurdly big price of 46.045/1. The early starters on Thursday, of which Knox was one, were disadvantaged on both Thursday and Friday and they ended up shooting an average of 3.31 more strokes than those drawn late/early, so his six-under-par 66 in the rain yesterday afternoon was arguably the round of the week. He's no bigger than 33/1 on the High Street and he's too big at 46.045/1.
Those three aren't my only in-running plays - I also backed Willett yesterday after he'd made his second bogey of his second round at the par four 15th hole (his sixth hole of the round). Rory had started his second round brilliantly from tee-to-green but wasn't making the most of his game by missing putt after putt and I thought Willett had drifted too much when he touched 5.04/1. I didn't quite get that price but I was happy to get him onside at 4.84/1 and I'm happy to keep with him.
Given he's trying to win his national title, the pressure on Rory will be more intense than it is on Willett and the Irishman putted poorly yesterday - especially on the short ones. After two rounds, Rory ranks first for Greens In Regulation but 101st for Putts Per Round whereas Willett ranks 45th for GIR and fifth for PPR. I know he's hitting it beautifully but that poor putting could get to Rory and I'm happy to oppose him.
I could be dismissing Warren too easily but that's a risk I'm prepared to take. He's not been playing well for a long time and so far he's had a wonderful week with the putter. I'm not convinced he can keep that going.
Over in the States, five-time PGA Tour winner and pre-event 640.0639/1 shot, Ben Crane, has found form from somewhere to take up the running at the AT&T Byron Nelson. Here's the halfway leaderboard with prices to back at 9.00.

Ben Crane -12 15.5
Jordan Spieth -11 3.39/4
Sergio Garcia -11 7.613/2
Brooks Koepka -11 8.615/2
Bud Cauley -11 32.031/1
Wes Roach -10 85.084/1
Bryce Molder -9 40.039/1
Dustin Johnson -8 12.011/1
Matt Kuchar -8 20.019/1
Danny Lee -8 36.035/1
-8 and 46.045/1 bar

The halfway leaders have a cracking record in this event - eight of the last 14 winners were leading or tied for the lead and since 1970, 20 of the 45 winners (44%) were in front through 36 holes. Those stats make Crane a bit of a no-brainer bet at a double-figure price and especially so at around the 15.014/1 mark.
He's a funny old character is Crane - he does nothing for ages and then pops up and contends from seemingly nowhere and he shouldn't be discounted lightly. He's led or been tied for the lead seven times throughout his career and he's gone on to convert five times. He doesn't necessarily appear convincing and he absolutely fell over the line when last successful, in the FedEx St Jude two years ago, and he looked a bit shaky late on yesterday but he's a very experienced pro that knows how to perform under the gun. And he's too big given how strong both his and the event's stats are regarding his current position atop of the leaderboard.
I've backed Crane and I've also backed Spieth. In fact, I backed them both last night. I thought Spieth was consistently too big during round two given it was the presence of the likes of Sergio Garcia and Matt Kuchar that was keeping his price up. I don't rate either in-contention at all and fancy Brooks Koepka is a bigger danger to the favourite than Sergio, although the market suggests otherwise.
This is a very big weekend for Spieth in the context of his career. He could blow away the doubters, the memory of that Masters collapse (to some extent), the missed cut at the Players and enjoy a glorious success in front of his adoring home state fans. On the other hand, he could fail to get the job done from what looks like a great position at halfway and the questions will mount as to whether he can overcome his Augusta nightmare.
I think he has the class to do the former, although he does have to get the putter warmed up. He's a bit like Rory in that he's ranking first for GIR on the week but he's languishing with the flatstick. I trust him far more than I do Rory to improve in that department though as that's normally the strength of his game.
It's a really tough event to call but I'm happy to go to war with the world's number two player against some potentially flaky opposition.

09:05 - May 20, 2016
Just a very quick update to say round one of the AT&T Byron Nelson didn't get completed yesterday after the two hour plus delay in the morning. Darkness put pay to the day with some players still having five holes left to play but it's shaping up brilliantly with Jordan Spieth and Dustin Johnson just one stroke off the early lead held by Sergio Garcia, Johnson Wagner and one of Dave Tindall's three picks, Danny Lee.
The best of my picks so far is Bryson Dechambeau who trails by three. He still has a couple of holes of round one to play but he needs to get a shift on. As highlighted in the preview, a fast start is usually required here.
The second round of the Irish Open has started and Rory McIlroy and Danny Willett are both out on the course. Rory's missed two birdie putts already from six feet and in according to Tweeters at the course, and Willett has opened his account for the day with a birdie at his opening hole - the par five 10th. It's live on Sky at 9:30.

20:10 - May 19, 2016
Initial forecasts suggested today's early starters at the Irish Open would enjoy an advantage over those teeing it up in the afternoon but it didn't turn out that way at all.
Wind and rain irritated the morning starters and Martin Kaymer and Ross Fisher were the only two early starters to break 70. The rain stopped and the wind eased throughout the afternoon and at the close of play Danny Willett leads Rory McIlroy by two strokes. The US Masters champ hit a sensational seven-under-par 65 and Rory knocked it round in 67 - equalling his best ever round in an Irish Open.
This is only the third time Willett has ever led after round one - he was one clear after the opening round of the BMW PGA Championship in 2010, when he finished the week in fifth, and he was tied for the lead after round one of the 2014 BMW European Open. On that occasion he could only finish eighth but he's potentially a different beast now he's a major champion.
For very obvious reasons, Willett was someone I looked long and hard at before the off and had he been a bit bigger than 20.019/1 I may well have played him. When conducting my research, I thought it would be curious to see how Nick Faldo had fared after he'd won the US Masters for the first time in 1989 and it was interesting to see that he won twice in the next two months. He won the PGA Championship at Wentworth a month after winning at Augusta and a month later he was victorious at the British Masters at Woburn.
Willett's ultra-confident demeanour suggests he might take a similar route to further success and he might just take some stopping here. The market makes Rory favourite at 3.02/1 but if forced to play one, I'd much rather Willett at 3.412/5.
Rory had one lapse of concentration today when he missed a tiny par putt on the par three 14th but other than that he played very nicely but what can we expect from him tomorrow?
He's been remarkably inconsistent so far this year and I wouldn't trust him to equal today's performance tomorrow. His last two appearances at the Irish Open have resulted in two missed cuts and if he underperformed again tomorrow I wouldn't be in the least bit surprised. He's universally a 1/3 shot to finish inside the top-five and that's a price I'd love to lay.
With the likes of Martin Kaymer, defending champ, Soren Kjeldsen and Paul Krishnamurty's each-way fancy, Ross Fisher, all four off the early lead, this isn't a two man race by any means after just one round, even if the market suggests it is, but I think my lot are in trouble...
Richie Ramsay sits on two-under-par but he's the best of my five and that's a bit disappointing considering they all started fairly well. Andrew Johnston birdied his first two holes but ended the day on +3 and Thorbjorn Olesen raced out of the blocks before giving the three shots he gained on the front nine back on the back-nine.
I'm going to leave the event alone for now but I can't pretend I'm not tempted by Willett at 3.55/2.
Over in the States, there was a weather delay at the AT&T Byron Nelson first thing and the morning starters haven't finished their first rounds yet so I'll be back tomorrow with a look at that one.

Irish Open Pre-Event Selections:
Thorbjorn Olesen @ 80.079/1
Richie Ramsay @ 110.0109/1
Andrew Johnston @ 120.0119/1
Paul Lawrie @ 250.0249/1
Darren Clarke @ 310.0309/1

In-Play Bets
Danny Willett @ 4.84/1
Russell Knox @ 46.045/1
Chris Wood @ 70.069/1
Jamie Donaldson @ 70.069/1

AT&T Byron Nelson Pre-Event Selections:
Bryson Dechambeau @ 70.069/1
Lucas Glower @ 110.0109/1
Anirban Lahiri @ 160.0159/1
Bobby Wyatt @ 180.0179/1
Chesson Hadley @ 400.0399/1
Bronson Burgoon @ 520.0519/1
Michael Kim @ 610.0609/1
Hiroshi Iwata @ 650.0649/1
Rhein Gibson @ 750.0749/1
Brett Stegmaier @ 930.0929/1
Andrew Landry @ 1000.0
Lucas Lee @ 1000.0
Rob Oppenheim @ 1000.0

In-Play Bets
Jordan Spieth @ 3.412/5
Ben Crane @ 16.015/1

*You can follow me on Twitter @SteveThePunter
Discover the latest articles