The Punter's In-Play Blog: Terrific Todd poised for incredible treble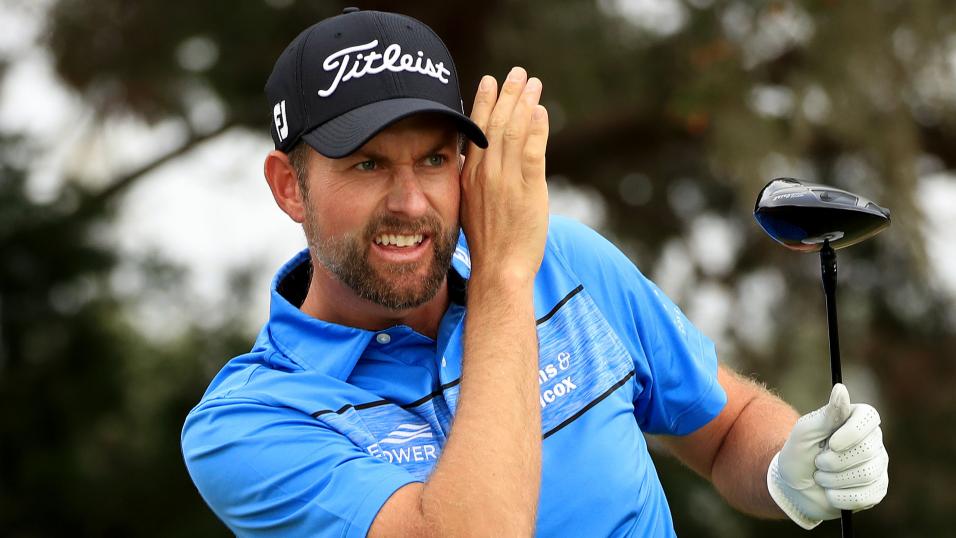 Webb Simpson - looking to catch Brendon Todd
Brendon Todd has struck the front at the RSM Classic with a round to go but can he convert to win his third event in-a-row? Read Steve's final in-running thoughts for the week here...
"Simpson has entered the final round trailing by one or two strokes 14 times previously and he's gone on to win only once."
10:20 - November 24, 2019
Jon Rahm moved six shots clear through just seven holes at the DP World Tour Championship (currently live on Sky Sports) but he's put the brakes on since so we might yet get an interesting finish but for now I'm concentrating on the RSM Classic where there's still a round to go. Here's the 54-hole leaderboard with prices to back at 10:15
Brendon Todd -18 2.447/5
Webb Simpson -16 3.711/4
Sebastian Munoz -16 8.07/1
DJ Trahan -15 19.5
Kyeong-Hoon Lee -14 46.045/1
Tyler Duncan -14 48.047/1
Ricky Barnes -14 70.069/1
-13 and 40.039/1 bar
Although he's attempting to win his third PGA Tour event in-a-row, a feat only achieved previously by some the world's greatest players, Brendon Todd looks a fair enough price to convert at around the 6/4 mark.
Every player in the Tour's modern era (since 1960) to win three straight weeks/three events in a row on the schedule is in (or is a mortal lock for) the World Golf Hall of Fame:

Arnold Palmer
Billy Casper
Johnny Miller
Hubert Green
Gary Player
Tiger Woods#BrendonTodd

? Justin Ray (@JustinRayGolf) November 23, 2019
Pre-event favourite, Webb Simpson, is the biggest danger to the leader but he never really convinces me in-contention and his stats endorse my impression. Simpson has entered the final round trailing by one or two strokes 14 times previously and he's gone on to win only once. He beat Chez Reavie in a playoff in what's now called the Dell Technologies Championship back in 2011 but he needed help there too. Reavie traded at long odds-on before he bogeyed the easy par five finishing hole.
As a US Open winner and a Players Champion, it's understandable that Simpson is so well fancied but recent Sanderson Farms winner, Sebastian Munoz, is a much more attractive price at 8.07/1 and having layed some of my Todd wager back in-running last night, I'm happy to put a few pounds on the Colombian.
I've also had a few pounds on the halfway leader, Tyler Duncan, as 36-hole leaders often bounce back after a poor third round, but given eight of the last 12 players to take a two shot lead into the final round of a PGA Tour event have won and that since 1996, 172 players have led by two strokes in a 72 hole stroke-play event on the PGA Tour and 79 of them went on to win (46%), Todd is a perfectly fair price at around 2.47/5.
In addition to Todd, two other pre-event picks, Scottie Scheffler and Doc Redman, are only five off the lead and they can't be dismissed. As highlighted in the In-Play Tactics section of the preview, we've seen a number of players win from off the pace here, and several others go close from way back. I'll be keeping an eye on any early movers.

15:20 - November 23, 2019
After three rounds at the DP World Tour Championship, somewhat unexpectedly, the first-round leader, Mike Lorenzo-Vera, is yet to wilt. He bogeyed the final hole today but he's still tied for the lead. Here's the 54-hole leaderboard with prices to back at 15:10
Jon Rahm -15 2.0621/20
Mike Lorenzo-Vera -15 5.79/2
Rory McIlroy -13 3.55
Tommy Fleetwood -11 22.021/1
Thomas Pieters -10 85.084/1
Marcus Kinhult -9 270.0269/1
-8 and 580.0579/1 bar
History hints that this is a two man race now, though you'd be brave to dismiss the man in third!
Having led after the opening round and having dropped away again in round two, Robert Karlsson fought back to fifth place through three rounds in 2010 but he still trailed the third round leader, Ian Poulter, by three strokes. The Swede went on to beat Poulter in a playoff but every other winner in the tournament's ten year history has sat either first or second through 54 holes and Karlsson is the only winner to be more than one stroke off the lead at this stage. Making up ground late on is nigh on impossible here.
I probably sound like a stuck record, but having backed Rahm before the off, I'm going to continue to sit on my hands here. I'm amazed at how well Lorenzo-Vera's game has stood up to the pressure over the last two days but I'd be surprised if he gets his head back in front now he's been caught and I'm confident that the Spaniard is the man to beat although McIlroy is obviously a huge danger.
Over at the RSM Classic, the entire filed has played one round at the Seaside Course and one at the newly revamped Plantation Course and 76 players will fight it out for the title around the Seaside Course over the weekend. Here's the 36-hole leaderboard with prices to back at 15:15
Tyler Duncan -14 7.06/1
Sebastian Munoz -12 8.88/1
DJ Trahan -12 13.012/1
Rhein Gibson -12 19.018/1
Fabian Gomez -11 19.5
Ricky Barnes -11 46.045/1
Brendon Todd -10 13.5
Henrik Norlander -10 30.029/1
Scott Brown -10 44.043/1
Kyeong-Hoon Lee -10 46.045/1
Webb Simpson -9 9.417/2
-9 and 20.019/1 bar
A strong case can be made for Tyler Duncan given the last two players to lead by two at halfway on the PGA Tour have won (Justin Thomas and Tiger Woods), that more than 30% of two-stroke 36-hole leaders have gone on to win on the PGA Tour since 1996 and that the last three renewals of this event have been won by the 36-hole leader but it's not quite that simple...
Duncan is yet to win anywhere, he's failed from the front through 36 holes five times previously and although the last three winners of this event were in front at this stage, nobody in the field can be written off given we've seen plenty of off the pace winners (see In-Play Tactics section of the preview) and that Patrick Rodgers lost a playoff 12 months ago having trailed by 12 at this stage!
I've got a couple of pre-event picks in-contention and I've now added Denny McCarthy at 30.029/1 and I'll be back tomorrow with another look before the fourth and final round.
14:10 - November 22, 2019
We've reached the halfway stage of the Race to Dubai deciding DP World Tour Championship and the first round leader, Mike Lorenzo-Vera, still holds sway after a very good three-under 69 after yesterday's incredible 63. Here's the 36-hole leaderboard with prices to back at 14:05
Mike Lorenzo-Vera -12 5.39/2
Jon Rahm -9 3.55/2
Tommy Fleetwood -9 5.04/1
Tom Lewis -7 27.026/1
Rory McIlroy -6 7.06/1
Thomas Pieters -6 46.045/1
Christiaan Bezuidenhout -6 80.079/1
Justin Rose -5 30.029/1
Marcus Kinhult -5 80.079/1
-4 and 80.079/1 bar
The big story on day two was Rory McIlroy's disappointing two-over-par 74 in what transpired to be tricky conditions. That was fully ten strokes more than he shot yesterday and he's gone from one off the lead and odds-on to six adrift and 6/1. The stats suggest that's too far back.
In the ten previous renewals, five strokes has been the most any winner has trailed by at halfway and as many as eight of the ten have been within three, suggesting Rory's task is a tough one but I certainly wouldn't count him out just yet.
First round leader, Mike Lorenzo-Vera, who I've layed in the Top 5 Finish market, surprised me by how well he played today but I'm not convinced I've done my dough just yet. On a day when only eight players broke 70, it's difficult to pick faults in a round of 69 playing alongside Rory in the final group of a massive event but he did finish rather tardily and but for a miraculous par at 16, he wouldn't have broken 70 and he would have finished with three bogeys in the last four.
This is the tenth time he's led at this stage and so far, he's not fared well. He did manage to win on the Challenge Tour 12 years ago, having been tied for the lead at halfway but he's never broken 70 in round three when he's led, he's finished second, 31st, 14th, 18th and second whenever he's led on the European Tour and his weekend scoring average for those five European Tour efforts was 74.2.
Jon Rahm played nicely enough on the front nine but he missed at least three short putts for birdie and the frustration eventually got to him when he double-bogeyed the eighth. He bounced back brilliantly after that though and when he did this on the 18th, he quite rightly leapt to the head of the market.
What a finish @JonRahmpga

The #RolexSeries specialist is in this mix again.#DPWTC pic.twitter.com/TGGWqfEwbI

? The European Tour (@EuropeanTour) November 22, 2019

I'm happy to be onboard from the off and I quite fancy his chances from here. He's the man to beat now.
Tommy Fleetwood is the biggest danger to Rahm and Lorenzo-Vero but he has a bad habit of throwing in a poor third round - including last week when he rallied from off the pace in round four to win the Nedbank Golf Challenge.
Over in the States, the second round of the RSM Classic is underway and the man to beat after round one is the pre-event favourite and 2011 runner-up, Webb Simpson, who kicked off the event with a seven-under-par 65 around the Plantation Course.
The par 72 Plantation is the easier of the two courses used and it averaged only 70.701 (-1.299) yesterday, compared to the 69.41 (-0.59) that the Seaside averaged, so Webb now has three straight rounds to play around the Seaside Course.
Simpson was tied for the lead after round one in 2011 and he sat second after round two and third after round three before going on to lose a playoff to Ben Crane but we have seen two first round leaders go on to win. Charles Howell won wire-to wire 12 months ago and so did MacKenzie Hughes in 2016, although both renewals went to extra time.
This is the 11th time Simpson has led or been tied for the lead after round one and he doesn't have a great record. He went on to win the Players Championship in impressive fashion last year but that was the only occasion he went on to win and he looks short enough to me at under 3/1.

15:15 - November 21, 2019
France's Mike Lorenzo-Vera, who was matched at a high of 175.0 before the off, shot a stunning nine-under-par 63 today to lead after the opening round of the DP World Tour Championship, but pre-event favourite, Rory McIlroy, is still the man to beat. Here's the first round leaderboard with prices to back at 15:10.
Mike Lorenzo-Vera -9 14.013/1
Rory McIlroy -8 2.01/1
Jon Rahm -6 5.79/2
Tommy Fleetwood -5 15.5
Tom Lewis -5 40.039/1
Rafa Cabrera Bello -4 70.069/1
Marcus Kinhult -4 90.089/1
-3 and 36.035/1 bar
In ten previous renewals, every winner here has opened up with a round in the 60s. Only one winner, Jon Rahm two years ago, has been outside the top seven places on the leaderboard after the opening round and four strokes is the most anyone has trailed after 18 holes. We definitely need to be concentrating on the leaders, but in front is not the place to be.
Robert Karlsson is the only man to go on to win having led after the opening day's play but somewhat bizarrely he's also the only man to win from as far as five strokes adrift at halfway or three strokes back with a round to go. He followed his opening 65 in 2010 with a 75 in round two before battling back to win a playoff with a pair of 67s over the weekend.
Given making up ground is hard and how much of an advantage length is here, it's impossible to ignore the two men sat in first and second - Rory McIlroy and Jon Rahm.
McIlroy doesn't have the distraction of the Race to Dubai and after this spectacular second shot on the par five 18th, which led to an eagle three, he also holds a two-stroke advantage over the Spaniard.
World class @McIlroyRory!#DPWTC #RolexSeries pic.twitter.com/N0RL22CsCY

? The European Tour (@EuropeanTour) November 21, 2019
Rory has already been matched at odds-on but that looks premature to me. My pre-event pick, Rahm, is a huge danger (and he's arguably still the value), as is last week's winner, Tommy Fleetwood, and there are plenty of great players tied for eighth, even if the stats say they're too far back already.
I know Rory is playing at a venue that's made to measure for his powerful long game and that he's the best player in the world right now but we saw Louis Oosthuizen go odds-on during round one last week and that didn't end well for the backers.
For the record, this is the 33rd time that Rory has sat first or second after the first round. dating all the way back to 2008 and so far, he has a strike rate of 31%. He won the Tour Championship back in August having sat second after the opening round but since taking this title for the second time in 2012, his form figures when he's led or sat second after round one, worldwide, read 10-8-6-9-2-15-14-1-8-2-1-5-2-8-1. That's only a one in five strike rate and I'm not sure that's good enough to make even money a decent bet.
Other than having a tiny bet on Marcus Kinhult, who impressed me greatly last week in South Africa, having backed Rahm before the off (preview here), I'm happy to let things tick along in the win market and I've turned my attention to the Top 5 Finish market, where the leader looks well worth taking on at 2.526/4.
Lorenzo-Vera, who complained of feeling ill for some time when interviewed after his round, is yet to win on the European Tour and I suspect he could soon slip away here. He didn't used to be too bad in-contention on the Challenge Tour years ago but he's led after the opening round three times since 2012 and he went on to finish 31st, 12th and sixth.
As already eluded to, first round leaders don't have a great record here. In the nine years we've been coming here, 15 men have led or been tied for the lead after the opening round and there finishing positions, staring with Robert Allenby in 2009, who led by a stroke, read 13-1-4-3-14-5-2-42-34-10-2-13-10-12-4.
I was tempted to lay Rory at around even money in the win market but taking on the flaky Frenchman at 2.526/4 in the Top 5 Finish market makes much more appeal. For more on laying on the Exchange, check out Betfair's How To Guide.
The RSM Classic, which I've previewed here, has only just started so I'll look at that one tomorrow but as detailed below, I've added a couple more picks since the preview was published.
DP World Tour Championship Pre-Event Selections:
Jon Rahm @ 8.07/1
Bernd Wiesberger @ 36.035/1
Kurt Kitayama @ 75.074/1
In-Play Trades:
Marcus Kinhult @ 95.094/1
Mike Lorenzo-Vera layed @ 2.526/4 (Top 5 Finish Market)
RSM Classic Pre-Event Selections:
Harris English @ 34.033/1
Scottie Scheffler @ 46.045/1
Brendon Todd @ 55.054/1
Russell Henley @ 55.054/1
Harry Higgs @ 120.0119/1
Robby Shelton @ 120.0119/1
Keith Mitchell @ 130.0129/1 (after preview published)
Zac Blair @ 200.0199/1 (after preview published)
Doc Redman @ 220.0219/1
Dominic Bozzelli @ 230.0229/1
Satoshi Kodaira @ 740.0739/1
In-Play Trades:
Denny McCarthy backed at 30.029/1
Brendon Todd layed @ 2.47/5
Sebastian Munoz backed @ 8.07/1
Tyler Duncan backed @ 46.045/1

*You can follow me on Twitter @SteveThePunter
Discover the latest articles
Read past articles