The Punter's In-Play Blog: Pepperell looks poised for British Masters success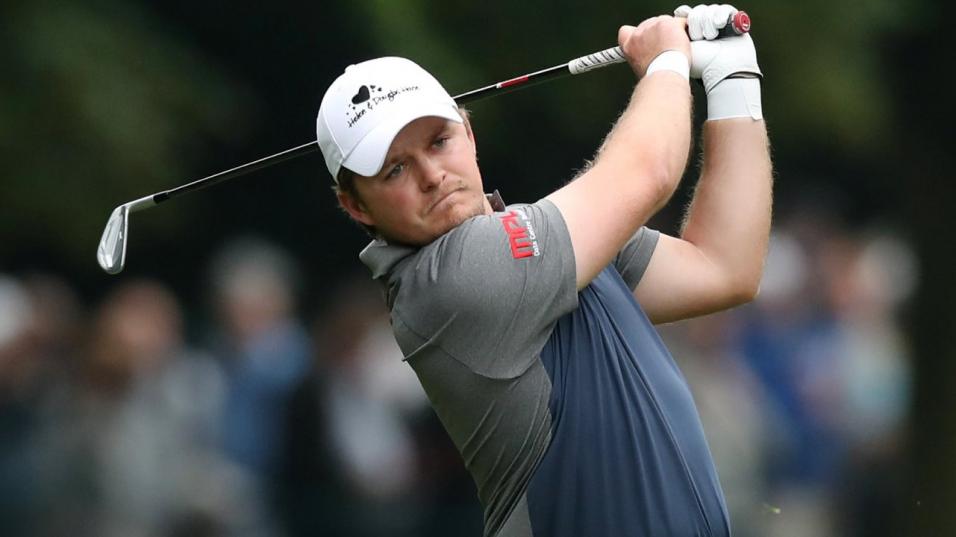 Eddie Pepperell - three clear with a round to go at Walton Heath
There's just one round to go at both the British Masters and the CIMB Classic so our man's had a good look at the stats for both events. Read Steve's final in-running update for the week here...
"Since 1996, 87 players have led by three strokes after three rounds on the European Tour and 61 of them went on to win. That equates to 70% and they've been especially prolific of late with 11 of the last 13 obliging. Odds-against for Eddie to make it 62 from 88 looks fair."
18:50 - October 13, 2017
The third round of the British Masters has just concluded and Eddie Pepperell will take a three-stroke in to tomorrow's fourth and final round. Here's the 54-hole leaderboard with prices to back at 18:40.
Eddie Pepperell -9 2.021/1
Julian Suri -6 9.417/2
Jordan Smith -6 9.89/1
Alexander Bjork -6 11.010/1
Julien Guerrier -6 19.018/1
Matt Wallace -4 24.023/1
Andrea Pavan -4 38.037/1
Matthew Fitzpatrick -3 36.035/1
Lucas Bjerregaard -3 46.045/1
Trevor Immelman -3 180.0179/1
Adrien Saddier -3 310.0309/1
-2 and 85.084/1 bar
It was hard not to be impressed by Eddie Pepperell's one-under-par 71 today. It was far from the best round of the day (three players shot 67) and the putter didn't work as well as it had done on Thursday or Friday but under the circumstances, it was a fine knock. A number of players looked like getting in to contention but every time they did the bogeys soon followed. In contrast, for the third day in-a-row, Eddie dropped just two strokes and if he puts in a similar performance tomorrow, I fancy he'll lift the trophy - weather permitting...
With an ever-present breeze, Walton Heath has played hard and fast for the first three days but the wind is set to drop tomorrow and there's a lot of rain in the forecast so we could see quite a change in the conditions. If the course softens noticeably and the greens become receptive, we could see some much lower scores but I still fancy the leader to hold on.
Since 1996, 87 players have led by three strokes after three rounds on the European Tour and 61 of them went on to win. That equates to 70% and they've been especially prolific of late with 11 of the last 13 obliging. Odds-against for Eddie to make it 62 from 88 looks fair.
I'm not dismissing his closest challengers out of hand but like Pepperell, Julian Suri, Jordan Smith and Alexander Bjork are all looking for their second European Tour titles and Julien Guerrier, alongside those three in a tie for second, is yet to win on the ET - although he has won twice on the Challenge Tour. Eddie has been calm and composed so far and I don't really see how a strong case can be made for anyone else given his sizable lead.
As I suspected, pre-event pick, Matt Wallace, struggled again on the greens today and he's alongside another of my pre-tournament fancies, Andrea Pavan, but given they both trail by five, they need quite a bit of help from the leader, and those currently tied for second.
It's a frustrating situation because the weather is such a sizable issue. It's really difficult to know what sort of affect it's going to have on the course tomorrow so I'm tempering my enthusiasm for the leader but I have backed him to cover my stakes. He's done nothing wrong all week and he should be odds-on whatever the weather.
Over at the CIMB Classic, three men are tied at the top with a round to go. Here are the latest standings with prices to back at 18:45.
Gary Woodland -19 3.55
Marc Leishman -19 3.711/4
Shubhankar Sharma -19 6.611/2
Louis Oosthuizen -17 9.89/1
Bronson Burgoon -17 22.021/1
Austin Cook -16 25.024/1
-15 and 50.049/1 bar
As highlighted in the preview, the plan before this tournament began was to follow the trends and to trade in-running and I'm really surprised it's taken me this long to strike a bet. As highlighted yesterday, this track favours the frontrunners heavily and I expect to see one of the three players tied for the lead to convert. I've backed the outsider of the three.
Just to elaborate on the trends, we've witnessed five previous editions of this event at the West Course TPC Kuala Lumpur and five Malaysian Opens here. Of the ten winners, nine were inside the top-three places with a round to go and eight of the ten have either been leading or within one of the lead with a round to go. The only exceptions were the 2015 Malaysian Open and the 2016 CIMB Classic...
Thanks to some woeful final rounds by the leaders (Paul Waring, Alejandro Canizares, Bernd Wiesberger and Lee Westwood, who shot rounds of 73, 74, 74 and 75 respectively), Anirban Lahiri was able to win here by a stroke having trailed by five in sixth place with a round to go in 2015 and he was responsible for the only other sizable turnaround a year later. Lahiri led this event by four through 54 holes but he was easily caught by Justin Thomas when he limped round in 72. Thomas, who had begun the final round in second place, shot 64 to win by four. Lahiri finished third.
Having finished second here twice, in 2013 and 2014, Gary Woodland is the correct favourite with a round to go. He's always been brilliant tee-to-green but he often suffers with a cold putter. That's all changed of late though and he's putted really nicely in each of his last three starts. He's far from the easiest to get across the line, and that's the reason I'm not siding with him, but he's the man they all have to beat tomorrow.
Marc Leishman is another that doesn't win his fair share of tournaments and he's going to have to drive the ball better to win tomorrow. He was matched at just even money when he reached 21-under-par with still eight to play of round three but errant tee-balls and a cold putter hindered him after that and I'm happy to swerve him too.
A victory for India's Shubhankar Sharma tomorrow wouldn't just see the 22-year-old all but sew up the Asian Tour Order of Merit, it would also earn him a coveted PGA Tour card and the pressure he's going to be under is going to be immense. He's bidding to become the first Asian winner of the event too and I can see why he's been weak in the market. It's a big ask. And punters will also remember him failing when leading in Mexico way back in March but I do think the market has overreacted. He's already won twice on the European Tour, in South Africa and here in Malaysia and he's just too big at 6.611/2. He's generally a 4/1 shot on the High Street and I made him a 9/2 chance so I have to play him at a point bigger.
I'll be back on Monday with the De-brief.
21:10 - October 12, 2017
For the second day running, play had to be suspended due to darkness at the British Masters today and Frenchman, Julien Guerrier, will need to come back in the morning to play his last three holes of round two but here are the latest standings with prices to back at 21:00.
Eddie Pepperell 8 2.982/1
Matt Wallace -5 6.411/2
Julien Guerrier -5 (thru 15 holes of round two) 29.028/1
Jordan Smith -4 23.022/1
Lucas Bjerregaard -3 13.012/1
Andy Sullivan -3 24.023/1
Ross Fisher -3 26.025/1
Julian Suri -3 32.031/1
Sam Horsfield -3 36.035/1
Matthew Fitzpatrick -2 23.022/1
-2 and 46.045/1 bar
With fast and firm fairways and a constant breeze, this event has turned in to a grind already and the weather forecast doesn't suggest it's going to get any easier. The wind will again blow tomorrow, and only slightly less than it did today, and then Sunday is forecasted to be wet and windy - although not quite as windy as today or tomorrow. Whether it quite pans out like that is obviously no certainty but it looks like we're in for a tough weekend regardless.
Eddie Pepperell is clearly the man to beat and given 28 of the 61 players to lead by three at halfway on the European Tour since 1996 have gone on to win, there's a case to be made for backing the leader at around 2/1. I've managed to watch most of the coverage over the first two days and Pepperell has putted especially well, saving par on numerous occasions when a bogey looked odds-on. That's exactly what's required in conditions as testing as this and he might just take some stopping.
My man, Matt Wallace, is tied for second but I'm not overly confident. In contrast to the leader, Wallace has missed umpteen short putts and although he's been playing brilliantly tee-to-green, I'm concerned the frustration of so many missed putts will start to leak in to his long game and I wouldn't be backing him now at around 5/1.
Last week's winner, Lucas Bjerregaard, was incredibly impressive today. His five-under-par 67 was one of only three rounds posted in the 60s (although there are still a few players still playing round two that can also break 70) and I'm kicking myself for not getting him onside in-running. I very nearly pulled the trigger at around 30.029/1 before his final birdie of the morning (at the seventh) but his price collapsed after that and he doesn't look value now at around 13.012/1.
I don't think there'll be lots of change tomorrow. Low rounds are going to be hard to come by, whatever the pin positions, and seeing someone close from off the pace looks highly unlikely so I've concentrated on the leaders in the main but I do think Matt Fitzpatrick looks a fair price at 23.022/1. It doesn't make an awful lot of sense that he's ten points bigger than Bjerregaard when he trails him by a solitary stroke. Fitzpatrick got very frustrated at times today and he certainly wasn't at his best but the course and conditions are ideal and he has the class to keep grinding. He looks the value at halfway.

11:15 - October 12, 2017
Darkness stopped play before the first round had been completed at the British Masters yesterday so it's not been easy to find a good opportunity to take a balanced look at the tournament. I've added to my pre-event picks with Richard McEvoy at a big price after he'd shot a four-under-par 68 yesterday but other than that, I'm just watching and enjoying the event for now.
Tommy Fleetwood was one of four players to end the first round in front on -5 (once Alex Levy had returned this morning to birdie the 18th) but he's lost his way in the breezy conditions this morning.
Walton Heath is a fabulous venue. It looks like a course that's going to yield really low scores - current leader, Eddie Pepperell, played five holes in six-under-par around the turn yesterday - but with heather situated all over the place, trouble awaits all over the course. Hence why I'm backing McEvoy. He's a notoriously accurate tee-to-green player.
Anyway, I'll be back to look at that one at halfway, for now I'm going to concentrate on the CIMB Classic, where they've reached the halfway stage already. Here's the 36-hole leaderboard with prices to back at 11:10.
Gary Woodland -14 5.59/2
Marc Leishman -14 5.85/1
Paul Casey -13 7.06/1
Shubhankar Sharma -13 21.020/1
Austin Cook -12 22.021/1
Scott Piercy -12 32.031/1
Bronson Burgoon -12 34.033/1
Kevin Chappell -11 34.033/1
Nick Watney -11 36.035/1
-10 and 10.519/2 bar
I was hoping to get stuck in here by now but I'm still scratching my head. Gary Woodland equalled the course record of 61 to get to the lead and Marc Leishman shot just one worse to join him and if very recent history is anything to go by, one of those two should take the title. This isn't an easy place at which to play catch-up. All five previous tournament winners at this venue have been inside the front-three places at this stage and the last three winners were all in front at halfway but I'm not convinced...
Woodland and Leishman both have the age-old problem of backing up a really low score and I don't view either as entirely solid in-contention anyway. Paul Casey is notoriously hard to get across the line and I wonder whether this isn't too big an ask for Indian golfer, Shubhankar Sharma, who's been largely out of form for some time.
My man, Scott Piercy, is still on the premises but the market isn't keen on his chances and I'm certainly not laying any of my wager off just yet at 30.029/1! That's far too big. First round leader Bronson Burgoon could bounce-back tomorrow after a slightly disappointing second round and Austin Cook could easily prove to be too big at over 20.019/1 right now but I'm happy to continue to keep my powder dry.
Two-time winner and pre-tournament favourite, Justin Thomas, performed poorly today, shooting a three-under-par 69 and he looks too short to me at around the 10.09/1 mark given he trails by five and that he has a lot of traffic to pass. I caught the last hour or so of the coverage this morning and, looking at the leaderboard, I thought I'd be backing Billy Horschel at halfway but he bogeyed the easy par five 18th to trail by four and I'm happy to swerve him now too.
11:50 - October 11, 2017
I know they've only had one round of the CIMB Classic, but I thought I might be making a move in-play by now. As highlighted in the In-Play Tactics section of the preview, a fast start is usually essential but after much deliberation, I've decided to hang fire for another day. Here's the first round leaderboard with prices to back at 11:40.
Bronson Burgoon -9 21.020/1
Austin Cook -8 18.5
Billy Horschel -7 9.417/2
C.T Pan -7 15.5
Scot Piercy -7 40.039/1
Justin Thomas -6 4.67/2
Paul Casey -6 15.014/1
Byeong Hun-An -6 23.022/1
Louis Oosthuizen -6 24.023/1
Emiliano Grillo -6 28.027/1
Kevin Chappell -6 46.045/1
Nick Watney -6 65.064/1
Joel Dahmen -6 100.099/1
-5 and 50.049/1 bar
Bronson Burgoon was one-over-par after four holes of his opening round today but he certainly got motoring after that, playing his last 14 in ten-under. There was a bit of talk about the course playing a bit tougher with the new Bermuda surfaces but his nine-under-par 63 equalled Ryan Moore's lowest opening tournament round here in 2013 so we look set for yet another ridiculously low winning score. The last three winners have reached 26, 23 and 24 under-par!
Burgoon is yet to win on either the PGA Tour or the Web.com Tour so I was happy to overlook him and scan further down but I haven't been able to find a bet.
Austin Cook, who last year won the RSM Classic in fine style, has started well on his first visit to Kuala Lumpur and I'm delighted to see my huge outsider, Scott Piercy, has begun the tournament well also. I'm not as happy to see that C.T Pan has kicked the event off nicely though as I came very close to backing him. Billy Horschel has picked up from where he left off last season and the huge presence is two-time tournament winner and world number four, Justin Thomas. With so many quality players starting so well and with 13 players within three of the lead, I've decided to let it roll for now and have another look tomorrow.
Over at the British Masters, there are a trio of Matts off to a good start. Matt Wallace, one of my pre-event picks, has hit the front, despite two three-putt bogeys, and he's tied with Paul Krishnamurty's each-way fancy, Matt Fitzpatrick and Dave Tindall's pick, Matt Southgate, is among those tied for third on -3. It's live on Sky Sports until 17:30 and the classic course, Walton Heath, is a joy.
British Masters Pre-Event Selections:
Shane Lowry @ 38.037/1
Matt Wallace @ 44.043/1
Tom Lewis @ 65.064/1
Andrea Pavan @ 70.069/1
Soren Kjeldsen @ 90.089/1
Tapio Pulkkanen @ 310.0309/1
In-Play Picks:
Richard McEvoy @ 110.0109/1
Matthew Fitzpatrick @ 23.022/1
Eddie Pepperell @ 2.0621/20
CIMB Classic Pre-Event Selections:
Si Woo Kim @ 90.089/1
Scott Piercy @ 160.0159/1
In-Play Pick:
Shubhankar Sharma @ 6.611/2
*You can follow me on Twitter @SteveThePunter
Discover the latest articles
Read past articles