The Punter's In-Play Blog: Kizzire can convert from the front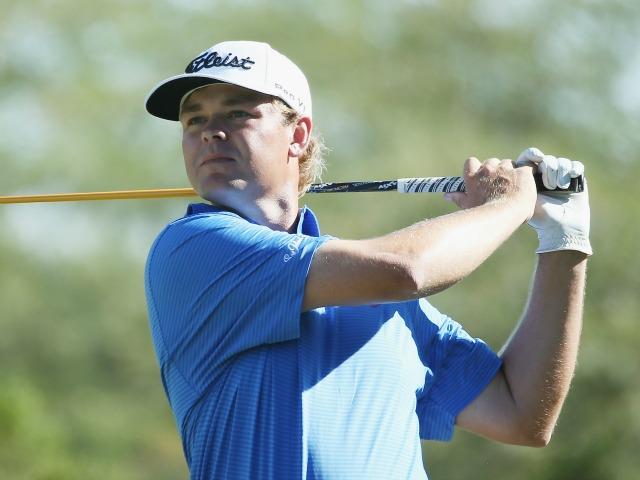 Patton Kizzire - the third round leader at the Safeway Open
The British Masters is all done and dusted but the fourth and final round of the Safeway Open is underway and our man thinks he may have spotted a bit value...
"Kizzire, who's yet to win on the PGA Tour, edged ahead of the field when play resumed earlier today and he looks value to convert. He's clearly putting exceptionally well given he's 44 of 44 from inside eight feet so far this week and with 37% of one-stroke 54 hole leaders successfully converting on the PGA Tour in the last 20 years, the 30-year-old American looks fractionally overpriced."
18:40 - October 16, 2016
My in-play pick, Alex Noren, has won the British Masters so I'm going to protect what I have to ensure a nice profit on the week but I've taken a small chance on Patton Kizzire at 5.14/1 ahead of the fourth and final round of the Safeway Open - which is live on Sky at 21.00.
Kizzire, who's yet to win on the PGA Tour, edged ahead of the field when play resumed earlier today and he looks value to convert. He's clearly putting exceptionally well given he's 44 of 44 from inside eight feet so far this week and with 37% of one-stroke 54 hole leaders successfully converting on the PGA Tour in the last 20 years, the 30-year-old American looks fractionally overpriced.

10:00 - October 16, 2016

The 18th hole at The Grove was kind to Tiger Woods 10 years ago, when he skipped to an eight-shot margin win in the WGC - American Express Championship, and so far this week Alex Noren has enjoyed much success there too.

Tiger eagled The Grove's par five 9th hole (which is played as the 18th in tournament play) in each of the first three days in 2006 and there are three plaques on the fairway celebrating each of his three drives. He could manage only a birdie in round four but he played the hole in seven-under-par. Noren will need to hole his second shot at the British Masters today to emulate Tiger's score but the hole has still be kind to him.

The Swede holed a monster putt for eagle there on Thursday and he tapped in for birdie there on Friday before holing yet another huge putt for birdie yesterday - when a scrappy bogey to finish the day looked far more likely. He'll now take a three-stroke lead in to today's final round and here's the current leaderboard with prices to back at 09:55.

Alex Noren -16 1.738/11
Richard Bland -13 11.521/2
Bernd Wiesberger -12 10.09/1
Tommy Fleetwood -12 14.013/1
Richard Sterne -12 16.015/1
Peter Hanson -12 26.025/1
Lee Westwood -11 36.035/1
Marcel Siem -11 70.069/1
Graeme McDowell -10 50.049/1
-9 and 120.0119/1 bar

Noren is the 77th player to take a three-shot lead into the final round of a European Tour event in the last 20 years and he's bidding to become the 56th to successfully convert. That's a strike rate of 71% so at around the 1.738/11 mark his odds appear about right.

He's held a clear advantage eight times previously and he went on to win on six occasions so again, his price looks in line with the stats.

Noren is looking to win his third tournament in four months and with his nearest challenger, Richard Bland, looking for his first European Tour title, the Swede looks very hard to oppose.

As highlighted yesterday, Bland has played nearly 400 times on the European Tour over the last 20 years without winning. In contrast, the prolific Stockholm man is looking to notch for a seventh time on tour and if there are to be any dangers, they're likely to come from further back.

Pre-event favourite, Bernd Wiesberger, is the obvious candidate and if he gets off to a fast start he could get Noren's attention but it's all about the Swede today. If he keeps his calm, he'll win nicely and his price, although short, is perfectly fair.

Having backed Noren in-running on day one, I've taken the pragmatic step of laying him back to ensure a profitable week but I can't help but think I needn't bother. His position is a strong one and I'll be disappointed if he doesn't convert.

Over in the States, with water pooling on the greens, play was suspended at the Safeway Open yesterday with the leaders still having three holes of round three to play and they'll finish off their third rounds before embarking on round four when play resumes at 07:40 local time today. That's 15:40 UK and Ireland time.

Johnson Wagner leads Scott Piercy and Paton Kizzire by a stroke at present but he has a birdie putt of inside ten feet to extend the lead and he's the current favourite.

My plan here was to wait for the fourth round and to trade the event in-running but it looks like I may have missed the boat! Paul Casey has already been matched at just 2.35/4 and Piercy, who broke the course record in round one, has been matched at evens. I'd love to have those two in the book already and to be now going after Wagner at a short price but I can't do it all. Four late nights in-a-row is an undertaking I'm not prepared to take so I'll stick to the plan and see what tonight brings.

The weather forecast suggests a dry but windy day so we might yet get a dramatic finish. The leaderboard isn't as bunched as I'd have liked though and a lot will depend on how they end their third rounds. There are currently only five men separated by three strokes at the top of the leaderboard (one of which is Dave Tindall's fancy - Martin Laird) and if they pick up a stroke or two coming in it's going to be hard for anyone outside that quintet to win.

20:10 - October 14, 2016

Before I begin, I'd like to apologise for yesterday's post. I was in communication with a number of people attending last week's Alfred Dunhill Championship via Twitter and I was given some excellent updates and in-running commentary by some great people but I was also given a completely bum steer re Noren and his playing partners and I was daft enough to include it in the blog without checking it out properly. It seems the Swede just lost his way and wasn't destabilised at all by anyone so apologies for the claptrap posted yesterday!

Anyway, he's back in form this week and just a stroke off the halfway lead so here's the current leaderboard with prices to back at 20:05.

Richard Bland -11 7.613/2
Alex Noren -10 6.05/1
Andrew Johnston -10 7.06/1
Tommy Fleetwood -9 10.519/2
Anthony Wall -9 36.035/1
Scott Jamieson -9 42.041/1
Tyrell Hatton -8 12.5
Bernd Wiesberger -8 12.5
Chris Wood -8 13.5
Richard Sterne -8 25.024/1
Lee Westwood -7 40.039/1
Marc Warren -7 50.049/1
Peter Hanson -7 95.094/1
-6 and 65.064/1 bar

Richard Bland is the only man to be bogey-free over the first two days at the British Masters and he and Andrew Johnston, who's tied for second alongside Alex Noren, are tied at the top of the Greens In Regulation stats.

Bland is having his best year to date and he's given himself another great chance to win but if he manages to achieve the feat, it'll be for the first time. He's been plying his trade on the European Tour for 18 years and he's made nearly 400 appearances but he's still yet to win. That's enough to put me off.

Noren is the new favourite and he's already been matched at just 3.211/5 and he really should be leading. Having played superbly all morning and putted especially well, he came to his final hole of the second round (the par four ninth) with a commanding three-stroke lead over his playing partner, Johnston, but Beef bombed in a lengthy birdie putt and Noren bumbled his way to a double-bogey six and I wonder if that's a sign of what's to come.

The Swede was matched at a similarly short price last week after a great start but he lost his way quite badly in Scotland and it will be interesting to see how he fares tomorrow. Having backed him yesterday, I'm happy to be on board but in what is an incredibly open looking heat, I'm far from confident.

I'm getting sick to death of hearing the inane cries of 'Beeeeef' after every holed putt by Johnston but he's arguably the man to beat right now. His game looks really solid and a home win for the Englishman is a distinct possibility but at less than 6/1 there's not quite enough meat on the Beef bone to make it a tasty price.

None of the players tied for fourth make much appeal. Scott Jamieson has a hot putter to thank for his lofty position and given he's playing to get into the top-110 on the Race To Dubai to keep his card, I can see him slipping away tomorrow under the pressure. Although a winner of the Paul Lawrie Match Play earlier in the season, Anthony Wall is not one to be relied upon in stroke play events. And the same can be said of Tommy Fleetwood who always seems to get nervous in-the-mix.

The pre-event favourite, Bernd Wiesberger, is tied for seventh and he'll have his supporters but I'm not one of them. The big Austrian doesn't win often enough for me and he's missing some silly little putts. I can't see any value in his price and I prefer the two Englishman on the same score...

Last week's winner, Tyrell Hatton, looks dangerous given the form he's in and that he's sleeping in his own bed this week and my each-way fancy, Chris Wood, is definitely not out of it. I've watched much of his play over the first couple of days and he's playing beautifully but the putts just aren't dropping. Maybe they will over the weekend.

Richard Sterne is alongside those three on -8 and just three off the lead so he too can't be readily dismissed but it's now almost four years since the injury-prone South African tasted success and he has only one win to his name in the last eight years. He'll be sharper for last week's effort in the mix in Scotland but I'm happy to leave him out at this stage too.

I'm really tempted to add Johnston to the portfolio and if he drifts a bit before he tees off I might yet do so. If I had to pick out a bet at this stage he'd be the man but I'm going to stick with Wood and Noren for now and see what tomorrow brings.
Over at the Safeway Open, the second round has only just resumed after a lengthy weather delay and I'm more than happy to let the tournament tick along without me. I've missed the boat on Scott Piercy, who's leading the way after an opening 10-under-par 62, and with the forecast not looking too clever I've decided to leave it alone.

I'll take another look tomorrow but I suspect I may wait until Sunday before getting involved. As highlighted in the In-Play section of the preview, I fancy there'll be trading opportunities aplenty at the death so I'm happy to bide my time.

19:00 - October 13, 2016
Four men are tied at the top after round one of the British Masters - Mikko Ilonen, Richard Sterne, Tommy Fleetwood and Paul Krishnamurty's each-way fancy, Marc Warren - and a further 16 players are within two of the lead so it's a very tightly packed early leaderboard but I've still got involved in-running.

I was bitterly disappointed by the performance of Alex Noren after his fabulous start to the Alfred Dunhill Links last week. I'd backed him at 25/1 and he was a 2/1 shot after round one but he lost his way badly after that. I've since heard a rumour that Noren was destabilised by the withdrawal of his professional playing partner, David Howell.

I have no idea how much truth there is in that and whether it's enough of an excuse to cause such a fall in form on days two and three is debatable anyway but he was left playing with two amateurs and one of them, so I've been told, was something of a nuisance.

Anyway, I'm prepared to give him another chance. He's won twice already this year and he's clearly playing well so I went about getting him onside on the back-nine today. He hit an awful drive on the par five 15th, not long after I'd backed him, and he also three-putted the 17th to bogey that hole too but a birdie at the 16th and an eagle at the last patched the round up nicely. He's a best price of 11/1 with the Sportsbook this evening and that looks reasonable still.

In addition to Noren, I've also had a tiny wager on England's James Morrison. He was on my rather before the off and given he's just two off the lead and a best price of 40/1 on the High Street, I was happy to throw a few pounds at him at 50.049/1.

Over in the States, pre-event favourite, Paul Casey, has started well at the Safeway Open and at the time of writing he's just two off the lead but it's very early days still. I've no regrets about leaving Casey out but I'm really kicking myself that I didn't back the current leader, Scott Piercy. He was very close to a pick before the off but I wanted just a bit bigger than the 70.069/1 that was available.

A number of fancied players have also started well though so I might yet get a chance to get him onside at a decent price but I'm going to hold off for now and see how things pan out tonight. It's live on Sky at 21:00.

British Masters Pre-Event Selections:
Andy Sullivan @ 38.037/1
Thongchai Jaidee @ 44.043/1

In-Play Tradess:
Alex Noren @ 16.015/1
James Morison @ 50.049/1
Alex Noren layed @ 1.748/11

Safeway Open Pre-Event Selections:
Scott Stallings @ 150.0149/1
Geoff Ogilvy each-way @ 200/1 on the Sportsbook

In-Play Pick
Patton Kizzire @ 5.14/1

*You can follow me on Twitter @SteveThePunter
Discover the latest articles