The Punter's In-Play Blog: Is reliable Thomas poised to win again?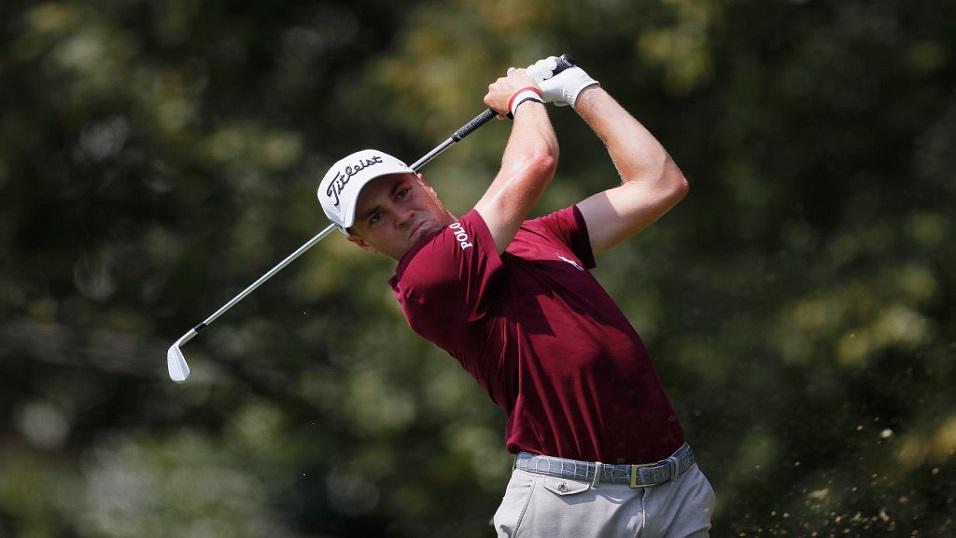 Justin Thomas - the leader in Mexico with a round to go
With a round to go, Justin Thomas leads in Mexico and Viktor Hovland has struck the front in Puerto Rico so read Steve Rawlings' final in-running thoughts for the week ahead of today's final rounds here...
"Since finishing seventh at what's now called the American Express in 2015, having been tied for the lead with a round to go, Thomas has led or co-led ten times on the PGA Tour and he's gone on to win on eight occasions."
11:00 - February 23, 2020
Justin Thomas started round three of the WGC-Mexico Championship with a bogey and he finished it with a bogey but he still managed to shoot a six-under-par 65 around Club de Golf Chapultepec and he enters the fourth and final round with a one-stroke lead. Here's the 54-hole leaderboard with prices to back at 10:50.
Justin Thomas -15 [2.16]
Patrick Reed -14 [5.2]
Erik Van Rooyen -14 [8.4]
Rory McIlroy -11 [10.5]
Jon Rahm -11 [15.0]
Bryson DeChambeau -11 [32.0]
-10 and [70.0] bar
Thomas is now a very short-priced favourite to avenge his playoff defeat to Phil Mickelson here two years ago and so he should be. Since finishing seventh at what's now called the American Express in 2015, having been tied for the lead with a round to go, he's led or co-led ten times on the PGA Tour and he's gone on to win on eight occasions. He's clearly very reliable but his two defeats are both noteworthy...
He led here by two in 2017 before a very disappointing 72 in round four saw him finish only fifth and he played poorly in the final round of the Genesis Open last year to throw away a four-stroke 54-hole lead. He's dependable in-contention but not completely bombproof.
Of his two closest pursuers, Erik Van Rooyen and Patrick Reed, I much prefer the latter. Van Rooyen took his time to get off the mark on the European Tour, passing up numerous good opportunities before he finally got the job done at the Scandinavian Invitation last August, whereas the 2018 US Masters champ, Reed, is a very reliable player in-the-mix and if Thomas shows any sign of fluffing his lines today, he's the one most likely to capitalise.
Jon Rahm broke the course record yesterday to put himself in to a tie for fourth, alongside first round leader, Rory McIlroy, and the man that set the pace at halfway, Bryson DeChambeau, but all three have plenty to do if the leading trio play well today.
Having layed Rory after round one, and having backed Thomas yesterday, I've now backed Rory back and layed Thomas for a stress-free Sunday and I've also added a small bet on Reed at [5.2].
Although Thomas shot 64 in round four to make the playoff two years ago, having trailed by four with a round to go, the three course winners to date have all been up with the pace and two strokes and second place is as far back as any of the three winners have been.
This is an easy course and scoring is good in decent conditions so it's hard to envisage both Thomas and Reed playing poorly enough for someone to win from as far as four adrift and Reed looks a very fair price at in excess of 4/1.
Making ground up is hard at the Puerto Rico Open too, where the pre-event favourite, Viktor Hovland, has hit the front after an eight-under-par 64 in round three. Here's the 54-hole leaderboard with prices to back at 10:55.
Viktor Hovland -18 [1.78]
Martin Laird -17 [3.9]
Josh Teater -16 [9.0]
Emiliano Grillo -13 [34.0]
-12 and [60.0] bar
In 11 previous editions on the PGA Tour, nobody has won the Puerto Rico Open from any further than four strokes back after three rounds and all the winners have been inside the top-five places. And nine of the 11 were inside the top-three but in front isn't necessarily the place to be given the 54-hole leader has been beaten in each of the last four years. That's not a great omen for the highly-promising leader and I'm happy to take him on at odds-on.
As highlighted in the preview, we've seen three high class players finish second here in the very early stages of their careers - Jason day, Jordan Spieth and Bryson DeChambeau - is Viktor going to be the latest?
As obviously talented as he is, Hovland is yet to win and sleeping on a lead isn't easy for anyone, let alone someone looking to win on the PGA Tour for the first time, so I was more than happy to back his nearest challenger, Martin Laird, at 3/1 with the Sportsbook. At 37, and with three wins on the PGA Tour already in the bag, albeit some time ago, Laird fits the profile of previous Puerto Rico Open winners and I thought he was worth chancing at that price.
13:10 - February 22, 2020
On a day of low scoring at the WGC-Mexico Championship, South Africa's Erik Van Rooyen tied the course record with a nine-under-par 62 and both Bryson DeChambeau and Patrick Reed fired 63s but first round leader, Rory McIlroy, played his first 13 holes in one-over! Here's the halfway leaderboard with prices to back at 13:00.
Bryson DeChambeau -11 [5.0]
Patrick Reed -10 [7.2]
Erik Van Rooyen -10 [16.0]
Justin Thomas -9 [5.0]
Hideki Matsuyama -9 [7.4]
Rory McIlroy -8 [4.5]
-5 and [80.0] bar
Having been matched at a high of [10.5], Rory rallied brilliantly late on to birdie three of the last five holes and he's still the man to beat according to the market.
Looking back at the last three renewals of this event at this venue, it looks like we can't rule anyone out too readily. Dustin Johnson was two clear at this stage before going on to win by five 12 months ago and he sat fifth and only three off the lead when he won here in 2017 but the 2018 result will give a modicum of encouragement to those players outside the top-six places and trailing by at least six strokes. The winner, Phil Mickelson, sat 14th and five adrift but the man he beat in the playoff, Justin Thomas, was miles back at this stage. He sat tied for 38th and 11 off the lead!
That said, with a gap of three strokes between Rory in sixth and the trio tied for seventh, it's extremely hard to look beyond the leading half-dozen, especially given their undoubted quality.
A bounce back by Rory has to be expected after yesterday's disappointing start to round two but the one I like at this stage is Justin Thomas. Playing the back-nine first yesterday, the world number four hit the buffers after he'd eagled the first hole, playing the last eight holes in one-over so he'll need to bounce back himself today but he still makes more appeal than the favourite.
He's a bigger price than Rory, he has a better recent strike rate than Rory and he leads the Irishman by a stroke. Having already layed McIlroy after the opening round, I probably shouldn't be going in again but I've had a small bet on Thomas at [5.1].
Over at the Puerto Rico Open, pre-event favourite, Viiktor Hovland, is tied at the top on -10 with first round leader, Kyle Stanley, Josh Teater and classy Argentine, Emiliano Grillo. Sam Ryder is alone in fifth but there's a group of four tied for sixth and eight players are tied for tenth and only three off the lead.
As highlighted in the In-Play Tactics section of the preview, Tony Finau, who sat tied for 15th and four adrift in 2016, and Derek Lamely, who was tied for 35th and six off the lead in 2010, are the only two of 11 winners not to be inside the top-seven at halfway and the 2017 winner, D.A Points, who was never outside the top-two places all week, and the four winners before Finau were all first or second after 36 holes, so we probably shouldn't look too far down the leaderboard.
Three of my pre-event picks are still in with a squeak. Shawn Stefani trails by three in tied tenth and Will Gordon and Tyler McCumber are both tied for 19th and four adrift and I'm happy enough that in-play pick, Kyle Stanley, is still tied for the lead but I've still added one more - David Lingmerth at [55.0].
The Swede won the Memorial Tournament back in 2015, beating Justin Rose in a playoff and he's also tasted defeat in extra time a couple of times at what's now called the American Express. I looked at him before the off as he's just the sort of classy out-of form pro to prosper here. He's very fairly priced at this stage given he only trails by two.
11:40 - February 21, 2020
A year after shooting an eight-under-par 63 to lead by a stroke in the opening round of the WGC-Mexico Championship, world number one, Rory McIlroy, leads by two after a first round 65. Here's the early leaderboard with prices to back at 11:30.
Rory McIlroy -6 [2.44]
Justin Thomas -4 [6.8]
Bubba Watson -4 [28.0]
Bryson DeChambeau -3 [23.0]
Louis Oosthuizen -3 [23.0]
Billy Horschel -3 [50.0]
Corey Conners -3 [70.0]
Hideki Matsuyama -2 [22.0]
-2 and [32.0] bar
Nobody shone on the bumpy Poa Annua at Riviera last week but Rory was sufficiently miffed with his putting to ditch the new wand and stick his old one bag in the bag yesterday. It did the trick, he gained almost three and half strokes putting.
Given Rory's current form, how well he played and putted yesterday, and how much he clearly likes the venue, having been backed down from [8.0] to [6.6] before the event, he now trades at around 6/4, but that looks skinny to me.
Although still five clear of the remainder, Rory was beaten by five strokes by Dustin Johnson last year and that probably shouldn't have come as a shock given his surprisingly poor record when leading after round one.
McIlroy also led the Wells Fargo Championship in May last year after the opening round but he went on to finish eighth. That was the fifth time in-a-row that he'd failed to win having led or co-led after round one and he's now converted only one of his last 12 first round leads.
Rory traded at odds-on last year during round two, as he did when finishing seventh on his only other appearance here in 2017, and I suspect he will do again if he starts well today. As highlighted in the In-Play Tactics section of the preview, the first and second holes aren't taxing and a birdie-birdie start, or even, given the opening hole is a drivable par four, an eagle-birdie start is doable.
I'm out and about this afternoon so won't be able to trade the event live so I'm laying him now at [2.46]. It could very easily transpire to be a costly move but his record when leading after the opening round is simply too poor to ignore.
*For more information on how to lay, please see this link here.
The first round of the Puerto Rico Open (previewed here) is also done and dusted and the second round is already up and running. Kyle Stanley leads after an eight-under-par 64. In 11 previous editions on the PGA Tour, only one first round leader has gone on to win the event - George McNeil in 2012 - and Stanley is nought from three when he's led or co-led but there's enough juice in his price at [8.4] to have a small bet given he's playing early today. I've also thrown a few pounds at another early starter - Fabian Gomez. He trails by six after round one but I thought [170.0] was a fair price given how well the track fits his profile.
WGC- Mexico Championship Pre-Event Selections:
Dustin Johnson @ [9.4]
Christiaan Bezuidenhout @ [160.0]
WGC- Mexico Championship In-Play Trade:
Rory McIlroy layed @ [2.48] & backed @ [11.0]
Justin Thomas backed at [5.1] & layed @ [2.16]
Patrick Reed backed @ [5.2]
Puerto Rico Open Pre-Event Selections:
Tyler McCumber @ 70/1 (Sportsbook win only market)
Shawn Stefani @ [110.0]
Will Gordon @ [130.0]
Martin Trainer @ [190.0]
Johnson Wagner @ [210.0]
Jonathan Byrd @ [210.0]
Sangmoon Bae @ [250.0]
Puerto Rico Open In-Play Picks:
Kyle Stanley @ [8.4]
Fabian Gomez @ [170.0]
David Lingmerth @ [55.0]
martin Laird @ 3/1
*You can follow me on Twitter @SteveThePunter