The Punter's In-Play Blog: After a break of two years, is Donald poised to win again?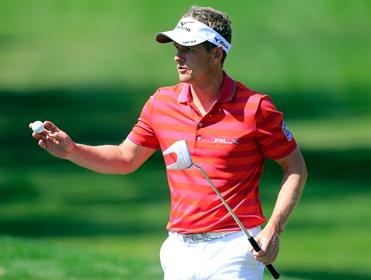 Luke Donald - two clear at the Heritage
With Lee Westwood on the brink of victory in Malaysia and Luke Donald two clear in the States, we could be heading for a fine week for English golf. Can Luke convert his two-shot lead at the RBC heritage? Read what Steve thinks about his chances here...
"Luke Donald will be nervous today for sure and winning will be a big deal for the former world number one but all things considered, I think he has a great chance and he looks a fair price. I'm not laying anything off just yet."

11.15 - April 20, 2014
After a lengthy weather delay, Lee Westwood still hasn't finished off his inevitable victory at the Malaysian Open. He has just a few holes to play now though and he's five clear of the field. It's currently live on Sky Sports 4 but if you want to see some exciting golf, you may have to wait until 18:00 when Mike Norman's each way fancy and my pre-event pick, Luke Donald, will attempt to convert a two-stroke lead at the RBC Heritage. Here is the leaderboard with prices to back, as at 11:00.

Luke Donald -8 2.6213/8
John Huh -6 12.011/1
Charl Schwartzel -5 10.09/1
Jim Furyk -5 10.09/1
Nicholas Thompson -5 32.031/1
Ben Martin -5 28.027/1
Matt Kuchar -4 13.5
Matt Every -4 30.029/1
Russell Knox -4 32.031/1
Brian Harmon -4 48.047/1
Brian Stuard -4 50.049/1
Jason Kokrak -3 65.064/1
Scott Brown 120.0119/1
Richard H Lee -3 130.0129/1
Ted Potter, Jr -3 150.0149/1
-2 and 160.0159/1 Bar

The obvious place to start is with the leader and current favourite, Luke Donald, who looks to have an excellent chance of converting, according to the event stats.
Although I highlighted in the preview that it is possible to come from a long way off the pace at Hilton Head, third round leaders have a pretty fair record. Charley Hoffman lost a two shot lead last year but he's notoriously bad in-contention and prior to that, Donald, in 2011, was the only third round leader to get beat in five renewals and that was in a playoff, after he'd led by just one with a round to go. And if we go back to 1996, the third round leader has gone on to convert in nine of the 18 renewals - a fair return.
Worldwide, Luke has led by at least two strokes with a round to go five times since 2004. He gave up a two-stroke lead at the Alfred Dunhill Links Championship in 2004 but converted the other four chances emphatically, winning by at least four strokes. Although it is worth noting that the last two occasions were at the Dunlop Phoenix Tournament in Japan. The PGA Tour is a far bigger deal.
Somewhat surprisingly, this is Donald's biggest 54-hole lead on the PGA Tour to date but he has led by just one three times and he failed every time, albeit narrowly. Here in 2011, as already mentioned, at the Byron Nelson Championship in 2007 and at the Players Championship in 2005. He's been tied for the lead four times but his 2006 Honda Classic success, was the only occasion when he managed to win. Four of his five US strokeplay victories have come from off the pace.
He'll be nervous today for sure and winning will be a big deal for the former world number one but all things considered, I think he has a great chance and he looks a fair price. I'm not laying anything off just yet.
Luke's closest challenger, John Huh, isn't his biggest danger according to the market but he's the one I'm most wary of. He eventually beat Robert Allenby in an eight hole playoff at the 2012 Mayakoba Classic so he knows how to win. 
Charl Schwartzel doesn't win as often as he should, especially outside of his native South Africa, and I wouldn't be in a rush to back him at just 10.09/1 and the same can be said of course specialist and 2010 champ, Jim Furyk, who's in-contention play has declined considerably in recent years. 
Nicolas Thompson makes little appeal - he led at the Sanderson Farms Championship after three rounds last year and didn't exactly shine. He's been within three of the lead a dozen times on various tours since 2006 and he's not fared too well. He won a playoff at the 2007 New Zealand PGA Championship in 2007 but that was a tiny event compared to this and on the other 11 occasions he failed to finish in the top-three. 
At only a fraction shorter in the market, Ben Martin looks a far better prospect than Thompson. The 26 year-old South Carolina resident won twice on the Web.com Tour last year before finishing second on the money list to earn his PGA Tour card and he might just be the surprise package. 
Matt Kuchar is the only other player trading at less than 30.029/1 this morning but his poor recent record in-the-mix has been well documented already and having successfully opposed him last Sunday I'm going to do so again. His playing partner, Brian Harmon, has fared quite well in-contention of late and anything around the 3.02/1 mark about him in their two-ball looks more than fair. 
As already stated, I'm letting my Donald wager roll for now. I may lay some back if he goes odds-on but I'm going to hang on for now but I have had one further wager -a small bet on Ted Potter Jr at 150.0149/1. Ted was a pre-event selection last year and although he's fully five of the lead, stranger things have happened here than him winning from that far back. Brandt Snedeker came from six back three years ago and Stewart Cink won from an incredible nine back in 2004.
If you're planning to play in-running, keep an eye on those early movers, it's not beyond the realms of possibility that we get an off-the-pace winner again, especially if Donald stutters, but I'll have my fingers and toes firmly crossed that that doesn't happen and I'll be back tomorrow with the De-Brief. 

10.55 - April 19, 2014
A bogey six on the final hole has seen Lee Westwood's lead at the Malaysian Open pegged back to just one stroke with a round to go. He's drifted out slightly from his halfway price of 1.68/13 but he's still very much the man to beat. 
After a third round six-under-par 66, fellow Englishman, Andy Sullivan, is the man that's bridged the gap and he's three strokes clear of my in-play pick, Julien Quesne in third. Nicolas Colsaerts sits in 4th on -9 and five behind Westwood. 
Sullivan is clearly the obvious danger to Westwood but it will be hard to back up the 66 and he's yet to win so I still fancy the Worksop Wonder to get the job done.
Over at the RBC Heritage, there was a bit of confusion surrounding a weather delay which developed into a suspension for the day. After a tough morning the wind and rain worsened and it appears as if the suspension was because of heavy rain and not because of a threat of thunder. 
That's potentially a tough break on the likes of KJ Choi, Scott Langley and Luke Donald, who had all finished their second rounds. Choi leads on -5 and the other two are amongst the group tied for 3rd, two behind Choi and one behind Robert Allenby, who has only played five holes of his second round.
Had those yet to complete round two had to carry on yesterday, I have little doubt that Choi would still be leading at the completion of round two but that may change now. Those yet to finish their second rounds might have caught a bit of a break - they'll return to the course this morning (13:00 UK and Ireland time) to finish off and although rain is forecast there does appear to be a small window of more moderate winds before it picks up again this afternoon. 
It's really up in the air and very hard to gauge so given I've got Donald onside, as well as Graeme McDowell, one of those that relished the tough conditions and due to return today, I'm going to leave it alone and see how the early play pans out.  
Had I not already had G-Mac onside I'd be playing him today at 13.5. There may be a tiny bit of respite this morning but it's going to be brutal for the rest of the weekend and the defending champ will savour the tough examination. On -2 and with 12 holes left of round two, the Irishman has a great chance of defending.
12.10 - April 18, 2014
We've reached the halfway stage of the Malaysian Open and pre-vent favourite, Lee Westwood, has sauntered four shots clear of the field. As highlighted yesterday and in the preview, I quite fancied the chances of the Worksop Wonder before the off and I really can't see him getting beat from here.
He led both the Turespana Masters and the Irish Open at halfway, by two strokes, in 1997 and got beat but on the eight occasions he's led by at least two since, he's gone on to win. As 1.51/2 shots go, he's probably quite a good one but I can live without getting involved and unless anything dramatic happens tomorrow, the event's as good as over for me now.
Despite backing a fair proportion of the field in South Carolina, I haven't had the greatest of starts in the RBC Heritage and I'm thankful to Luke Donald for his superb finish to round one. With just Scott Brown under par, things were looking particularly bleak until Donald birdied four of his last seven holes to join Brown on one-under-par but they're still four off the lead held by three men - William McGirt, Scott Langley and the in-form, Matt Kuchar, who is back in-contention for the fourth week in-a-row. 
The Sony Open link I highlighted in the preview has worked out again and lots of players that play Waialae Country Club well are in the hunt here. One of them, Matt Kuchar, is understandably heading the market, at 5.39/2, but his propensity to throw away a winning chance of late make him far too short to consider backing at this stage. 
Having backed so many, I didn't really want to be adding to the portfolio this early but I've felt compelled to take the 25/1 on offer with the Sportsbook about Langley. He was one of those on my not very short shortlist before the off that I didn't back. Langley ran my big fancy for the week, Russell Henley, close at the Sony last year and he impressed me in-the-mix recently at the Valspar Championship where he finished third.

11.25 - April 17, 2014
After a great week at the US Masters, I've been brought back down to earth with a bump this morning. As detailed in the preview, I quite liked the look of Lee Westwood at the Malaysian Open but I talked myself out of an investment, so waking up this morning to see that he's leading Nicholas Colsaerts by a stroke and trading at less than 3.02/1 wasn't a great start to the day, and the fact that un-backed regular play, Michael Hoey, shot a five-under-par 67 to trail Westwood by just two, rubbed salt into the wounds.
My only pre-event pick, defending champion, Kiradech Aphibarnrat, is still playing after a weather delay but he's struggling badly and has no chance.
I can't back Westwood at the price, I've missed the boat there, but I have backed Hoey at 26.025/1 and I've also played Julien Quesne, who's currently on three-under par having played 13 holes. I can live with missing out on the Frenchman before the start but I'm really cross with myself for not backing Hoey. He's been playing well and yet was matched before the off at a ridiculously big 150.0149/1.
Both Quesne and Hoey were players I highlighted before Christmas as two you could back every week at a decent price but after a tough week in Augusta I just wasn't on the ball. 
The RBC Heritage has yet to start (begins at 12:20 UK and Ireland time) but I've already added to the picks highlighted in the preview. Regular play, Ben Crane, has drifted to a price big enough to warrant risking a few pounds on, Mike Weir putted brilliantly at Augusta last week and in his pomp, I always thought this venue was perfect for Stephen Ames, so although he's far from the player he was, I'm not letting him go un-backed at 990.0989/1.

Malaysian Open Pre-Event Selection:
Kiradech Aphibarnrat @ 35/1 (Sportsbook)

In-Play bets:
Michael Hoey @ 26.025/1
Julien Quesne @ an average of 40.039/1

RBC Heritage Pre-Event Selections:
Luke Donald @ 26.025/1
Graeme McDowell @ 27.026/1
Russell Henley @ 48.047/1
Boo Weekley @ 130.0129/1
Ben Curtis @ 270.0269/1
Justin Leonard @ 270.0269/1
Ben Crane @ 280.0279/1 (added after the preview)
Mark Wilson @ 330.0329/1
Scott Brown @ 400.0399/1
Mike Weir @ 930.0929/1 (added after the preview)
Stephen Ames @ 990.0989/1 (added after the preview)
Briny Baird @ 1000.0
Woody Austin @ 1000.0
In-Play picks
Scott Langley @ 25/1 (Sportsbook)
Ted Potter Jr @ 150.0149/1
Two Ball Bet
Brian Harmon to beat Matt Kuchar @ 3.02/1


*You can follow me on Twitter @SteveThePunter
Discover the latest articles