The Punter's In-Play Blog: Stallings can cause a shock and defend the Torrey Pines title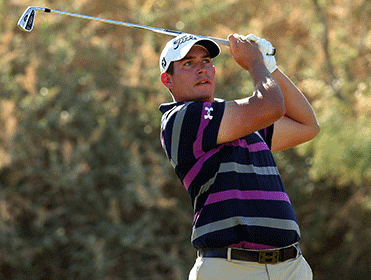 Scott Stallings – can he defend his title?
The course is playing tough and the leaderboard is tight so finding the winner of this week's Farmers Insurance Open is still very hard, even with just one round to go, but our man's at least had a go. Read his thoughts ahead of today's final round in California here...
"Stallings has it all to do from so far back but he will surely be buoyed by memories of last year's win. He was three back and trading at over 30.029/1 at this stage last year so he knows exactly how to close on a Sunday at Torrey pines and cause a shock."

10:40 - February 8, 2015
Despite birdying the first two holes today, leading by five strokes and trading at just 1.152/13, third round leader, Bernd Wiesberger has been beaten at the Malaysian Open. Dan Geraghty's 66/1 each-way selection, Anirban Lahiri, who was matched at over 600.0599/1 when he trailed by nine at halfway, kept his composure superbly to pip the Austrian and collect his first European Tour title.
It was an exciting finale but I'll be amazed if we don't see even more drama tonight at the Farmers Insurance Open where after three rounds it's as tight as it gets with a dozen players within two of the lead and just three strokes separating the top-16. Here's the third round leaderboard with prices to back at 10.30.
Harris English -9 6.86/1
J.B Holmes -9 8.415/2
Jimmy Walker -8 6.05/1
Nick Watney -8 11.521/2
Lucas Glover -8 18.017/1
Chad Campbell -8 21.020/1
Spencer Levin -8 25.024/1
Jason Day -7 10.519/2
Bill Haas -7 15.014/1
Jhonattan Vegas -7 32.031/1
Andres Gonzales -7 50.049/1
Marc Leishman -6 42.041/1 
Ian Poulter -6 48.047/1
Scott Stallings -6 50.049/1
John Peterson -6 80.079/1
-5 and 130.0129/1 Bar
Nobody bettered 68 yesterday and only six players broke 70 so Torrey Pines is playing really tough and I don't see it getting any easier today. Ordinarily in tough conditions I'd look for someone to close from four, five or even six off the pace at long-odds. The theory being that the leaders are likely to struggle and that anyone shooting four-under-par or better, without the pressure of being right in the thick of it, will make huge strides and possible pass everyone, but on such a packed leaderboard it's really difficult to envisage such an outcome.
Can all 12 within two of the lead struggle? I doubt it. Surely one or more of them will break 70 and even if they don't, one of the four on -6 will probably chime in with a decent effort. 
Tiger Woods is the only third round leader to convert here in the last 10 years and we've witnessed two winners from at least five back in the last six years but every winner in the last 12 years has been inside the top-six places. It seems you can make up strokes but not places.
If those simplistic trends are to continue, we should swerve the front two and concentrate on the five players tied for third but the front two command an awful lot of respect.
Harris English is a cool customer who could easily steer a steady course to victory and J.B Holmes showed last year when he won the Wells Fargo Championship at Wachovia that he can win from the front at a really tough venue.
Third round leaders may have a poor record but these look tough nuts to crack. The same could have been said of recent third round leaders, Gary Woodland, Phil Mickelson, Bill Haas and Brandt Snedeker though, so on a packed leaderboard, maybe we should avoid them both at single-figure prices.
I felt before the off that Jimmy Walker had a favourites chance and now that he's just one off the lead with a round to go, my opinion is much the same. I'm happy to have him onside and with Bill Haas, backed before the off at 46.045/1, two off the lead, backing him up, I've got a chance of winning later but I was keen to find a few more to go to war with in such an open heat.
Former U.S Open winner, Lucas Glover, interests me but I'd prefer him not to be in the final group and I'm not convinced his putting will hold up. He's fared well on the greens so far this week but he's been abysmal with the flat-stick for ages and I can see it deteriorating again in the heat of battle. 
The 2009 winner, Nick Watney, looks a fair price at double-figures but he tends to get in his own way nowadays and it's getting on for three years since he last won so I'm going to leave him out too. 
Chad Campbell hasn't coped well in-contention for a very long time and Spencer Levin gets far too agitated so I'm happy to dismiss those two and if the truth be told, I could very easily have decided not to go with anyone else but after much deliberation, I've added two more at big odds for small stakes.
Andres Gonzales really impressed me in-the-mix at the OHL Classic in Mexico in November when he shot 67 to finish tied for third. He's putting well this week and even though he's just two off the lead, he won't be expected to push for the title but I wouldn't be surprised if he did. Provided he continues to putt well, he could come in under the radar and I thought 55.054/1 was big enough to risk a few pounds. And the same goes for the defending champ, Scott Stallings.
Stallings has it all to do from so far back but he will surely be buoyed by memories of last year's win. He was three back and trading at over 30.029/1 at this stage last year so he knows exactly how to close on a Sunday at Torrey pines and cause a shock.
I'll be back tomorrow with my De-Brief.

11:20 - February 7, 2015
In addition to fading lights, Tiger Woods and Phil Mickelson, missing out at the weekend, pre-event favourite, Jordan Spieth, world number five, Justin Rose, FedEx Cup winner, Billy Horschel, the in-form rising star, Hideki Matsuyama, and Dustin Johnson have all missed the cut at the Farmers Insurance Open. Here's the halfway leaderboard with prices to back at 11:10.

Harris English -10 4.84/1
Martin Laird -8 10.519/2
Nick Watney -8 11.010/1
Jhonattan Vegas -8 23.022/1
Nicholas Thompson -7 50.049/1
Jimmy Walker -6 9.617/2
Jason Day -6 10.519/2
Marc Leishman -6 24.023/1
Seven others on -6 but 34.033/1 bar

Scott Stallings was five off the lead at this stage 12 months ago and so was Nick Watney when he won in 2009. Woods has twice taken the title form seven back at halfway and Jose Maria Olazabal trailed by eight in 2002, so it's certainly possible to come from off the pace here. And only Woods and Mickelson have converted a halfway lead this century. 
I was very tempted to back the cool and calm, Harris English, as he's converted on the two occasions he's led at halfway on the PGA Tour before and I certainly wouldn't want to put anyone off him but with such a packed leaderboard, those stats do put me off. At first glance, with a two-stroke lead, 4.84/1 looks a great price but history suggests it might not be as good as it first appears.
I've got current second favourite, Jimmy Walker, onside from the start and last minute pick, Bill Haas, is one of five men tied for 16th on -5, so I'm not without a chance of winning and I haven't totally given up on Brand Snedeker finishing inside the top-10 yet. He's currently tied for 33rd and seven off the lead but a good weekend could see him climb considerably.
Over at the Malaysian Open, I decided to do nothing and it looks like costing me. I toyed with laying some of my Lee Westwood bet back at odds-on but didn't bother and even if I'd followed Simon's excellent suggestion below (see comment) I'd still be in the same boat.
Bernd Wiesberger opened up with five straight birdies before going on to shoot a nine-under par 63 - hitting every single green in regulation. Westwood mercifully birdied the last two holes to remain in touch but he looks up against it now. Here's the leaderboard with prices to back at 11:10.

Bernd Wiesberger -17 1.8810/11
Alejandro Canizares -15 6.86/1
Lee Westwood -14 5.14/1
Paul Waring -14 15.5
Anirban Lahiri -12 38.037/1
-10 and 100.099/1 Bar

I'm more kicking myself for not backing Wiesberger at 6.611/2 yesterday than I am for not laying Westwood back. I knew he was playing really well, felt he was the biggest danger, and yet did nothing. Oh well. 
Wiesberger's been a little bit wobbly in-contention of late and Westwood could easily improve on today's average effort, so it's not over yet, but I'd be surprised if the big Austrian doesn't just power home from here and given how well he's playing, as much as it pains me to say it, he probably deserves the title.
I'll be back tomorrow with a look at the Farmers with a round to go. 

13:20 - February 6, 2015
After a lengthy delay to allow the early morning fog to clear, a number of players are yet to finish their opening rounds at the Farmers Insurance Open and Tiger Woods has quit the tournament completely. It soon became apparent that he was struggling with a back injury and after a scruffy 11 holes he called it a day.
My picks haven't fared too well, with Seung-Yul Noh, who played the tougher South Course in two-under par, faring best. Brandt Snedeker only shot two-under on the North Course (which played three strokes easier than the South) and both Jimmy Walker and my last minute pick, Bill Hass, have three to play on the South Course and are one-over par.
I thought Haas worth getting with when he drifted in the market but unbeknown to me he's been apparently suffering from flu - or so the commentator said last night. I can't believe he's been quite that bad though as he played four rounds in Phoenix last week and anyone who has had flu knows, getting out of bed for half an hour's tough, playing four rounds of golf is impossible. 
Last week's winner, Brooks Koepka, having shot an opening six-under par 66 on the North Course, trails first round leader, Nicholas Thompson, by two strokes and is the only player trading in single figures so it's a very open looking heat still. I'm going to leave it alone for now and look again tomorrow once the stagger has unwound. 
Over at the Malaysian Open, Lee Westwood is tied for the lead with Alejandro Canizares and I'm doing nothing further there either. Here's the leaderboard with prices to back at 13:00.

Lee Westwood -11 1.9110/11
Alejandro Canizares -11 5.59/2
Bernd Wiesberger -8 6.611/2
-7 and 26.025/1 Bar

It looks like a three-man tussle now and as a Westwood backer, I fear Bernd Wiesberger slightly more than I do Canizares but I'm going to leave it for now. I did try to lay my stakes back on Westwood but the 1.728/11 I input didn't quite get matched thanks to Canizares' finish. The Spaniard birdied three of his last four holes!
The leading trio tee-off at 2:00 UK time tomorrow so I now have to decide between leaving it completely, laying Westwood at just a shade odds-on or getting up in the middle of the night. Options one and two are evens a piece at the moment and option three is around a 16/1 shot but I'll see how I feel later and which way the market goes. 
I'm loathed to lay Westwood at such a big price but I don't want to get up in the morning to see he's trading much bigger and trailing. And getting up at that time of the morning isn't in the least bit appealing!

13:00 - February 5, 2015
I never really enjoy these Asian events that run throughout the night. Viewing the leaderboard is always done with much trepidation and especially so on day one when your sole bet is the tournament favourite. That first peek at the scores is always an anxious one but it needn't have been today as Lee Westwood sits atop of the Malaysian Open leaderboard, alongside Graeme McDowell, after the pair both shot six-under-par 66s.
It seems an early start on day one has again proved extremely advantageous. All five previous winners of this event had been drawn early on day one and Ryan Moore also enjoyed a morning start on Thursday when he won both editions of the CIMB Classic on the PGA Tour. Only one of the top-five after round one (Sunghoon Kang) and just five of the top-15 on the leaderboard played in the afternoon today and they'll have to play well tomorrow to get in front of the leading pair.
As detailed in the preview, a fast start appears a big plus here. The last two winners of this event have won wire-to-wire and the last five course winners, at this event and at the CIMB Classic, have all been inside the top-five and no more than three off the lead after round one.  
With all that in mind, I'm going to let my Westwood wager roll and see what tomorrow brings but I have added a couple of bets at the Farmers Insurance Open, since I published my preview.
I've backed Brandt Snedeker to finish inside the top-ten and in the win market, now that he's drifted; I've added the Humana Classic winner, Bill Haas, for small stakes.
Haas is a best priced 33/1 on the High Street, yet he's drifted right out to 46.045/1 on the exchange. He was disappointing in Phoenix last week but it's never easy to tee it up so soon after a victory and at a venue he clearly loves (three top-tens in the last four years at Torrey Pines), I thought he was worth risking a few pounds on.

Malaysian Open Pre-Event Selection:
Lee Westwood @ 8.07/1

Farmers Insurance Open Pre-Event Selections:
Jimmy Walker @ 16/1 (Sportsbook)
Brandt Snedeker @ 30.029/1
Brandt Snedeker Top Ten @ 3.814/5
Bill Haas @ 46.045/1 (Added after preview)
Seung-Yul Noh @ 100.099/1

In-Play Bets
Andres Gonzales @ 55.054/1
Scott Stallings @ 55.054/1

*You can follow me on Twitter @SteveThePunter
Discover the latest articles