The Punter's In-Play Blog: Wagner looking tough to beat at the Greenbrier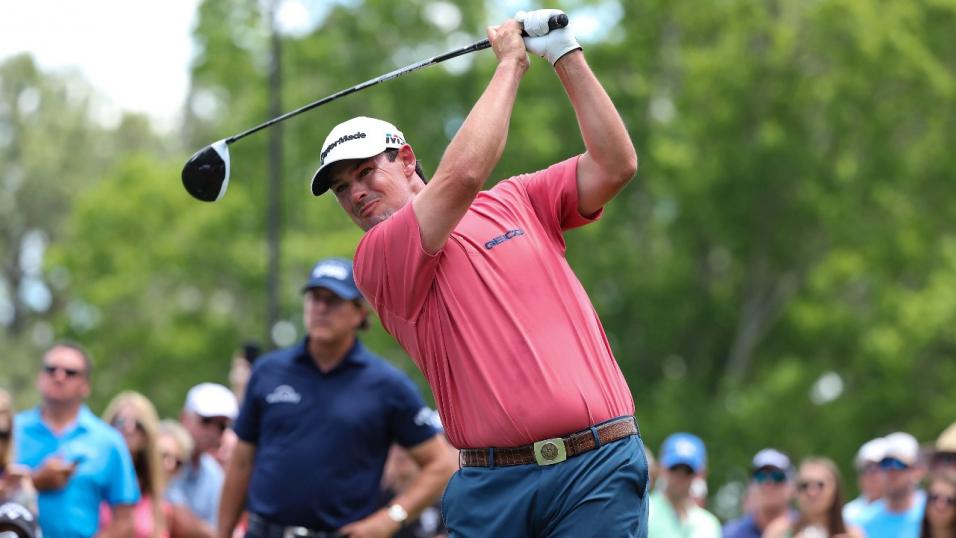 Johnson Wagner, will he win again from the front?
Steve's pre-event pick, Bernd Wiesberger, looks poised with a round to go in France, where plans are in place to get with anyone that sets a clubhouse target and in the States, he's shouting on anyone but the front two...
"Wagner has three titles to his name already and two of the three were gained the hard way – from the front after 54 holes."
11.05 - July 7, 2013
Graeme McDowell and Richard Sterne are tied at the top on -5 with a round to go at the Open de France but given only one third round leader has gone on to win in the last seven years, they might be vulnerable.
Graeme Storm won from fully five shots back in 2007 but the majority of winners have come from just off the lead. The only other winner to be more than two back in the last 16 years was Thomas Levet two years ago so my pre-event pick, Bernd Wiesberger, who's now just one back, might be in a nice spot.
Looking at the stats is all well and good but it would daft to assume nobody can win from off the pace, especially when you consider that Francesco Molinari very nearly managed it just last year. The Italian traded at odds-on twelve months ago before losing by a stroke having started round three six adrift.
With such a brutal finish to the course, if anyone posts a decent target today, they'll be well worth supporting. Without doing an awful lot wrong, Thomas Bjorn demonstrated yesterday how the last few holes can ruin a very good round - he played the last four in four-over-par to go from leading the event to now trailing by three and should someone come from off-the-pace today and post a score that's level with the lead or even one or two off it, they might take some beating. These last four holes do not give up birdies readily and they can quickly make a mess of a decent round.
Over in the States, I didn't do a lot of trading last night at the Greenbrier Classic and as a result, there isn't an awful lot of change to my book.
Greenbrier Classic Lay Book
Worst Case Scenario -£163 (Jimmy Walker)
Best Case Scenario + £1,455
Johnson Wagner leads Jimmy Walker by two and I've made the pair my only losers now, even though I fancy Wagner to win. Walker is still looking to get off the mark on the PGA Tour and he's been very nervous in-contention in the past, whereas Wagner has three titles to his name already and two of the three were gained the hard way - from the front after 54 holes.
I'm tempted to tweak the book to get Wagner onside but I'm going to stick to the plan. As detailed in the preview, no end of round leader has yet won this title so although Wagner looks to be in a strong position, with low scores possible, he could easily get caught by someone off the pace if he doesn't go low again himself.
I'll be back tomorrow with my De-Brief.

08.45 - July 6, 2013
The Open de France has reached the halfway stage and it's developing into an absolute cracker. Fabrizio Zanotti, on -6, is just one clear of a trio of experienced multiple European Tour winners, Thomas Bjorn, Richard Sterne and Soren Kjeldsen, with Stephen Gallagher, Simon Dyson, former winner Graeme Storm (one of Mike Norman's Fixed Odds picks) and Graeme McDowell all two back.
The rough's up, the course is only going to get faster and with two rounds to go, it's going to be more a case of avoiding bogeys than chasing birdies. It's going to be tough to make ground on the leaders if they can keep the errors to a minimum and Bjorn and G-Mac, quite rightly, head the market.
Bjorn was furious about his bogey-bogey finish yesterday and he refused to talk to Sky TV but other than that late blip, he played, as he has done for weeks now, some very solid stuff. His iron-play, scrambling and putting all look at their excellent best and if he can drive well over the weekend he'll take all the beating.
McDowell is having a very strange time of it of late, he either misses the cut or he wins and if he can get a few more putts to drop over the weekend, he could be the one. So far, he ranks 15th for driving accuracy, 2nd for greens in regulation and 74th for putts per round.
In stark contrast to G-Mac, Zanotti has holed everything he's looked at over the first few days and logic would suggest he can't possibly keep it up. His performance so far is very reminiscent of Pablo Larrazabal's here when he won, so it is possible to putt the lights out for four days in-a-row and take the prize but I really can't see lightening striking twice.
Bjorn and G-Mac do look the two to beat but as the stats suggest it's perfectly possible to come from off the pace (two of the last three winners were eight back at halfway!), I've taken a chance on Jamie Donaldson, who trails by four. The Welshman was on my shortlist before the off and I thought 42.041/1 was a sporting price last night.
Things might not be great in France but I'm happy enough with the state of play at the Greenbrier Classic. I was busy throughout round two and as a result my lay book is looking healthy.
Greenbrier Classic Lay Book
Worst Case Scenario -£182 (Jordan Spieth)
Best Case Scenario + £1,101
The fact that the lead was -8 after day one and that it's now just -9 has helped tremendously. The first round leaders have stuttered, the field has bunched right up and there's now four shots separating 26 players.
The plan now is to just keep doing what I've been doing, which is to keep laying players as they shorten-up, and to hope for yet more congestion. What I don't want to happen is for one or two players currently at the top to go really low and shoot clear and ideally, I want a number of players that I haven't yet layed at all to move right into contention.

10.40 - July 5, 2013
It's nothing new, in fact it's a regular occurrence, but when the European Tour website's leaderboard changes a player's score (and nine times out of ten it's for the worst) it does get on your nerves somewhat.
One of my pre-event picks, Bernd Wiesberger, was tied for the lead with a hole to play yesterday evening but then five minute later, his double-bogey on the 13th was changed to a triple, his eagle on the 14th was changed to a birdie and he double-bogeyed the last! Four shots had gone west in a matter of seconds.
Of my other Open de France picks, Alex Noren also opened up with a one-under-par 70 and both Morten Orum Madsen and Simon Khan shot level par 71s, so I'm not out of it yet by any means and I've added one more - Michael Hoey at 130.0129/1, who shot a two-under-par 69 in round one.
I backed the Irishman yesterday morning as he finished up his round but he's been matched at much bigger since.
As they're out there playing now, it's a constantly changing picture but the man causing me much stress is the current leader Thomas Bjorn. I've backed him at a nice price for the upcoming Open Championship but I've also backed him in every event, either before the off or in-running, over the last month or so too and so I'm kicking myself for not at least having a saver at 35.0 before the off.
Over in the States, at the Greenbrier Classic, things are looking a bit brighter. As detailed in the preview, I layed everyone at odds of under 90.089/1 before the off and after round one, only three players I layed are in the top-20. Brendon de Jonge and Peter Hanson both shot four-under-par 66's and are tied 9th but the dirty great fly in the ointment is Webb Simpson, who after opening up with a six-under-par 64, trails joint leaders Tommy Gainey and Johnson Wagner by two.
I haven't layed anyone else yet but I suspect I'll get busy later. I want to get the two leaders in the book but I fancy they'll shorten-up a bit from their current positions so I'm hanging fire for now.
Open de France Pre-Event Selections:
Alex Noren @ 40.039/1
Bernd Wiesberger @ 44.043/1
Simon Khan 200.0199/1 (Fixed Odds)
Morten Orum Madsen @ 300.0299/1
Max Kieffer @ 330.0329/1
Simon Thornton @ 360.0359/1
Jose Maria Olazabal @ 360.0359/1
In-Play Bet
Michael Hoey @ 130.0129/1
Jamie Donaldson @ 42.041/1
Greenbrier Classic Pre-Event Bets
Jason Kokrak @ 110.0109/1
Stephen Ames @ 900.0899/1
Greenbrier Classic Lay Book
Worst Case Scenario -£510 (Webb Simpson)
Best Case Scenario + £506
*You can follow me on Twitter @SteveThePunter

Discover the latest articles