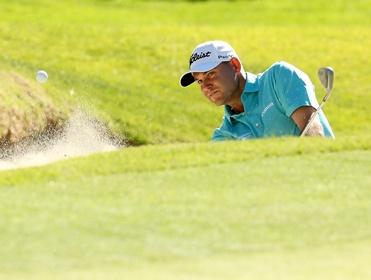 Bill Haas, a fair price to defend according to The Punter
Our man has chances at both events today, with Gregory Bourdy and Charl Schwartzel both within three of the lead with a round to go but he's not hopeful. Read his final in-play thoughts of the week here...
"Third round leaders have a very fair record at the Northern Trust Open. Since 2002, every 54 hole leader has either won or been beaten in a playoff."
09:40 - February 17, 2013
With a round to go at each event, I'm in a similar position at both. At the Africa Open, pre-event selections, Gregory Bourdy and Emiliano Grillo (also one of Paul Krishnamurty's Find Me a 100 Winner picks) are within three and four of the lead respectfully and over in the States, at the Northern Trust Open, Charl Schwartzel, backed before the off at [24.0], trails third round leader and defending champion, Bill Haas by three. It could be a great day or it could be a disappointing one. I suspect the latter.
At the Africa Open, after a poor third round by halfway leader, Adilson Da Silva, Mike Norman's selection, Jaco Van Zyl, is now tied at the top with Darren Fichardt. Both men have fair records at converting on the Sunshine Tour but Fichardt is a multiple winner on the European Tour too and that could give him the edge.
In addition to my pre-event picks and my woeful wager on John Parry, who matched Da Silva's 73 yesterday, I also have Jorge Campillo onside now. I backed him after his third round yesterday, just as the wind was really getting up at a fancy price but he's still trading in three-figures.
Third round leaders have been converting with regularity on the PGA Tour this year and in the six events staged to date, Brian Gay, at the Humana Challenge, is the only winner that wasn't already in front with a round to go. And third round leaders have a very fair record in this event too. Since 2002, every 54 hole leader has either won or been beaten in a playoff.
I'll be hoping those two trends come to an end tonight and that Schwartzel can take advantage of a Bill Haas hiccup but there isn't any reason to think there'll be one. Haas, the 2011 FedEx Cup champ, is a multiple PGA Tour winner, he'll be very hard to beat today and I wouldn't put anyone off backing him at what looks a fair price of around [2.38].
Obviously, I'd love to see Bourdy and Schwartzel win but the odds are that neither will and I've played it how I see it now. I've had small win bet on Fichardt at [3.15] and if he wins, I'm going to reinvest the winnings on Haas.
I'll be back tomorrow with my De-Brief.

12:20 - February 16, 2013
When you're on one of those inevitable bad runs, its incredible how everything seems to contrive against you and the only thing you can do is laugh about it and wait for Lady Luck to return.
Just minutes after last night posting "Ryan Moore and Phil Mickelson are both making progress" both men made double-bogey! Lefty made a hash of the drivable but devilishly tricky par four 10th, examined here in an excellent little piece by Geoff Shackelford, and Moore managed to somehow three-putt from three feet on the 3rd! I went to bed miffed but philosophical and was delighted to see this morning that both repaired the damage.
We face an incredibly bunched leaderboard and a really tricky puzzle to solve - one I'm more happy to pass on for now. Besides, with Moore, Mickelson and Charl Schwartzel on the premises, I have three live contenders anyway.
The only player that tempts me is Luke Donald, who trails joint-leaders Bae Sang-Moon and Fredrik Jacobson by two, but at [6.8] he's a shade short on such a bunched leaderboard and I'm going to leave it alone for now.
I can't say I'm over the moon with John Parry's start at the Africa Open - he's looked nervous so far and the putts aren't dropping. Pre-event picks Emiliano Grillo and Gregory Bourdy are on the fringes of contention now but they'll need help from the leaders.

22:35 - February 15, 2013
Charl Schwartzel has reignited my interest in the Northern Trust Open, currently live on Sky, with a four under par second round 67 to get within three of the lead. Ryan Moore and Phil Mickelson are both making progress too but I'll take a deeper look at it tomorrow when we reach the halfway stage.
Over at the Africa Open, for some bizarre reason, Sky didn't bother to show the golf live this afternoon, they instead went with recorded coverage of Adilson Da Silva finishing up this morning's round! I repeatedly tweeted them to ask why they weren't showing it live but they didn't have the decency to bother to reply. Brilliant customer service hey.
Anyway, away from the woeful coverage and back to the event itself and my man, Gregory Bourdy, didn't do too bad this afternoon. He's now on -7, and seven behind Da Silva, so he's not completely out of it.
Jaco Van Zyl shot 67 and has closed to within three of the Brazilian and John Parry hit one better to get within four of the lead. Van Zyl is now favourite at [2.9], with the leader trading at [3.3], but the reason I'm updating the blog is Parry's price of [13.0]. That looks very generous to me and I can't really see why there's such a disparity between him and Van Zyl. Parry's as short as [8.0] on the High Street and I'm more than happy to get him onside at five points bigger.

11:50 - February 15, 2013
I've had a poor start to 2013 and nothing so far this week suggests that's all about to change. Fred Couples fared best of my Northern Trust Open picks on day one but he's fully four shots behind early pace-setter Matt Kuchar and still a humongous price.
Charl Schwartzel, on -2 and five off the lead, played well but the putts just didn't drop. With an early start today, he has a chance to make up some ground so fingers crossed.
As detailed in the preview, a fast start is advantageous here but none of the early pace-setters appeal at the prices and I'm going to keep the powder dry for now and see what today brings.
At the Africa Open, anyone that backed Jaco Van Zyl to be leading after the first round would have assumed they were collecting after he'd opened up with an impressive six under par 66 in very breezy conditions but Brazilian veteran Adilson Da Silva made Van Zyl's round look pedestrian!
So bad was the wind that play was suspended for three hours yesterday and those assigned an afternoon start on day one certainly appeared to get the best of it. They all returned this morning to finish up and Mr Da Silva did so in style - shooting an incredible opening ten under par 62 round.
I'd highlighted in the preview how well veterans have fared in this event in recent years so the South African based Brazilian certainly ticked that box and he also has the neat and tidy game to fare well here. He was a selection for me here two years ago and he was definitely on the radar but he was twice the price he was this week back in 2011 and I felt he was just a shade too short this time around. It's a little frustrating that he's not in the portfolio but price is everything and I wanted three-figures. And besides, I left out at least another half dozen that I felt were too short and they're nowhere to be seen so I can't moan.

The question is now, should we all be piling in at less than [3.0]?
The stats say he's opposable, given he's led after round one ten times on the Sunshine Tour since 1997 and converted only once. He's never had a lead this big before though.
The forecast suggests the wind won't be too bad now until tomorrow afternoon so it makes sense to see how the remainder of round two pans-out. There could be some low scores this afternoon and there could be scope for backing a few closers during the early part of round three too.
If Da Silva wins so be it but I certainly don't want to back him this short with so much of the event to play and I can't see any value in second favourite Van Zyl either. In theory he could close-up nicely on Da Silva this afternoon but it's just as likely that he doesn't and I'm going to hold off for now and at least wait until the live coverage begins again at 1.30pm UK time.

Africa Open Pre-Event Selections:
Gregory Bourdy @ [65.0]
Craig Lee @ [160.0]
Emiliano Grillo @ [200.0]
James Morrison @ [250.0]
Mikael Lundberg @ [260.0]
Carlos Del Moral @ [270.0]
Lyle Rowe @ [490.0]

In-Play Bet
John Parry @ [13.0]
Jorge Campillo @ an average of [170.0]
Darren Fichardt @ [3.15] - any winnings to be reinvested on Bill Haas
Northern Trust Pre-Event Selections:
Phil Mickelson @ [15.5]
Charl Schwartzel @ [24.0]
Bubba Watson @ [30.0]
Ryan Moore @ [44.0]
K.J Choi @ [90.0]
Fred Couples @ [280.0]
*You can follow me on Twitter @SteveThePunter