The Punter's In-Play Blog: Moore value in Texas ahead of round four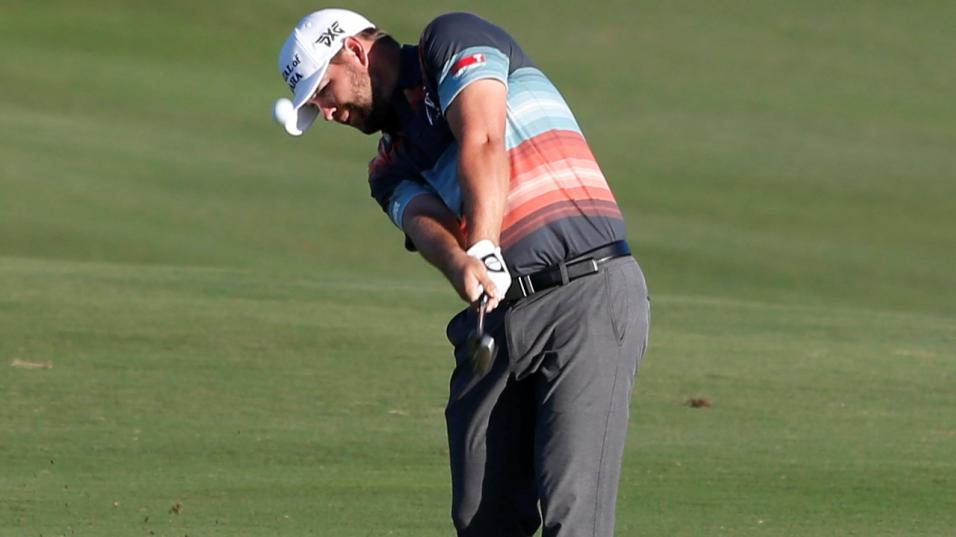 Ryan Moore – two back and value at [7.4]
Alvaro Quiros is clinging on in Morocco and two are tied at the top in Texas but who does our man fancy to win the Trophée Hassan II and the Valero Texas Open with just one round to go at both tournaments. Read Steve's final in-play thoughts for the week here...
"Of the four leaders, Moore is finding the most fairways, he's scrambling better than anyone else this week and he ranks fifth for Greens In Regulation. He doesn't have the pressure of leading but he's close enough to capitalise should the three ahead of him fail to kick on and he looks the value this morning at 6/1 or bigger."
10:05 - April 22, 2018
Alvaro Quiros was far from convincing yesterday, but a birdie at the 18th hole for the third day running saw him shoot a level par 72 and he still holds a one-stroke lead at the Trophée Hassan II. Here's the current standings with prices to back at 9:55.
Alvaro Quiros -7 7.26/1
Alex Levy -6 4.84/1
Eri Van Rooyen -6 8.415/2
Mikko Ilonen -6 10.09/1
Christiaan Bezuidenhout -6 12.5
Jeunghun Wang -5 11.521/2
Austin Connelly -5 24.023/1
Joost Luiten -4 16.5
Alexander Bjork -4 26.025/1
Joakim Lagergren -4 36.035/1
Andrew Dodt -4 55.054/1
-3 and 36.035/1 bar
Quiros' scores are getting progressively worse and he was worryingly ragged yesterday so I'm not in the least bit surprised to see him trading at the same price as yesterday, despite there only being a round to go and he's still in front. Everything could change, and he could start finding fairways again today but I'm not confident and the stats suggest being in front isn't the place to be.
Since the tournament returned to the revamped Red Course at Royal Golf Dar Es Salem, the two winners, Jeunghun Wang and Edoardo Molinari, have both trailed with a round to go. Wang won from three back two years ago and Molinari was four adrift 12 months ago so there certainly appears to be hope for the chasers.
Alex Levy, who trails by just a stroke, is the favourite and rightfully so. The Frenchman, who must be desperate to get into the Ryder Cup side, started poorly this week but a pair of 69s after an opening level par 72 have put him in a great position with a round to go. He's solid enough in-contention and he looks the man to beat but I just wonder how much of a factor Ryder Cup qualification might be as the line approaches. Getting a win on the board will catch the attention of Captain Bjorn and that's bound on Levy's mind.
Mikko Ilonen shot the best round of the week yesterday, a six-under-par 66, and he knows how to win. The 38-year-old Finn has already won five European Tour titles and he could easily make it six today and the 2016 winner, Wang, must be considered an obvious candidate too but it's a real tough one to call.
Both yesterday's in-play picks, Quiros and Joost Luiten, are trading at the same prices that I took yesterday and I'm happy enough to stick with them and try just one more at a big price. Andy Sullivan trails by four strokes and he has a lot of traffic to pass but I thought he was just worth chancing for tiny stakes at 36.035/1.

Over at the Valero Texas Open, Zach Johnson recovered nicely after a slow start to round three yesterday and he's tied at the top with Andrew Landry. Here's the third round leaderboard with prices to back at 10:00.
Zach Johnson -13 3.185/40
Andrew Landry -13 4.3100/30
Trey Mullinax -12 8.07/1
Ryan Moore -11 7.413/2
-9 and 23.022/1 bar
In contrast to the Trophée Hassan II, the historic Valero Texas Open course stats suggests we need to be concentrating hard on the leaders.
Adam Scott won the first event staged here in 2010, having trailed by three strokes with a round to go, and Martin Laird trailed by five when he won here in 2013 but conditions at both of those two renewals differed from the norm. The course was brand new and rain softened in 2010 and in 2013 the course was set-up to replicate conditions at Augusta, because the event was staged a week before the US Masters, so both those results need to be treated with caution.
On the other six occasions the event has been staged here, five third round leaders have gone on to win and when Charley Hoffman won two years ago, he trailed by just two strokes.
Looking for his third Texas Open, but his first at this venue, Zach Johnson is the man to beat. I've played him recently, hoping that his putter would just warm up a bit and it has this week. Zach ranks highly for all the different putting stats so far and he's going to prove a tough nut to crack if he keeps that up today.
Andrew Landry has given himself every chance of getting off the mark on the PGA Tour with an impressive second successive five-under-par 67 and I'm happy to be onboard but the big mover yesterday was Trey Mullinax. His ten-under-par 62 included a remarkable 29 on the back-nine that was rounded off superbly with an eagle at the 18th but can he back that up today? It's notoriously hard to back up a super-low round and the big danger to the two leaders looks like Ryan Moore.
Of the four leaders, Moore is finding the most fairways, he's scrambling better than anyone else this week and he ranks fifth for Greens In Regulation. He doesn't have the pressure of leading but he's close enough to capitalise should the three ahead of him fail to kick on and he looks the value this morning at 6/1 or bigger.

08:30 - April 21, 2018
Despite having 2018 form figures reading 61-MC-MC-MC-19-MC, Alvaro Quiros leads at the halfway point of the Trophée Hassan II. Here are the current standings with prices to back at 08:20.
Alvaro Quiros -7 6.86/1
Andrew Dodt -6 11.521/2
Eri Van Rooyen -5 8.88/1
Bradley Dredge -4 22.021/1
Austin Connelly -4 28.027/1
Alex Levy -3 10.519/2
Benjamin Herbert -3 27.026/1
Paul Waring -3 30.029/1
Joakim Lagergren -3 36.035/1
Joost Luiten -2 17.016/1
-2 and 36.035/1 bar
This isn't the first time Quiros, who was matched at 500.0499/1 before the off, has found form from seemingly nowhere. He won the Rocco Forte Open last May having been matched at 160.0159/1 before the off, when his form figures read 49-MC-MC-MC-MC-22.
And this isn't the first time the big hitting (and often inaccurate) Spaniard has thrived at a tree-lined venue. He led the BMW PGA at Wentworth at halfway in 2011 and he was in front after three rounds at the Hong Kong Open at Fanling later that year. He didn't win either though. He finished 18th at Wentworth after weekend rounds 76 and 74 and he finished seventh in Hong Kong after a 73 in round four. Will he keep out of the woods to win here?
South Africa's Erik Van Rooyen is the man the market favours most after Alvaro but anyone that witnessed his performance over the weekend at the Qatar Masters two months ago won't be in any sort of hurry to side with him. He sat second and just one off the lead at halfway there but finished tied for 59th! He's yet to win on the European Tour and that effort suggests he might not quite be ready to do so.
Experienced Aussie, Andrew Dodt is only 32 but he seems to have been around for ages. He won the Avantha Masters eight years ago and the True Thailand Classic three years ago so he has won a couple of low-key co-sanctioned events but he's not an easy one to get across the line. He led after three rounds three times last season but finished second at the Australian PGA Championship, sixth at the BMW and fourth at the Scottish Open.
Bradley Dredge and Austin Connelly both trail Quiros by three and I prefer promising youngster, Connelly, over the Welsh veteran and Alex Levy, who trails by four, is well poised to put in a weekend charge but I like the leader's chances and he looks the value at this stage.
Alvaro was all over the shop when he won in Sicily in May but that was totally understandable. He wasn't just playing for his seventh European Tour title, and his first for six years, he was also playing for a place on the Tour because he was without a card at the time. Guts and guile got him across the line that week and it's hard to see a fiercer, more determined player in-contention here. Would he put his experience and determination to good use and win from here more often than one in five times? I think he would and I've had a small bet at 7.26/1.
The biggest danger to Quiros could well be Joost Luiten. He won the Oman Open two months ago from five adrift at halfway so don't be surprised if he makes a big move today given he's five back again here. He's the class act in the top-ten and ties and the 17.016/1 available could look big tomorrow.
Over at the Valero Texas Open, Zach Johnson and Ryan Moore lead at the halfway stage. Here's the leaderboard with prices to back at 08:25.
Zach Johnson -9 4.216/5
Ryan Moore -9 4.67/2
Grayson Murray -8 11.521/2
Andrew Landry -8 12.011/1
-6 and 21.020/1 bar
As highlighted in the In-Play Tactics section of the preview, up with the pace looks like the place to be here. The 2010 winner, Adam Scott, sat tied for 22nd and four off the lead, but the course was extremely soft that year (the first time the course was used) and when Martin Laird won in 2013 from tied 15th and five adrift at this stage, the course was set up differently as it was the last event before the US Masters, but under normal playing conditions, the other six course winners were all right up with the pace at this stage. Kevin Chappell sat third and one off the lead last year and Charley Hoffman sat second and three off the lead in 2016 but the other four winners were all in front, suggesting we need to be concentrating hard on the leaders.
Given Zach has already won four times in Texas (this event twice), is an experienced and brilliant wind player, and a winner of the Sony Open (an event I highlighted as a pointer in the preview), he's definitely a player that fits the mould. Zach has led or been tied for the lead ten times previously and he went on to win twice.
Ryan Moore has been exceptional so far this week, playing both rounds bogey-free. He's also won twice when leading or tied for the lead at this stage but he's more prolific percentage wise than Zach as he's only been in this position six times.
Both the front two are going to be tough to beat but given they trail by just one and that they're two clear of the remainder, the value almost certainly lies with the two players tied for third and I've backed them both at 12.011/1.
Texan, Andrew Landry, is yet to win on the PGA Tour but he's twice won on the Web.com Tour and if his endeavours at the CareerBuilder Challenge in January are anything to go by, he's ready to win on this stage. As detailed here in that week's De-brief, having led at halfway, he hung around well over the weekend before birdying the last to draw alongside Jon Rahm and he went toe-to-toe with the Spaniard in extra time, eventually losing at the fourth extra hole.
Grayson Murray is already a winner on the PGA Tour, having won the Barbasol Championship last July, so although this is a bigger event, he's not sailing in unchartered waters.
I'll be back in the morning to see where we are with a round to go at both tournaments.
11:50 - April 20, 2018
It was a frustrating first morning at the Trophée Hassan II yesterday. My sole pre-tournament pick, Eddie Pepperell, started nicely and the leaderboard showed him leading on two-under-par early on but, playing the back-nine first, he failed to birdie the par five 18th, bogeyed the first, double-bogeyed the sixth and after the round had finished, they adjusted his scorecard and removed one of his two birdies! He now sits on two-over-par and that was fully seven adrift of the two first round leaders, Alvaro Quiros and Bradley Dredge.
That was disappointing enough but each-way selection, Renato Paratore, was even more frustrating. He too played the back-nine first and he did more than OK. After bogeying the 10th hole he picked up four birdies to turn in three-under. Leading the event and clearly playing well, I was looking forward to seeing how he fared on the front-nine (his second nine) but it was extremely disappointing. He double-bogeyed the first hole and bogeyed the next four! He did recover with two more birdies at six and seven but it was a shambolic stretch of holes and a big let-down.
I've added Mike Norman's each-way fancy, Nacho Elvira, who shot a very respectable opening two-under-par 70 yesterday morning. It couldn't have been easy picking himself up after last Sunday's disappointment in his national Open and he looked a fair price at just three off the early lead after the opening round.
Over at the Valero Texas Open, all three of mine have started well enough. Aaron Baddeley shot one-under to sit tied 21st, Harris English sits tied seventh after a three-under-par 69 and Billy Horschel is one of five men tied for second - one shot adrift of Grayson Murray on -5.
As highlighted in the preview, the original plan today was to side with those that kicked on from the morning wave in round two, once they'd finished their rounds. The weather forecast had suggested that conditions would significantly worsen as the day wore on but that forecast has changed completely now. So much so that the wind is now forecasted to be gustier in the morning so that plan has been abandoned.
My sole selection before the off 12 months ago was Ryan Moore, so it's irritating to see him up in a tie for second and the last man on my shortlist, that I didn't back, Chesson Hadley, is also alongside Moore and Horschel so I've gotten him onside too now.
I may be making a mistake leaving out Moore but he hasn't impressed me in-the-mix for a while and he looks short enough this morning. I may also be making a mistake backing Hadley as he's still only won once on the PGA Tour but the only reason I didn't play him before the off was price. I wanted 50s and he was trading at around 44.043/1 so I was a bit miffed to see he drifted to 55.054/1 and I missed it!
Pre-Event Selection:
Eddie Pepperell @ 55.054/1
In-Play Picks:
Nacho Elvira @ 29.028/1
Alvaro Quiros @ 7.26/1
Joost Luiten @ 17.016/1
Pre-Event Selections:
Billy Horschel @ 40.039/1
Harris English @ 100.099/1
Aaron Baddeley @ 180.0179/1
In-Play Picks:
Chesson Hadley @ 15.014/1
Andrew Landry @ 12.011/1
Grayson Murray @ 12.011/1
*You can follow me on Twitter @SteveThePunter
Discover the latest articles
Read past articles