The Punter's USPGA Championship In-Play Blog: Brooks looks home and hosed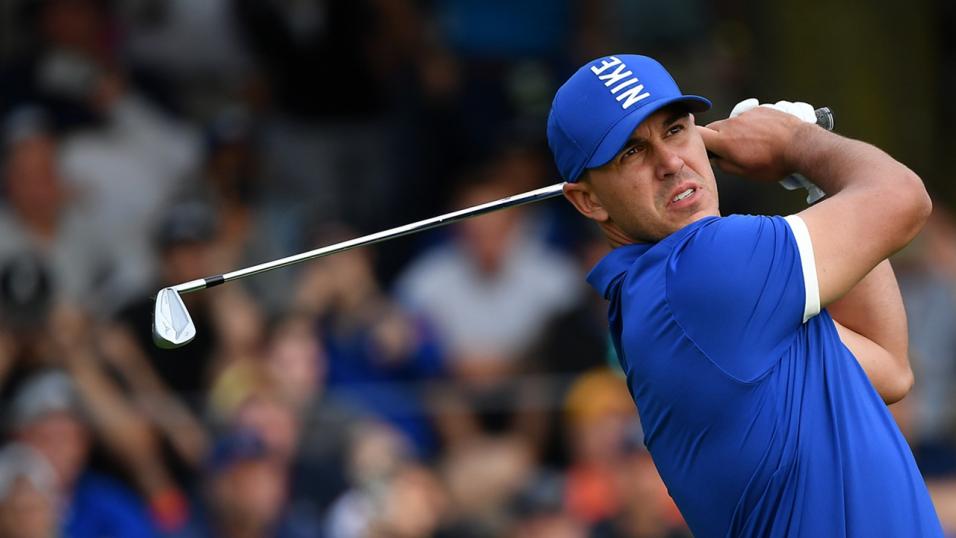 Brooks Koepka in action at Bethpage Black on Friday
Brooks Koepka is seven strokes clear of the field at the USPGA Championship and it looks all over according our man...
"Nobody has ever led a PGA Tour event by as many as seven strokes through 54 holes and lost. Are we about to witness the first such defeat? I very much doubt it."
11:20 - May 19, 2019
After a level-par 70 around Bethpage Black, Brooks Koepka still leads the 101st USPGA Championship by seven strokes. Here's the 54 hole leaderboard with prices to back at 11:15.
Brooks Koepka -12 1.111/9
Dustin Johnson -5 25.024/1
Luke List -5 100.099/1
Jazz Janewattananond -5 160.0159/1
Harold Varner -5 180.0179/1
-4 and 130.0129/1 bar
Dustin Johnson lost the WGC-HSBC Champions event in China in 2017, having led by six with a round to go, but nobody has ever led a PGA Tour event by as many as seven strokes through 54 holes and lost. Are we about to witness the first such defeat? I very much doubt it.
Koepka has spoken about how confident he is and how he's not going to let up but at the same time he understands completely how much of an advantage a big lead is here.
"I know guys are going to have to push on this golf course, and if you have to push, you're going to make mistakes."
I don't expect to see anything but a calculated and controlled final round and even though he's so short, given how well he's played the first third of the course so far this week, I'm still not laying any more of my wager back.
08:45 - May 18, 2019
First round leader, Brooks Koepka, birdied three of his first four holes of round two to go odds-on at the 101st USPGA Championship. He briefly went odds-against when he made his first bogey of the week at the 10th but a strong finish has seen him go seven clear of the field. Brooks' halfway total of 128 is the lowest in major championship history and he's only the second man since 1900 to lead a major championship by at least seven strokes. Henry Cotton led the Open Championship by nine at halfway in 1934 before going on to win by five. Here's the halfway leaderboard with prices to back at 08:40.
Brooks Koepka -12 1.3130/100
Jordan Spieth -5 27.026/1
Adam Scott -5 30.029/1
Dustin Johnson -4 19.5
Daniel Berger -4 130.0129/1
Matt Wallace -4 100.099/1
Kelly Kraft -4 400.0399/1
Luke List -4 120.0119/1
Justin Rose -3 50.049/1
-2 and 95.094/1 bar
Playing the back-nine first, Dustin Johnson put in a charge in the morning yesterday, hitting a low of just 3.65 as he reached four-under-par for the day after eight holes, but he bogeyed the 18th and the third and he failed to make hay on the scorable first, second and fourth holes. He made another birdie after that run at the seventh but all momentum was lost around the turn and it was left to Tommy Fleetwood to try and bridge the gap to Brooks.
The Englishman was matched at a low of 7.06/1 after he'd played the front-nine in three-under-par but he drifted away badly with a four-over-par back nine and it looks very hard to look past the leader.
There's been two US Opens and two WGC events at Bethpage Black since the turn of the century and all four course winners were up with the pace all the way. Tiger Woods won the US Open in 2002 having led by three at halfway, Lucas Glover trailed by a stroke at the 2009 US Open before taking the title, Nick Watney was tied for the lead through 36 holes before winning the 2012 Barclays (now called the Northern Trust) and Patrick Reed was two strokes clear at halfway before winning the Barclays by one three years ago.
Since 1996, across all tours, 14 players have led by seven strokes at halfway and three of the 14 have been beaten. Cipriano Castro lost the Venezuela Open in 2006, Andrea Pavan was beaten at the Karnten Golf Open on the Challenge Tour in 2011 and most memorably, Adam Scott threw away the Arnold Palmer Invitational in 2014, so it's possible to mess up such a strong lead but it's very hard to see Koepka doing so.
Justin Ray has looked a bit further back, and on the PGA Tour only (see below), and the strike-rate is much the same.
Since 1970, there have been 8 previous instances where a player led by 7+ shots after 36 holes on the PGA Tour. 6 of them went on to win - Tom Weiskopf in 1975 at Westchester & Adam Scott at the 2014 Arnold Palmer Invitational did not.

? Justin Ray (@JustinRayGolf) May 18, 2019

I really can't see Brooks messing this up and the fact that three of the first four holes are so scorable helps his cause. If he starts like he did yesterday the 1.321/3 is going to look massive and I wouldn't advise taking him on.
There is a Winner Without Koepka market here for anyone wishing to have an involvement that might produce a bit of interest but I'm happy to leave the event alone for now and hope the leader kicks on for the win.

10:35 - May 17, 2019
It looked for much of yesterday as though the defending champion, Brooks Koepka, who opened up with a seven-under-par, bogey-free, 63, was playing a different course to everyone else. He became the first man in history to record multiple rounds of 63 at the USPGA Championship, having shot 63 in round two last year, and he's the first to shoot 63 in any major in consecutive years. He averaged 10.06 shots better than the field and for much of the day it looked like he'd hold a sizable advantage over everyone but then along came Danny Lee, who playing in the trickier afternoon conditions, shot an equally incredible 64!
Lee made only 21 putts, his lowest tally in any career round to date, and given the afternoon starters averaged 73.47, which was 0.82 strokes more than the morning wave's average of 72.65, and that he shot four strokes better than any other afternoon starter, one could even argue it was an even better knock than Brooks'.
Here's the first round leaderboard with prices to back at 10:30.
Brooks Koepka -7 2.767/4
Danny Lee -6 36.035/1
Tommy Fleetwood -3 15.014/1
Luke List -2 100.099/1
Sung Kang -2 100.099/1
Chez Reavie -2 130.0129/1
Pat Perez -2 140.0139/1
Mike Lorenzo-Vera -2 260.0259/1
Dustin Johnson -1 11.5
Jason Day -1 24.023/1
Rickie Fowler -1 25.024/1
-1 and 28.027/1 bar
As highlighted in the In-Play Tactics section of the preview, up with the pace has been the place to be at Bethpage Black, and at a number of other Tillinghast designs, so a lot will depend on what the leaders do today.
I don't want to be totally dismissive of Danny Lee, but it's very difficult to envisage him backing up yesterday's heroics, especially given how well he putted, and it very much feels as though the entire event hinges on what Brooks does when he tees it up this afternoon. If he can shoot two or three under par, he's going to be very hard to catch.
I'm more than happy to be onboard the leader from the get-go but I'm happy to add a couple more in-play this morning. Dustin Johnson is the one the market expects to make a move from the morning's wave of starters today but I'm not sure he's value to do so at 11.5 and I prefer a couple of triple-figure priced players.
Last week's winner, Sung Kang, could very easily go backwards today and yesterday's fine two-under-par 68 may well have been a reaction to his success in his Texas. The adrenalin could run dry today and his challenge wilts but equally, he has nothing to lose, is clearly playing some incredible golf, and he's capable of kicking on. Really hot current form has been a great pointer over the years at this event and I'm more than happy to throw a few pounds at him at 100.099/1. And the same can be said of the man that's finished runner-up here in two US Opens - Phil Mickelson...
As highlighted below, the two nines start very differently so Lefty's recovery on the back-nine, having turned in one-over-par, was more than decent yesterday. He's not out of it by any stretch at -1 and he'll relish the grind over the next three days. The 100.099/1 on offer on the exchange is a little insulting.
Tale of two opening stretches, depending on your draw:

Field score to par today
Holes 1-3: +35
Holes 10-12: +116

? Justin Ray (@JustinRayGolf) May 16, 2019

20:15 - May 16, 2019
Brooks Koepka has shot out of the blocks at Bethpage Black, firing an immaculate seven-under-par 63 and he's already been matched at a low of 2.6213/8.
Brooks was one of my pre-event picks and he was also my each-way selection but I'm definitely not counting my chickens just yet. This is the seventh time he's led after the first round and the third time he's led after round one in a major and so far, he's only gone on to convert once - at the Dunlop Phoenix in Japan in 2017. And Justin Ray's tweet below doesn't suggest he's a value bet at less than 2/1 either.
Koepka is the ninth player to shoot 63 in the opening round of a major. Only 2 of the previous 8 to do it went on to win that week (Nicklaus at the 1980 U.S. Open, Floyd at the 1982 PGA).

? Justin Ray (@JustinRayGolf) May 16, 2019

I've taken the decision to lay may stakes back at 2.6613/8 as he just looks too short to me. We're yet to see what the afternoon starters can do, and there are one or two fancied players that have started OK, and we've also seen the weather forecast change since my first post at lunchtime. The forecast now suggests that the wind will blow consistently tomorrow and I'm not so confident of a draw bias now. That hasn't stopped me having a small bet on Paul Krishnamurty's each-way fancy, Tommy Fleetwood though...
The Englishman played very well when hosting the British Masters last week until the final round and although fatigue is a distinct possibility as the week goes on, I thought he was a fair price at 17.016/1 given he's safely in the clubhouse and only four behind Koepka. As highlighted in the In-Play Tactics section of the preview, up with the pace has been the place to be here so I was always going to be concentrating on the early leaders.
I'll be back tomorrow with another look once the first round's complete.
12:15 - May 16, 2019
And just like that the 101st USPGA Championship is off and running. I've been looking forward to this one more than I thought I would but I've got a feeling Bethpage Black might just serve us up an absolute belter. Obviously, this is early to be kicking off an In-Play Blog but it gives me a chance to highlight Paul Krishnamurty's first round three-balls picks (sorry, I'm a bit late for the first one) and also Dave Tindall's First Round Leader piece, and we're not too late there as you can bet in-running on that market (here).
The big three-ball from the early wave is the Tiger Woods/Brooks Koepka/Francesco Molinari grouping (market here) which tees off at 13:24 UK time and it looks like those three, and anyone else that's starting the championship from the morning wave, might get the best of the draw. It's notoriously difficult to place wagers on the strength of weather forecasts but the very latest from Windfinder (here) suggests a blustery morning and a benign afternoon tomorrow and those that play in the morning today will play in the afternoon tomorrow and vice versa.
As highlighted in the In-Play Tactics section of the preview, frontrunners have a good record here, and at other Tillinghast tracks, so backing those that fare well from the morning wave in-running today could be a wise tactic. Even if they get caught later on, today's afternoon starters look likely to play in the worst of the weather tomorrow and in the fullness of time, I suspect the AM-PM draw is going to get the better of it over the first two days.
Pre-Event Selections:
Brooks Koepka @ 13.012/1
Jason Day @ 30.029/1
Sergio Garcia each-way ten places @ 45/1
Kyle Stanley @ 400.0399/1
In-Play:
Brooks Koepka layed @ 2.6613/8
Tommy Fleetwood backed @ 17.016/1
Sung Kang backed @ 100.099/1
Phil Mickelson backed @ 100.099/1
*You can follow me on Twitter @SteveThePunter