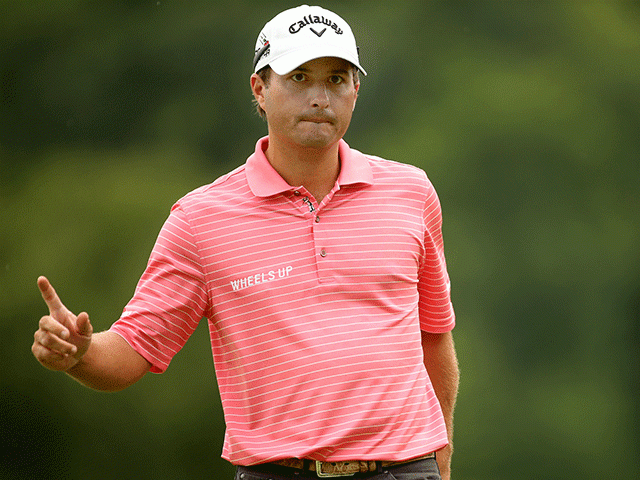 Kevin Kisner – leading with a round to go in Charlotte
Steve Rawlings evaluates the state of play with just a round to go at the 99th US PGA Championship where it looks to be between just five. Read his final in-play thoughts of the week here...
"If anyone's going to try and write Kisner off statistically, they'll have a job. And anyone thinking he'll collapse in the heat of battle could be barking up the wrong tree too. Kisner may only have two PGA Tour titles to his name but he's a really tough nut to crack."
13:00 - August 13, 2017

The third round of the US PGA Championship was a rather dull affair for much of yesterday with a very strange and vicious ending. The tough final stretch, comprising of holes 16, 17 and 18 and known as the Green Mile, really took its toll yesterday with contender after contender blundering their way to the clubhouse and out of contention.

The 54 hole leader, Kevin Kisner, was matched at just [2.4] when he led by two with three to play but he double-bogeyed 16 and bogeyed 18 and one of the two men currently tied for second, Chris Stroud, bogeyed 17 and 18, so those two could have both been in even better positions today and three players almost certainly blew their chances over the last three holes...

Both Paul Casey and Rickie Fowler played the Green Mile in four-over-par to fall away and Jason Day bogeyed 17 before recording a quadruple-bogey eight at the 18th! Fowler now trails by six and Casey and Day are seven adrift so it looks like their awful finishes are going to prove very costly. Here are the latest standings with prices to back at 12:50
Hideki Matsuyama -6 [3.0]
Chris Stroud -6 [12.5]
Justin Thomas -5 [6.4]
Louis Oosthuizen -5 [8.2]
-3 and [50.0] bar

Quail Hollow has proved to be the test many of us were hoping for. Yesterday felt like a real grind but for me, that's what a major championship should feel like. The best in the world tested to the max and after 54 holes and three days of gruelling competition, nobody has recorded three rounds in the 60s and just 15 players are under-par. Somewhat surprisingly, of those 15, only one, Louis Oosthuizen, has previously won a major. So who gets it done?

The market suggests it's between the top-five only so I'll look at those in detail, starting with the leader, Kevin Kisner.

In many ways, Kisner is an archetypical US PGA Champion. At 33 he's around the right age, he's a two-time PGA Tour winner and a winner this year (as were 15 of the last 18 US PGA Champions) and whilst he didn't finish inside the top-22 at the WGC-Bridgestone Invitational last week, like the last ten winners of this event, his tied 28th is arguably as close as damn it is to swearing, and if he were to win, he'd boost an already decent strike-rate for first round leaders of the tournament. Kisner would be the 13th first round leader to win in 60 stroke play editions.

His pre-event price ranged between [120.0] and [160.0] and again, that's fairly typical given how many outsiders win the tournament so if anyone's going to try and write him off statistically, they'll have a job. And anyone thinking he'll collapse in the heat of battle could be barking up the wrong tree too. Kisner may only have two PGA Tour titles to his name but he's a really tough nut to crack.

Kisner failed the first time he led or co-led with a round to go, back in 2011 on the Web.Com Tour, when he finished fifth but on the four occasions he's led or co-led since, he's either finished first or second and he very nearly carried a nervous Scott Brown to victory at the Zurich Classic back in May. The South Carolina man is proving a stoic and tough competitor again this week and I can't see any reason to knock him.

As tough as Kisner is, he isn't the best player in-contention, and should Hideki Matsuyama turn up with his A game later this will be a done deal. His 61 last Sunday to pulverise the field at the aforementioned WGC-Bridgestone Invitational was a thing of beauty and Friday's 64 was equally special. He ticks even more stats boxes than Kevin and he's quite rightly the clear market leader but can he handle the pressure?

Y.E Yang became the first Asian to win a major when he took this title in 2009, Adam Scott became the first Australian to win the US Masters in 2013 and Henrik Stenson became the first Swede to win a major last summer, ending three long standing hoodoos but I fancy the pressure on Hideki to become the first Japanese player to win a major is even more immense and whilst he looks the coolest of cucumbers, inside he's surely feeling it.

I'm on Hideki from the off so I hope he powers through today and gets that illusive but inevitable first major but after yesterday's jittery performance, I'm not quite as confident as I was 24 hours ago.

Chris Stroud is the real surprise package. He was matched at [1000.0] before the off and he only got into the field after he won from way off the pace at the Barracuda Championship last Sunday. That was the 35-year-old Texan's first success and I'd be surprised if he recorded his second here - although he wouldn't be the first 30 something Texan to win this event straight after a very rare victory on the PGA Tour.

Sky commentator, Rich Beem, only ever won three times on the PGA Tour - the 1999 Kemper Open and this event in 2002, straight after he'd won the now defunct International in Colorado - so it's been done before. Stroud is riding the wave of momentum created by last Sunday's victory but all waves die and when they do it's often with a bang. I'm laying Stroud in the Top 5 and Top 10 Finish markets modestly at around [2.0] and [1.4] respectively.

Although they're on the same score, and the latter is a major champ already, the market much prefers Justin Thomas to Louis Oosthuizen but I'm not so sure. Thomas has had a couple of great chances to win two big events this season but on both occasions he's fallen some way short. He led the WGC-Mexico Championship with a round to go in March but could only finish fifth and he was awful at Erin Hills on day four when he fell from second to ninth with a woeful 75 at the US Open. He looks a cheap enough lay in the Top 5 Finish market at around [1.7].

Paul Krishnamurty is already on board at a juicy [75.0] after round one and I wouldn't put anyone off playing Oosthuizen today at [8.2]. This is the fourth time he's sat fourth or better with a round to go at a major and on the three previous occasions he won or lost a playoff so he's the one who looks most likely to hang tough. He picked up some sort of injury to his right arm yesterday so that's a bit of a concern but if he transpired to be the last man standing this evening it wouldn't be a huge surprise and if forced to pick one to back at the odds available at this stage, he'd be the one.

Given those five are two clear of Grayson Murray in sixth and that the last 27 major winners have been inside the top-five places with a round to go, it's very hard to look past them. It's really hard to lead here and most Wells Fargo winners at Quail Hollow have come from just slightly off the pace (two, three or four strokes) so that's another positive for Oosty but I'm not going to completely dismiss an off the pace winner, despite the stats because the finish is so brutal. If two, three or even four of the current top-five have wilted, getting home for the remaining one or two might be tough.

We saw yesterday, in no uncertain terms, that the finish to Quail Hollow can cause absolute carnage and should someone post a score before the leaders take on the Green Mile, they may well be worth getting on side. If there are three or four left in-the-mix then I won't look to play anyone posting a score but if there are only one or two ahead of them, then they could be worth chancing.

So to summarise, I'm going to shout on pre-event pick, Hideki, and hope for the best there, I've layed Stroud for a top ten and both him and Thomas for a top five finish, I've had a small wager on Louis at [8.2] and I'm going to keep my eye out for a closer late on - provided the leading five has thinned out already. And I'll be back tomorrow with the Debrief.

11:00 - August 12, 2017

Having suffered a suspension in play due to thunder and lightning late in the afternoon yesterday, the second round of the US PGA Championship hasn't quite been completed yet. Play was suspended due to darkness yesterday but with only Chris Stroud in the top 10 places yet to finish his second round, the picture is fairly clear and here are the latest standings with prices to back at 10:50.

Hideki Matsuyama -8 [2.82]
Kevin Kisner -8 [7.8]
Jason Day -6 [5.6]
Louis Oosthuizen -5 [16.5]
Francesco Molinari -5 [30.0]
Chris Stroud -5 (thru 13 holes of rd two) [55.0]
Rickie Fowler -3 [14.5]
Justin Thomas -3 [24.0]
Paul Casey -3 [28.0]
Byeong Hun An -2 [150.0]
-1 and [60.0] bar

Playing in the morning yesterday, Kevin Kisner shot a second successive four-under-par 67 to hold a clear advantage and he was matched at just [4.1] as it looked as though he'd lead going in to the weekend but then along came Hideki Matsuyama and along came the rain and it was all change.

The in-form Japanese star fired in three straight birdies before the weather delay and when play resumed he knocked in two more at 15 and 17 to tie Kisner and he's now a very warm favourite to win his first major.

Both Dave Tindal (here) and I were keen on Matsuyama's chances before the off so his move yesterday was most welcome, especially given how disappointingly poor Brooks Koepka played yesterday in the easier conditions, but I doth my cap to Paul Krishnamurty.

Anyone that followed Paul in yesterday with his three in-play picks is in a nice position heading into the weekend and I'm certainly wishing I had but I'm happy enough with my lot. Thorbjorn Olesen had a dreadful day yesterday but he's all set to be the top Dane when he finally completes round two today and with both my other two side market bets having also obliged it's nice to get some coffers in before we get to the business end of the main event.

I've pondered what to do now and the below tweet suggests I should be siding with Kisner but I'm going to leave it alone for now. Matsuyama is so hot right now he could very easily ease away from the field but there's plenty of quality just off the lead and if he and Kisner tread water today, on a rain-softened course, we could see much change.
Good morning from the #PGAChamp- 14 of the last 16 major champions were either 1st or 2nd after 36 holes.

— Justin Ray (@JustinRayGC) August 11, 2017

If I wasn't already on board, I'd be very tempted to back Matsuyama at around [2.8]. That's a fair price given he's no bigger than 6/4 on the High Street and I certainly wouldn't put anyone off backing him.

11:30 - August 11, 2017

Despite a triple-bogey seven at the par four fifth hole yesterday, Rickie Fowler narrowly heads a tight market after he began the 99th US PGA Championship impressively with a two-under-par 69 to trail the early pacesetters, Kevin Kisner and Thorbjørn Olesen, by two strokes.

My man, Brooks Koepka is currently just being shaded in the market by Fowler but he started well too, with a three-under-par 68, and he's one of five men tied for third, but all my outsiders were disappointing yesterday and what adds to the disappointment is that the two early leaders very nearly met my criteria...

As highlighted in the preview, 15 of the last 18 US PGA winners had all won earlier in the year and the last ten had all finished inside the top-22 at last week's event, the WGC-Bridgestone Invitational, and both Kisner and Olesen very nearly met the criteria. Kisner won the Dean & Deluca Invitational but finished only tied 28th at Firestone last week, while Olesen finished tied for 10th last week but he hasn't won an official tournament this year. He won the prestigious Turkish Airlines Open back in November and he also won the unofficial GolfSixes tournament alongside Lucas Bjerregaard in May.

Kisner wasn't really on my radar as I didn't think he'd be long enough off the tee for Quail Hollow but I did look closely at Olesen, who I've backed to be the Top Dane, and I added him to the portfolio in-running yesterday.

If we consider the GolfSixes a win for Olesen, then a recent victory has been a really good angle-in so far. Of the top seven on the leaderboard after round one, six have already won this year. Gary Woodland, who's tied for third, is the odd man out and three of the six winners, Grayson Murray (Barbasol Championship), Chris Stroud (Barracuda Championship) and D.A Points (Puerto Rico Open) were all matched at huge prices before the off.

Murray was matched at [930.0] and the other two were matched for plenty at [1000.0]. I know hindsight's a marvellous thing but given Stroud won last week and that Points was involved in a playoff at Quail Hollow five years ago with Rickie Fowler and Rory McIlroy; a case could certainly be made for both men.

As already stated, I backed Olesen yesterday but he still looks a fair price at [40.0] and I've also added Points to the portfolio. He did me a big favour back in May when he won in Puerto Rico and he shouldn't be as big as he is given he's a three time PGA Tour winner with course form in the book. At around [200.0] he's just too big to ignore.

That's all I'm doing in-running for now but Paul Krishnamurty has taken the plunge with three players here and I'll be back tomorrow with a look at the state of play the halfway stage.

Just before I sign off, a word about the coverage. The BBC are getting roundly criticized for their scant coverage and while I'm not defending it, and it could certainly be miles better, it's worth remembering how late they got the nod to cover the tournament and that the athletics must be taking up much of their resources.

Anyway, if you weren't aware, the coverage of the featured groups on Twitter (link here) was excellent yesterday and that's where I'll be watching this afternoon.

Pre-Event Selections:
Hideki Matsuyama @ [13.5]
Brooks Koepka @ [30.0]
Daniel Berger @ [65.0]
Xander Schauffele @ [150.0]
Russel Henley @ [230.0]
Adam Hadwin @ [230.0]
Kyle Stanley @ [270.0]
Jhonattan Vegas @ [290.0]
Hudson Swafford @ [430.0]


In-Play Selections:
Thorbjørn Olesen @ [90.0]
D.A Points @ [200.0]

*You can follow me on Twitter @SteveThePunter
Dead Heat rules
Having an each-way bet on the golf this week? Make sure you're up to speed with our dead heat rules so you know what your payout will be in the event of players being tied on the same score.