The Punter's In-Play Blog: Woodland holds firm but for how long?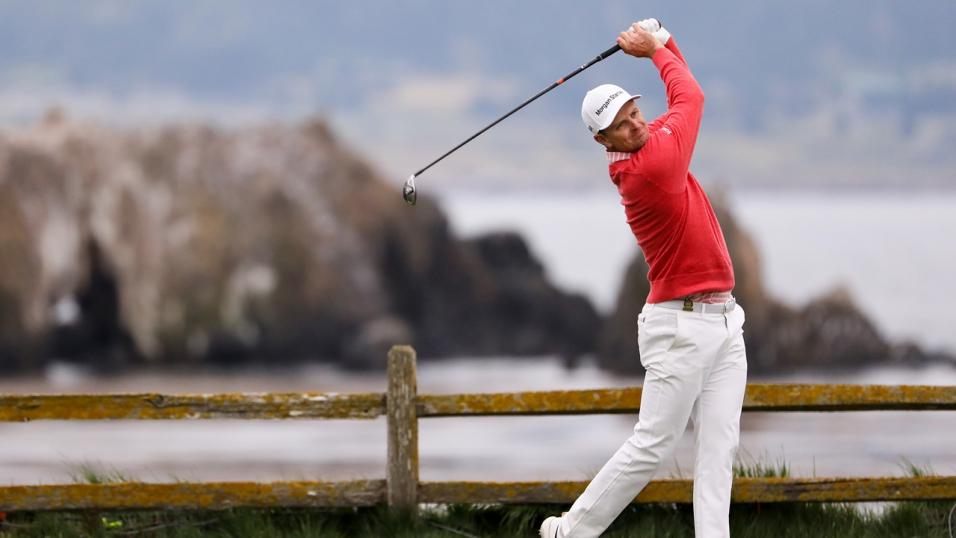 Justin Rose - favourite to win the 119th US Open
There's just one round to go at this year's US Open so Steve's back with his final in-play thoughts for the week here...
"There's a myriad of markets on offer with the Sportsbook for the final round today and I quite like the 5/1 about the Rose-Koepka Duel Forecast and the 11/1 for a Straight Forecast of Rose-Koepka. If Woodland fades, those two filling the top-two places looks highly likely to me."
13:15 - June 16, 2019
We're threequarters of the way through the 119th US Open and only six men look to have a realistic chance of victory. Here's the 54-hole leaderboard with prices to back at 13:10.
Gary Woodland -11 [3.15]
Justin Rose -10 [3.0]
Brooks Koepka -7 [6.8]
Louis Oosthuizen -7 [16.0]
Chez Reavie -7 [36.0]
Rory McIlroy -6 [13.0]
Matt Kuchar -5 [100.0]
Chesson Hadley -5 [300.0]
-4 and [150.0] bar
It was a strange third day at Pebble Beach yesterday and one which I felt lacked a bit of drama. The USGA set the pin positions up generously but the course stood up fairly well in largely benign conditions and perhaps surprisingly, nobody bettered Danny Willett 's four-under-par 67.
It certainly wasn't easy but it wasn't perilously difficult either and only one of the top-ten at halfway (Aaron Wise) shot an over-par round (79!). Matt Wallace shot level-par to slip form tied sixth to tied ninth but the third round leaderboard looks remarkably similar to the state of play at halfway and the current top eight on the leaderboard were all inside the top-ten after 36 holes.
Dave Tindall's each-way pick, Gary Woodland, still leads but only just and I fancy his incredible run on the greens could come to an end today. Woodland's putting stats have been woeful this season so far and he entered the week ranked 179th for Putts Per Round on the PGA Tour. This week he ranks fifth!
Since 1996, six players have taken a one-stroke lead into the final round of a US open and only two of them went on to win - Payne Stewart in 1999 and Tiger Woods in 2008. The last three - Ricky Barnes in 2009, Phil Mickelson in 2013 and Brian Harman in 2017, were all beaten by at least two strokes.
Woodland has held a clear advantage through 54 holes four times previously but he's only once successfully converted - at the Reno-Tahoe Open in 2013 when he led by five after three rounds. Since then he's failed to convert a one-stroke lead at the Farmers Insurance in 2014 and at the OHL Classic in 2016 and he was caught and passed by Xander Schauffele at the Tournament of Champions in Hawaii in January, having led by three through three rounds. In his defence, he did nothing wrong there, shooting a five-under par final round 68 to finish four shots clear of Justin Thomas in third. Xander shot an 11-under-par 62!
Woodland's one of the good guys and nobody would begrudge him the win but at the prices on offer today, Justin Rose looks a far better prospect. The 2013 US Open champion has been there and done it at majors (he was very unlucky to lose the US Masters in 2017) and he's far more likely to hold up under the extreme pressure of a major championship payday. It was Father's Day when he took the title six years ago at Merion and a repeat is very much on the cards.
Each of the last five and nine of the last 11 US Open winners have sat first or second with a round to go and with a gap of three to the three players tied for third, the stats suggest it's highly likely that one of the front two take the title and at an industry-best 15/8 with the Sportsbook, or at [3.0] on the exchange, Rose looks a very fair price.
The last 20 US Open winners have all been within four strokes of the lead with a round to go so if the front two are to wobble, the stats suggests Brooks Koepka, Louis Oosthuizen or Paul Krishnamurty's outstanding Find Me a 100 Winner pick, Chez Reavie, are the most likely to prosper and Brooks is far and away the most probable benefactor.
Koepka is still struggling to find the bottom of the cup with regularity this week but I expect him to continue to play exceptional tee-to-green golf and he could easily come through and win his third US Open in-a-row. It's very hard to make a case for him at less than 6/1 when he has a proven major championship winner three in front of him though.
Rory McIlroy has it all to do from sixth place and six shots adrift and he wouldn't have to have a terrible day to push a bit too hard and to fall out of the top-ten. He looks a cheap enough lay at around [1.3] in the top-ten market.
I'm not a huge fan of two and three-ball betting and Paul's your man to follow for those. In addition to being shrewd enough to get Rose onside at [6.0] yesterday, two of his four two-ball bets landed and he's nicely in front for the week, but I quite like the look of Oosthuizen to beat Rory today at an industry-best 21/20 with the Sportsbook.
The South African finished strongly yesterday, birdying three of his last four holes, and I can just see him finishing nicely again today to record a high finish while Rory drops away with the disappointment of the title gone if he's pushed too hard.
There's a myriad of markets on offer with the Sportsbook for the final round today and I quite like the 5/1 about the Rose-Koepka Duel Forecast and the 11/1 for a Straight Forecast of Rose-Koepka. If Woodland fades, those two filling the top-two places looks highly likely to me.
I'll be back tomorrow with my De-Brief.

13:40 - June 15, 2019
For much of day two, it looked as though first round leader, Justin Rose, who teed off early at Pebble Beach yesterday, had done enough to keep his nose in front, with his one-under-par 70, but for the second day running one of the late starters posted a super-low round. Rose's first round 65 had been a surprise, Gary Woodland's was a bigger one. Here's the halfway leaderboard with prices to back at 13:30.
Gary Woodland -9 [6.2]
Justin Rose -7 [6]
Louis Oosthuizen -6 [13.5]
Rory McIlroy -5 [5.8]
Aaron Wise -5 [48.0]
Brooks Koepka -4 [9.6]
Matt Kuchar -4 [30.0]
Matt Wallace -4 [55.0]
Chez Reavie -4 [100.0]
Chesson Hadley -4 [210.0]
-3 and [23.0] bar
The stats tell us to concentrate hard on the leaders at US Opens and that we should be concentrating on the ten names listed above. And on the leading trio in particular.
Incredibly, 22 of the last 23 winners have been inside the top-six places after 36 holes and 72% of the last 50 winners were within two strokes of the lead at halfway. That's a really big plus for Woodland, Rose and Louis Oosthuizen. We've had five previous US Opens at Pebble Beach and three of the five winners were in front at this stage - another tick for Woodland - but I'm not in the least bit convinced we can go diving in on him, or any of the other nine players sitting tied fourth or better at halfway.
History also tells us that Tom Kite won the US Open at Pebble Beach in 1992, having trailed by eight in a tie for 12th at halfway and Tom Watson won here ten years earlier having trailed by five in a tie for eighth through 36 holes. We don't see too many off the pace winners at US Opens but it just so happens we've seen one, and arguably, at a stretch, two, here at Pebble.
Add to that, the fact that Woodland isn't the greatest in-contention (converted just one of seven halfway leads/co-leads), that Rose is on the premises thanks to a very hot putter, and that Louis Oosthuizen is still yet to win a tournament of any type on American soil, and the front three look opposable.
Trailing by four, Rory McIlroy is the new tournament favourite but I much prefer the look of the defending champ, Brooks Koepka, at getting on for twice the price, given he trails Rory by just a stroke. The late-night finishes make viewing the championship live in the UK hard but from what I've seen, nobody is striking the ball better than Brooks and if the putter warms up over the weekend the three-peat is a distinct possibility.
It's all very well putting really well (Woodland and Rose in particular over the first two rounds) but over the course of 72 holes, I suspect finding greens with regularity is going to emerge as the most important factor. Koepka can't buy a putt so far this week but he currently ranks first for Greens In Regulation. In contrast, Rose ranks 99th.
Woodland's all-round stats are impressive so far and he ranks fifth for GIR but I have grave reservations about his temperament and he looks vulnerable to me. This looks like a far more open affair than the leaderboard and historic stats suggest.
I've fiddled about this week without fully committing to any strong positions. My pre-event play on Dustin Johnson was reduced very early on when he failed to spark on day one and having backed Xander Schauffele before he teed off yesterday, I was soon backtracking there too, as he missed fairways early on. I've gone from being cautious to ultra-cautious and I'm glad I have because this still looks like a minefield for punters.
I'm very tempted to plough into Koepka but where Rose has to start finding more greens in reg, Brooks has to start seeing more putts drop. In addition to rankling first for GIR, Koepka ranks second for Strokes Gained on Approach and for Strokes Gained Tee-to-Green but he ranks 111th for Putting Average and 98th for Strokes Gained Putting. So there lies the quandary - can he continue to play exceptional tee-to-green golf and keep missing putts or will they start to drop? If they do, a fifth major in nine could be on the cards.
All things considered, with conditions highly likely to get much tougher as the USGA allow the course to dry out and the greens to speed up, I'd rather be on Brooks than anyone else at the prices available. The change in green speeds could play into his hands over the weekend and against those that holed more putts over the first two days. Keeping errors off the card, thanks to straight and accurate hitting, looks like being the key to victory.
Rory's a fascinating contender and, bets aside, I'd love to see him win a US Open under proper US Open conditions but he isn't close to a value price currently given he's yet to win any tournament with a winning total of less than 12-under-par. The tougher it gets, the less likely a win for Rory becomes and I suspect it's going to get very tough.
The 119th US Open isn't getting any easier a puzzle to solve and I'm still being cautious but if I had to plump for anyone at this stage it would be Brooks.

11:55 - June 14, 2019
After much recent criticism, it was always going to be interesting to see how the USGA would set up Pebble Beach for the 119th edition of the US Open and so far, they've very much erred on the side of caution. They were even seen watering the greens yesterday!
No chances being taken by the USGA... pic.twitter.com/wc4cnZ0giF

? Sundogmonkey (@Sundogmonkey) June 13, 2019
In the five previous renewals of the US Open at Pebble, nobody managed to shoot 66 or better at either the 1972 or 1982 editions, two players managed the feat in both 1992 and 2000 and there were three rounds of 66 or better in 2010. We've already seen five this year and Justin Rose birdied his last three holes to shoot 65 to equal the lowest round shot here in a US Open. The Englishman leads by one. Here's the first round leaderboard with prices to back at 11:50.
Justin Rose -6 [7.8]
Rickie Fowler -5 [11.0]
Xander Schauffele -5 [11.5]
Louis Oosthuizen -5 [27.0]
Aaron Wise -5 [48.0]
Scott Piercy -4 [65.0]
Nate Lashley -4 [440.0]
Sepp Straka -4 [570.0]
Rory McIlroy -3 [9.6]
Francesco Molinari -3 [21.0]
Henrik Stenson -3 [42.0]
Gary Woodland -3 [60.0]
Chez Reavie -3 [150.0]
Chesson Hadley -3 [400.0]
Brooks Koepka -2 [10.5]
Tiger Woods -1 [18.5]
-2 and [46.0] bar
Like Rose, Tiger Woods opened with a 65 in 2000 and he too led by a stroke, over Miguel Angel Jimenez, and those two opening rounds transpired to be the only rounds of 66 or better all week. There was quite a bit of grumbling about the scoring yesterday, with some people feeling it was just that bit too easy for a US Open but it's almost certainly going to get harder. There were 17 players under-par after that opening round in 2000, by the end of the week there was just one. Tiger somehow managed to get to 12-under-par. Nobody else bettered +3.
Only nine players shot below par on day one at the 2010 US Open but by the end of the week, Graeme McDowell was the only man not to finish on an over-par score. Yesterday ended with as many as 39 players under-par, so it was a much easier set-up than at previous renewals.
The big surprise for me was the par five 14th, which has already given up more strokes than it did in the entirety of the 2010 edition. It was the third hardest hole on the course, averaging 5.44 nine years ago - yielding just one eagle and 50 birdies all week. There were three eagles and 48 birdies there yesterday and it averaged just 4.79. It was the third easiest hole on the card and it played even easier than the par five 18th!
Pebble did play easier than expected yesterday but talk of a double-digits under-par winning score is very premature. It can only get tougher and that's exactly what the leader thinks too. Speaking to Sky's Tim Barter after his sensational start, Rose had this to say: "I don't think we've seen it under US Open conditions yet.
"There's just enough moisture in the golf course where quality golf shots were getting close to the hole. The breeze was just benign enough today where you could have (a go) at it. I think today was the day where you had to do something like that. I think from now on, I believe there could be a bit more wind in the afternoon tomorrow, so that's going to dry out the course, firm up the greens and I think from this point the USGA might let it go so I'm glad I got off to a good start when the course is gettable."
Rose's round was even more impressive considering he was one of the last players out yesterday and that the morning starters averaged 1.26 less than the afternoon wave and he should enjoy more favourable conditions this morning. Although it does look like he was overestimating this afternoon's wind. It's only forecasted to get up to around 10 knots.
Rose has an 18% strike-rate when leading or co-leading and both Jack Nicklaus and Tiger won their US Opens at Pebble wire-to wire but he looks a little on the short side to me at less than 7/1. The putter saved him a bit yesterday and he will need to improve on his long game to stay in front. After day one, he ranked only 119th for Driving Accuracy and 106th for Greens In Regulation.
Brooks Koepka, who's looking to win the US Open for a third time in-a-row, started his opening round really well and he was four-under-par through just six holes. The world number one was matched at a low of just [4.0] as he threatened to boss yet another major from start to finish but after playing the easier holes well, he stuttered somewhat after that and ended the day on -2.
Rory McIlroy has put himself in-contention with an opening round of 68 and that's by some margin his best first round in a US Open, other than his 65 at rain-softened Congressional when he won the title in 2011. Before that round, and since that round, until yesterday, his best opening round at a US Open had been 72 and the nearest he'd been to the lead after day one had been tied 36th in 2014. It's a great start, but how will his challenge stand up as the course dries out? I'm not at all convinced it will and he might be a nice cheap lay in some of the place markets.
Of those that started well yesterday, Xander Schauffele interests me the most but I'm happy to wait and see what the early play brings. Schauffele doesn't begin his second round until 22:09 UK time and it's hard to envisage his price shortening in the meantime so my only early in-play wager is on Matt Fitzpatrick, who opened up with a two-under-par 69.
Fitzpatrick kicks off his second round at 16:13 UK time and if the morning starters do enjoy a bit of an advantage today, he's too big at [130.0].
Pre-Event Selections:
Dustin Johnson @ [10.5]
Jordan Spieth @ [24.0]
Phil Mickelson @ [65.0]
Brandt Snedeker @ [95.0]
Jimmy Walker @ [230.0]
Graeme McDowell @ [180.0]
Bernd Wiesberger @ [650.0]
In-Play Pick:
Matt Fitzpatrick @ [130.0]
*You can follow me on Twitter @SteveThePunter