The Punter's US Open In-Play Blog: Justin Thomas the new favourite at Erin Hills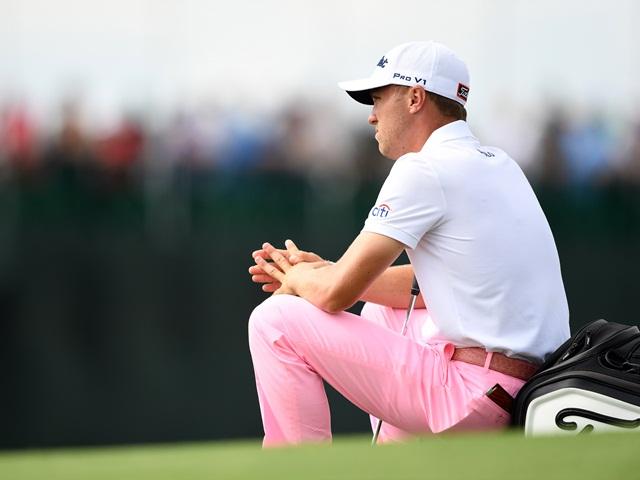 Justin Thomas waiting to make his record-breaking eagle on 18 yesterday
Brian Harman has hit the front with a round to go at the 117th US Open but it's record-breaker, Justin Thomas, that heads the market. Read our man's take on the state of play with a round to go here...

"Backing up that low round is still a bit of a worry, even though he's done it before, and he lost his temper a bit in Mexico back in March when he fell from one clear with a round to go to fifth and three adrift at the winning line but Justin Thomas is the man they all have to beat now."
12:20 - June 18, 2017
A combination of sporadic rainfall and much lighter than hoped for winds have rendered Erin Hills much more playable than the USGA would have liked and as a result, 42 players are under-par with a round to go at this year's US Open and five players have got it to double-digits under-par. Here's the 54-hole leaderboard with prices to back at 12:10.

Brian Harman -12 6.411/2
Justin Thomas -11 4.94/1
Brooks Koepka -11 5.59/2
Tommy Fleetwood -11 9.28/1
Rickie Fowler -10 6.05/1
Si Woo Kim -9 19.5
Patrick Reed -8 28.027/1
Russell Henley -8 44.043/1
Charley Hoffman -8 40.039/1
-7 and 65.064/1 bar

After shooting the lowest round in relation to par (nine-under) in US Open history, 24-year-old Kentuckian, Justin Thomas, has put himself right in to contention and he now heads the market. It was an incredible achievement but conditions certainly helped and Patrick Reed was on the same score after 17 holes. Reed parred the 18th, missing a very makeable putt for birdie, whereas the big-hitting Thomas was able to do this...
✔️ 331 yard three wood
✔️ 310 yard three wood
✔️ 10 foot putt

What a way to make history! pic.twitter.com/GDYTwUo4rj

? The European Tour (@EuropeanTour) June 17, 2017

Debates will continue to rumble as to whether Thomas' 63 yesterday was a better round than Johnny Miller's 63 at Oakmont in 1973 but there's no contest for me. Miller's was to win the tournament and even if hadn't been, this stat clarifies it for me...
Justin Thomas: 9.0 strokes better than field average today. Johnny Miller was 10.8 strokes ahead of the field Sunday at Oakmont in '73.

? Justin Ray (@JustinRayGC) June 18, 2017

Anyway, that's more than enough looking back, let's look forward to today and I'll start with the leader, Brian Harman, whose five-under-par 67 yesterday was a thing of beauty. Harman only ranks 120th for Driving Distance and that's a huge handicap around this ridiculously long track but he managed to make par whenever he found trouble off the tee and his only bogey came at the toughest hole on the course - the long par-four third.

There's no reason to suspect his temperament will be an issue in the final pairing alongside Thomas but I fear for him if he doesn't keep finding fairways. He's missed just five all week so far and he'll need to keep finding them today because when he does miss one, he's a long way from the green. This is just the third time he's led with a round to go. He won the John Deere Classic from the front in 2014 but was beaten by a stroke at the Travelers Championship two years ago. He won't go away, as long as his long game keeps working well.

If Thomas repeats yesterday's heroics then the others can all go home now but following an ultra-low round is always hard. If anyone can do it though, Thomas can. After winning the opening event of the year, the Tournament of Champions in Hawaii, Thomas opened up the Sony Open a week later with a 59 at Waialae Country Club and he followed that with a second round 64 and two 65s to win by seven! This course is perfect for his powerful long game and given he's already won four times on the PGA Tour (twice in Hawaii and twice in Malaysia) he's one of the more experienced on the leaderboard, despite his age.

Backing up that low round is still a bit of a worry, even though he's done it before, and he lost his temper a bit in Mexico back in March when he fell from one clear with a round to go to fifth and three adrift at the winning line but he's the man they all have to beat now.

My niggling doubts about Koepka's temperament remain. He's only won once and he's given up a few chances. He's twice led by two with a round to go and failed to convert on the PGA Tour and on the two occasions he's trailed by a solitary stroke, he's also failed to win. He won his sole success on the PGA Tour to date at the Waste Management Phoenix Open in 2015 when he trailed by three. I'm not for a second saying he can't win and he's flaky in-the-mix but I'm looking for the tiniest of fine margins and one could argue that he should arguably have kicked on-on Friday too. He played the back-nine in two-over after he'd hit the front. Would I be surprised if he won? Not one bit. Do I perceive him as a value play right now? No.

After his fabuolus opening 65 on Thursday, Rickie Fowler has scrambled brilliantly to remain in with a chance but, having backed him ante-post at 33/1, I'm worried he won't find his A game again in time. If he plays like he did in rounds two and three I very much doubt he'll win.

He only hit eight of 14 fairways yesterday and having hit 15 of 18 greens on Thursday, he's hit just 23 of his last 36. If the wind blows much harder than forecast and it somehow turns in to an almighty grind, then Rickie will have a much better chance but if it goes the other way and the wind isn't too blustery, Rickie's in trouble, unless he can get back in the groove. I'm hopeful of his chances rather than confident and he doesn't strike me as a great price today given his form for the week is largely regressive.

Tommy Fleetwood may have lost a tiny bit of concentration at the end of round three because he had to make a quite brilliant up-and-down for a bogey six at the par five 18th, having been just 47 yards from the hole after two strokes! Fleetwood has been brilliant all week long but of the top-four, he's the one I like the least. I can see him hanging around for much of the day but I just can't envisage his first win on American soil being a major championship. The finish yesterday was a bit worrying and I just don't think he's quite ready.

Si Woo Kim has missed plenty of makeable putts this week but tee-to-green he's been magnificent. Anyone that witnessed his nerveless cruise to the Players Championship last month will know he can't be discounted and if those ahead get the collywobbles Woo could yet cause another shock. If I had to name the best value-priced player right now it would be him.

Although this hasn't played out like a traditional US Open, the in-running trends have so far largely held up. Four of the top-six after round one occupy four of the top-five places after round three and the man that's muscled in on the act, Thomas, has had to break a US Open scoring record to do so. Being up with the pace throughout has again proved pivotal and we perhaps need to continue taking heed of history and concentrate on the leaders now...

Having led at halfway, the 2007 winner, Angel Cabrera, dropped four back into a tie for seventh after round three and he was trading at 50.049/1 with a round to go but winning from that far back is very unusual in a US Open. Since 1898, only five winners were further down the leaderboard than Cabrera with a round to go and seven of the last nine winners have sat first or second after 54 holes.

I'll be back in the morning with the De-brief, or maybe another update? We haven't had an 18-hole playoff at a US Open since Tiger Woods took down Rocco Mediate in 2008 so we're overdue one and this looks ripe for extra time.

12:50 - June 17, 2017

Rickie Fowler and Brooks Koepka threatened to put some distance between themselves and the field yesterday at Erin Hills when they both reached nine-under-par at the turn in round two of the 117th US Open. Fowler was matched at a low of just 2.982/1 and Koepka dipped to 4.1 but both failed to kick clear.

After a run of 28 straight bogey-free holes, Rickie really put the brakes on with three dropped shots in-a-row at 11, 12 and 13, and Brooks played the front nine (his second nine) in two-over par, so what we're left to evaluate today is a very congested leaderboard, with a dozen players separated by just two strokes. Here's the current state of play with prices to back at 12:40 UK and Ireland time.

Brooks Koepka -7 8.27/1
Paul Casey -7 8.27/1
Tommy Fleetwood -7 16.015/1
Brian Harman -7 19.018/1
Rickie Fowler -6 7.413/2
J.B Holmes -6 19.018/1
Jamie Lovemark -6 29.028/1
Hideki Matsuyama -5 10.519/2
Brandt Snedeker -5 23.022/1
Si Woo Kim -5 29.028/1
Xander Schauffele -6 120.0119/1
Cameron Champ (am) -6 230.0229/1
-5 and 25.024/1 bar

This is developing in to one of the strangest US Opens in many a year. None of the world's top-three have made the cut, nobody inside the top-18 on the leaderboard at halfway has previously won a major, and the scoring is silly low. After 36 holes there are 42 players under-par!

I thought the USGA would have tricked Erin Hills up a bit more than they did yesterday but the pin positions were largely very fair and a combination of softer than expected greens and almost no wind to speak of resulted in anyone avoiding the tall fescue off the tee being able to score nicely. Hideki Matsuyama played the front-nine in 30 (six-under-par) yesterday and Chez Reavie played his first 11 holes in seven-under-par!

So what now? The USGA will want to stem the rush of birdies and they're almost certain to try and set the course up as tricky as they can but with rain forecast over the weekend and with Sunday's wind forecast changing from blustery to merely a bit windy, they might struggle.

This has been a very different US Open so far so we have to tread carefully with regards to historic US Open data but dismissing the stats completely would be foolish. I'm not going to be over-reliant on them but as I highlighted yesterday, it's worth remembering that six of the last ten winners have been in front at halfway, two have sat second and one third and that nine of the last ten winners have been leading or within one of the lead at halfway.

With such unusually low scoring possible at Erin Hills, it has to be considered a possibility that at least one or two players will go low over the weekend and make up lots of ground, but to counter that, anyone outside the top-18 and more than three strokes adrift has an awful lot of traffic to pass. It's odds-on we'll see at least one of the leaders hang tough and score reasonably well so when you hear the inevitable old cliché that anyone making the cut can win, I'd treat it with a sizable handful of salt and not just a pinch.

Rickie still heads the market and rightfully so. He handled yesterday's little wobble brilliantly and his up-and-downs for par on 16 and 17 were simply brilliant. He didn't play well on the back-nine yesterday, in fact, he didn't play anywhere near as well as he'd done on Thursday throughout the entire round but that's going to happen at some stage. He may have had his sticky patch and it's never easy to back up a really low round. He's the highest ranked player in-the-mix and the most likely winner.

The market can't split Paul Casey or Brooks Koepka but I favour the latter. Casey recovered brilliantly after a triple-bogey eight at the 14th (his fifth hole of the day) yesterday but my opinion hasn't changed from yesterday. He's played more than 150 times on the PGA Tour and his 2009 playoff victory at the Houston Open is still his only win.

Like Casey, Koepka has only one PGA Tour title to his name but I suspect the 27-year-old Floridian, who won the Waste Management Open in Phoenix two years ago, might stand up to the heat of battle better than Paul, although anyone that backed him to win the Byron Nelson Championship last May might disagree.

He really should have won that event and he was matched at 1.132/15 in-running before he finished the tournament nervously to get caught by Sergio Garcia. He lost the playoff very quickly after driving in to the water at the first extra hole and if I was being really picky, did he stall a bit yesterday when he hit the front?

Tommy Fleetwood continues to impress and he could easily hang around over the weekend but at a few points bigger, Brian Harman represents the value right now. The four players tied at the top have only four PGA Tour titles between them and Harman has two of them.

He showed nerves of steel to get off the mark at the John Deere Classic three years ago and he was impressive enough when winning the Wells Fargo Championship last month. I'm happy to be on Fowler ante-post and Si Woo Kim, who I backed yesterday, still looks very fairly priced but of those at the head of affairs, Harman looks the best value right now at 19.018/1.

At just two off the lead, Brandt Snedeker looks a fair price at 23.022/1. He's putting beautifully and he won't mind how bad the weather gets. He's had his chances to win a major before and failed but it's worth remembering that everyone in the top-18 is looking for their first biggy and he's more experienced than most.

I'm really enjoying the tournament and I can't wait to watch all the action unfold later but from a betting perspective it's very tough. I really didn't expect to be scanning a long way down the leaderboard at halfway but given the unusual conditions of the course and the weather forecast an off the pace winner has to be considered. The one I like at a big price is Russell Henley, who trails by four, and if you fancy playing the event that way, Paul Krishnamurty has picked out a couple of monster-priced picks here.

11:30 - June 16, 2017

I've been looking forward to the 117th US Open for some time and it hasn't disappointed yet. Erin Hills is very easy on the eye and so far it's provided an easier than expected but largely fair test. Most of us felt that power off the tee would prove to be more advantageous than accuracy (as it is at the majority of US Opens) but avoiding the brutal, long fescue rough is already proving essential.

The fairways are extremely wide but plenty of the world's best players struggled to find them with regularity yesterday and somewhat ironically, nobody hit fewer than world number two, Rory McIlroy, whose pre-tournament words came back to haunt him after he found just five fairways all day.

"We have 60 yards from left line to right line," he said. "You've got 156 of the best players in the world here, if we can't hit it within that avenue, you might as well pack your bags and go home. These are the widest fairways we've ever played in a US Open. Even the first and second cut is another ten yards on top of that. So if you've got 50 or 60 yards to hit into and you're complaining about the fescue that's wider than that, I don't think that's an issue."

The world's top-six players hit a combined score of 21-over-par yesterday and Jordan Spieth's one-over-par 73 was the best any of them could muster. Hideki Matsuyama (74), Dustin Johnson (75), Jon Rahm (76), Rory (78) and Jason Day (79) were all well-fancied before the off but they're all already out of the equation having missed too many fairways.

If you could keep out of the hay though, scoring was perfectly possible and 44 players ended the day under-par. That's more than any before in the first round of a US Open. The previous record was 39, at Medinah in 1999.

Playing nice and early yesterday morning, when the course was as playable as it's going to be all week, Rickie Fowler played some immaculate stuff to fire a seven-under-par bogey-free 65 to take the early lead. Here's the first round leaderboard with prices to back at 11:20 UK and Ireland time.

Rickie Fowler -7 4.77/2
Paul Casey -6 8.88/1
Xander Schauffele -6 70.069/1
Brooks Koepka -5 13.5
Tommy Fleetwood -5 32.031/1
Brian Harman -5 38.037/1
Marc Leishman -4 23.022/1
Patrick Reed -4 29.028/1
Adam Hadwin -4 44.043/1
Kevin Na -4 70.069/1
-3 and 18.5 bar

With the wind picking up a bit at around lunchtime yesterday, it looked like the afternoon starters might get the worst of it but it dropped a bit as the day wore on and the current top-ten is split 50-50 between morning and afternoon starters so it panned out reasonably fairly.

Looking at today's forecast, we look set for a day with the wind again being at its consistent worst at around lunchtime before it eases a little in the afternoon. That's almost identical to how it panned out yesterday but the morning does look slightly gustier than yesterday morning. It doesn't appear that the draw is going to be pivotal and it doesn't look like today's morning starters are going to steal a march on those drawn in the afternoon so it's not something we need to get hung up on.

As highlighted in the In-Play section of the preview, it's been very hard to make up ground at previous US Opens and I see no reason for that to change this time around. Looking at the stats, the 2012 winner, Webb Simpson, who was six off the lead and tied for 23rd after round one, is the only winner this century to be more than four adrift after the opening day so scanning a long way down the leaderboard might prove futile.

The course offered up plenty of opportunities to score yesterday, and holes one, two, five, 16 and 18 all averaged under-par, but I can see the USGA wanted to curb that today. I very much expect to see a stronger set-up, with trickier pin placements, and I'll be amazed if it plays as easy as it did yesterday. Some brilliant players have a lot of ground to make up but I fancy they'll struggle.

Scoring at US Opens gets tougher as the week goes on traditionally, as the course dries out, and with the wind forecast to blow on Sunday; three level par rounds from here on in for the leader may well be enough to see him win his first major.

It's asking a lot to expect Fowler to lead all the way but it's far from impossible and we've already seen five wire-to-wire winners this century. Rickie's record when leading or co-leading after round one is fair and if you've backed him each-way, you have a great chance now of collecting the place part at least. He's led or co-led five times in total and he's finished first, second (three times) and third. On the last occasion, at this year's Houston open, he shot 71 in round two to fall to fourth and seven off the lead but he usually hangs tough and being able to concentrate hard on just finding fairways and greens could play to his strengths.

Paul Casey, who ranks 14th, is the only other player in the world's top-18 inside the top-ten after round one and he's the only other player trading at a single-figure price but he's not for me.

Casey has a propensity to disappoint in-contention and despite his lofty world ranking and his obvious good form over the last 12 months, he just doesn't win enough for my liking. His last victory came at the KLM Open in the Netherlands in 2014 and he still has only one PGA Tour title to his name.

Xander Schauffele's bogey-free 66 was a remarkable knock given this is the 23-year-old Californian's first major championship but it's almost impossible to see him going the distance and those players two, three and four back of Fowler look the ones requiring most scrutiny this morning.

Having backed Fowler each-way at Christmas when I took my first good look at the event here, I'm more than happy with his start but I've added a few more this morning and I'll have an even closer look again at halfway, when we really can narrow the field down if the stats are to be believed.

Six of the last ten winners have been in front at halfway, two have sat second and one third and nine of the ten have been leading or within one of the lead. Simpson, who sat tied for 29th and six adrift is the complete anomaly so I'll be looking to sort my book out this evening as round two draws to a close but at big odds this morning, I quite like world number 19, Patrick Reed, and the recent Players Championship winner, Si Woo Kim.

Of those on five-under-par, and just two off the lead, Brooks Koepka looks menacing but I'm not sure he represents value at 14.013/1 but I'm ruing not taking the 44.043/1 available yesterday afternoon about Tommy Fleetwood. I may yet regret leaving him and recent Wells Fargo winner, Brian Harman, out of my portfolio but I'm going to risk it and go a tiny bit further down the leaderboard for my opening in-play picks.

Patrick Reed hasn't had the best of seasons but he did show up last month at the aforementioned Wells Fargo, where he led with a round to go. He could very easily go backwards today given how rusty he's largely been this year but if his terrific short game's on he's definitely capable of winning a major and I thought he was a decent price at 30.029/1.

Si Woo Kim, who sits tied for 11th and four off the lead, couldn't have been more impressive when winning the Players Championship a month ago and he's most definitely being underestimated by the market. Given they're on the same score, I'm a little surprised to see him trading at a bigger price than Lee Westwood and at the same price as Bernd Wiesberger. He has far more scope that that pair and is a much more likely winner.

Pre-Event Selections:
Rickie Fowler @ 33/1 (ante-Post)
Adam Scott @ 38.037/1
Branden Grace @ 60.059/1
Kevin Chappell @ 95.094/1

In-Play Picks:
Patrick Reed @ 30.029/1
Si Woo Kim @ 55.054/1
Brian Harman @ 19.018/1
Brandt Snedeker @ 23.022/1
Russell Henley @ 95.094/1


*You can follow me on Twitter @SteveThePunter
Discover the latest articles