The Punter's US Open In-Play Blog: All change at Shinnecock after crazy moving day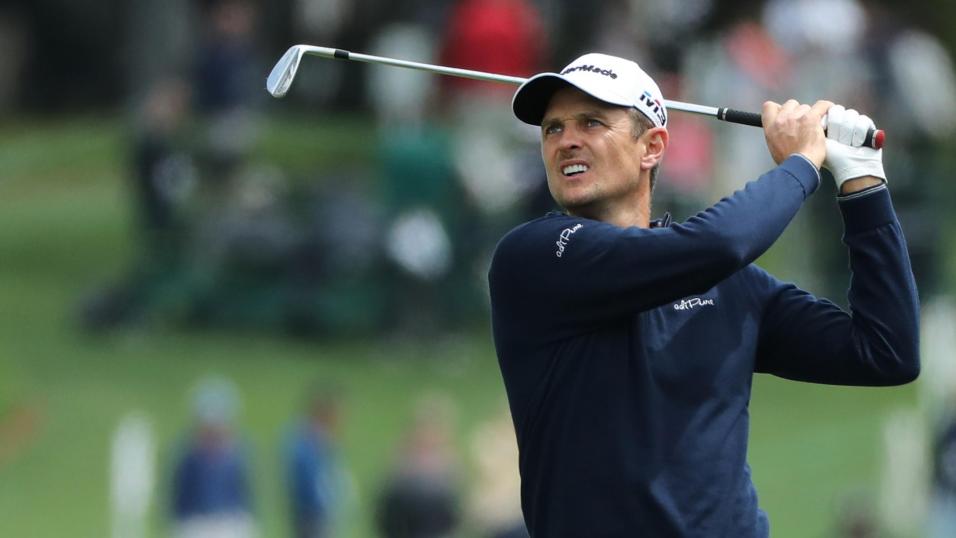 Justin Rose - one off the lead with a round to go
Catch Steve's final in-play update of the week here as he looks back at an amazing moving day at Shinnecock and forward to an intriguing final round...
"It really is too unpredictable and too hard to call but at the prices on offer this morning, Rose is the one I thought might just represent value. He hung around yesterday without playing great early on, and from off the pace, if I had to name just one, I'd plump for Gary Woodland at a ridiculous price. "
12:20 - June 17, 2018
The third round of the 118th US Open was the most eventful third round I've ever seen. It had just about everything.
It started inauspiciously enough. Plenty of early starters struggled but a few swam against the tide and Dave Tindall's pre-event fancy, Tony Finau, and Daniel Berger, who have both been matched at 1000.0 in-running, and who had both started more than four hours ahead of the leaders, both made impressive four-under-par 66s. They'd began the day in a tie for 45th but subsequent events would transpire to see them end it, miraculously, tied for the lead.
As Berger and Finau were finishing their tremendous rounds and just as we were all readying ourselves for the leading groups to begin their third rounds, what had felt like a fairly ordinary moving day at a major, took a very strange twist, as Phil Mickelson went completely bonkers and did this!
Hahahahahaha, the guy is an absolute psychopath!!!!pic.twitter.com/2mMp0iZHGG

? The Club (@TheClub) June 16, 2018

We'll never know what went through his mind, but with the course drying out and the wind picking up, it didn't play fair and some are claiming he was making some sort of statement. Who knows? Maybe he was?
With his penalty added, Phil was one of eight to fail to break 80 and the well-fancied Rickie Fowler, who was matched at just 12.011/1 in-running, shot 84!
The fallout from Phil's brain fart is still ongoing and the conditions were so bad late on that the USGA have themselves admitted that it was 'too much'.
Mike Davis: "There were some aspects today where well executed shots were not rewarded... We missed it with the wind. We don't want that. The firmness was ok but it was too much with the wind we had. It was probably too tough this afternoon - a tale of 2 courses"

? Cara Banks (@CaraBanksGC) June 16, 2018

The scoring average of the first 11 groups was 73.6 and for the last 11 it was 77. Thank heavens the wind didn't pick up severely. What was already ridiculous could have been even more farcical.
As awful as it was, and the green on 15 was utterly ridiculous, four players still impressed immensely. Brooks Koepka's 72 and Justin Rose's 73 were fantastic knocks given the circumstances, Henrik Stenson's one-under-par, bogey-free front-nine was incredible and Dustin Johnson's back-nine was one of the best nine holes I've ever witnessed.
The conditions were unfair and it clearly got to DJ. He played the first eight holes in six-over par and after he left his 12-foot birdie attempt on nine short, he finally snapped.
"If I hit it any harder it'd go down the f****** hill".
The outburst did the trick. He birdied the 11th, bogeyed the hideous 15th after a poor drive and he missed a tricky eight-footer on the last for par but he managed to post a one-over-par 36 and it was an incredible recovery given the circumstances.
Here's the current leaderboard with prices to back at 12:10.
Dustin Johnson +3 3.65
Brooks Koepka +3 5.59/2
Tony Finau +3 10.09/1
Daniel Berger +3 13.012/1
Justin Rose +4 6.05/1
Henrik Stenson +5 13.5
Patrick Reed +6 28.027/1
Kiradech Aphibarnrat +6 75.074/1
Jim Furyk +6 90.089/1
+7 and 70.069/1 bar
The USGA now have a devil's own job to get it right for today's final round and it's impossible to know exactly what we'll find. They definitely can't afford to push the boundaries again and they won't, but will they go too far the other way?
From a betting perspective, it's a bit of minefield but after all is said and done, for the first time in history, the last two US Open winners, Koepka and Johnston, are tied for the lead, and the 2013 winner, Justin Rose, is just one stroke off the lead, so the event specialists are still there hanging tough.
Finau and Berger are in the final two-ball and some will be tempted by co-leaders at double-figure odds but I'm not. They played a different course to the halfway leaders and after two super rounds yesterday, I can see them both struggling today. If I had to plump for one it would be Berger, who I'm surprised to see a bigger price than Finau, but I much prefer the seasoned major champions around them that (just) survived yesterday's carnage.
Johnson is a worthy favourite after his fabulous recovery and he would be the deserved winner given he's played the best golf, but the unflappable Koepka has a great chance and it's impossible to dismiss the gritty Rose.
Anyone coming to the event anew may want to back a few from slightly off the pace given yesterday's calamities. There's a plethora of quality players four and five off the lead this morning and some of them are bound to trade considerably shorter than they are now. All of a sudden, three of my original picks, Branden Grace, Webb Simpson and Zander Schauffele, hold remote chances and it would be daft to discount any of them.
The last time we saw over-par leading the US Open through 54 holes was in 2007 at Oakmont, and that may well be the best event to compare this one to. On that occasion, Arron Baddeley (on +2) led by two with a round to go but shot 80 after starting round four with a triple-bogey and the halfway leader, Angel Cabrera, who had drifted all the way out to 50.049/1, bounced back from a third round 76 to win by a stroke in five-over-par. Is that an omen for Dustin Johnson or is it an omen for the six players tied for 10th and four adrift?
We could see all sorts of drama again today but I can't help but keep coming back to the three former winners at the head of the leaderboard. Personally, I'd like to see DJ win but Brooks or Justin getting it done would be just as deserving and I hope one of them, or Henrik Stenson, prevails.
As for predictions. It really is too unpredictable and too hard to call but at the prices on offer this morning, Rose is the one I thought might just represent value. He hung around yesterday without playing great early on, and from off the pace, if I had to name just one, I'd plump for Gary Woodland at a ridiculous price.
12:00 - June 15, 2018
After a brutal first day at the 118th US Open and a drizzly, breezy, awkward morning on day two, the wind abated, the rain stopped, and the sun came out and those assigned the AM-PM draw enjoyed the best of the conditions on both days but the second round ended with PM-AM starter, Dustin Johnson, clear of the field. Here's the halfway leaderboard with prices to back at 11:50.
Dustin Johnson -4 1.845/6
Scott Piercy level par 55.054/1
Charley Hoffman level par 38.037/1
Justin Rose +1 10.519/2
Brooks Koepka +1 18.017/1
Henrik Stenson +1 19.018/1
Tommy Fleetwood +1 21.020/1
Ian Poulter +1 46.045/1
Rickie Fowler +2 21.020/1
Russell Henley +2 110.0109/1
+3 and 48.047/1 bar
The actual scoring differential between the AM-PM and PM-AM starters was 2.24 but that doesn't tell the whole story. With the first group off at 6:45 and the last at 14:42, it wasn't just a case of morning or afternoon but when in the morning and when in the afternoon and some of the afternoon starters yesterday caught an incredible break. The forecast had suggested the wind would ease at lunchtime and pick up slightly again in the afternoon, but it eased and then eased again to such an extent as to render the flags around the course completely limp. It didn't just ease it disappeared completely and that makes DJ's three-under-par 67 and Tommy Fleetwood's 66 in the morning yesterday even better achievements.
DJ drifted from a low of 1.75/7 after his round yesterday to a high of around 2.35/4 as the likes of Ian Poulter, Justin Rose, Rickie Fowler and Charley Hoffman all threatened to finish the second day closer to the lead but late carnage ensued and Johnson shortened up again. Fowler and Hoffman both bogeyed the par four 18th, Rose finished with a pair of bogeys at eight and nine and poor Poults, who had gotten to within one of the leader, finished triple-bogey - bogey!
This time last week we were assessing whether Johnson was a fair price at odds-on at halfway in Memphis and here we are again. Last week he went from one clear through 36 holes to six clear after 72 and whilst I don't envisage anything as dramatic here, he looks a decent bet for big hitters that don't mind taking odds-on.
Dustin is just the seventh man in history to lead a US Open by four through 36 holes and five of the previous six went on to win and since 1996, only one US Open winner has won from any more than two adrift at halfway. Webb Simpson sat tied for 29th and six back in 2012 but every other winner since '96 sat within two of the lead and no further back than sixth. Being up with the pace at a US Open is imperative but it might not be a done deal just yet. Plenty of previous results suggest there is hope for the layers...
In the US Open here, Retief Goosen trailed Shigeki Matsuyama and Phil Mickelson by two at this stage in 2004 before winning, Corey Pavin sat 11th and six off Greg Norman's 36 hole lead in 1995 and the 1986 winner, Raymond Floyd, also trailed Norman at halfway. He sat tied for fourth and four adrift.
Since Greg Norman led by four at Augusta in 1996, before blowing a six-stroke lead with a round to go, 42 players have led a PGA Tour event by four at halfway and only 18 went on to win. And if we separate out major championships, in addition to Norman's defeat, Mike Weir won a playoff at Augusta having led by four at halfway, Chris DiMarco lost a playoff there and Tiger Woods was surprisingly beaten in the 2009 US PGA Championship having led by four at this stage.
Johnson layers will also point to the 2010 US Open when DJ shot 82 in round four around Pebble Beach, having led by three with a round to go or, more recently, to the HSBC Champions in China in October last year, when he led by six with a round to go but was caught by Justin Rose, who bettered the Americans fourth round score by ten! DJ limped round in 77 and Justin beat him by two after a sizzling 67. DJ certainly isn't bombproof, and the stats aren't convincingly favourable either, but all things considered, I'd still rather be a player than a layer at the odds available.
I spent all day tied to the laptop yesterday and as detailed in the blog yesterday, I began by getting DJ onside, so my book looks OK - thanks largely to the poor finishes by Rose, Fowler and Poulter.
DJ, Brooks Koepka, Tommy Fleetwood, Scott Piercy and Henrik Stenson are all winners, Rose is a very tiny winner, and everyone else is a loser so I'll be keeping an eye on Fowler and Hoffman in particular, but if I had to name one that might push DJ the hardest it would be the defending champ, Koepka.
I fancied Brooks strongly last week but he lost his way after a bright start so it's frustrating to see him playing so well again here but he has to be a threat over the weekend after yesterday's late charge. The weather forecast suggests the winds will pick up as the day progresses today but it looks like we've now had all the really nasty stuff and after relishing the easier conditions late on yesterday, Brooks might just keep on rolling today.

11:15 - June 15, 2018
The US Open isn't everyone's cup of tea and there were plenty of people grumbling about the set up at Shinnecock yesterday. The scoring average for round one was 76.47 and I can see where some are coming from. To see the world's elite averaging almost six and half shots over-par is perhaps a bit strange and Tony Johnstone's tweet below captured the mood of many beautifully with his usual sublime wit.
Watching this war of attrition at Shinnecock is not too pleasant. The only sport where an effort is made to make the greatest exponents look mediocre. Playing in it is like sitting in the dentist's chair waiting to have molars pulled. And then realising that the dentist is blind.

? Tony Johnstone (@TonyJohnstone56) June 14, 2018
And the replies to this one by the European Tour are well worth checking out!
Describe the #USOpen first round in a GIF....

? The European Tour (@EuropeanTour) June 14, 2018

Personally, I love the US Open, and I was chuffed to see the set-up tough again after last year's tournament, when Brooks Koepka skipped to a record-equalling 16-under-par winning total. It may be brutal but it's only once a year and it just so happens that the best player on the planet is currently leading the tournament so those calling it unfair may not have much of an argument. Especially given Dustin Johnson carved out his one-under-par in the slightly more unfavourable afternoon conditions. The morning starters averaged 76.21 compared to 76.74 for the afternoon gang.
Here's the current leaderboard with prices to back at 11:10.
Dustin Johnson -1 3.814/5
Russell Henley -1 36.035/1
Ian Poulter -1 22.021/1
Scott Piercy -1 55.054/1
Jason Dufner level par 40.039/1
Justin Rose +1 7.87/1
Henrik Stenson +1 14.5
+1 and 21.020/1
I've got a couple of picks on the fringes of contention and I'm happy with how my Specials Bets are looking after round one but I doff my cap to Paul Krishnamurty. Anyone that followed him in with his seven to back in the finishing positions markets is sitting pretty.
Having written in the preview, just before detailing my selections. "This is a mouth-watering renewal and a very open one. I wouldn't be at all surprised to see DJ go in again, Justin Rose has a great chance and I very nearly backed Henrik Stenson." I could regret not being bolder before the off given the current leaderboard but hindsight's a marvellous thing and this is far from an easy renewal to bet in.
As highlighted in the In-Play Tactics section of the preview, history tells us that this a tournament where a fast start is nearly always essential. See also Justin Ray's tweet below.
88 percent of #USOpen champions since 1960 have been at or within 5 shots of the lead after the opening round.

? Justin Ray (@JustinRayGC) June 15, 2018

And 17 of the last 19 US Open winners have all been with four strokes of the lead after round one, but here's the quandary, can we put too much faith in those stats given we're at Shinnecock Hills? Just look at how the three winners in the (reasonably) modern era have won here...
Raymond Floyd, here in 1986, was the last US Open winner to shoot 75 or bigger and win. Nobody shot under-par on day one that year and he trailed Bob Tway by five before a second round 68 saw him close up into a tie for fourth.
First round scoring was much better in 1995 and ten players broke par. Nick Price led after a four-under-par 66 and eventual winner, Corey Pavin, trailed by six after an opening round of 72.
And in 2004, the last time we were at Shinnecock, 19 players broke par on day one, with 66 again being the best score of the day. The champion, Retief Goosen, shot level par to trail by four in a tie for 20th.
If you've backed a fairly slow starter, normally I'd say you were dead in the water in this tournament, but it looks like there's still a chance here, and that does skew my thinking on how to trade the event now.
As I'm around all day, I'm more than happy to nurse a very small trading position on DJ but he's no certainty by any means. On the last ten occasions he's led or been tied for the lead after round one he's been beaten so I certainly wouldn't recommend lumping on at less than 3/1 and leaving it.
Johnson impressed again all day yesterday though and especially so when he made bogey at the sixth hole. He hit his drive in to a nasty spot in the rough and he decided not to go for the green. Instead he hacked it out on to the fairway and attempted to make par form there. He failed but it showed intelligence and maturity that hasn't always been evident with Dustin and he's very much the man to beat despite the aforementioned poor stats.
I've also backed Scott Piercy at a disrespectful 60.059/1. Few in the field are more laid back than him (a prefect demeanour for a test like this), he's recently won the Zurich Classic of New Orleans, alongside Billy Horschel, and he finished second to DJ at Oakmont two years ago. He's no bigger than 40/1 on the High Street and nor should he be.
I'll be keeping an eye on Henrik Stenson today. He topped the Greens In Regulation stats yesterday and really should hang around and Justin Rose is the obvious danger to DJ. When he won the US Open at Merion he opened-up with a 71, he arguably played better golf than DJ yesterday and he's a and he's a real threat but it doesn't make sense to back him now. The forecast is for a much more benign day today and especially so in the morning. If DJ and/or Stenson and a few others shoot below par, Rose's price can only drift form where it is now.
Pre-Event Selections:
Phil Mickelson @ 46.045/1
Branden Grace @ an average of 50.049/1
Webb Simpson @ 95.094/1
Xander Schauffele @ 120.0119/1
Brandt Snedeker @ 160.0159/1
Kyle Stanley @ 190.0189/1
Aaron Wise @ 280.0279/1
In-Play Selection:
Scott Piercy @ 60.059/1

*You can follow me on Twitter @SteveThePunter
Discover the latest articles
Read past articles