The Punter's In-Play Blog: Sullivan and Ormsby the picks in blanket BMW finish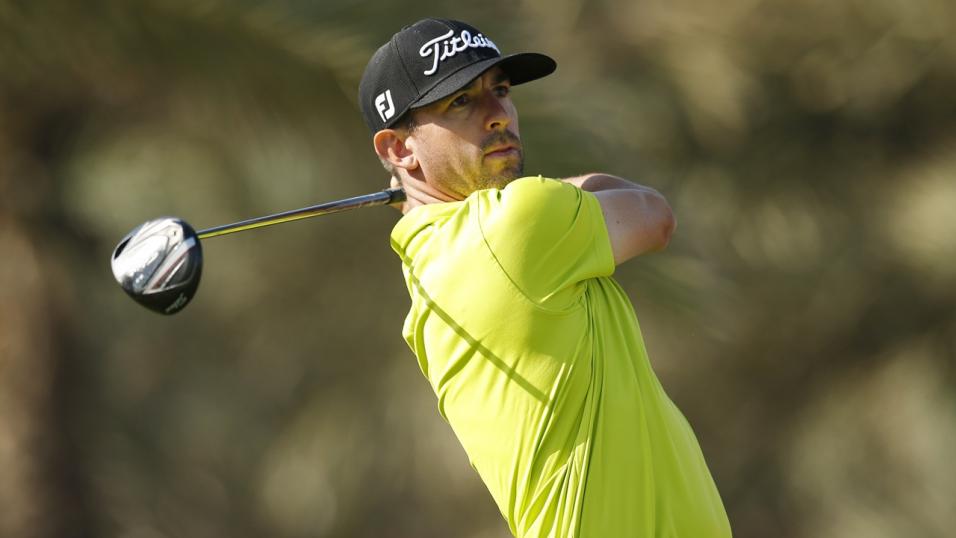 Wade Ormsby starts round four only two shots off the pace
Paul Krishnamurty looks ahead to the final round of both European and PGA Tour events, recommending two new trades...
"Wade Ormsby looks just the type to trade in this scenario. Very solid from tee-to-green, plenty of experience and good scrambling skills...He also won a blanket finish at the Hong Kong Open."
00:15 - June 24, 2018
BMW International Open R3 Leaderboard
-5 Lucas Bjerregaard 7.06/1
-5 Martin Kaymer 7.87/1
-5 Chris Paisley 9.417/2
-5 Scott Hend 10.519/2
-5 Aaron Rai 9.08/1
-5 Max Kieffer 12.5
-4 Mikko Korhonen 15.014/1
-4 Nico Geyger 9.89/1
-3 Andy Sullivan 17.016/1
-3 Thomas Pieters 19.5
-3 Matt Wallace 25.024/1
-3 Soren Kjeldsen 36.035/1
-3 Andres Romero 55.054/1
-3 Wade Ormsby 65.064/1
-3 Scott Jamieson 65.064/1
-3 Jose Felipe Lima 80.079/1
We've got perfect trading conditions in Germany and every chance of a blanket finish. Six players share the 54-hole lead. A total of 20 resume within three strokes and 34 within five. Naturally, the betting is wide-open. We've got high hopes at betting.betfair as Joe Dyer's each-way pick Martin Kaymer is among the front-runners, while Steve's pick Matt Wallace is only two off the pace.
Besides a couple of losing bets on outsiders, I've sat this tournament out so far. It looked tricky at the beginning and still does now. It is extremely rare for the favourite going into the final round to be trading at 7.06/1.
Normally I would consider anyone within at least five strokes of the lead going into Sunday but passing so much traffic will be a very tough ask for those on -1 or level par. The lowest score of the week is just -5 and we must presume somebody will get the winning target up to at least -7. There is simply too much quality in contention.
That Kaymer isn't even favourite holding the lead, in Germany, shows just how far his reputation has fallen. Before losing his game, there were few more prolific finishers in the game but there's been scant evidence of a return and he didn't drive well yesterday. In-form Lucas Bjerregaard is best among the leaders but this one-time winner is also easy to oppose at single-figure odds.
Both have a good chance but so do at least a dozen others, including stacks of quality. Among the leaders, Chris Paisley led from the front in South Africa and has earned plenty of recent experience on good leaderboards. Scott Hend is a prolific international winner. Aaron Rai won three times on last year's Challenge Tour. The only one that looks weak is Max Kieffer, a non-winner at this level, who repeatedly failed in contention during his best spell.
One back, Mikko Korhonen is bidding for back-to-back wins. Decent cases could be made for at least half a dozen more, particularly the group on -3, from which both of my picks stem.
First, Andy Sullivan is barely shorter than his pre-tournament odds. He was obvious there if a little short with the likes of Fleetwood ahead of him. Now if he makes an early move, his name would definitely garner the most market respect. He hasn't won since 2015 so this is definitely a position to lay back if Sullivan does shorten up considerably. I'm setting the target at 4.03/1.
At the other end of the market, Wade Ormsby looks just the type to trade in this scenario. Very solid from tee-to-green, plenty of experience and good scrambling skills. Nobody has slipped the field yet this week and, if they don't early, the Aussie is close enough very quickly mount a challenge. He also won a blanket finish at the Hong Kong Open. With Ormsby, I'm looking to partially cash out if he hits 8.07/1 in-running.
Recommended bets
Back Andy Sullivan 4u @ 18.017/1
Place order to lay 12u @ 4.03/1
Back Wade Ormsby 2u @ 65.064/1
Place order to lay 12u @ 8.07/1
Travelers Championship R3 Leaderboard
-16 Paul Casey 1.548/15
-12 Russell Henley 12.011/1
-11 Brian Harman 23.022/1
-11 J.B. Holmes 32.031/1
-11 Anirban Lahiri 38.037/1
-10 Jason Day 26.025/1
-10 Bubba Watson 36.035/1
-10 Bryson Dechambeau 40.039/1
-10 Beau Hossler 60.059/1
-10 Ryan Blaum 160.0159/1
With a magnificent 62, Paul Casey has opened up a four stroke lead at River Highlands. Going into the final round, he's trading at just 1.548/15 to land his second title of the season and take a huge step towards a Ryder Cup spot.
To reiterate a point made yesterday and Steve pre-tournament, taking such short odds represents a very risky strategy given the history at this course. Seven of the last nine 54-hole leaders failed to close it out here. Winners have overturned deficits up to seven strokes and, in 2010, all three play-off participants started round four trailing by between six and eight.
Lest we forget, this is a track that Jim Furyk took apart with 58 in the final round two years ago. The immediate chasing pack is very strong and I wouldn't even rule out Rory McIlroy from eight back. Plus Casey is hardly bombproof. At times he's looked granite, mostly in matchplay, but there's no doubt he's left a lot of titles out there during his career. That includes a play-off here in 2015. He hasn't converted a 54-hole lead since 2011.
Perhaps he will finish the job this time but I'm making no change to the staking plan already advised. We've already laid Casey twice, at 3.02/1 and 2.01/1, with a further order waiting at 1.331/3. The lay orders are in for every player in the field.
At this precise moment, it looks like a poor position that will take a lot to turn around, but that is the nature of laying golfers. Ideally, he quickly hits 1.331/3 tonight then falls back into the pack and we get other contenders matched at low odds. River Highlands leaderboards can turn around very quickly, so let's see how it pans out and resume the topic in tomorrow's debrief.
11:45 - June 23, 2018
Travelers Championship R2 Leaderboard
-10 Brian Harman 8.07/1
-9 Russell Henley 11.010/1
-9 Zach Johnson 11.521/2
-9 Matt Jones 25.024/1
-8 Paul Casey 9.08/1
-8 Bryson Dechambeau 12.5
-8 Beau Hossler 23.022/1
-7 Rory McIlroy 9.89/1
-7 Bubba Watson 15.5
-7 Lanto Griffin 130.0129/1
Six players are at -6
Steve Rawlings begins his holiday today and he should be in optimistic spirits after the second round at River Highlands. The only two of his pre-tournament picks, Russell Henley and Bubba Watson, are one and three strokes off the halfway pace, while in-play pick Bryson Dechambeau is within two. Even two of his outsiders, Si Woo Kim and Padraig Harrington, are on the fringe of contention.
Promising stuff, especially the Henley position at 70.069/1. Russell played a lot of eyecatching golf at the US Open last week, has been in good tee-to-green form and is a proven winner. However it is still early days in what looks a wide-open event, with a long history of producing turnarounds.
Indeed, River Highlands is one of the best PGA Tour courses for weekend drama. Steve laid out some of those turnarounds in his preview and the long-term trends are crystal clear - anybody left in can still win. Only eight shots separate the 75 cut-makers, 74 of whom are within seven of sole leader Brian Harman.
In recent years I've employed a 'lay all contenders' plan with much success, although last year went wrong after Jordan Spieth's heroics messed up my brain, prompting a bailout far too early in the piece. In short, it involves placing multiple lay orders on every player at short odds, with a view to securing a profit if and when the leaderboard fluctuates. Had any of them shortened to 3.02/1 over the first two days I would have laid them but nobody did so it can be shared from the outset.
Today's plan is to place lay orders on every player in the field at 3.02/1, 2.01/1 and 1.331/3, for the stakes listed below. The maximum risk is 17 units. Nobody is anywhere near that short yet so it is quite possibly that, when I update this tomorrow, no bets will have been placed and I might shift the lay targets. Generally though, Moving Day allows a bit of separation and a move from one of those big names will spark a market crash.
Recommended bets
Place order to lay every player 4u @ 3.02/1
Place order to lay every player 6u @ 2.01/1
Place order to lay every player 9u @ 1.331/3
21:50 - June 22, 2018
I'm going to keep this short and sweet as I'm off on holiday tomorrow and I've got plenty to do still but before I go I've felt compelled to get Denmark's Thorbjorn Olesen onside at the BMW International Open.
Olesen was an impressive winner two starts ago in Italy but he's fairly unpredictable so I ignored him before the off and when he began the event yesterday morning with a double-bogey, followed by a par and a bogey, it looked like I'd done the right thing.
Olesen, who was a well-supported 20/1 chance before the off, hit 110.0109/1 after the slow start but he's right back in it now and he looks very fairly priced at 12.5. The Dane trails halfway leader, Scott Hend, by three but that's far from unsurmountable for such a classy player as Olesen.
I'm off tomorrow but Paul Krishnamurty will pick things up here and I'll be back next week with my previews for the Open de France and the Quicken Loans National.

09:30 - June 22, 2018
We've only had one round at the Travelers Championship but it's already looking like it could develop into a cracker. My picks started reasonably well with Russell Henley, Si Woo Kim and even huge outsider, Padraig Harrington all shooting four-under-par 66s to sit tied for ninth but they're lagging behind the likes of Jordan Spieth, Rory McIlroy, Paul Casey and Zach Johnson and they're alongside Justin Thomas, Jason Day and Bryson DeChambeau!
I respect the defending champ, Spieth, immensely. He won wire-to-wire 12 months ago and when he's led or co-led 11 times previously, he's gone on to win on five occasions. That's prolific but he fell away at Augusta on the last occasion he held a clear lead after round one before rallying in round four, he hasn't won for almost a year (last year's Open) and his game is fragile but at around the 4/1 mark, it's not too hard to argue a case for him and I definitely prefer him to Rory McIlroy, who sits on -6 and one off the lead.
McIlroy's game was exceptional yesterday and he ranked number one for Driving Distance, Greens In Regulation, Strokes Gained Tee to Green and Strokes Gained Off the Tee, and he did hole a few putts, but he still missed four from inside ten feet. He can't really improve tee-to-green so it's just a case of whether his putting warms up a bit more.
Co-leader, Zach Johnson, has just the right profile for this title so he's a tempting price at 18.017/1 but that could easily lengthen if a few of the big gums play well in the morning wave and his record when leading isn't great. He's led or been tied for the lead after round one 12 times in total but he's won just once.
With so many big guns starting so well, it's perhaps not wise to go jumping in this early on but I couldn't resist throwing a few pounds at recent Memorial Tournament winner, Bryson DeChambeau, who looks to have been underestimated again.
The Travelers Championship could build and build into something really special if all the big names hang about but I'm going to turn my attention to the BMW International Open now given round two has started and I'll be back this evening with a look at that one at the halfway stage.

21:00 - June 21, 2018
The first round of the BMW International Open turned in to a bit of a grind today. High winds and thick rough resulted in a much sterner test than expected and the star names - Tommy Fleetwood, Sergio Garcia and Thorbjorn Olesen - all failed to break par.
Andy Sullivan was one of only 22 to break par and after an opening one-under-par he trails Frenchman, Sebastien Gros, by three strokes.
All eyes were on US Open runner-up, Tommy Fleetwood, and he started well this afternoon, birdying two of the first five holes. He was matched at a low of just 4.216/5 but he played the next three holes in four-over and after arresting the slide, he finished the day on +2.
Sullivan and Fleetwood are now vying for favouritism and if the weather forecast is to be believed, the former is the most attractively priced. Sullivan doesn't tee off until tomorrow afternoon when the wind is expected to drop slightly whereas Fleetwood is back out again in the morning.
Sullivan is a tempting proposition, but he hasn't won in three years so instead I've played someone that won last time out - Mikko Korhonen. The Finn started like a man possessed this morning, rushing to four-under-par through just six holes but he applied the brakes after that and finished on one-under-par.
Having absolutely hacked up in Austria a fortnight ago, he must have been starting to think he'd got the game sussed after half a dozen holes this morning. The fact that he struggled after that isn't a big concern and after a day of reflection, I can see him playing well again tomorrow afternoon. I thought 28.027/1 was a fair price.
The first round of the Travelers Championship is well underway and I'll have a look at that event tomorrow morning.

22:00 - June 20, 2018
I was happy enough to start the BMW International Open with just Matt Wallace backed (preview here) but one I looked at closely was Austria's Matthias Schwab so when I saw that Paul Krishnamurty fancied his chances too I thought I'd get him onside. And I've also followed him and Dave Tindall in with Troy Merritt in the Travelers Championship...
I've been researching next week's tournament on the PGA Tour - the Quicken Loans National - and Merritt won that event in 2015. As Paul and Dave point out, Troy's been in decent form and it's noticeable how many players win at around the same time of the year.
Dave's made his case for Troy in the First Round Leader market here and he's made a great case for him too. The 100/1 with the Sportsbook's gone but he's 120.0119/1 in the First Round Leader market on the exchange so I've followed Dave in there.
In addition to adding Merritt, at the Travelers Championship, which I've previewed here, I've also added Si Woo Kim at a big price. He's a bit of Pete Dye specialist so he could easily improve on his 25th in 2016 on his only previous start here.
BMW International Open Pre-Event Selections:
Matt Wallace @ 44.043/1
Matthias Schwab @ 120.0119/1 - added after the preview published
In-Play Picks:
Mikko Korhonen @ 28.027/1
Thorbjorn Olesen @ 12.5

Travellers Championship Pre-Event Selections:
Bubba Watson @ 34.033/1
Russell Henley @ 70.069/1
Si Woo Kim @ 160.0159/1 - added after the preview published
Troy Merritt @ 270.0269/1 - added after the preview published
Padraig Harrington @ 450.0449/1
Troy Merritt @ 120.0119/1 - First Round Leader
In-Play Pick:
Bryson DeChambeau @ 38.037/1
*You can follow me on Twitter @SteveThePunter
Discover the latest articles
Read past articles