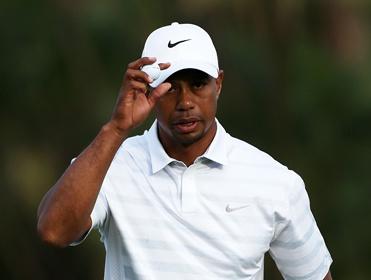 Tiger Woods – four clear at Doral at halfway
With one round remaining, Tiger Woods looks in complete control at Doral and there appears no way back for the chasers. Read Steve's final in-running thoughts here...
"Woods trades at [1.24] and that looks big to me. It's very hard to see him getting beat from here and I haven't layed any of my wager back."
11:00 - March 10, 2013
With Tiger Woods four shots clear of Graeme McDowell, five clear of Phil Mickelson and Steve Stricker and fully seven ahead of anyone else, with just one round remaining the WGC - Cadillac Championship looks as good as over.
Woods trades at [1.24] and that looks big to me. It's very hard to see him getting beat from here and I haven't layed any of my wager back. I have backed G-Mac and Stricker though, just in case and to ensure a profitable tournament, and I'll monitor play closely tonight.
At the Puerto Rico Open, I'm almost certain to draw a blank, with Fabian Gomez and Scott Brown tied at the top on -18 and four clear of the remainder. I can't see any point in getting any further involved as I'd be as good as guessing now and I've decided to put the spade down and stop digging. Should Tiger or Phil convert in Florida it'll be a decent week's work and I'm more than happy to call it a day here now and accept that I've lost on the event.
I'll be back tomorrow with the De-Brief.

10:40 - March 9, 2013
As suspected yesterday, the WGC Cadillac Championship leaderboard didn't change dramatically from the end of day one to the conclusion of round two. There were nine players within a stroke of each other at the top after Thursday's first round and six of the nine now fill the first six places at the halfway stage.
Tiger Woods impressed, improving on his first round 66 with a seven under-par 65 and he now leads by a couple on -13. Graeme McDowell sits in second on -11, Phil Mickelson and Steve Stricker are tied for third on -10, and Bubba Watson and Freddie Jacobson (one of Paul's Find Me a 100 Winner picks) are tied 5th on -9.
I've written both yesterday and in the preview, about how this track favours the front-runners and if history is to be believed, you need look no further than the top-six from here on in. Tiger was fully five back at halfway in the 2005 edition of the Ford Championship, before reeling in Mickelson in what was a memorable and titanic weekend-long tussle but other than that, we have to go right back to 2001 to find a winner that was any further than three back at this stage.
And if we look at the last seven years since the Woods-Mickelson duel, the case for the leaders is even stronger. Five winners held the lead at halfway, one was a stroke off the lead and one winner, Nick Watney in 2011, was two back. Good luck to those laying Tiger at odds against!
Having backed Bubba and Phil before the off and Tiger after round one, I'm in a nice position at halfway and I'm leaving things alone for now. McDowell is an obviously danger but the wind is forecast to be more problematic today and I don't buy the G-Mac's a great wind player myth. I know people will point to his US Open win in blustery conditions at Pebble Beach but my impression is that when the wind blows, McDowell often struggles.
Steve Stricker is another danger to my book and although the stats say he's too far back on -8, I'm definitely wary of Charl Schwartzel. I could be making a mistake and it's a gamble, but I'm going to hold fire for now and look to tweak things after day three.
If I hadn't had a bet yet, or if I was looking for a nice back-to-lay, then I'd look no further than the leader. Tiger's generally a [1.66] shot on the High Street yet he's trading above [2.0] in the win market. He shortened from [4.9] to [4.5] before hitting a ball yesterday and if his price contracted to below [1.9] before he starts round three today, I wouldn't be in the least bit surprised.
At the Puerto Rico Open, a group of five players have put a bit of daylight between themselves and the remainder, with Andres Romero, leading on -14, now the [4.4] favourite. Pre-event pick, David Hearn, backed at [200.0], is five adrift and alongside in-running wager, Matt Bettencourt, on -9 and although that looks like too far back, it isn't a strong leading pack and I haven't given up completely.
Romero, who won the Zurich Open way back in 2008, is the only one of the five to have won on the PGA Tour and given the perceived vulnerability of the leaders, I've had another in-play bet...
Defending champ, George McNeill, alongside Hearn and Bettencourt on -9, clearly loves the venue and I felt he was worth a small speculative wager. If there is to be any shirking at the top he's the most likely to capitalise.

11:20 - March 8, 2013
Judging by the state of play after day one of the WGC-Cadillac Championship, we could be in for an absolute cracker over the weekend. With the likes of Tiger Woods, Sergio Garcia, Hunter Mahan and two of my pre-event picks, Bubba Watson and Phil Mickelson, amongst others, all within a shot of each other, the stage is set for a real humdinger.
Tiger Woods has done something magical with the wand in the few days he's had between tournaments. He finished last week's Honda Classic ranked 44th for putting and he finished yesterday ranked first and atop of the leaderboard. He won here three times in-a-row between 2005 and 2007 and its common knowledge that he does almost all his winning nowadays at venues he's been successful at in the past. Somewhat frustratingly, as mentioned in my preview, the only reason I didn't back him this week was his poor putting last week!
I jumped onboard in-running when he won the Farmers Insurance Open in January, at another of his favourite venues, Torrey Pines, and I've done the same thing here. If he keeps putting like he did yesterday over the next three days he'll take some stopping and given the importance of a fast start here, he looks very fairly priced at [4.8].
Back in 2004, Craig Parry recovered from a first round deficit of six strokes to eventually hole-out from the fairway in a play-off to beat Scott Verplank but since then, only Tiger has been able to win from any further back than three - he was tied for 10th and four strokes back after day one in 2007.
In the last seven years there have three wire-to-wire winners and given the quality of the current top-nine on -6 and -5, even those just two off the lead may be up against it. You really do need to be up with the pace here and given the calibre of the leading bunch this year, as strange as it may seem, I've just about given up on the third of my picks, Nick Watney, who's on -3 and in a tie for 16th.
Had Tiger been starting on the tougher back-nine today, I would have held off and tried to back him in-running but given he's the only player in the top-nine who starts on the 1st hole today, it makes perfect sense to get him onside now. As highlighted in the In-Play section of the preview, the first two thirds of the course are easier than the final third and it's no surprise to see that eight of the nine players on -6 and -5, started on the 1st yesterday.
My main fancy at the Puerto Rico Open, Matt Every, tweeted this on Wednesday,
"Think I might have contacted a stomach bug down here in Puerto Rico. Hopefully gonna be able to go tomorrow."
I wasn't hopeful after that and he went on to shoot a lacklustre level par 72 that leaves him languishing in a tie for 80th before facing a trickier afternoon tee-time today. He could well be on his way home very soon.
The best of my pre-event picks is David Hearn, who shot -4, but he's fully three off the lead, held by Andres Romero and Cameron Percy and it looks like I'm heading for a losing event. I've added a couple of in-running picks in Heath Slocum and Matt Bettencourt, who are both also on -4, but after a decent start in the Cadillac, my attention is firmly fixed on Florida and I'll be back in the morning with another look.
WGC - Cadillac Championship Pre-Event Selections
Phil Mickelson @ [30.0]
Bubba Watson @ [38.0]
Nick Watney @ [38.0]
In-Play Bets
Tiger Woods @ [4.8]
Graeme McDowell @ [15.0]
Steve Stricker @ [32.0]

Puerto Rico Open Pre-Event Selections
Matt Every @ [70.0]
Justin Leonard @ [140.0]
Chad Campbell @ [180.0]
Rory Sabbatini @ [180.0]
David Hearn @ [200.0]
Stephen Ames @ [200.0]
Arjun Atwal @ [370.0]

In-Play Bets
Heath Slocum @ [70.0]
Matt Bettencourt @ [180.0]
George McNeill @ [23.0]

*You can follow me on Twitter @SteveThePunter