The Punter's In-Play Blog: All still to play for at the McGladrey Classic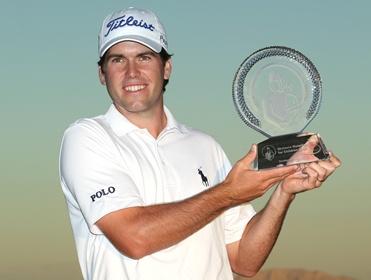 Ben Martin – a big price to back up last week's win
Our man takes a look at the state of play in Georgia with just a round to play. Can his pre-event pick, Russell Henley, bounce back to win or will we get another off the pace winner at Sea Island? Read Steve's final in-running instalment of the week here...
"Last week's winner, Ben Martin, started the week quite slowly but after his opening 70, he shot rounds of 68 and 65 and with confidence sky high, he could go even lower today. It's a massive ask from fully five strokes back and with so much traffic to pass but I thought he was still worth adding to the portfolio at 85.084/1."
10.50 - October 26, 2014
Despite a somewhat scruffy long game, Thorbjorn Olesen, has comfortably won the Perth International, so all we're left with to evaluate now is the final round of the McGladrey Classic. I went into round three with two pre-event picks bang in contention but yesterday was slightly disappointing...
Russell Henley looked like taking control and was matched at just 2.245/4 when he had eight feet for birdie on the 13th to extend his lead but he missed that and then hit his second shot on the par 5 15th into the hazard. He went on to make bogey there and par his way in but the big letdown was Brian Harman, who I quite fancied to kick on yesterday.
The John Deere Classic winner started well enough but from the moment he missed a five foot birdie putt on the 7th hole to go two-under-par for the day, he lost his way completely and eventually went on to shoot a desperately poor three-over-par 73. There was at least better news with one of yesterday's in-play bets, Will Mackenzie, who made a monster 44 foot putt on the last to shoot a five-under-par 65 and he's now tied for the lead with Andrew Svoboda. Here's the current leaderboard with prices to back as at 10:30 UK and Ireland time.

Andrew Svoboda -12 4.77/2
Will Mackenzie -12 5.95/1
Russell Henley -11 4.77/2
Chris Kirk -9 10.09/1
Brendon de Jonge -9 20.019/1
Stewart Cink -9 27.026/1
Andrew Putnam -9 38.037/1
Fabian Gomez -9 50.049/1
Scott Piercy -8 34.033/1
Mark Wilson -8 70.069/1
Ken Duke -8 85.084/1
-7 and 85.084/1 Bar

Yet again, we're faced with an intriguing and difficult final round Sea Island puzzle to solve. We've only had four previous renewals but we've already seen all sorts of drama and I wouldn't be at all surprised if we witness more today.
Heath Slocum won the inaugural event, having led by a solitary stroke with a round to go and Chris Kirk was tied at the top twelve months ago but the other two winners, Ben Crane and Tommy Gainey, won from miles back. Crane was in 9th and five behind the third round leader, Michael Thompson, and Gainey was tied 29th and seven back!
In addition to the two off the pace winners, Tim Clark, traded at 4.03/1 last year, having been matched at a triple figure price before the round began, so look carefully at those that make a fast start later. Low scores are certainly out there for the taking and if none of the leading three shoot three or four under-par, another off the pace winner is a distinct possibility but with benign weather forecast, that's unlikely to happen. 
Andrew Svoboda is now joint favourite and I can see why. He was bang in-contention twice and won twice on the Web.com Tour last year so we know he knows how to win, although stepping up and doing it on the PGA Tour is obviously harder. He was third going into the final round of the Shriners Hospitals for Children Open only last week and shot 73 to tumble down to 18th and that does put me off him.
Its six years since Will Mackenzie won the second of his PGA Tour titles, at the Viking Classic, and he's barely been in the mix since on the PGA Tour. I'm glad I've got him covered, but he's definitely likely to struggle. 
As I'd backed Mackenzie to win the Viking at 160.0159/1, I remember the win well and if the truth be told it was somewhat fortunate. He was matched at huge prices after he dropped away with a bogey at the 14th, having looked like he'd blown his chance but he finished brilliantly with three birdies in the last four holes and went on to win a playoff. His in-contention play on the Web.com Tour, where he's been playing much of his golf of late, has been far from spectacular and winning here won't be easy.
In contrast to Mackenzie, Russell Henley has been solid in-the-mix - he's had three chances to win on the PGA Tour in the 19 months he's been playing on it and he's won twice. He powered home in his very first event last January - shooting 63 in round four to win the Sony Open by three strokes and he came from two behind to win the Honda Classic in March, getting the better of Russell Knox and a certain Rory McIlroy in a playoff. His only blip came in the Deutsche Bank Championship in August when he failed to convert a one-stroke lead. On that occasion, he finished second to Chris Kirk and it's not beyond the realms of probability that history could repeat itself here...
Defending champ, Kirk, is the player that immediately catches the eye now but at the prices, on such a jam-packed leaderboard, I'm happy to leave him out at this stage. I have added one more in-play pick though, last week's winner, Ben Martin.
The Georgia resident, understandably, started the week quite slowly but after his opening 70, he shot rounds of 68 and 65 and with confidence sky high, he could go even lower today. It's a massive ask from fully five strokes back and with so much traffic to pass but I thought he was still worth adding to the portfolio at 85.084/1.
I'll be back tomorrow with my De-Brief. 
11:00 - October 25, 2014
After three rounds of the Perth International, yesterday's in-play pick, Thorbjorn Olesen, has assumed command and he now leads by three. Here's the leaderboard with prices to back, as at 10.30 UK and Ireland time.
Sihwan Kim -13 12.011/1
James Morrison -12 15.5
Peter Uihlein -11 15.5
Richard Green -10 30.029/1
David Drysdale -10 65.064/1
Charl Schwartzel -9 34.033/1
-9 and 85.084/1 Bar

Olesen really should put this one to bed now but there was enough in his finish to round three to suggest a wobble or two tomorrow isn't out of the question. I toyed with laying my stakes back on him but I've decided to back a couple of other players instead.
Sihwan Kim, currently second, is the biggest danger on paper but I don't fancy his chances. His in-contention record on the Challenge Tour wasn't great and given he's got the added pressure of needing to finish tied second to keep his card, I think he's one to swerve. Peter Whiteford showed what such pressure can do today. In the exact same boat as Kim, he shot a three-over-par 75 to plummet down the leaderboard from first to tied seventh and I fear a similar performance from Kim tomorrow. 
If James Morrison were to go on to win I wouldn't be the happiest of bunnies. I was a big fan of his for years, backing him with regularity at big odds, but I've long since given up on him. He just doesn't seem to get the best out of his talents and repeatedly disappoints in the mix but given he once led by four strokes at Wentworth at halfway - the course I felt correlated best with Lake Karrinyup - when I was onboard at a tasty price again, I'll be a bit miffed if he finally wins. 
He shot 81 in the third round of the BMW PGA Championship in 2011 when he led by four and he's never been the same since. He could well cast away his demons and win but I'm not prepared to bet on it and the biggest danger I can see to Thorbjorn, besides himself of course, is Kim's big buddy, Peter Uihlein. 
The promising American has already won on the European Tour, at the Madeira Islands Open last year, and he has nothing to lose and no stress to bring him down. I can see him having a go tomorrow and at 15.5 I thought he was worth a small bet.
And I've also had a tiny bet on Lucas Bjerregaard at 100.099/1. He trails fellow Dane, Olesen, by fully eight strokes but he's a player I fancy will win soon on the European Tour and from off the pace with a bit of help is often the way to claim your first title.  
Over at the McGladrey Classic, after ending day one with two pre-event picks, Michael Thompson and Brian Harman, tied at the top, I had hopes of getting myself into a nice position for the weekend. Thompson was disappointing, shooting a one-over par 71 with a four-putt from 39 feet on the 17th hole very much the lowlight but there was much better news elsewhere...
Harmon finished his second round well with back-to-back birdies on 15 and 16 and he's now just one shot off the lead, held by another of my selections, Russell Henley, who had scooted around the Seaside Course on Friday morning in just 63 strokes. Here's the halfway leaderboard with prices to back as at 10.45 UK and Ireland time.

Russell Henley -9 5.49/2
Brian Harman -8 8.415/2
Brendon de Jonge -8 10.519/2
Andrew Svoboda -8 14.013/1
Will MacKenzie -7 36.035/1
Mark Wilson -7 38.037/1
Fabian Gomez -7 55.054/1
Kevin Chappell -6 25.024/1
Scott Piercy -6 28.027/1
Chris Kirk -5 18.5
Bill Haas -5 18.5
-5 and 44.043/1 Bar

Judging by the first four results of this event, anything could happen from here. Chris Kirk was in front at halfway last year and inaugural winner, Heath Slocum, was trailing by just two strokes at this stage and was in front with a round to go but the two other winners, Ben Crane and Tommy Gainey, were miles back, both at halfway and after round three. Gainey trailed by six after 36 holes and by seven with a round to go before winning, courtesy of a final round of 60, whereas Crane trailed by seven at halfway and by five with a round to go. This may not be an event to get heavily involved in at this stage.
I've added to my selections by modestly backing both Will MacKenzie and Mark Wilson. They're both multiple winners on the PGA Tour and if they'd have been in better form before the off they'd have both been on my radar as the venue is ideal for their games.
I'll be back tomorrow at some stage with a look at the state of play with a round to go. 

12.10 - October 24, 2014
We've reached the halfway stage of the Perth International and Scotland's Peter Whiteford is showing the way on 12-under-par. Two of my pre-event picks, Steven Bowditch and David Horsey, have been very disappointing and the third of my three, Brett Rumford, has finished weakly today. He was on -8 with four to play and it with a squeak but after bogeying three of those last four holes I'm not holding out too much hope.
Here's the current leaderboard with Sportsbook prices as at 12:00. I usually show the exchange prices to back but as the market was suspended whilst they take out the players that have missed the cut, I've used the Sportsbook odds on this occasion.
Thorbjorn Olesen -11 3/1
Sihwan Kim -10 12/1
James Morrison -9 12/1
David Drysdale -9 18/1
Richard Green -8 12/1
John Wade -8 70/1
Charl Schwartzel -7 11/2
Victor Dubuisson -6 12/1
Marcus Fraser -6 20/1
James Nitties -6 55/1
-5 and 40/1 Bar

I won't beat about the bush; the one I like here is first round leader and favourite, Thorbjorn Olesen. 
The promising young Dane lost his form quite badly after switching to Nike last year and he probably only made the long trek Down Under in an attempt to break into the Race to Dubai's Top-60 so that he can squeeze into the lucrative Final Series that starts in China next week. He began the week ranked 64th and some €25,231 behind Darren Fichardt in 60th. 
He needs to finish inside the top-9 to push out the South African and that looks like the very least that he can achieve from here. The leaderboard is far from strong, with the exception of Charl Schwartzel in eighth place and five off the lead and Victor Dubuisson a further stroke back, and I fancy Olesen's price is very fair.
The leader, Whiteford, is currently ranked 149th on the Race to Dubai and he has far more pressure to endure than Olesen. This is the final ranking event of the season and only the top-111 will keep their cards. Whiteford needs a top-2 finish so the heat is really on and it's no wonder he says he's very nervous. Although he's a three-time winner on the Challenge Tour, the 34-year-old has never managed a win on the bigger stage and I'm sorry to say it but I expect the pressure to get to him - as I believe it will others...
Sihwan Kim in third place is also looking to save his card at the last gasp and like Whiteford; he also needs a top-2 finish.  David Drysdale, in a tie for fourth alongside James Morrison and three off the lead, is another one looking for a dramatic escape and he's very easy to dismiss too. He's never been anything but flaky in-contention and given, by my reckoning, a top-ten finish could be enough for him to keep his playing privileges; I expect that's what he'll be concentrating on.
Morrison is ranked 99th and is now as safe as houses so in theory the pressure's off and he can have a free run at the title but after shooting an impressive course record 63 today, he may just struggle to follow that up tomorrow. And he's also another player that hasn't convinced in-the-mix for a very long time.
Class act, Charl Schwartzel, will have his followers but he can't afford any hiccups from so far back and the Australian pair of Richard Green and Marcus Fraser are never easy to get across the line, so all things considered, Olesen looks to have a very good chance of winning from here and odds of anything over 3/1 look worth taking to me.
As set out in my preview, I really quite liked the chances of Brian Harman at the McGladrey Classic - as did Joe Dyer, who made him his each-way selection - so we're both please to see him tied at the top after round one. 
Alongside Harman is Erik Compton, Will MacKenzie and another of my fancies, Michael Thompson, so I'm happy with the state of affairs at present but I'm by no means getting ahead of myself. My strong fancy, Martin Laird, was leading after round one last week but he didn't even manage to bag a top-ten!
It's an extremely bunched leaderboard and they still bet double-figures the field so I'm going to leave it well alone for now and take a good look in the morning. 

Perth International Pre-Event Selections:
Steve Bowditch @ 50.049/1
David Horsey @ 100.099/1
Brett Rumford @ 100/1 (Sportsbook)
In-Play Bet 
Thorbjorn Olesen @ 4.67/2
Peter Uihlein @ 15.5

McGladrey Classic Pre-Event Selections:
Scott Brown @ 44.043/1
Russell Henley @ 55.054/1
Brian Harman @ 60.059/1
George McNeil @ 90.089/1
Michael Thompson @ 100.099/1
Ben Curtis @ 330.0329/1
Lucas Glover @ 790.0789/1
In-Play Bets
Will MacKenzie @ 36.035/1
Mark Wilson @ 38.037/1
Ben Martin @ 85.084/1


*You can follow me on Twitter @SteveThePunter
Discover the latest articles