The Punter's In-Play Blog: Streelman can swoop again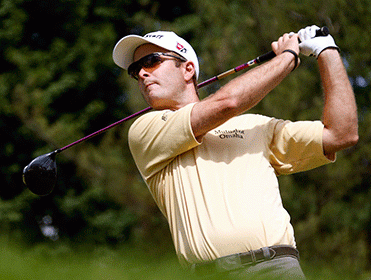 Kevin Streelman, value at [26.0], says The Punter
With the Hong Kong Open over and done with and the Volvo World Match Play final in progress, our man turns his attention to the final round of the Shriners Hospitals for Children Open where he thinks Kevin Streelman is the value...
"Kevin Streelman shot two rounds of 64 to win the Travelers Championship back in June so we know he can back up a low third round (shot 63 yesterday) and he was four back on Sunday that day so being five behind today shouldn't faze him. I thought he looked a fair price at 26.025/1."
14.55 - October 19, 2014
Henrik Stenson and Mikko Ilonen are currently competing in the Volvo Match Play Championship final on Sky Sports 4 and Scott Hend has beaten Angelo Que in a playoff to claim the Hong Kong Open so all we're left with now to analyse is the Shriners Hospitals for Children Open. Here's the leaderboard with prices to back as at 14:50 UK and Ireland time.

Ben Martin -17 3.1511/5
Russell Knox -15 5.49/2
Jimmy Walker -13 8.07/1
Andrew Svoboda -13 20.019/1
Webb Simpson -12 17.016/1
Brooks Koepka -12 18.5
Kevin Streelman -12 25.024/1
Scot Piercy -12 26.025/1
Brandt Snedeker -11 32.031/1
Martin Laird -11 38.037/1
Spencer Levin -11 65.064/1
Jason Bohn -11 80.079/1
David Hearn -11 110.0109/1
Bill Lunde -11 120.0119/1
Alex Cejka -11 140.0139/1
Jim Herman -11 180.0179/1
Tony Finau -10 170.0169/1
-9 and 270.0269/1 Bar

Ben Martin takes a two stroke lead in to the final round of the Shriners Hospitals for Children Open but with 16 players within six strokes of his lead, there's an air of vulnerability about his position, even though there perhaps shouldn't be...
The record of 54 hole leaders at TPC Summerlin is very good with six of the last eight converting, and in the last ten years, since the event was reduced from five rounds to four, no winner has been any further than three back or outside the top-five. On those stats alone, Martin looks a very fair price but there are a number of reasons to oppose him.
Firstly, there's the fact that he's in uncharted waters. He's twice won on the Web.com Tour, coming from five off the pace the first time and converting a four-stroke lead on the second occasion but he's never led on the PGA Tour and players with a two stroke lead have been oddly vulnerable on the PGA Tour of late.  Seung-Yul Noh converted a two shot lead at the Zurich Classic in April but since Matt Kuchar won the Memorial Tournament in June 2012, 11 men have led by two with a round to go and the Korean is the only one to succeed.  
And the last thing to put me off is the sheer number of players chasing him down on a course that's yielding some seriously low scores. It's highly likely that one of the large group of players five and six back shoot a low round and if they do, Martin might be in trouble. I don't think he's a dreadful price at a shade over 2/1 and I wouldn't want to put anyone off him but all things considered, even though the third round leaders have such a strong record, I'm happy to leave him alone.
Although disappointing to varying degrees yesterday, my in-play pick, Scott Piercy, and my pre-event selection, Martin Laird, are still in with a chance and I've decided to add two more at decent prices so I'll be hoping the frontrunners wobble.
I wasn't tempted by second favourite, Russell Knox, who like Martin, is looking for his first PGA Tour win - I thought the value lay further down the leaderboard.
Kevin Streelman shot two rounds of 64 to win the Travelers Championship back in June so we know he can back up a low third round (shot 63 yesterday) and he was four back on Sunday that day so being five behind today shouldn't faze him. I thought he looked a fair price at 26.025/1.
Having finished eighth in 2012 and runner-up last year, Jason Bohn was a player I looked at before the off and he's a player that can go low on Sunday too. I remember him shooting 62 at the Wyndham Championship to get into a playoff in 2009, having been seven back with a round to go, and I thought he was plenty big enough at 85.084/1.
I'll be back tomorrow with my de-brief.

12.50 - October 18, 2014
What a difference a day makes. This time yesterday I was in a fairly strong position at all three events I'd played in but things are looking much bleaker this morning. Jamie Donaldson and Graeme McDowell have both been knocked out of the Volvo World Match Play Championship, which is live on Sky Sports 4 now, and my wagers at the other two events have been largely disappointing too.
Given the match play looks so tricky, and that I'm still unsure how the draw is going to pan out I'm giving it a huge swerve. The draw shown on the event's website suggests a possible Henrik Stenson - Patrick Reed semi-final but the European Tour website's leaderboard suggest Reed will meet Victor Dubuisson or Mikko Ilonen in the semi-final. I guess we'll find out soon enough but not knowing who plays who just muddies already cloudy waters further and I'm going to follow my instinct and leave it well alone.
At the Shriners Hospitals for Children Open, all three of my pre-event picks sit inside the top-30 but and my only in-running bet so far, Scott Piercy, sits two off the lead and is trading at a third of the price I took but I'm far from satisfied.
Scott Brown fared best of my three original picks yesterday but was so far off the pace after round one that he still looks out of it, despite his four-under-par 67. He sits alongside Jarrod Lyle in a tie for 22nd on -5 and five off the lead and that looks too far back. But the biggest disappointment was Martin Laird...
With nobody setting the world alight from the morning starters, the Scotsman, who had been tied for the lead after round one, began his second round just a couple of shots off the pace and I quite hoped he could do some real damage but I soon had to lower my expectations when he bogeyed the 10th - his first hole of the round.
It wasn't a convincing display but he did recover nicely after that, birdying three of his next six holes, and when he birdied the 6th hole to draw level with Andrew Putnam and Russell Knox on -10, with still three holes to play, including the easy par 5 9th, he was matched at just 4.84/1 in the outright market. 
I was confident he'd hold at least a share of the all important halfway lead but it wasn't to be. He made an utter mess of the 7th, recording a double bogey, and then failed to birdie the 9th and he now sits alongside Piercy, two back on -8 and tied for fifth and if recent history is to be repeated, he's too far back now!
The last seven events have seen five halfway leaders go on to win and two players within a stroke of the lead prevail. With such strong trends, I was hoping to be able to get my teeth into someone at this stage but it just looks too tricky. 
Of the two leaders I prefer Knox and of the two players a stroke behind and tied for third, I like big hitting Web.com Tour rookie, Tony Finau, but I don't like either enough to back them, not with such a strong group of eight players on -8. 
In addition to my two, defending champ, Webb Simpson is lurking and so is Paul Krishnamurty's each-way selection, George McNeil, along with the likes of Bo Van Pelt and Spencer Levin and it looks too open for me to get any further involved. Knox just edges Simpson in the market but it's still wide open and I'm happy to wait and see what today brings.
Over at the Hong Kong Open, halfway leader, and in-play pick, Ernie Els, following a decidedly ugly one-over-par third round, has slipped out of the frame. Here's the third round leaderboard with prices to back as at 12:30 UK and Ireland time.
Marcus Fraser -11 3.711/4
Scott Hend -10 7.613/2
Jbe Kruger -9 11.521/2
Mark Foster -9 12.5
Angelo Que -9 15.5
Ernie Els -8 9.08/1
Raphael Jacquelin -8 15.014/1
Cameron Smith -8 20.019/1
Jyoti Randhawa -8 23.022/1
Javier Colomo -8 32.031/1
-7 and 100.099/1 Bar
Course specialist, Marcus Fraser, has been out with a hand injury since February so he'll be delighted to find himself atop of the leaderboard but can he stay there? I'm not sure he can. 
Although being up with the pace at Fanling has been essential over the years, being in front with a round to go hasn't been a huge advantage. Since 1996, 14 men have held a clear advantage going into round four and only five of them have won, and they all led by at least two strokes. And Fraser's recent in-contention record is poor...
He led three times with a round to go in 2003, twice on the Challenge Tour and once on the European Tour, and he delivered every time but since then he's been woeful. He's failed to break 73 in four attempts and the closest he's been to the eventual winner at the end is two strokes. He can't be described as reliable but then again, who on this leaderboard can?
Australian veteran, Scott Hend, hasn't been a prolific winner over the years and he's never impressed me in-the-mix but he did win three times on the Asian Tour last year. I wouldn't be completely surprised if he went on to win but he's not for me at the prices and neither are any of the three players tied for fifth. 
Mark Foster is notoriously poor in-contention, Jbe Kruger is erratic and liable to implode (led at halfway here last year but finished eight strokes behind the winner) and 35-year-old Filipino, Angelo Que, looks highly likely to flop. He has won three times on the Asian Tour but again, he looks like another to swerve. He led the Solaire Open in March with a round to go and hit 82! And that came two months after he'd trailed by one with a round to go at the King's Cup where he fell from second to seventh. 
I've written several times about players leading at halfway, performing badly in round three and then bouncing back to win and I can see both Ernie Els and Raphael Jacquelin improving considerably on today's poor efforts. They're the two big names on what is a very weak leaderboard and I'm more than happy to top-up my Ernie bet and to get Jacquelin onside too. The Frenchman looks a fair price at anything around the 15.014/1 mark.
I'll be back tomorrow with a look at the state of play in the States with a round to go.

17.00 - October 17, 2014
Following the completion of the group stages this afternoon, the Volvo World Matchplay Championship has reached the quarter final stage and both my picks are out. Jamie Donaldson, who unbeknown to me before the off, has changed manufacturers and he played poorly as a result and Graeme McDowell, who was the 5.39/2 favourite after his opening win against Alexander Levy, has also gone out after losing to Mikko Ilonen yesterday and Joost Luiten today, after being three up through eight holes!

Here's the draw for the quarter-finals.
Patrick Reed v George Coetzee
Victor Dubuisson v Mikko Ilonen
Joost Luiten v Pablo Larrazabal 
Henrik Stenson v Jonas Blixt

I'm feeling a bit sorry for myself after G-Mac's collapse but it's Paul Casey who deserves some sympathy. He shot 63 against Jonas Blixt today but it still wasn't enough to see him progress! The pair tied their match, and were therefore tied for second in the group, before Casey found water at the first extra hole.
I'm not sure whether I'll get involved any further but I'd strongly fancy Patrick Reed to beat George Coetzee tomorrow and Mikko Ilonen has impressed over the first few days. He could well sneak past Victor Dubuisson tomorrow and he wouldn't be intimidated by either Joost Luiten or Pablo Larrazabal in the semi final.
I may be a bit miffed with the outcome of the group stages in Kent but I'm more than happy with the state of play at the other two events, so far anyway!
At the Hong Kong Open, my sole selection, David Lipsky made far too many errors to put him into a position from where he could put in a challenge over the weekend but Ernie Els, who I backed after round one, leads the event by two. 
The Big Easy's biggest danger looks to be Raphael Jacquelin, picked out before the off by Messrs Norman and Dyer. The Frenchman is alongside Australian pair, Scot Hend and Cameron Smith, in a tie for second and it's very tight behind them - 11 players are three behind Els in a tie for fifth and nine more are just four off the lead so Ernie isn't going to be able to cruise in from here, not by a long chalk, but I'm going to stick with him.
Els has played very aggressively so far this week and on a tight, tree-lined venue like Fanling that is a bit of a concern but he turned 45 today so he really should have the necessary experience to get the job done from here. 
When winning last year, Miguel Angel Jimenez, came from four back at this stage but Fanling usually suits frontrunners and the four winners that preceded him were either leading or within a stroke of the lead at halfway and Ernie has as led by two strokes at the halfway stage five times since 1996 and not only did he win on every occasion, he's never been headed. There's arguably a bit of value in the South African at around 3.55/2 given those stats and I'm certainly not laying off.
Scott Brown was a bit disappointing in round one of the Shriners Hospitals for Children Open, only shooting one-under-par, but that's my only teeny-weeny grumble. Each-way selection, Martin Laird, is tied for the lead with Stewart Cink after a seven-under-par 64 and 1000.0 shot, Jarrod Lyle, is two behind him.
Although very happy with the current situation, I've also added Scott Piercy to the portfolio now. The Las Vegas resident has missed much of the year through injury and he didn't play brilliantly last week but he was someone I very nearly included before the off anyway. He plays TPC Summerlin well and I thought he was worth including after he shot four-under-par yesterday.

20.00 - October 16, 2014
So competitive is the Volvo World Match Play Championship that 13 of the 16 competitors have won at least one of their two matches played so far. With just one round of group matches remaining, only two players, Francesco Molinari and Stephen Gallacher, are certain to miss out on a place in Saturday's quarter finals. Alexander Levy has lost both his opening matches but if Joost Luiten beats my fancy, Graeme McDowell, tomorrow and Levy defeats Mikko Ilonen, the Frenchman could yet progress via a playoff.
The matches went largely to form on day one - Jonas Blixt beating Ryder Cup star, Patrick Reed, was a shock and it was perhaps surprising that George Coetzee managed a draw against pre-event favourite, Henrik Stenson, but in every other match, the player with the strongest match play record prevailed.
Anyone that used Dave Tindall's piece to guide them before placing their opening wagers would have fared well. 
It wasn't quite so straightforward today with Ilonen, without a single previous match play success, beating defending champ and match play specialist G-Mac, but four of today's eight ties were still won by those with the best previous match play records so Dave's piece is a great reference point.
I'm not going to get involved with any of the matches tomorrow and I'm not going to add to my pre-event wagers either. G-Mac will have his work cut out to beat Luiten and Jamie Donaldson's tie with Patrick Reed could be a cracking heat but I'm still hopeful they can both progress.
At the Hong Kong Open, my sole selection, David Lipsky, finished his first round disappointingly, dropping three strokes in six holes towards the end of the round but he's still within four of Jyoti Randhawa's -6 lead and trading at around the same price he started the event at. 
Defending champ, Miguel Angel Jimenez, put in a poor two-over-par round and looks to have too much to do but the two players vying for second favouritism before the off, Nicolas Colsaerts and Ernie Els, have both started well -  shooting four-under-par 66s. I'm not so keen on Colsaerts, as he does struggling in-contention, but I've got Els onside.
The Big Easy has a habit of performing well in weaker events away from the States but I felt he wasn't playing well enough to risk before the off at around 17.016/1. He described his play as comparable to that of a seven-handicapper on the front-nine but he looked in good form on the back-nine and I thought he was worth getting onside at 8.615/2.
At the Shriners Hospitals for Children Open, my each-way selection, Martin Laird is finishing up his first round and he's doing OK, and so is 1000.0 pick, Jarrod Lyle but there's an awful long way to go and I'm just leaving that one alone for now too. It's live on Sky Sports at 22:00.

Volvo World Match Play Championship Pre-Event Selections:
Graeme McDowell @ 8.415/2
Jamie Donaldson @ 12.5

Hong Kong Open Pre-Event Selection:
David Lipsky @ 36.035/1
In-Play Picks:
Ernie Els @ 8.615/2 & 9.08/1
Raphael Jacquelin @ 15.014/1

Shriners Hospitals for Children Open Pre-Event Selections:
Martin Laird @ 30.029/1
Martin Laird to finish inside the top-ten @ 11/4 with the Sportsbook
Scott Brown @ 130.0129/1
Jarrod Lyle @ 1000.0
In-Play Picks:
Scott Piercy @ 65.064/1
Kevin Streelman @ 26.025/1
Jason Bohn @ 85.084/1

*You can follow me on Twitter @SteveThePunter
Discover the latest articles