The Punter's In-Play Blog: Can Hadwin convert after magical 59?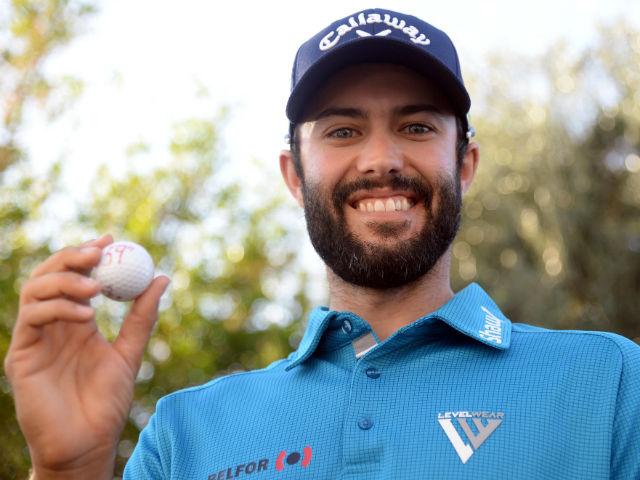 Adam Hadwin is leading after three rounds and is favourite to win in California
Tommy Fleetwood has won the Abu Dhabi Championship so our man turns his attention to California where Adam Hadwin will attempt to convert from the front after a 59 in round three. Read Steve's final in-running thoughts of the week here...
"Since the tournament was converted from five rounds to four in 2012, four of the five renewals have gone to the third round leader so that's a huge positive for Hadwin and so is the possibly weak looking opposition but there are a number of negatives."
14:00 - January 22, 2017
Tommy Fleetwood has won the Abu Dhabi Championship on the European Tour and I'll have more on that result in tomorrow's De-brief but for now my attention is turned to the Career Builder Challenge where Dave Tindall's fancy, Adam Hadwin, has hit the front after a brilliant 59 around La Quinta yesterday. Here are the latest standings with prices to back at 13:50.
Dominic Bozzelli -16 10.09/1
Hudson Swafford -15 8.07/1
Brain Harmon -15 8.415/2
Bud Cauley -15 12.5
Chad Campbell -15 12.5
Brendan Steele -14 10.519/2
Chris Kirk -13 23.022/1
Robert Garrigus -13 34.033/1
-12 and 65.064/1 bar

Since the tournament was converted from five rounds to four in 2012, four of the five renewals have gone to the third round leader so that's a huge positive for Hadwin and so is the possibly weak looking opposition but there are a number of negatives.
Firstly, he has to back up yesterday's heroics and that won't be an easy task at all. Although he's won a couple of times on the Web.com Tour, he's still looking to get off the mark on the PGA Tour and so far he's not been very impressive in-contention. He sat third here at this stage of this event last year but dropped back to sixth with a disappointing 72 and that was one of six occasions that he's been within three of the lead after 54-holes. He's gone backwards every time.
Although I'm wary of the favourite, I'm not in any sort of rush to back anyone else. I may well end up regretting not getting the rookie, Dominic Bozzelli, onside, as he's hanging in there brilliantly and I'm a little surprised he's as big as he is. If forced to throw more money at the event, he would be my pick but only by default as I wouldn't want to put any faith in the others.
As stated yesterday, Brian Harman is often a let-down in-the-mix and Hudson Swafford was error-strewn when clear and matched at just 2.01/1 yesterday. Bud Cauley is a longstanding maiden and Chad Campbell is looking to win again for the first time in almost ten years.
I've already got Brendan Steele onside and he has as a good a chance as anyone else in what looks a very tricky event to call. I'll also look to trade the event later and see if opportunities arise. As highlighted in the preview, in seven of the last ten renewals, at least one player has traded at odds-on and lost.

13:55 - January 21, 2017
It was moving day at the Abu Dhabi Championship today and with the leaders stuttering a number of players made up plenty of ground, including world number three, Dustin Johnson. The big-hitting American parred three of the four par fives in round three but he still managed to shoot eight-under-par and he now trails the 54-hole leader, Tyrrell Hatton, by just a stroke. Here's the current leaderboard with prices to back at 13:40.

Tyrrell Hatton -13 5.85/1
Dustin Johnson -12 4.57/2
Martin Kaymer -12 8.615/2
Tommy Fleetwood -12 15.014/1
Pablo Larrazabal -12 15.5
Kiradech Aphibarnrat -1217.016/1
Byeong Hun An -11 21.020/1
Bernd Wiesberger -11 25.024/1
Jeunghun Wang -11 30.029/1
Dean Burmester -11 44.043/1
Peter Hanson -11 50.049/1
Henrik Stenson -10 17.5
Alex Noren -10 32.031/1
Lee Westwood -10 80.079/1
Ross Fisher -10 100.099/1
Max Kieffer -10 200.0199/1
-9 and 100.099/1 bar

Gary Stal won from tied fifth and eight adrift with a round to go two years ago, thanks to Martin Kaymer's bizarre collapse, but the other ten tournament winners were all within three of the lead and inside the top-six on the leaderboard. Rickie Fowler converted a two stroke advantage 12 months ago and he was the sixth to convert from the front. Given how congested the leaderboard is, I'd be very surprised if the winner comes from too far off the pace and we might even get the first ever playoff here.
Although very disappointed by Martin Kaymer's level par third round, I'm trying not to look at the tournament too negatively. The German course specialist is still second and he's second to one of my in-play picks, Tyrrell Hatton. My my other in-running selection, Kiradech Aphibarnrat, is alongside Kaymer and I certainly haven't given up on pre-tournament pick, Jeunghun Wang, who's tied for seventh and just two adrift. I've got chances tomorrow and with the tournament now wide open, I have to be happy with that.
Dustin Johnson's the favourite to win now and justifiably so. Struggling with jetlag and playing the course for the first time this week, it would be no surprise to see him back up today's brilliance tomorrow now his sleep pattern is sorted and the suitable track is becoming more familiar. This will be the ninth time he's entered the final round trailing by just a stroke and although he's been beaten on each of the last five occasions, he's won twice when just a stroke behind previously. The only negatives I can see are the crowded leaderboard and the difficultly almost everyone encounters when attempting to back-up a low round. He looks a better proposition than the leader at only slightly more than a point shorter but I'm happy to leave him out and go with just one additional in-play pick...
Alex Noren won four times last year so he isn't going to lack for confidence if he gets on a roll tomorrow and the last of those four wins, at Sun City, came courtesy of a devastating final round from off the pace. Trailing by six and seemingly too far back, he fired a sensational 63 to win by six! He's capable of doing something extraordinary and I thought he might be worth chancing for a few pounds at 32.031/1.
They've reached the halfway stage of the Career Builder Challenge but with the three course rotation in operation it's not easy to evaluate the halfway leaderboard. Hudson Swafford leads by a stroke but he'll be playing the toughest of the three courses today, the Stadium Course, so one could argue that the two players in a tie for second, first round leader, Dominic Bozzelli, and Danny Lee, who both play the Nicklaus Course today, are effectively level with the leader. Below are the cumulative hole averages, the leaderboard with prices to back at 13:40, and an abbreviation showing the course each player will play today.
Cumulative Hole Averages after round two
Stadium Course 71.30
Nicklaus Course 70.35
La Quinta 69.94

Hudson Swafford -14 5.79/2 SC
Dany Lee -13 8.615/2 NC
Dominic Bozzelli -13 23.022/1 NC
Brendan Steele -12 8.615/2 SC
Brian Harman -12 9.617/2 LQ
Phil Mickelson -10 16.015/1 SC
Martin Laird -10 17.016/1 LQ
Greg Owen -10 75.074/1 SC
-9 and 24.023/1 bar
Historically, we've seen winners come from some way off the pace in this event after two rounds but not since the tournament was reduced to four rounds from five in 2012. Since then, three of the five winners have been leading at halfway, Bill Haas trailed by a stroke in 2016, and Brian Gay, who won in 2012, won from three adrift at this stage. Those limited stats suggest we should be concentrating on the leaders and arguably not beyond those listed above.
I'm hopeful that pre-tournament pick, Phil Mickelson, can put a shift in today around the Stadium Course but it won't be easy and I've concentrated my efforts on the front five.
Swafford has just one Web.com Tour win to his name, dating back to 2012, his putting stats haven't been great so far this week, and he too has to navigate the toughest of the three tracks today so he looks short enough to me. Brian Harman plays La Quinta today, the easiest of the three tracks, but he often disappoints in-the-mix and Dominic Bozzelli could still be overlooked and over-priced but the two I like at this stage are Brendan Steele and Danny Lee, who are both putting well.
Given he has a great record at the Phoenix Open (the event I feel correlates best with this one), that he won the Safeway Open just four starts ago, and that he finished an eye-catching sixth at the Tournament of Champions a fortnight ago, Steele looked an ideal candidate before the off but at around the 40.039/1 mark, I thought he was just a shade too short. He's playing the Stadium Course today so that's a slight negative but I thought he was a decent price at 8.88/1 and I felt the same about Lee.
The Korean-born New Zealander, who won on the European Tour when still an amateur back in 2009, hasn't perhaps made the most of his talents given he's won just once on the PGA Tour but this looks like an ideal chance for him to double his tally. He plays the Nicklaus Course today and I could see him leading by the close of play. I've taken 8.88/1 about him too.
I'll be back tomorrow with one last look before round four.

13:40 - January 20, 2017
We've reached the halfway stage of the Abu Dhabi Championship and back-to-back 66s by course specialist, Martin Kaymer, have seen him get to the front but we've got an open looking leaderboard to survey. Here's the latest state of play with prices to back at 13:30.

Martin Kaymer -12 3.65
Rafa Cabrera-bello -11 6.411/2
Tommy Fleetwood -10 16.015/1
Kiradech Aphibarnrat -1022.021/1
Paul Dunne -10 27.026/1
Henrik Stenson -8 6.611/2
Tyrell Hatton -8 12.5
Jeunghun Wang -9 28.027/1
Pablo Larrazabal -9 42.041/1
Sam Brazel -8 150.0149/1
Chris Paisley -8 230.0229/1
-7 and 60.059/1 bar

We've had 11 Abu Dhabi Championships previously and history suggests that being in front at this stage isn't ideal and that it's perfectly possible to win from some way off the pace.
Current leader, Kaymer, when winning the first and third of his three titles, is the only halfway leader to go on and win here and although seven of the 11 winners to date have been within three of the lead and inside the top-five, we've also seen winners come from four (twice), five and even six adrift with two rounds to go. Although it's perhaps worth highlighting that Gary Stal's victory two years ago from six shots back had as much to do with Kaymer's remarkable collapse as it did the Frenchman's play over the weekend.
This is the fourth time Kaymer has led this event at halfway and it's the 12th time in his career that's he's been leading or tied for the lead at halfway. Given he's gone on to win on six of those 11 occasions, he has a very good conversion rate, but as mentioned numerous times previously in this column, the German hasn't looked as solid in-the-mix, and he still hasn't won, since that awful breakdown from ten clear two years ago.
I'm obviously delighted to be on from the start but whether I'd be in a hurry to back him at his current odds is debatable. I'd like to think we'll see the ruthless Kaymer of old but the scar tissue from 2015 is heavy and if he were to wobble, I wouldn't be in the least bit surprised. In Kaymer's favour, is the calibre of those immediately behind him at this stage...
As well as he's playing and as well as he's suited to desert golf, as highlighted yesterday, Rafa Cabrera-Bello is on a desperate run of zero from 11 when leading at halfway so he might be quite pleased that Kaymer passed him with a birdie at the last today. That stat shows how poor he is in-the-mix and he's simply one to swerve when in-contention.
Tommy Fleetwood has just one title to his name so far and is every bit as flaky as Cabrera-Bello and Paul Dunne, alongside Fleetwood and Kiradech Aphibarnrat in a tie for third, is still looking to get off the mark on the European Tour. We haven't seen an awful lot of Dunne in-the-mix since he capitulated in the Open Championship at St.Andrews in 2015 so it's hard to know what to expect from him but Aphibarnrat interests me.
The burly Thai has struggled to replace his first ever coach, Natpasit Chokthanasart, who died just over two years ago but now that he's with Pete Cowen, he could really go through the gears and elevate his already great career to the next level. He can't be discounted form here and anything over 20.019/1 looks more than fair.
After birdying the first hole today, first round leader Henrik Stenson was matched at just 2.166/5 as he stood over a short birdie putt on the par five second but he missed that and it set the tone for the day. Making back-to-back three-putt bogeys at 10 and 11 wasn't how he would have wanted to start the back-nine and he had to wait until the final hole to break par in either direction. He's the biggest danger to Kaymer and after nine hours sleep yesterday he didn't look as tired today but it's his lack of practice that puts me off him. Kaymer has been out in the States practicing in preparation for this week and the events that follow whereas Stenson has arrived here with very little practice under his belt and I suspect that could catch up on him over the weekend. His 71 today was a lacklustre performance and he'll need to find something again tomorrow if he's going to claim this title for a first time.
My in-play pick, and Mike Norman's each-way wager, Tyrrell Hatton, is one of three players alongside Stenson and bang there but he should arguably be even closer to the lead. His putter went cold on the back-nine and that might just be the difference between victory and defeat if it doesn't warm up again tomorrow.
I'm fairly hopeful that pre-event pick, Jeunghun Wang, who was also picked out by Paul Krishnamurty for the each-way column, and for his Find Me a 100 Winner column, can progress tomorrow and he still looks over-priced to me, and former winner, Pablo Larrazabal, also demands respect but I'm happy to stick with what I have for now.
Over in the States, having shot an impressive eight-under-par 64 around the host Stadium Course, 25-year-old New Yorker, Dominic Bozzelli, leads by a stroke after the opening round of the Career Builder Challenge. As you'll see by the hole averages for day one, listed below, the Stadium Course is the toughest of the three played so it's a cracking start but having been matched at 1000.0 before the off, the PGA Tour rookie is still available to back at 55.054/1.

Day One Averages
Stadium Course 71.42
Nicklaus Course 70.33
La Quinta 70.15
There are ten players within two strokes of the lead so it's an extremely tight leaderboard but I thought Boo Weekley looked worth getting onside early. Boo's an amazing ball striker but week after week his putter lets him down so it's always worth checking out his stats on the greens. On the rare occasions he gets it together on the dancefloor he tends to contend to the line and I see he ranked number one for Strokes Gained Putting yesterday when shooting six-under at the Stadium Course. Of course, that could all change today but I was happy enough to throw a few pounds at him at 65.064/1.

16:20 - January 19, 2017
Despite a two-month break from competitive golf, very little practice, and a lack of sleep, world number four, Henrik Stenson, scooted around the Abu Dhabi Golf Club in just 64 strokes this morning and he leads the Abu Dhabi Championship by two strokes on eight-under-par.
Stenson has previously led or co-led after the opening round 17 times and he went on to win on four occasions. He's held the lead on his own only six times and twice he's converted successfully and the first round leader or co-leader has gone on to win this event twice in 11 years. Those stats combined suggest Stenson might be short enough at this stage at less than 2.89/5 and he looked very tired after his round too.
In Stenson's favour looks to be the draw. None of the top-five and only three of the top-nine played this afternoon and the later starters averaged 0.79 of a stroke more than today's morning starters. The forecast for tomorrow suggests that what little wind there is will peak at around ten in the morning so don't assume the draw is going to level itself out.
My three pre-event selections and all five of our each-way fancies are within five of Stenson's lead and inside the top-27 and ties so it's not been a bad day.
I'm more than happy with the start of my each-way pick, Martin Kaymer, who birdied his last three holes to get to within two of Henrik, the market views him as the Swede's biggest danger. I concur and if I weren't already aboard I'd be backing him at a double-figure price. Stenson looks too short to me and work opposing so I've added to the portfolio with Mike Norman's each-way fancy, Tyrrell Hatton. I've backed him at an average of 18.5.
Rafa Cabrera-Bello, who sits alongside Hatton in a tie for fifth, is the only other player trading at less than 27.026/1 at this stage but he's always one to ignore in the win markets on account of his awful temperament. After his woeful collapse at the Hong Kong Open before Christmas, he's now failed to convert 11 halfway leads in-a-row!
The Career Builder Challenge is about to start and I've added Phil Mickelson to my two pre-event picks.
He drifted right out to 40.039/1 as rumours surfaced that he might withdraw with a back problem but he is going to play. I got him onside at 36.035/1 and I was happy to take a small chance on him at that price. I know he hasn't won in over three years but he's a two-time event winner and the tournament ambassador now. He'll be keen to put up a strong performance and I thought he was big enough.
I'll be back at the halfway stage of the Abu Dhabi Championship tomorrow.

Abu Dhabi Championship Pre-Event Selections:
Matthew Fitzpatrick @ 30.029/1
Thorbjorn Olesen @ 70.069/1
Jeunghun Wang @ 110.0109/1

In-Play Picks
Tyrrell Hatton @ 18.5 average
Kiradech Aphibarnrat @ 25.024/1 average
Alex Noren @ 32.031/1

Career Builder Challenge Pre-Event Selections:
Zach Johnson @ 32.031/1
Phil Mickelson @ 36.035/1 (added after preview published)
Patton Kizzire @ 160.0159/1

In-Play Picks
Boo Weekley @ 65.064/1
Brendan Steele @ 8.88/1
Danny Lee @ 8.88/1

*You can follow me on Twitter @SteveThePunter
Discover the latest articles