The Punter's In-Play Blog: Too tight to call in Memphis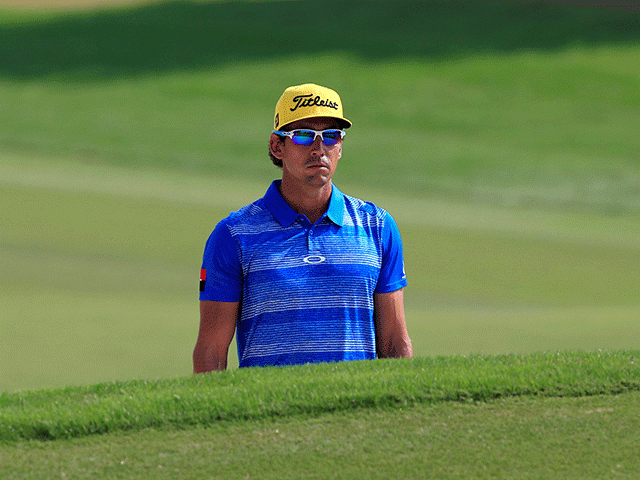 Rafa Cabrera-Bello – the favourite in Memphis with a round to go
This week's two tournaments still look wide open with just a round to go so check out Steve's final in-play musings for the week here...

"The last three St. Jude Classic winners have all been in front with a round to go and the three winners previous all trailed by a solitary stroke through 54 holes. History tells us that this is an extremely hard track at which to make up ground and in stark contrast to the tournament in Europe, scanning too far down the leaderboard here looks futile."
08:40 - June 11, 2017
A third round level par 72 by pre-event 220.0219/1 shot, Felipe Aguilar, was enough to see the 42-year-old Chilean maintain his two-stroke advantage over the field with a round to go at the Lyoness Open in Austria. Here's the current state of play, with prices to back at 8:30.

Felipe Aguilar -9 3.711/4
Dylan Frittelli -7 6.411/2
Johan Carlsson -7 9.89/1
Sepp Straka -7 13.012/1
Mikko Korhonen -6 15.014/1
Carlos Pigem -6 17.016/1
Jbe Kruger -6 19.018/1
Richard McEvoy -6 22.021/1
Alexander Bjork -5 28.027/1
Graeme Storm -4 50.049/1
David Horsey -4 50.049/1
Lucas Bjerregaard -4 55.054/1
Ryan Fox -4 70.069/1
Matthew Baldwin -4 170.0169/1
-3 and 32.031/1 bar

This tournament looked really tricky before the off, devilishly hard to fathom after rounds one and two, and it still looks like a problematic puzzle to solve with a round to go. Felipe Aguilar did OK yesterday, as many of his closest rivals misfired, including the two I backed before round three, Zander Lombard and Oliver Fisher. He has maintained the two-stroke advantage he held at halfway but he looks vulnerable to me.
Felipe won twice back in 2008, once in his homeland of Chile and once in Indonesia on the Asian Tour, when on both occasions he led with a round to go. He was fully 12 strokes clear in Chile but only two in front in Indonesia, so he has a proven record of converting from the front but he's also struggled when leading. He gave up a one-stroke lead in Mexico way back in 2006 but more pertinent for our purposes was his performance in China last year when he struggled on the back-nine at the China Open having been tied for the lead with a round to go - eventually go doing by three strokes to Haotong Li.
Aguilar held his own early on in China though and he was matched at just 1.3130/100 in-running before his late collapse and I can envisage something similar happening today. Only one of the seven third round leaders has gone on to win at the Diamond Course so he has to be considered vulnerable and in each of the last three years, three players have traded at odds-on during round four. My plan is to trade the event in-running with a view to taking on anyone that goes odds-on but I have added one more play before the off...
With two of our each-way selections in-the-mix again (Paul Krishnamurty's Dylan Frittelli and Joe Dyer's Mikko Korhonen) there's plenty to cheer on this morning and I've also added the home favourite and pre-event jolly, Bernd Wiesberger, at 34.033/1.
He looks a very long way back in a tie for 15th and six off the lead but we've seen winners here come from four, five and six strokes before and he himself was four adrift with a round to go when he took the title in 2014. There are a lot of non-winners and longshots ahead of him and if he goes super low, which he's most certainly capable of, he might yet win.
Anyone that doesn't want to get involved with laying but likes the idea of someone winning from off the pace again, could do worse than back those players on and around the four-under-par mark at juicy prices of 50.049/1 and bigger. I suspect we might see a bit of drama at the Diamond later and a couple of small stakes plays on a few from off the pace might just provide a bit more than interest.
As it was in Austria, it was all change in Memphis during round three, with the St. Jude Classic halfway leader, Charl Schwartzel, falling back in to a tie for 13th after a four-over-par 74. Here are the current standings there with prices to back at 8:30.

Rafa Cabrera-Bello -9 5.49/2
Stewart Cink -9 6.411/2
Ben Crane -9 9.617/2
Chad Campbell -8 12.5
Luke List -8 12.5
Kevin Chappell -7 11.521/2
Matt Jones -7 22.021/1
Chez Reavie -7 24.023/1
Daniel Berger -6 20.019/1
David Hearn -6 60.059/1
Whee Kim -6 60.059/1
Retief Goosen -6 65.064/1
-5 and 30.029/1 bar

The last three St. Jude Classic winners have all been in front with a round to go and the three winners previous all trailed by a solitary stroke through 54 holes. History tells us that this is an extremely hard track at which to make up ground and in stark contrast to the tournament in Europe, scanning too far down the leaderboard here looks futile.
.
Woody Austin won by five strokes, having trailed by four, ten years ago but he only sat fourth with a round to go and the clear leader, Adam Scott, completely blew up. He'd led by three after 54 holes but finished up seventh after a final round 75 and only one other winner has trailed by more than three strokes with a round to go in 28 years at TPC Southwind - Len Mattiace in 2002. He sat tied for ninth and seven adrift before firing 64 to win by one but even he was inside the top-ten after three rounds. Every winner at TPC Southwind, since the tournament moved there way back in 1989, has been inside the top-ten with a round to go so it's highly likely that the winner's listed above.
Using the historic stats narrows the field down to the top-12 on the leaderboard but it's still a really hard puzzle to solve.
The current favourite, Rafa Cabrera-Bello, makes no appeal at all and I even considered taking him on in the Top-5 market. The Spaniard is pretty hopeless in-contention. He converted from the front twice on the Challenge Tour, way back in 2006 and 2008, but on the last seven occasions he's led or co-led he's failed to convert and he's very often failed miserably to boot.
As stated yesterday, it's almost eight years since Stewart Cink last won so he looks worth swerving too and I'm going into the final round with more hope than expectation with halfway stab, Ben Crane. Again, as stated yesterday, he's been flaky in-the-mix of late, but he is fairly prolific, will perhaps benefit from not being in the final two-ball, and if I was forced to pick one of the leaders now, I'd definitely side with him.
Chad Campbell is far from the force he once was and he was never especially reliable in-contention anyway. His last victory came at the low-key Viking Classic ten years ago but at least he's won on the PGA Tour. Luke List, alongside Chad in a tie for fourth, won the South Georgia Classic on the Web.com Tour five years ago but that's it for him. He hasn't got an awful lot of experience in-the-mix and the closest he's come to winning on the PGA Tour was at last year's Sanderson Farms Championship, were he was beaten by four strokes having begun round four tied for the lead.
The three players tied for sixth and two off the lead, Kevin Chappell, Matt Jones and Chez Reavie, have all won one PGA Tour event each and if I were to suggest a name going into the fourth and final round it would be Chappell.
The 30-year-old Californian was impressive enough when getting off the mark at the Texas Open in April and if absolutely forced to put up a name it would be his but if the truth be told, this is as close as it gets to a no-bet heat and I'm happy to just cheer on Crane.
If you're planning on getting involved in Austria, remember the early start. The leaders tee off at 09:55 UK time and it's live on Sky Sports from 10:30.
I know there's still plenty of action ahead at this week's events but the US Open starts next Thursday and I'll be back this evening with my preview.

09:15 - June 10, 2017
The pre-tournament favourite at the Lyoness Open, Bernd Wiesberger, finished round one poorly but it was a completely different story yesterday when he birdied his last two holes to keep the leaders in sight. Here's the halfway leaderboard with prices to back at 9:10.

Felipe Aguilar -9 5.95/1
Graeme Storm -7 6.86/1
Oliver Fisher -6 16.015/1
Johan Carlsson -6 17.5
Bernd Wiesberger -5 4.3100/30
David Horsey -5 12.011/1
Zander Lombard -5 16.5
Sepp Straka -5 36.035/1
-4 and 30.029/1 bar

Kenneth Ferrie, in 2011, is the only course winner in the last seven years not to be inside the top-eight at halfway but like Ferrie, who sat tied for 18th at this stage, the 2014 winner, Wiesberger, who sat fourth, trailed by five strokes at halfway and the last two winners were both four adrift through 36 holes.
Joost Luiten converted from the front at halfway in 2013 and the halfway leader, Mikael Lundberg, converted 12 months later but only after he'd dropped five strokes adrift in round three and been matched at 200.0199/1 before round four. Being in front hasn't really been the place to be here and I don't fancy siding with the two leaders.
Wiesberger has to be considered carefully still and if he were to hang around and get his head in front tomorrow afternoon when it matters, I wouldn't be in the least bit surprised, but he's not for me. We saw on Thursday how quickly things can unravel with Bernd and I'm more than happy to leave him be.
I plan to trade the event more vigorously tomorrow and to look to take on anyone that goes odds-on but that hasn't stopped me having a couple of in-running plays today. Oliver Fisher looks too big at 16.015/1 and Zander Lombard is definitely interesting. The young South African very nearly won the Rocco Forte Open three weeks (lost a playoff to Alvaro Quiros) and he should be closer to the lead. He missed a couple of tiny putts on the seventh green on Thursday to make a triple-bogey seven and as a reaction to that he bogeyed the eighth but they're his only mistakes this week and he looks to be playing brilliantly.
If you want to get involved in Austria you need to get your skates on as the leaders tee-off in half an hour!
Over at the St. Jude Classic, my pre-event pick, Adam Scott, has put himself into the picture with a brilliant six-under par second round but he still trails the leaders by four. Here's the halfway leaderboard there with prices to back at 9.10.

Charl Schwartzel -9 4.47/2
Chez Reavie -9 9.89/1
Sebastian Munoz -9 23.022/1
Stewart Cink -8 10.09/1
Ben Crane -7 32.031/1
-6 and 11.521/2 bar

I don't like the look of this tournament at present and other than a tiny bet on Ben Crane, I'm going to leave it alone for now.
Dustin Johnson won here in 2012 having sat five adrift and tied for 18th at halfway but every other winner since 2008 has been inside the top-five at this stage, suggesting you can't come from too far back but I'm not too keen to side with any of the front five here.
Charl Schwartzel is clearly the man to beat given he's a vastly experienced major champion and that he's tied with an inexperienced 1000.0 chance, in the shape of Colombia's Sebastian Munoz, and a one-time PGA Tour winner, Chez Reavie, but Charl can be very frustrating in-contention and I'm happy to swerve him.
Stewart Cink is another major champ in-the-mix but he hasn't won anywhere since he beat Tom Watson in a playoff at Turnberry almost eight years ago and I'm more than happy to swerve him too.
The 2014 winner, Ben Crane, has been a bit flaky in-contention over the last few years and he hasn't won anywhere since he took this title but if the run of winners inside the top-five places at halfway is to be extended, he could be the player to do it at a decent price.
I can see the trend for up with the pace winners getting busted here and I can see why Adam Scott and Brooks Koepka, who both trail by five, are as short as 11.521/2 and 13.012/1 respectively. And I can even see course specialist, Phil Mickelson, who trails by six, getting involved as well but they can't afford too many mistakes now.
It's interesting to see that Koepka is a bigger price than my man Scotty this morning, given he was shorter before the off and they're both on the same score, but I can see why. And I can also see why Scott has shortened quite a bit in the US Open market. The world number 12 played some incredible golf yesterday and he could have very easily have shot two or three less had a few more short puts dropped.

11:10 - June 09, 2017
The second round of the Lyoness Open is underway and live on Sky Sports but I'm leaving the event alone for now. I'll have a good look at halfway but I'm quite happy to remain cautious. As highlighted in the In-Play section of the preview, we've seen three players trade at odds-on in round four in the last three editions and laying the favourites as the chaos ensues on Sunday could be the way to go, although I perhaps should have got the pre-tournament favourite in the book yesterday...
It's going to be interesting to see how the pre-event favourite, Bernd Wiesberger, fares this afternoon. He'll have his work cut out to catch the leaders with the wind up and he's got ground to make up after yesterday's debacle of a finish. He started brilliantly and was five-under-par through 11 holes, in front, and matched at just 2.526/4 but a scruffy end to his round saw him finish the day on two-under-par.
Over at the St Jude Classic, the big surprise on day one was the poor start by the in-form pre-tournament favourite, Rickie Fowler, who currently sits in a tie for 123rd after a four-over-par 74 in round one. He trails the leaders by ten shots and he can now be backed at 60.059/1 but I'm not remotely tempted. As highlighted in the In-Play section of the preview, up with the pace is usually the way to go here so I've gone through the leaders to see if I can find an early play.
Scott Brown, who sat third here and just a shot off the lead with a round to go in 2015 when finishing 12th, and Charl Schwartzel, who has played here only once (MC in 2010), were both players I looked at closely before the off. Brown is one of four men at the top of the leaderboard and Schwartzel sits tied fifth and just a stroke adrift but both look short enough this morning and the only bet I've struck is on the 2013 winner, Harris English.
He too was on my sizable shortlist but I didn't think he was playing well enough to be backed at the 95.094/1 he was trading at on Monday and Tuesday. I missed that he drifted right out to 150.0149/1 before the off - a price I may well have taken - but he looked fairly priced this morning. English sits alongside one of my pre-tournament picks, John Huh, in a tie for ninth on three-under-par and I thought 48.047/1 was a nice price.

Lyoness Open Pre-Event Selection:
Gaganjeet Bhullar @ 210.0209/1

In-Play Picks
Oliver fisher @ 16.015/1
Zander Lombard @ 16.5
Bernd Wiesberger @ 34.033/1
St. Jude Classic Pre-Event Selections:
Adam Scott @ 16.5
Smylie Kaufman @ 120.0119/1
Chris Kirk @ 130.0129/1
D.A Points @ 280.0279/1
John Huh @ 290.0289/1

In-Play Picks
Harris English @ 48.047/1
Ben Crane @ 36.035/1


*You can follow me on Twitter @SteveThePunter
Discover the latest articles