The Punter's In-Play Blog: Spieth poised to win again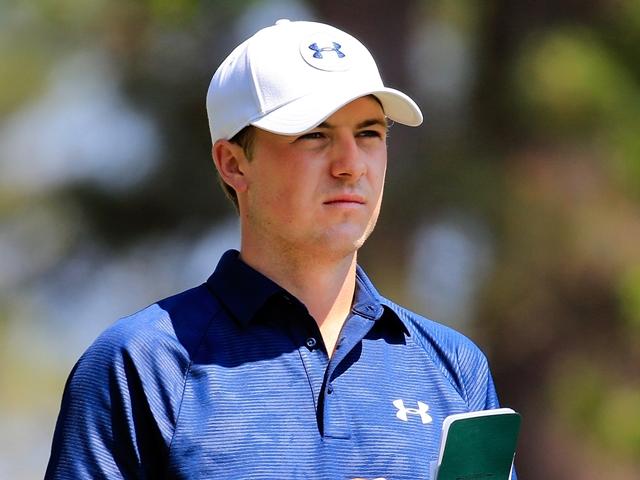 Jordan Spieth – two clear in Illinois and poised to win again
Steve takes a look at the state of play on either side of the Atlantic with just one round to go. It's an open looking affair in Scotland, where he fancies Joost Luiten is the value at 8/1 but it looks like a done deal at the John Deere, where Jordan Spieth has assumed command. Read his final in-play update of the week here...
"I'd be very surprised if Spieth doesn't convert. The world number two is currently trading at 1.625/8 and that certainly doesn't look too short."

09:00 - July 12, 2015
On a day when the likes of Justin Rose, Graeme McDowell and Shane Lowry tumbled out of the reckoning, it was impossible not to be impressed by the way halfway leader, Daniel Brooks, recovered from a double-bogey at the 1st to shoot an under-par round to stay ahead of the field at the Scottish Open. Here's the third round leaderboard with prices to back at 08:40.

Daniel Brooks -12 10.09/1
Rafael Jacquelin -11 10.09/1
Rickie Fowler -10 5.49/2
Tommy Fleetwood -10 8.88/1
Joost Luiten -10 9.28/1
Matt Kuchar -9 12.011/1
Russell Knox -9 18.017/1
Eddie Pepperell -9 21.020/1
Ryan Palmer -8 30.029/1
Miguel Angel Jimenez -8 40.039/1
-7 and 36.035/1 Bar

Classy American, Rickie Fowler, is a warm favourite at less than 5/1 and given he's not the most prolific, I'm more than happy to look elsewhere. Tommy Fleetwood, backed before the off, is the second favourite on the exchange, but I'm not convinced he should be. The Sportsbook has both Fleetwood and Joost Luiten at 8/1 and I think that's a more accurate reflection of their chances.
After opening up with a one-over-par 71, Luiten has shot rounds of 63 and 66 and I think he's the value now at 8/1. I've layed a bit of my Fleetwood wager back and backed Luiten and I've also had a small bet on Eddie Pepperell, who like Luiten, started slowly on Thursday. The Englishman opened up with a level-par 70 but has fired rounds of 66 and 65 since and if his finish at the Irish Open is anything to go by; he'll contend today on what looks likely to be a tricky blustery day. He was also tipped up before the off by my colleague Mike Norman in the each-way column here.
Over at the John Deere Classic, with an hour or so remaining of round three, we looked all set for a tight leaderboard to assess this morning but pre-event favourite, Jordan Spieth soon altered that. After birdying the par 3 16th, he holed out from the fairway on 17 for eagle and birdied the last for good measure. Having already been six-under-par through 15 holes, the incredible finish meant Spieth shot a career best ten-under-par 61and it's very hard to see him getting beat from here. He leads last week's winner, Danny Lee, by two strokes, with Justin Thomas, Shawn Stefani and Johnson Wagner a further shot adrift in a tie for third.
My man, Zach Johnson, is alongside Daniel Summerhays and Tom Gillis in a tie for sixth and four off the lead so he has a chance but I'd be very surprised if Spieth doesn't convert. The world number two is currently trading at 1.625/8 and that certainly doesn't look too short.
I'll be back tomorrow with my de-brief but in the meantime, in case you missed it yesterday, here's my Open Championship preview.

11:00 - July 11, 2015
Daniel Brooks, understandably matched at 1000.0 before the off, leads the Scottish Open by three strokes but it's wide open after that with 32 players within four strokes of each other. Pre-event favourite, Justin Rose, Graeme McDowell, Ryan Palmer and the well-fancied Shane Lowry are amongst the seven men tied for second. One of my picks, Tommy Fleetwood, who was also Paul Krishnamurty's each-way selection, is one of the five players tied for 8th and all sorts of quality names are lurking in a tie for 13th - Rickie Fowler, Matt Kuchar, Miguel Angel Jimenez and Joost Luiten for starters.
This looks like a minefield and with just enough wind to keep things interesting I can see all sorts of change occurring today. Those that liked Rose and Lowry before the off at 15.014/1 and 25.024/1 respectively will be tempted to go in again at 6.411/2 and 9.08/1 but the one that tempts me is Ryan Palmer.
The Texan has struggled to win in the States of late but here on the European Tour he may be more relaxed. He'll cope brilliantly with the constant troublesome winds forecast over the weekend and at 16.015/1 he looks a decent price. He's the one that tempts me most but in such a wide-open heat, I'm happy to play the waiting game.
I've got a really nice bet on Branden Grace for next week's Open Championship, having backed him back in February, so although it's nice to see him playing better yesterday - shooting a four-under-par 66 to move into a tie for 24th - I really don't want him to go in a week early. I managed to get a tiny bet on him matched up at 38.037/1 yesterday but it really is a just in case bet. A nice steady weekend and a top-ten will do nicely ahead of next week, so steady up Branden lad.
Having one you've waited with for months winning a week too soon would be frustrating enough but it wouldn't come close to the agony of watching Johnson Wagner win the John Deere Classic un-backed. I've backed the Texan umpteen times this year when I've felt he's been massively over-priced - including last week at 380.0379/1 - so seeing him fly up the leaderboard yesterday was particularly galling. I did look at him this week but I felt he wasn't quite big enough at around 200 points shorter than he was at the Greenbrier, I've had to back him now though, and not only for the sake of my sanity.
Justin Thomas leads on 12-under-par, one ahead of Wagner and Tom Gillis, with Will Wilcox, Scott Pinckney and Daniel Summerhays tied for 4th on 10-under-par, so it's not the strongest of leaderboards. The four players tied for 7th and four behind Thomas, Bryce Molder, Steve Wheatcroft, Robert Garrigus and Spencer Levin, wouldn't be considered huge threats and so at the 18.017/1 I took last night, I thought Wagner looked a value play, and not just a desperate sanity saving wager.
The dangers to Thomas are probably a bit further back with my pre-event selection, Zach Johnson amongst those tied for 11th and Jordan Spieth a further shot back in a tie for 17th and five off the lead.
Betting aside, I'd quite like to see Justin Thomas get his breakthrough here. He endured a torrid time of it last week when he hit the front at the Greenbrier so to see him bounce-back and win at the same event that his great friend and rival, Spieth, broke through two years ago would be very special. He's clearly straight out of the top drawer and he's going to win plenty with his powerful long game and magical putting skills but last week spooked me and I can happily let him go un-backed at around 5.59/2.
I'll be back very soon with my Open Championship preview and I'll return tomorrow with a look at the state of play with a round to go at both events.

10.30 - July 10, 2015
I'm enjoying watching the Scottish Open (currently live on Sky) but I haven't got too involved as yet. I had a very small bet on Phil Mickelson during the first round at 36.035/1, after he'd birdied the 10th to get back to level par, but it's probably just as well it was only a tiny wager - he's played seven holes so far in round two and he's still six off the lead.
I may have another close look as the morning draws to a close and if the wind starts to get up as forecast. There was a scoring differential of just 0.04 of a stroke between the morning and afternoon starters yesterday and those out on the course now should get the better of it. Anyone posting a decent score this morning before the wind gets up, could be in good shape. Justin Rose and Shane Lowry are at the head of the market right now and I can see why. The defending champ, Rose, is now tied for the lead and Lowry is just a stroke behind him.
Over at the John Deere Classic, hot favourite, Jordan Spieth, appeared a bit rusty in his first outing since winning the US Open and he may even have his work cut out to make the cut given he's currently tied for 101st after his opening level par 71. The slow start is nothing unusual though, in four starts at Deere Run he's now never broken 70, so his followers shouldn't give up just yet.
My sole selection, Zach Johnson, has opened with a very respectable five-under-par 66 but he still trails the first round leaders, Justin Thomas and Nicholas Thompson, by three strokes and I'm not assuming he'll make terrific headway when he tees it up in the morning today. With the temperature rising yesterday, scoring actually improved as the day wore on and unusually, the afternoon wave scored 0.51 strokes better than the morning starters.
I'm going to leave this alone for now and see what today brings but I'll be back in the morning with a good look at both tournaments at the halfway stage.
Scottish Open Pre-Event Selections:
Thongchai Jaidee @ 50.049/1
James Morrison @ 55.054/1
Tommy Fleetwood @ 55.054/1
Thomas Bjorn @ 140.0139/1

In-Play Bets:
Phil Mickelson @ 36.035/1
Branden Grace @ 38.037/1
Joost Luiten @ 8/1 (Sportsbook)
Eddie Pepperell @ 20/1 (Sportsbook)

John Deere Classic Pre-Event Selection:
Zach Johnson @ 14.013/1

In-Play Bet
Johnson Wagner @ 18.017/1

*You can follow me on Twitter @SteveThePunter
Discover the latest articles