The Punter's In-Play Blog: Can Laird save the week for Steve?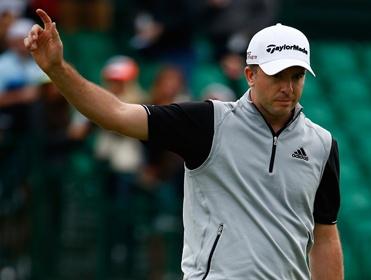 Martin Laird – three clear in Phoenix
Our man's done his dough in Dubai but can he claw some back in Phoenix? Read his final in-running instalment of the week here...
"On the PGA Tour since 1996, a total of 98 players have held a three shot lead and 52 of them have gone on to convert. Those stats suggest his chances of winning are around 50/50 so his odds of around 2.89/5 aren't unfair."
12:30 - February 1, 2015
The Dubai Desert Classic hasn't quite finished but it was as good as over yesterday. Rory McIlroy hasn't been anywhere near as impressive today as he has been all week but he hasn't had to be. Nobody has threatened his lead and he's three clear playing the last. Having layed him in the win market and in the Top 5 Finish market, it's been an unpleasant spectacle but hopefully I'll get a few bob back tonight...
With a round to go at the Phoenix Open, Martin Laird, who I backed at 32.031/1 after day one, holds a three shot lead. Here's the leaderboard with prices to back at 12:20.

Martin Laird -13 2.8415/8
Hideki Matsuyama -10 8.07/1
Brooks Koepka -10 10.09/1
Zach Johnson -10 10.519/2
Ryan Palmer -9 17.016/1
Justin Thomas -9 21.020/1
Jon Rahm -9 70.069/1
-8 and 20.019/1 Bar

Laird holds a commanding advantage but it's been far from easy to hang on here recently. Phil Mickelson won wire-to-wire two years ago but he's the only third round leader to win in the last five years and he's the only one to break par. Bubba Watson failed from two clear last year, Spencer Levin blew a five-stroke advantage in 2012 and both Tommy Gainey and Brandt Snedeker failed to convert a one shot lead in the two years before that.
Also against him is the way he played yesterday. It wasn't pretty at times and he very much owes his lead to a red-hot putter. If he plays as poorly today, it's hard to see him hanging on.
They're the negatives for Laird but on the plus side, since 1996, 18 players have held a clear lead here and nine have won and Laird has led four times with a round to go and converted twice.  On the PGA Tour since 1996, a total of 98 players have held a three shot lead and 52 of them have gone on to convert. Those stats suggest his chances of winning are around 50/50 so his odds of around 2.89/5 aren't unfair. 
If Laird is to fail, finding an alternative isn't easy - it's a very tight leaderboard. Of the three men tied for second, the experienced Zach Johnson looks the best value but the one I like at the prices on offer is Russell Henley at 46.045/1. Henley is in the large group of nine tied for 8th and five behind Laird but he knows how to win and he's more than capable of following up yesterday's six-under-par 65 with another low round.
I'll be back tomorrow with my De-Brief.

13:25 - January 31, 2015
The combination of a red-hot start from Rory McIlroy (he was five-under-par through eight holes) and a number of lacklustre efforts from his nearest challengers, has resulted in a Dubai Desert Classic that looks as good as over.
The scoring slowed up a bit today with the players reporting faster greens and a bit more wind but it didn't seem to affect Rory one iota. He missed a tiny birdie putt at the 10th and had to wait until the 17th hole for his next birdie but it was an extremely impressive round from McIlroy and having layed him in-running in both the win and top 5 finish markets, I've resigned myself to a loss.
I know we've seen some strange occurrences on the European Tour already this year, with Charl Schwartzel and Martin Kaymer both getting matched at 1.011/100 before losing, and I know the wind is set to blow a bit tomorrow but I just can't see Rory losing this now. He leads Denmark's Morten Orum Madsen by four strokes and Lee Westwood by six. 
Over at the Phoenix Open, Tiger Woods has finished dead last after shooting his worst ever round, an astonishingly bad 11-over-par 82. The second round hasn't quite finished yet and was suspended due to darkness but all the leaders got in, albeit only just. The new leader, Martin Laird, opted to finish up on 18 after the horn had been blasted and it may have cost him a stroke as he missed a par putt from six feet having birdied four of his previous five holes. Here's the leaderboard with prices to back at 13:00.

Martin Laird -10 4.94/1
Daniel Berger -8 24.023/1
Justin Thomas -7 12.011/1
Bubba Watson -6 7.87/1
Ryan Palmer -6 15.014/1
Ryan Moore -6 20.019/1
Zach Johnson -6 20.019/1
Robert Streb -6 21.020/1
Angel Cabrera -6 40.039/1
Graham DeLaet -5 29.028/1
K.J Choi -5 80.079/1
Geoff Ogilvy -5 85.084/1
Jordan Spieth -4 18.017/1
-4 and 48.047/1 Bar

With Rory running away with the Dubai Desert Classic, I'm now wishing I'd had more of a bet on Martin Laird yesterday but I really didn't see his cracking second round coming. With the benefit of hindsight, yesterday must have been ideal for a Scottish desert golf specialist. It's not often we see rain at this event but we did yesterday and with many obviously disliking the conditions, Laird thrived.
This is the fourth time that Laird has led at halfway in the States and he's fared fairly well in the past. He won on the web.com Tour in 2007, having been four clear through 36 holes, and he also converted from one clear at the Arnold Palmer invitational in 2011. He was only third at the Frys.com Open in October, having led by one but I think he's a fair price to convert here. 
Since the turn of the century, 30% of all 36 hole two-stroke leaders on the PGA Tour have gone on to win and the fact that he leads by two over a rookie is surely a big plus. And Justin Thomas in third, although a highly promising prospect, is also looking for his first win on the PGA Tour. 
Bubba Watson is the only other player trading at a single-figure price and he has to rate as Laird's biggest danger but another Scottsdale fan, Ryan Moore, also caught the eye.
Moore withdrew halfway through the Humana Challenge last week, citing a neck injury, so he was one to be wary of before the off but he could be one to side with now.  He was sixth last year and fourth in 2013 so he clearly loves the place and 20.019/1 is bigger than his High Street price and perfectly fair. I'm going to stick with what I have for now though and have another look tomorrow.
I did play one more in-running last night, Australia's Geoff Ogilvy at 90.089/1. He's not much shorter than that now after Laird's finish and he still looks a decent price.
14:10 - January 30, 2015
With three birdies in his last three holes, Rory McIlroy turned an ordinary day with the putter into a great one. He'd missed a few short ones on the back-nine and it looked as though a repeat of the frustrations suffered in Abu Dhabi was on the cards but he made three very nice putts at the end to take up the running. Here's the leaderboard with prices to back at 14:00.

Rory McIlroy -14 1.9420/21
Marc Warren -13 14.5
Graeme McDowell -12 13.012/1
Seve Benson -12 42.041/1
Lee Westwood -11 16.5
Stephen Gallacher -11 22.021/1
Danny Willett -11 24.023/1
Bernd Wiesberger -11 23.022/1
Andy Sullivan -11 46.045/1
-10 and 40.039/1 Bar

There's only one question here - to back or to lay Rory at odds-on? I've gone for the latter but I'm not convinced I've done the right thing.
I went against him in the Top 5 Finish market early on and was pleased to get him layed at odds-on in the win market, two thirds of the way through today's round. It looked a good move until he birdied his last three holes but now I'm not so sure.
On the plus side, his record here over the weekend isn't great at all. He led here last year but shot 69 and 74 in rounds three and four, to slip to ninth, and he was in front at this stage in his two previous visits too.
In 2012, he shot 72 and 71 and a year earlier he hit weekend rounds of 75 and 74. And even when he won his first ever event here in 2009, he only just got just home with a final round of 70 - his best ever fourth round here. He'd led by six strokes on the back-nine at one stage but won by just one! He's a player that's still improving so he could put those poor weekend rounds behind him but if like me you're taking him on, it's certainly a plus. As I'd also hoped the weather would be.
My theory on why Rory struggles at the Emirates as the tournament progresses is that he's so much better in easier conditions. Most years, as the week moves on the greens get faster and harder to hold and it just gets that bit harder. I could be completely wrong but even if I'm right, the distinct lack of wind is a negative.
The players are commenting on how easy the course is playing and the forecast doesn't look too bad over the weekend now. There'll be a bit more breeze tomorrow and it's set to blow harder still on Sunday but whether it's enough to blow Rory of course is highly debatable. And another factor in his favour is the presence of Graeme McDowell.
The pair will try and have us all believe that all is dandy between them but I can't have that for a second. Do you know anyone that remains mates with someone that takes them to court? No, nor me. If they play in two balls tomorrow they'll avoid each other but if its three-balls, which it may well be with such a large cut, then the two will play with Marc Warren and I think that'll inspire Rory even more. 
I'm a bit frustrated I've spent all morning tracking the market to try and get the best I can and that those three birdies to finish have meant I really needn't have bothered. I'm also miffed the forecast has improved a bit (it was set to blow harder) and I'm wary of both how well Rory is playing and the presence of G-Mac but I'm happy enough to take him on still.  His record here over the weekend is so bad I feel I simply have to.
Although Phil Mickelson recovered well after a really slow start at the Phoenix Open, it was a bit of a disappointing first day in the end for my picks.
Shawn Stefani looked set to lead the event after the first round when he boarded the drivable par 4 17th tee on six-under-par but he drove into the water and made a double-bogey six and J.B Holmes messed up after a great start. The two-time event winner raced to four-under-par after nine holes but then he double-bogeyed the 2nd hole and bogeyed the easy par 5 3rd.  
Holmes did recover, and he ended the day on -3, four behind the early leader, Ryan Palmer, so all three are most certainly still in what looks a very competitive event still.
I've also had a very small bet on Martin Laird now at 32.031/1 and I've also layed the leader in the Top 5 Finish Market.
Laird was on my rather lengthy shortlist before the off so I thought I'd have a saver on him but his second round scoring record here tempered my enthusiasm. He's only once broken 70. It looks really tough to call here and I'm more than happy to let things roll for now but at just 2.466/4, I thought Palmer was worth taking on in the Top 5 Finish Market. He's led after round one nine times on the PGA Tour and he's only placed twice. 
I'll be back tomorrow after the third round in Dubai.

16:50 - January 29, 2015
A bogey at the 9th, his final hole of the day, looked to have cost pre-event favourite, Rory McIlroy, a share of the early lead at the Dubai Desert Classic but Bernd Wiesberger, playing in the afternoon wave, gazumped everyone with an eight-under-64. Lee Westwood, Nicolas Colsaerts, Peter Uihlein and Andy Sullivan all sit one behind Wiesberger and McIlroy is amongst a group of seven players tied for sixth.
It was a largely disappointing day for my picks. Branden Grace looked like he was picking up from where he left off in Qatar last week when he reached three-under par through nine but he made numerous errors on the front nine, his second nine, dropping four strokes. My outsiders struggled also and Louis Oosthuizen didn't even start (he withdrew with a back injury) but my each-way selection, Stephen Gallacher, didn't fare too badly. He's one of the seven players tied for sixth and two behind Wiesberger.
It's a tight and competitive early leaderboard but I've added to my wagers, having a small bet on South Africa's Hennie Otto at what I thought looked a too big 95.094/1 and I'm hopeful of going against Rory in the Top 5 and Top 10 markets too but so far, I've only managed to get a small lay matched in the Top 5 market.
Rory always starts well here and his stroke average on day one is now a magnificent 66.88 but his averages get progressively worse and year after year he flatters to deceive. His average score in round two is 69.87, in round three its 70.4, and his final round average is a whopping 73. For whatever the reason, Rory always tends to struggle here as the event goes on and he's never broke 70 on day four.
The Phoenix Open is underway now and live on Sky at 20:00 but it's far too soon for me to get involved in-running so I'll be back tomorrow at the conclusion of round two in Dubai.

Dubai desert Classic Pre-Event Selections:
Stephen Gallacher @ 29.028/1 (small saver bet)
Branden Grace @ 30.029/1
Louis Oosthuizen @ 40.039/1 (Non-Runner)
Alvaro Quiros @ 160.0159/1
Michael Hoey @ 410.0409/1

In-Play Bet
Hennie Otto @ 95.094/1
In-Play Lays
Rory McIlroy @ an average of 1.51/2 (Top 5 Finish)
Rory McIlroy @ 1.9420/21

Phoenix Open Pre-Event Selections:
Phil Mickelson @ 29.028/1
Shawn Stefani @ 110.0109/1
J.B Holmes @ 130.0129/1
Tony Finau @ 160.0159/1
Ben Crane @ 210.0209/1
In-Play Bets
Martin Laird @ 32.031/1
Geoff Ogilvy @ 90.089/1
Russell Henley @ 46.045/1
In-Play Lay
Ryan Plamer @ 1.4640/85 (Top 5 Finish)

*You can follow me on Twitter @SteveThePunter
Discover the latest articles