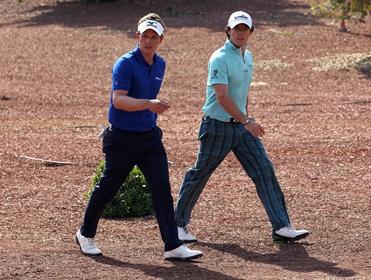 Rory and Luke, side-by-side in Dubai
It's Luke or bust for Steve with a round to go in Dubai, where it looks like a two-man tussle for the title...
"Fingers crossed, we should be treated to a tremendous duel tomorrow and on today's evidence, it's a real coin toss."
16:25 - November 23, 2012
With a round to go at the Race to Dubai finale, the DP World Tour Championship, the first two in the official world rankings, Rory McIlroy and Luke Donald, share the lead on -17 with South African pair, Louis Oosthuizen and Charl Schwartzel, tied for third and three shots back. 

I'd be surprised if one of the front two didn't win, and as there's a further gap of two to those tied for 5th, Branden Grace and Joost Luiten on -12, I'd be very surprised if it wasn't one of the front four.

I haven't much to report, as I haven't traded at all since my last update and entering the final round, looking at what I stand to win should Donald prevail and how much I'd lose should he fail, I've effectively backed him at around [3.75]. 

My pre-event picks have all been woeful and it looks as though I've squandered a few quid on all my other in-running picks - although if the front four are to flop, Grace is the most likely benefactor.

Fingers crossed, we should be treated to a tremendous duel tomorrow and on today's evidence, it's a real coin toss. Donald played well and his score fairly represented his play, whereas Rory was possibly a smidgen fortunate to find his ball in the clear after a couple of very wayward drives, but I'm nitpicking. 

Donald has now gone 100 holes around the Earth Course without making a bogey and when told of the feat, Rory quipped "He's due one then!" Maybe he is but will he make one? At the risk of putting the mockers on him, he appears to have his game under total control and you'd have to think he can shoot at least three or four under tomorrow quite comfortably. 

The market favours Rory and rightly so. His length off the tee gives him a considerable advantage here and providing he's feeling better (he hasn't felt well this week) and that he plays well tomorrow, in theory, he should overpower the consistent Donald but we'll see.  
14:15 - November 23, 2012
It's been an irritating morning all round really at the DP World Tour Championship. I've been in a strop for most of it and that's mainly because I know I should have backed Branden Grace before now - though there are other factors. I'm finding the course extremely dull and I maybe shouldn't even start on how bad the scoring is, but I will...

The leaderboard has been ridiculously unreliable, with just about every player having their scores altered at some point, and often more than once but it's not surprising. Someone told me on Twitter last night that they have teenagers updating the scores and teenagers that don't seem to grasp the game either! It renders betting in-running an even more perilous pursuit than normal but I wish I'd just dived in on Grace anyway.

I had a very decent bet on Branden at the South Africa Open last week and I wanted to back him in-running today but his score was altered three times so I held off, and by the time Sky showed him on the course he was trading too short for my liking at around [11.0], but I'm onboard now at [17.5].

After the leaders suffered a frustrating day on the greens, with Rory missing a number of short putts early on and Luke Donald also spurning plenty of chances, Grace's seven under par 65 has seen him close to within one of the lead, held by Rory, Donald and Marc Warren on -11. Alongside Grace is Louis Oosthuizen, with Charl Schwartzel and Richie Ramsay tied for 6th on -9. I'm really quite surprised that Grace is as big as [17.5] and although I'm far too late to the party, I've had to back him now at that price.

Maybe I was too one-dimensional in my thinking yesterday, concentrating solely on the leaders. Time will tell, but I definitely should have backed Grace, either before the off at triple figures or yesterday at [150.0]. The moral of the story is, if you've steamed into someone one week and they're ten times the price the following week, have at least a saver. 

Rory's still favourite and rightly so. Both he and Luke weren't at their best today and yet both are still leading and as the betting suggests, it's highly likely that the pair will fight out the finish. 

14:05 - November 22, 2012
Europe may have retained the Ryder Cup, but with the likes of Martin Kaymer, Peter Hanson and Nicolas Colsaerts, to name but a few, all committing their futures to the PGA Tour next year, the Race to Dubai is finishing under a bit of a cloud, so George O'Grady, Chief Executive of the European Tour, will be delighted that this season's finale has been set-up so nicely after day one.

Last year's Race to Dubai winner, Luke Donald, leads by one over three players, Gonzalo Fernandez-Castano, Marc Warren and this year's champ, Rory McIlroy, and for good measure, Louis Oosthuizen, Lee Westwood and Martin Kaymer are amongst the group lurking two off the lead on -5. Bring on tomorrow.

I highlighted in the preview that the three winners of this event to date have all been up with the pace early on and I'd be very surprised, given the quality up in the van already, if anyone from outside the top-10 after round one was able to win. And that's not good news for my pre-event picks...

I was supremely confident about Paul Lawrie's chances this week, so to say it was disappointing to see him double-bogey the 1st hole is a sizable understatement. He ended the round on -1 but I've given up on him already. As I have on all of mine bar Thongchai Jaidee, who shot an opening 68. He's one of ten players tied for 11th.

Given history suggests that a fast start is essential, my plan was to get involved in-running fairly early and I've already backed four players. Gonzo and Fredrik Andersson-Hed were both backed after they'd finished their rounds (Andersson-Hed shot -5), Donald was backed after he'd birdie the 7th to get to -2, and I've just added Kaymer to the portfolio.

With Rory starting slowly, a couple of groups behind him, I was pleasantly surprised to be able to load up on Luke at the same price he'd traded at on Monday and Tuesday. He'd drifted before the off for some reason and went off at around [14.0] but I thought [12.0] was perfectly fair when I backed him, given how well he appeared to be playing. 

I had mixed emotions about his birdie at the 8th. I was pleased to see him make it but at the same time, I really wanted to get a bit more on him and I felt my chance had gone but when he was next sighted playing his third shot on the tricky par 4 9th hole from the fairway, his price spiked again and I was thankfully able to back him further. 

My pre-event picks had been poor but I was certainly getting some luck in-running. Donald stroked in the par save and birdied four of the next five holes, and he missed a tiddler on the 16th too. A rarity indeed when you look at his putting stats...

Donald tweeted these very impressive figures last night,
"A lot of people finding it hard to believe that I holed out just over 90% from inside 10 feet on the PGA Tour this year, here's the breakdown 3' and less 484/485 4' 108/112 5' 52/61 6' 38/50 7' 29/39 8' 17/38 9' 13/25 10' 20/34 Total 762/843 = 90.2%"

He could hardly contain his smile when interviewed afterwards and he's clearly happy about his lot. This course suits him well and he spoke about how he'd started slowly last year, suggesting that he perhaps wasn't fully focussed, worrying about whether Rory could catch him in the R2D. He performed a minor miracle to get third after opening with 72 12 months ago, let's see what he can do after starting with 65.

As stated, Rory started slowly and looked a little rusty to begin with but despite finding water on the par 5 final hole, he finished brilliantly and if I'm going to collect on Luke, I need Rory to slow-up. If he plays the rest of the tournament like he played the back-nine today, he'll win. 

Rory and Luke understandably dominate the market, with Louis and Lee Westwood next best at [10.0] and [11.0] respectfully. I was going to leave it alone until tomorrow but I can't leave Kaymer at [14.5]. Those three are all on the same score but for my money, Kaymer is the most reliable closer and he could just be peaking at the right time. 

I'm happy with my in-play bets so far but as the Sky coverage suggests, it's all about Rory. I need him to slow up tomorrow and it's not out of the question. He opened up with 66 last year too, but then shot three 71's. I can't see that happening this time around but I'll have my fingers crossed. 

Pre-Event Selections:
Paul Lawrie @ [46.0]
Bernd Wiesberger @ [110.0]
Pablo Larrazabal @ [130.0]
Miguel Angel Jimenez @ an average of [150.0]
Thongchai Jaidee @ [250.0]
Michael Hoey @ [540.0]

In-Play Bets
Luke Donald @ [12.0]
Martin Kaymer [14.5]
Gonzalo Fernandez-Castano @ [50.0]
Fredrik Andersson-Hed @ [60.0]
Branden Grace @ [17.5]