The Punter's In-Play Blog: Too tight to call at Sawgrass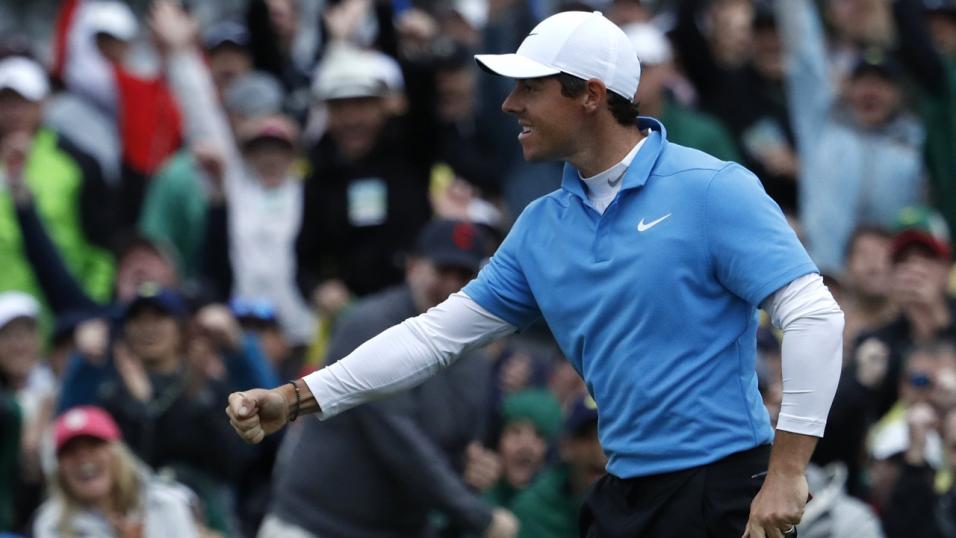 Rory McIlroy - second behind Jon Rahm with a round to go at Sawgrass
Jon Rahm has jumped in to the lead at the Players Championship but will he convert his first 54-hole lead on the PGA Tour? Our man gives his thoughts ahead of round four here...
"I've really enjoyed the Players Championship so far and, bets aside, I'll be cheering on Fleetwood tonight. He's such a likable character and a win here could elevate his career tremendously but I can't trust him enough to back him. And the same can be said of Rory."
12:40 - March 17, 2019
I'm not having the best of weeks so far, with Ian Poulter being the latest selection to fall by the wayside. Having backed him before the off at [80.0], I thought he might give me a real run for my money when he hit [8.4] on Friday but I soon knew my fate with him on Saturday when this happened on the par four fourth...
The 4th hole is short but has plenty of bite. pic.twitter.com/P7wdDQBY7O

? PGA TOUR (@PGATOUR) March 16, 2019

Despite the Poulter capitulation that followed that triple-bogey seven, I still enjoyed the third round and there was plenty of entertainment. Jim Furyk taking an age to play his second from an extremely precarious narrow stance adjacent to the sleepers on 18, before eventually chipping out with a wedge, was a will he won't he fall in for a while but the highlight of the day was provided by Kevin Na and Tiger Woods on the 17th green...
Maybe the best thing you'll see today pic.twitter.com/REIKqLc8wc

? Golf Channel (@GolfChannel) March 16, 2019

Then after all that, we got to witness a quite fabulous comeback by Tommy Fleetwood. I wrote at length yesterday about how terrible Fleetwood's been performing in third rounds in-contention of late and when he began yesterday's round with a double-bogey six, it looked like business as usual. He bounced back to birdie the second but two more bogeys followed at four and seven and he drifted out to almost [20.0]. Given what had gone before, Fleetwood falling away looked highly likely but he was having none of it and he played the last 11 holes in a bogey-free five-under-par.
That was a great finish but the best round of the day belonged to Jon Rahm, whose eight-under-par 64 has seen him jump to the top of the pile. Here's the 54-hole leaderboard with prices to back at 12:30.
Jon Rahm -15 [3.35]
Rory McIlroy -14 [3.6]
Tommy Fleetwood -14 [4.8]
Jason Day -12 [11.5]
Abraham Ancer -11 [46.0]
Dustin Johnson -10 [28.0]
-10 and [90.0] bar
The stats suggest we need to be concentrating on the leaders. We've only seen two men win at Sawgrass from any further back than three strokes this century but both victories were easy to explain. Fred Funk won from four back in the foulest of conditions in 2005 and Henrik Stenson won from five adrift in 2009 but he sat second with a round to go and his four-stroke victory was greatly aided by the collapse of the 54-hole leader, Alex Cejka.
The weather forecast suggests plenty of rain and moderate to fair winds (11 knots - gusting to 15 knots) and if it transpires to be worse than that, we could see someone posting from off the pace. I've thrown a few pounds at Brandt Snedeker and Keegan Bradley at big prices just in case.
I thought the Wyndham Championship was the best angle-in and Snedeker won last year's edition so I couldn't leave him out and all four of Bradley's PGA Tour titles have come from off the pace. Neither will mind how bad the weather gets and I thought they were just about worth chancing at around 100/1 given they only trail by five but I suspect one of the front four will win.
I've really enjoyed the Players Championship so far and, bets aside, I'll be cheering on Fleetwood tonight. He's such a likable character and a win here could elevate his career tremendously but I can't trust him enough to back him. And the same can be said of Rory. Again, I wrote about his final round failings in last week's De-brief and I definitely don't want to side with him either. Rory's been within three of the lead 14 times since he won the Tour Championship in 2016 and only once has he gone on to win.
The 2016 Players Championship winner, Jason Day, is nicely poised and arguably the value play, but he'll struggle to catch any of the front three if they play well and so I'm reluctantly swerving him too. There's just not quite enough juice in there at [11.5].
Jon Rahm is the man to beat. He's enjoying the soft conditions but he needs to back up a low round (notoriously hard to do) and this is the first time he's ever held a clear lead on either the European or PGA Tour. And one last little negative...six of the last players to hold a clear 54-hole lead at Sawgrass have been beaten. He's the right favourite and a reasonable price but I'm more than happy to let him win unbacked.
This is set up brilliantly and it's bound to be entertaining but it doesn't look like a heat to throw too much cash at. It looks very tricky so I'm going to just sit back, enjoy the drama, and cheer on Tommy.
I'll be back tomorrow with the De-brief but in the meantime, the final round of the Kenya Open is drawing to close on Sky Sports. The leaders are on the back-nine and it's still a hard event to call.

16:20 - March 16, 2019
A late run from Rory McIlroy in round two saw him finish eagle-birdie-par to join Tommy Fleetwood at the top of the leaderboard and to gazump him at the head of the market. Here's the 36-hole leaderboard with prices to back at 14:10.
Rory McIlroy -12 [2.78]
Tommy Fleetwood -12 [4.5]
Ian Poulter -9 [22.0]
Jim Furyk -9 [46.0]
Abraham Ancer -9 [46.0]
Brian Harman -9 [65.0]
Jason Day -8 [19.0]
Kevin Kisner -8 [42.0]
Keith Mitchel -8 [50.0]
Dustin Johnson -7 [16.5]
Jon Rahm -7 [30.0]
-7 and [75.0] bar
This a fabulous leaderboard but not the easiest to assess. Frontrunners have a great record here and being up with the pace is often the place to be. Si Woo Kim sat 16th and six back at this stage two years ago, Tim Clark was 23rd and seven back in 2010 and Tiger Woods sat eighth and six back in 2001 but every other winner this century has been within four through 36 holes and 15 of the 19 winners since 2000 have sat first, second or third with two rounds to go.
That suggests we can't go scanning too far down the leaderboard and that we should probably be focusing on Rory and Tommy but neither man has been convincing of late.
I looked at Rory's recent in-contention woes in Monday's De-brief here and he certainly has something to prove this weekend. And it's déjà vu for Tommy who's third round efforts have been appalling...
Since winning the first of his two Abu Dhabi Championships in 2017, Fleetwood has sat inside the top-five places at halfway 14 times and he's fallen down the leaderboard on Saturday on 12 occasions. He remained in third place between rounds two and three before going on to win the Open de France in July 2017 and he moved forward from fifth to second at the Hong Kong Open in November last year but he fell to 14th in round four. Although, in his defence, he wasn't in with much of a chance there given he trailed the eventual winner, Aaron Rai, by six with a round to go. He also bounced back after dropping from third to fourth to defend his Abu Dhabi title but those three efforts apart, Tommy has put in a couple of shocking third rounds, including last week!
Having led the Alfred Dunhill Championship at halfway in 2017, he finished 25th. In May last year, he shot 77 in round three at the BMW PGA Championship having been fourth and four off the lead at halfway. He shot 78 at the US Open after shooting 66 in round two in June last year. He fell from third and one back at the Open Championship to finish 12th with weekend rounds of 71 and 73. He led the WGC-Bridgestone Invitational at halfway after a 63 in round two but weekend rounds of 74 and 71 saw him tumble to 14th. He fell from fourth at halfway to 24th at the Dell Technologies in September, second to seventh at the WGC - HSBC Champions, and only last month in Mexico, he finished 16th having sat fourth at halfway after a pair of 72s on the weekend.
He had a great chance to put all that behind him at the Arnold Palmer Invitational last week when he and Keegan Bradley led by four at halfway but he shot 76 to drop to 11th before a 68 in round four saw him finish third - beaten by three.
I wrote in yesterday's update that I was quite keen on Tommy to gain redemption here but rather stupidly I tried to see if I could get bigger than the [8.0] he traded at - thinking (wrongly) that he'd drift before his tee-time. His price went the other way and he was around [7.0] when he began his second round but when he started it birdie-eagle-birdie I was never going to get on at a price I wanted.
I really don't want to get with Rory at less than 2/1 and I've got to leave Tommy out at [4.5] too. The stats very much suggest that one of them will win but I can't trust either at those prices. Dustin Johnson, Jason Day and Jon Rahm are quite well-fancied but trailing by five, four and five strokes respectively, they don't make much appeal either so I'm going to stick with what I have and add two more...
I went to bed with pre-event pick, Ian Poulter, safely on the fairway on the par five ninth, when trailing by two, and I thought he might close to within one but instead, he bogeyed the hole but I can't complain. His six-under-par 66 was a great round and he's nicely positioned. And I was pleasantly surprised by outsider Keith Mitchell's 65 to get to within four. They both have outside chances if the leaders wobble and the same can be said of the players alongside Poulter in a tie for third - Brian Harman, Abraham Ancer and Paul Krishnamurty's Jim Furyk. I've added all three at juicy prices.
It's been a good week already for Paul's Find Me a 100 Winner column with both Furyk and Byeong Hun-An hitting their first lay back targets.
The third round of the Kenya Open has just finished and as much as I've enjoyed the venue, I haven't enjoyed how my picks have played today. Each-way selection, Stuart Manley has had a disaster, saver in-play pick, Justin Harding, has been disappointing and Louis De Jager, who I backed at [3.55] when he led by four at halfway, now trails by one after a very up-and-down round three. I need a bounce-back from him but I'm leaving the alone now. I've made my bed and I'm going to have to lay in, no matter how messy it now is!
I'll be back tomorrow with a last look at the Players Championship before the fourth and final round.
16:20 - March 15, 2019
We've reached the halfway stage of the Kenya Open so here's the latest leaderboard with prices to back at 16:15.
Louis De Jager -12 [3.5]
Adri Arnaus -8 [7.4]
Jack Singh Brar -8 [22.0]
Justin Harding -7 [7.2]
Gaganjeet Bhullar -7 [11.5]
Guido Migliozzi -7 [36.0]
Stuart Manley -6 [32.0]
Liam Johnson -6 [40.0]
-5 and [32.0] bar
As highlighted in the preview, frontrunners have done well here of late. Michael Palmer won the Karen Masters on the Sunshine Tour in soaking wet conditions having sat fifth, trailing by three, last year but the previous nine course winners were all either first or second at halfway suggesting the leader, Louis De Jager, with a four-stroke advantage, is a very fairly priced at in excess of 2/1.
De Jager looks to be in his prime at 31 and he's looking for his third win in ten starts. He's won five times on the Sunshine Tour and the Pretorian spoke after his round today about how comfortable he is here and how much like home it feels. He might just take some stopping and I'm happy to take a chance on him at [3.55].
Rising Spanish star, Adri Arnaus, has far more scope than the leader, or anyone else in the field in all probability, and he'll be a popular choice with many but I'm not convinced he's quite ready to break his European Tour duck. He finished brilliantly today, coming home in 30, but he started poorly and he lost his way in-the-mix last week in Qatar. I wouldn't be in the least bit surprised to see him win but last week's winner, Justin Harding, looks a more sensible proposition.
Harding won back-to-back titles in May last year, before finishing sixth, first, 18th and first in his next four starts so he clearly stays hot when he gets hot. He started a bit slowly (understandably) yesterday but played nicely this morning to close up and I've had a small cover bet on him.
My each-way pick, Stuart Manley, has moved on to the fringes of contention and he may well place but I fancy the winner could already be in front.

10:50 - March 15, 2019
The opening day has ended at the Players Championship but the first round hasn't quite been completed. Almost the entire field finished their first rounds but play was suspended due to darkness with Anirban Lahiri still left with a three-foot par putt to take on the 18th. That's frustrating because we don't have any in-running stats to look at but we do have a leaderboard with prices to back at 10:45...
Tommy Fleetwood -7 [8.0]
Keegan Bradley -7 [15.5]
Byeong Hun-An -6 [22.0]
Brian Harman -6 [70.0]
Rory McIlroy -5 [10.0]
Ryan Moore -5 [50.0]
Vaughn Taylor -5 [170.0]
-4 and [14.5] bar
As highlighted in the In-Play Tactics section of the preview, a fast start is beneficial here and three of the last five winners have won wire-to wire. As many as 15 of the first 45 victors were in front after the first round and it's going to be interesting to see how the two leaders cope this week. Better than last surely?
Tommy Fleetwood and Keegan Bradley sat tied for the lead and four clear of the remainder at the halfway stage of last week's Arnold Palmer Invitational but they both endured awful third rounds. Fleetwood bounced back to finish third but Bradley slumped to 46th.
I'm quite interested in Fleetwood. I think he'll be inspired by his good mate, Francesco Molinari's victory last week and I think he's capable of learning from last week but I'm going to wait and see what happens with the morning wave before backing him. He'll probably drift a bit as the early starters pass him and I'd be surprised if he shortened up before he kicks off round two 17:17 UK time.
I have had one in-play wager already though - on Ryan Moore @ [55.0] - who did this at the 17th yesterday.
The PERFECT shot into the Island Green.@ryanmoorepga's HOLE-IN-ONE on has to be a contender. #MustSeeMoments - https://t.co/sX50naq5OH pic.twitter.com/25uepxM7Tc

? PGA TOUR (@PGATOUR) March 15, 2019

As highlighted in the preview, I really like the Wyndham Championship angle-in and like six previous winners at Sawgrass, Moore is also a winner at Sedgefield Country Club.
Paul Krishnamurty's Find Me a 100 Winner pick, Byeong Hun-An, has started very nicely and if he gets off to a decent start today, he could hit Paul's lay back target of [10.0].
The second round of the Kenya Open is well underway and South African, Louis De Jager, is leading having just completed his second round. I'll return late this afternoon if I get involved in-running but for now it's just a watching brief. And an enjoyable watch too. The course is great and a very welcome addition to the European Tour schedule.
Kenya Open Pre-Event Selections:
Shubhankar Sharma @ [36.0]
Haydn Porteous @ [44.0]
Stuart Manley @ 100/1
Players Championship Pre-Event Selections:
Francesco Molinari @ [29.0]
Ian Poulter @ [80.0]
Matthew Fitzpatrick @ [100.0]
Lucas Glover @ [100.0]
Keith Mitchell @ [150.0]
In-Play Picks:
Louis De Jager @ [3.55]
Justin Harding @ [7.2]
In-Play Picks:
Ryan Moore @ [55.0]
Jim Furyk @ [46.0]
Abraham Ancer @ [48.0]
Brian Harman @ [65.0]
Brandt Snedeker @ [95.0]
Keegan Bradley @ [110.0]
*You can follow me on Twitter @SteveThePunter