The Punter's In-Play Blog: Is Noren poised to defy the stats?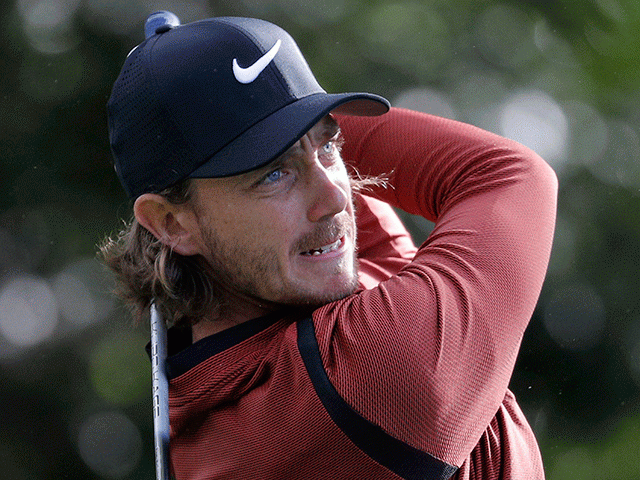 Tommy Fleetwood – the narrow favourite in France with a round to go
With just a round to go at the Open de France and the Quicken Loans National both events are tough to call so read our man's final in-play thought for the week here...
"Given Martin Kaymer, who I backed after round one, and Felipe Agular, who was added at halfway, both double-bogeyed the first hole immediately after I'd backed them, I perhaps ought to take the hint and walk away but I thought Alex Noren looked worth a bit of interest at 28.027/1."
09:55 - July 2, 2017
Having been tied for the lead through 36 holes, Spain's Adrian Otaegui fell out of the places on a tough day at Paris National yesterday but three of the top-four at halfway now occupy three of the top five places with a round to go at the Open de France. Scoring was tough and three-under-par was the best anyone could muster on a day when wind and rain took their toll. Peter Uihlein's level par third round was enough to see him remain tied for the lead but with Otaegui dropping away, the American now sits alongside Paul Krishnamurty's terrific Find Me a 100 Winner pick, Alexander Bjork, who was one of just 14 players to break par. Here's the third round leaderboard with prices to back at 9:40.

Peter Uihlein -8 6.611/2
Alexander Bjork -8 8.88/1
Tommy Fleetwood -7 5.14/1
Thomas Pieters -75.85/1
Andy Sullivan -7 7.613/2
Bradley Dredge -6 21.020/1
Ross Fisher -5 24.023/1
Paul Waring -5 60.059/1
Adrian Otaegui -5 75.074/1
Alex Noren -4 27.026/1
-4 and 55.054/1 bar
The forecast suggests a slightly easier day today. The wind doesn't look like it will blow quite as hard as yesterday and there'll be less rain. It's hard to envisage a barrage of birdies though and I suspect we'll see players slipping away rather than charging forward.
Third round leaders and co-leaders don't have a brilliant record here of late. Thongchai Jaidee turned a two-stroke 54-hole lead into a four-stroke win last year but he was only the second third round leader or co-leader to win in eight years, although making up lots of ground is very difficult.
I've looked back to 1990 and making up lots of places is very tough. Graeme McDowell, who had been tied for the lead when he won in 2013 was seventh and eight strokes adrift through 54 holes when he defended a year later but Kevin Stadler, who had led by four after three rounds, helped G-Mac considerably by shooting 76 on Sunday.
In addition to G-Mac's come-from-behind win in 2014 we've seen Paul Broadhurst win from four back (1995) and Graeme Storm from five adrift (2007) but they only sat tied third and tied eighth respectively and nobody from outside the top-eight places after three rounds has won the tournament since at least 1990. Golf National first became the host course in 1991 so nobody has ever won here from outside the top-eight places with a round to go.
Given those stats, the not especially favourable weather forecast and the fact that three-under-par was the best anyone shot yesterday, I really don't think we can scan too far down the leaderboard but picking the winner is still hard. Tommy Fleetwood and Thomas Pieters are the pair most likely to win and at the prices on offer I'd rather chance Dan Geraghty's man Pieters but I'm more than happy to pass them both over.
My opinion on most of the leading candidates is much the same as it was yesterday and they all look vulnerable to varying degrees. The new men in-the-mix today are Andy Sullivan and Bradley Dredge and I much prefer the former. Dredge just doesn't win enough.
Sullivan's record in-contention is pretty decent and he looks a fair price. It's been a while since he found himself this close to the lead on a Sunday though and he might be a bit rusty, so after much deliberation I'm going to pass him over too and make just one more small in-play pick.
Given Martin Kaymer, who I backed after round one, and Felipe Agular, who was added at halfway, both double-bogeyed the first hole immediately after I'd backed them, I perhaps ought to take the hint and walk away but I thought Alex Noren looked worth a bit of interest at 28.027/1.
The Swede is tied 10th so he needs to break the trends to win but he's only four strokes adrift and he's made up ground to win both of his last two European Tour titles. Although only tied for fourth after three rounds at the Nedbank Challenge in November last year, he was trailing by six and when he won at Wentworth in May he came from seven back and outside the top-20 places so we know he's capable of making up ground. Incredibly, he won the Nedbank by six and the BMW PGA Championship by two so both those victories were achieved with a bit to spare and he might just be the one today when I can't really fancy any of the leaders strongly.
Over at the Quicken Loans National, frustrated US Open fans are finally getting their fix. TPC Potomac is proving to be a real test and those that missed the traditional US Open grind at Erin Hills a fortnight ago are getting it here. Finding fairways has been vital to good scoring and it was an errant driver that saw halfway leader, David Lingmerth, struggle yesterday. His three over-par 73 didn't prove to be too disastrous with nobody going low and with his nearest challenger, Geoff Ogilvy, shooting four-over he still holds sway with a round to go. Here's the latest state of play with prices to back at 09:45.

David Lingmerth -7 2.747/4
Daniel Summerhays -6 5.14/1
Spencer Levin -5 13.5
Sung Kang -4 14.013/1
Geoff Ogilvy -4 18.017/1
Curtis Luck -4 27.026/1
Kyle Stanley -3 19.5
Charles Howell III -3 29.028/1
-2 and 60.059/1 bar

I wouldn't be in the least bit surprised to see Lingmerth get back on track today and win but he's simply no value to do so. A strong case can be made for the steady Daniel Summerhays but his sole Web.com Tour win came 10 years ago and he's yet to notch on the PGA Tour. He led the Memorial Tournament by three with a round to go just a month ago and shot 78 in round four to eventually finish 10th so I wouldn't be surprised if he got jittery.
Spencer Levin and Sung Kang are also looking to win for the first time on the PGA Tour and I'm happy to stick with Ogilvy and add Curtis Luck.
Ogilvy didn't make a single birdie yesterday but it's been a while since he's been in contention and he could improve markedly today. He's a proven winner so if I hadn't already got him onside I'd be backing him now and I thought fellow Aussie, Luck, was worth chancing at a big price.
At only 20, last year's US Amateur winner, who only turned pro in April, should be fearless and on a leaderboard packed with infrequent and non-winners he looks interesting at a juicy price. Winning so soon after joining the professional ranks would be a surprise but he won Down Under when still an amateur so he does have some experience to call upon.
I'll be back tomorrow with the De-Brief.

08:40 - July 1, 2017
The Open de France looked a tough puzzle to solve before the off and it still looks tricky at the halfway stage. Here are the latest standings with prices to back at 08:25.

Peter Uihlein -8 7.613/2
Adrian Otaegui -8 21.020/1
Tommy Fleetwood -7 5.14/1
Alexander Bjork -7 14.5
Paul Waring -6 48.047/1
Nathan Kimsey -6 90.089/1
Thomas Pieters -5 12.011/1
Ross Fisher -5 16.5
Graeme Storm -5 30.029/1
-4 and 20.019/1 bar

Tommy Fleetwood heads the market and so he should. He's been playing sublime golf of late and he's continued the good form in fine style this week. Through two rounds he's missed just four fairways and two greens. He's the first player to hit that many greens at Paris National through two rounds since Andrew Coltart achieved the feat way back in 2000. Provided he can continue to steer a steady ship he's going to take all the beating but then again, if he's playing that well, why isn't he already leading? And what's going to happen if he can't maintain that incredible ball striking form over the weekend? It's beyond comprehension that he'll improve his long game so if he's to lift the trophy, he'll probably need to improve his putting. He's already had 63 putts so far this week so that's the reason he's not leading.
As stated yesterday, I looked at Peter Uihlein before the off, thinking he'd be inspired by his mate Brooks Koepka's major win, and that looks to be the case. I was put off by his poor recent form and his missed cut here on his only previous visit but he's put all that behind him so far. Can he keep it going though? I like Uihlein and sooner rather than later he's going to start making the most of his talents but he's not a big enough price to back here now. His sole European Tour success was now more than four years ago and his record in-contention isn't especially great. He's led or co-led six times previously and the results haven't been great. The best he's ever managed is fourth and on a couple of occasions he's gone backwards very quickly.
Paul Krishnamurty's Find Me a 100 Winner pick, Alexander Bjork, has already secured a profitable week for the column by hitting both lay back targets and he looks a good thing to finish in the top-20 and secure the recommended wager at 7.06/1 but whether he's value now to win is debatable.
Joint leader, Adrian Otaegui, has only ever melted in the heat of battle and the English pair sat tied for fifth, Paul Waring and Nathan Kimsey, are also both looking to win for the first time.
Thomas Pieters is obviously a threat but I didn't like the way he lost his temper and lost his way yesterday and Ross Fisher might represent better value on the same score but I've gone even further down the leaderboard a couple of further in-play picks.
Graeme McDowell was seven back at this stage when he defended the title three years ago and the 2010 and 2011 winners, Miguel Angel Jimenez and Thomas Levet, were both eight adrift with two rounds to go so it might make sense to look at those a little further back and the two I like are Gregory Bourdy and Felipe Aguilar.
The French have a decent enough recent record, having won three of the last 13 renewals, and Bourdy, who's five off the pace on -4, was over-priced last night at 80.079/1 but the one I like at a huge price is Aguilar. The veteran Chilean is playing some lovely golf so far this week, ranking fifth for Driving Accuracy, third for Greens In Regulation and first for that all important Paris National stat, Scrambling. He's five off the lead but there's no way he should be priced up in excess of 200.0199/1 given how well he's playing. He started the event slowly but if he can build on yesterday's bogey-free four-under-par 67 he might just be there at the end.
Over at the Quicken Loans National, David Lingmerth, who won at the course on the Web-com Tour five years ago, has taken control of the event and he leads by two over Geoff Ogilvy. Here are the latest standings with prices to back at 08:30.

David Lingmerth -10 2.3811/8
Geoff Ogilvy -8 9.28/1
Daniel Summerhays -6 12.5
Sung Kang -5 17.016/1
Arjun Atwal -5 95.094/1
Nick Taylor -4 36.035/1
Ricky Barnes -4 46.045/1
Harris English -3 46.045/1
Johnson Wagner -3 90.089/1
-2 and 34.033/1 bar

When Lingmerth won the Neediest Kids Championship in 2012 here he opened up with a pair of 66s. He's begun the tournament with two rounds of 65 this week. He's understandably a short price to convert from here but a word of warning for anyone contemplating piling in at a short price - he shot 74 in round three in 2012 to drop from first to eighth and he needed another 66 on Sunday to get the job done from off the pace.
Lightening striking twice isn't likely but Lingmerth will be well aware of how strong a position he's in and nerves could play a part. I'm frustrated to see him leading and to see him trading at a short enough price to lay back any potential profits as I did try and back him but he was just too short for me to take the plunge before the off and he's too short now.
I toyed with laying Lingmerth, with a view to backing him back, as I'm confident he'll trade bigger, but I've decided to back a few instead. Geoff Ogilvy is far from prolific nowadays but he's a major champ that knows how to win and he shouldn't be as big as 9.28/1 given the pedigree of the players up with the pace and I've also thrown a few pounds at Harris English at 48.047/1.
Harris was another on my shortlist before the off but I wasn't regretting leaving him out on Thursday when he sat three-over par after just four holes of round one. This course looked like it would suit his game though and he's slowly but surely given himself an outside chance after that ridiculous start. Like the majority of the field, he'll need some help from Lingmerth, given he currently trails by seven, but I thought he was big enough to take a small chance on.

11:30 - June 30, 2017
With my sole pre-event pick, Ian Poulter, losing his way after a bright start at the Open de France, the highlight of the opening day was watching Haotong Li's poor mother retrieving his broken putter from the lake adjacent to the 11th green. The 21-year-old had bogeyed the hole and clearly lost his young temper so his dear mum tried, to no avail, to retrieve the situation. It was perhaps a bit cruel of the group of players playing the hole to laugh as heartily as they did but I'm not sure they could have done anything else!
Even the players had to laugh pic.twitter.com/ROHqKmOCXk

? The European Tour (@EuropeanTour) June 29, 2017

My each-way pick, Joost Luiten, has been frustrating to follow. He's firing in plenty of birdies but he's made almost as many bogeys and Dan Geraghty's man, Thomas Pieters, is doing his best to ruin a great start to round two. He was matched at just 3.45 after he'd birdied the third hole (his 12th) but he followed that with a bogey at four and a double-bogey at five.
At the time of writing, England's Paul Waring and Sweden's Rikard Karlberg are showing the way on -7 but I've scanned a bit further down the leaderboard for my second in-running play, Germany's Martin Kaymer, who kicks off his second round this afternoon.
Conditions are tough but not brutal. Squally rain looks like it's going to be troublesome all day but the wind is forecast to drop later and I can see one or two afternoon starters closing in on the leaders. I looked at Peter Uihlein before the off, thinking he might be inspired by the US Open win by his mate, Brooks Koepka, but he looks short enough now at around 24.023/1 and I also considered siding with course specialist, Bernd Wiesberger, but I've finished up throwing a few pounds on the 2009 winner, Kaymer.
The two time major winner has a great record here and I can see him plotting his way along as others get frustrated. Someone put up some 28.027/1 on the Exchange this morning and that looked too big to resist.
I backed Thorbjørn Olesen at the close of play yesterday at 80.079/1 as well and he started brightly this morning but back-to-back bogeys at 17 and 18 (his eighth and ninth holes) halted progress.
I'll be back at the halfway stage for a more detailed look and I'm going to leave the Quicken Loans National until we've played 36 holes there too.
Over in the US, like anyone else that had looked at the event prior to the market going up, I was keen to side with course winner David Lingmerth, but I was too greedy with my attempts to get him onside and I was reluctant to take what I thought was too short a price given he hasn't really contended in quite some time.
The Swede was very well supported before the off, trading at a high of only 42.041/1, and after his opening five-under-par 65, he leads by a stroke and heads the market.
I was quite happy with my pre-event picks early on last night. My outside fancy, Morgan Hoffman, did very well to shoot a one-over-par 71 after starting the tournament with a pair of sevens, but my other three were doing nicely...
James Hahn ended the round on three-under-par, Bill Haas is on one-under and Danny Lee is level but the second two looked as if they might fare a bit better. Haas double-bogeyed his penultimate hole after finding water off the tee and Lee played his second nine in a disappointing two-over-par.

Open de France Pre-Event Selection:
Ian Poulter @ 50.049/1

In-Play Picks:
Thorbjørn Olesen @ 80.079/1
Martin Kaymer @ 28.027/1
Gregory Bourdy @ 80.079/1
Felipe Aguilar @ 260.0259/1
Alex Noren @ 28.027/1

Quicken Loans National Pre-Event Selections:
Bill Haas @ 29.028/1
Danny Lee (each-way) @ 40/1 (Sportsbook)
James Hahn @ 80.079/1
Morgan Hoffman @ 120.0119/1

In-Play Picks:
Geoff Ogilvy @ 9.28/1
Harris English @ 48.047/1
Curtis Luck @ 27.026/1

*You can follow me on Twitter @SteveThePunter
Discover the latest articles