The Punter's In-Play Blog: Todd and Taylor tied at the top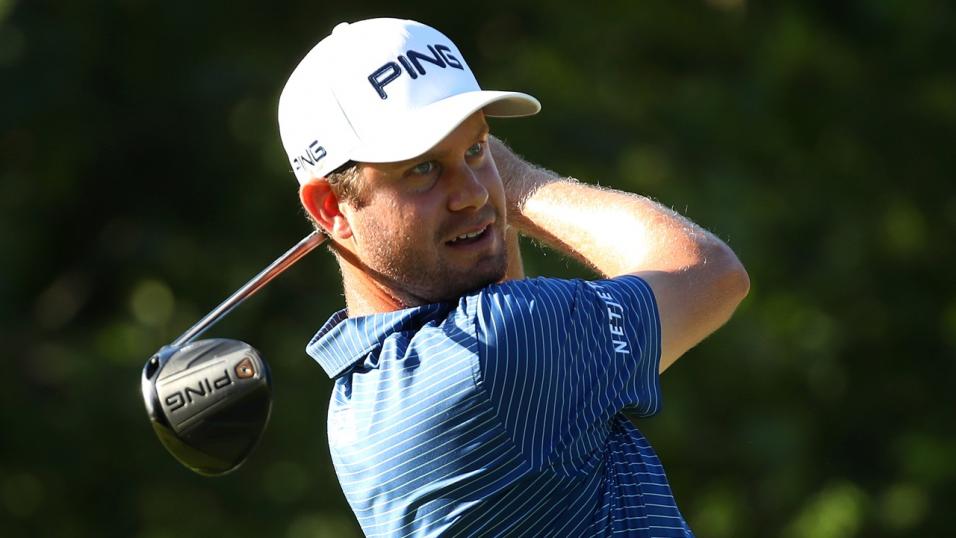 Harris English - still in with a chance in Mexico
The leaders have four holes still to play at the Mayakoba Golf Classic and five men can still win. Steve sets out the current position here before play resumes live on Sky at 12:30...
"Given holes 16, 17 and 18 rank as the second, sixth and first hardest on the course, we could witness quite a bit of drama when the tournament concludes at 12:30 UK time so it's worth watching on Sky but it's very hard to call."
09:45 - November 18, 2019
Pre-event pick, Brendon Todd, was matched at a low of 1.251/4 when he led by two at the Mayakoba Golf Classic with just six holes to play late yesterday but clunky chips from just off the green on the par five 13th and the par four 14th led to a pair of fives and when darkness caused a cessation in play, he and Vaughn Taylor were tied at the top with four to play. Here's the current state of play with prices to back at 09:40.
Brendon Todd -20 2.3811/8 (through 14)
Vaughn Taylor -20 3.55 (through 14)
Harris English -19 4.84/1 (through 14)
Carlos Ortiz -19 13.5 (through 17)
Adam Long -18 50.049/1 (through 15)
Remainder on -15 or worse
Of the five players left with any chance of winning, Adam Long is the least likely to prosper and Carlos Ortiz is the one I feel sorry for the most. Long will resume today trailing by two and with a ten to 12 foot par save on the 16th to convert. He probably needs to hole that and birdie at least one of the tough two finishing holes. He's not too big at around 50.049/1.
Mexico's Carlos Ortiz, who's yet to win on the PGA Tour, made a great move yesterday considering he started the third round with a double-bogey but as the light faded, he looked severely rushed as his playing partners, Mark Hubbard and Zach Johnson, raced through the last couple of holes to beat the impending doom. The hurried Ortiz did well to get up-and-down at the 17th for par after Johnson had teed off at 18!
Zach, in particular, was utterly intent on getting his round finished so he didn't have to come back today and it clearly unsettled the Mexican. Both Johnson and Hubbard played the 18th hole in the dark, with Johnson recording a bogey five and Hubbard a six. Zach was seen clenching his selfish fist as he marched up the 18th fairway, clearly delighted to be able to finish, while Ortiz was left to discuss with referee, Slugger White, why he didn't want to play on.
It was dark, he's in search of his first PGA Tour title, he's playing in front of his home crowd and he's just one off the lead. All facts that seemed to completely escape the selfish Johnson who just wanted out. Ortiz returns today to play 18 alone and I for one hope he does himself justice.
Back in the final group, all three have teed off on the par three 15th but Todd and English hold the upper hand. Todd has around 20 feet for a birdie two, English somewhere between 12 and 15 feet, although it's hard to tell from the camera angle they showed last night, and Taylor, having come up short off the tee, has chipped up to around four feet for par.
Given holes 16, 17 and 18 rank as the second, sixth and first hardest on the course, we could witness quite a bit of drama when the tournament concludes at 12:30 UK time so it's worth watching on Sky but it's very hard to call. I like Todd's demeanour and I can see him getting the job done but I'm glad I've adjusted my book.
I've layed pre-event pick Todd at 1.3 but I'm I'm not sure I need to. Looks rock solid

? Steve Rawlings (@SteveThePunter) November 17, 2019
It doesn't matter to me who wins now, although English would be the best result. I'll be back this afternoon with the De-brief once this one's all done and dusted.

09:45 - November 17, 2019
The final round of the Nedbank Golf Challenge is well underway and live on Sky now but I'm concentrating my efforts on the Mayakoba Golf Classic where we still have two rounds to play. Here's the 36-hole leaderboard with prices to back at 09:35.
Harris English -13 3.412/5
Vaughn Taylor -12 6.411/2
Brendon Todd -11 9.28/1
Danny Lee -10 9.89/1
Adam Long -10 20.019/1
Robby Shelton -10 29.028/1
Pat Perez -9 20.019/1
-9 and 38.037/1 bar
Having lost the whole day on Thursday, the tournament is a round behind so this is now the plan.
The 36-hole cut will reduce the field to 65 players & ties @MayakobaGolf after R2 on Saturday. Sunday play will be off Nos. 1 & 10 in 3's for R3 & R4 with no re-pair. On Sunday, play will continue until light permits. The remainder of R4 will resume on Monday at 7:30 a.m.

? PGA TOUR Communications (@PGATOURComms) November 16, 2019

With as many as 82 players making the cut, a Monday finish looks a certainty so that adds another dynamic but if we use the first dozen results here as a guide, being up with the pace at this stage is the place to be.
The last two winners won wire-to-wire, three of the last four were in front with two rounds to go and in the previous 12 editions, only one winner, Pat Perez in 2016, has been outside the top-ten places and more than four strokes off the lead. He sat tied for 11th and five back. He shot 62 in round three to move up to second and just one adrift with a round to go.
Pre-event pick, Harris English, shows the way, despite playing the par fives in one-over par through the first two rounds and he has a solid record when leading. This is the fourth time he's led after 36 holes on the PGA Tour and so far, he's finished first twice and second. Winning the St Jude Classic when two clear in 2013, before going on to win here having been tied for the lead, five months later. And he lost a playoff at the Farmers Insurance Open in 2015, having led by two at halfway.
Another selection, Brendon Todd, sits alone in third and I haven't yet given up entirely on Zach Johnson, who sits tied for tenth and five back.
Dave Tindall's Danny Lee, who led after round one, is a big danger from tied fourth and the 2016 winner, Perez, is lurking too but he's had back issues and I'm not sure playing lots of holes today is ideal so I'm going to let it roll for now and shout on the three I have in the mix already.
16:00 - November 16, 2019
The third round of the Nedbank Golf Challenge has finished in South Africa and the front three at halfway are still clear of the remainder. Here's 54-hole leaderboard with prices to back at 15:55.
Zander Lombard -11 4.67/2
Louis Oosthuizen -10 2.767/4
Thomas Detry -10 5.04/1
Marcus Kinhult -8 15.014/1
Oliver Wilson -8 32.031/1
Bernd Wiesberger -6 40.039/1
Lee Westwood -6 42.041/1
-6 and 70.069/1 bar
Tough pin positions turned round three into a bit of a grind today. Only two players bettered three-under-par for the day (Oliver Wilson -5 and Robert McIntyre -7!) and it was more a case of protecting a score than posting a low one and as a result, we haven't seen much change on the leaderboard. And if history is anything to go by, we might not see much tomorrow either...
Sergio Garcia won here in 2002 from sixth place and six strokes back through 54 holes but all 17 winners since have been inside the top-four places with a round to go, suggesting we can't look too far down the leaderboard.
Louis Oosthuizen is still the man to beat and he looks a fair price to me now. His closest challengers, Zander Lombard and Thomas Detry, are both seeking their first victories on the European Tour and both have had to recover form sizable wobbles already this week. I'm not sure they'll be able to tomorrow.
The front three have a gap to the remainder and having layed them, I've philosophically resigned myself to losing on the event but I'm not convinced it's that simple. The wind is forecasted to get up a bit more tomorrow and we're also due a bit of rain. That could cause issues. No matter how tricky conditions get, these players are so good, someone will post a decent score regardless and if the front three tread water, they could be vulnerable. And the above quoted stats don't tell the whole story either.
The last two winners both sat third but they both trailed by three and three years ago, although he sat tied for fourth through 54 holes, Alex Noren trailed by six strokes. He shot an incredible 63 and won by six!
The stats do favour the leaders but the weather could hinder them and the defending champ, Lee Westwood, looks the most interesting outsider. Trailing by five, he has plenty to do but a fourth win in the event can't be ruled out.
Over at the Mayakoba Classic, according to the PGA Tour website, after missing all of Thursday due to rain, the event will now finish on Monday. The second round is underway and a couple of my pre-event picks, Harris English and Zach Johnson, are sitting first and second but there's a long way to go.
I'll take a proper look at the event tomorrow when we'll hopefully know what the plan is. They may just play round two today, round three tomorrow and round four on Monday or they may decide to kick off round three today or to start round four tomorrow and get as much done as they can before Monday. Either way, we should know by tomorrow.

16:35 - November 15, 2019
We lost the entire day's play to the bad weather in Mexico yesterday so the first round of the Mayakoba Golf Classic has only just started. I'll have more on that event tomorrow but for now I'm concentrating my efforts on the Nedbank Golf Challenge in South Africa. Here's 36-hole leaderboard with prices to back at 16:25.
Zander Lombard -11 4.77/2
Louis Oosthuizen -9 2.89/5
Thomas Detry -7 15.014/1
Tommy Fleetwood -6 9.08/1
Marcus Kinhult -6 25.024/1
JB Hansen -5 55.054/1
Aaron Rai -5 55.054/1
Jason Scrivener -5 70.069/1
-4 and 25.024/1 bar
As many as 16 players had to swerve the Nedbank Golf Challenge for 200.0199/1 chance, Zander Lombard, to be the last man in at Sun City but it's fair to say he's made the most of his opportunity. Zander began the second round five strokes behind the pre-event favourite, Louis Oosthuizen, but after an impressive seven-under-par 65, which began with a bogey five, he ended two clear of Louis.
Oosthuizen started nicely enough today, birdying the par five second, but he looked a bit tired and he played holes seven to 15 in two over-par. With three tough holes to finish, he looked in big trouble but to his credit, he birdied the par three 16th and parred the last two. That was a really strong finish given how tough the last two holes are and compared to how others came home.
Matthew Fitzpatrick and Paul Waring, who had both moved on to the coattails of the leaders, played the last three holes in two-over-par, as did Guido Migliozi, who had a poor day overall, having begun it in third place, and the man who started the day in second, Thomas Detry, who was matched at a low of 4.3100/30 when he struck the front, was lucky to get away with a double-bogey-bogey finish when he hit a flagpole to avoid water with his second tee-shot on 17, having played three off the tee because his first tee-ball had.
One of the luckiest breaks we've ever seen

Hitting a flagpole to not go into the water! #NGC2019 #RolexSeries pic.twitter.com/DJY1MW7Niy

? The European Tour (@EuropeanTour) November 15, 2019

Having layed Oosthuizen yesterday, I'm more than happy to continue to be against him given his wellbeing is an unknown after his kidney stones incident before the off but I'm not entirely convinced by those up with the pace at present.
As highlighted in the In-Play Tactics section of the preview, Branden Grace won from 10th place at halfway two years ago but he's the only winner to be outside the first four places since Sergio won from eighth place and six back in 2001, so if history is anything to go by, we should be concentrating on Lombard, Oosthuizen, Detry, Tommy Fleetwood and Marcus Kinhult.
Of the four alternatives to Louis, Fleetwood is the obvious choice but he's without a win in almost two years and Kinhult, who won the British Masters in May, might be a better value proposition at around 25.024/1.
I've fiddled with my book and I've backed Oosthuizen back a little to recycle some stakes on Fleetwood, Kinhult and Fitzpatrick, who sits in a tie for ninth alongside pre-event pick, Bernd Wiesberger, seven strokes off the lead.
Louis is still my worst result and I'm now effectively laying the front three on the leaderboard and anyone currently trading at 55.054/1 or above. Let's see what tomorrow brings.
15:30 - November 14, 2019
Despite needing treatment for some sort of kidney stones issue yesterday, pre-event favourite, Louis Oosthuizen, has skipped round Sun City in a bogey-fee nine-under-par 63 at the Nedbank Golf Challenge (previewed here) and he's very much the man to beat already. Here's the 18-hole leaderboard with prices to back at 15:20.
Louis Oosthuizen -9 2.021/1
Thomas Detry -6 14.5
Guido Migliozzi -5 30.029/1
Lee Westwood -4 21.020/1
Zander Lombard -4 70.069/1
Ernie Els -4 150.0149/1
-3 and 18.017/1 bar
Kidney stone issues or no kidney stones issues, Louis' round today was sensational and he's clearly the man to beat now but I'm more than happy to take him on at just a shade of odds-against.
I did actually lay him at 2.35/4 when he got to -8 with four holes left to play, which included three of the six hardest holes on the course today, but that backfired a bit when he did this at the penultimate hole - the par four 17th which played the toughest and averaged 4.27.
What a roar from the home-crowds! @Louis57TM is on fire! pic.twitter.com/JTLgd6VG0f

? The European Tour (@EuropeanTour) November 14, 2019
I layed him again at 1.9420/21 after that birdie and he did eventually hit a bad shot on his final hole but after a poor approach, he was able to get up-and-down nicely for par. It was Louis' first bogey-free round at Sun City and it's the first time he's finished any round in front here since he won the Dimension Data on the Sunshine Tour nearly 13 years ago. For more on laying on the Exchange, check out Betfair's How-To Guide.
Henrik Stenson took the title here in 2008, having led by five after an opening 63, and Robert Allenby won here ten years ago having held a one stroke lead after round one but ten men have held a clear lead here after round one since (including 54 hole Sunshine Tour events) and none of them went on to win. None of them broke 70 on day two.
Sergio Garcia, who led by four after the first round, was matched at odds-on last year during the opening round and he eventually hit a low of 1.3130/100 before losing by three strokes to Lee Westwood. He shot 71 in rounds two and three and was still two clear with a round to go before Westwood swooped in round four and Sergio's 70 on Sunday just wasn't enough.
Those stats suggest this isn't an easy place to return to after a low first round and that makes sense. It's a scorable track, clearly, but there's also all sorts of trouble lurking and if you're only slightly off, big scores are out there. Just ask Lucas Bjerregaard who shot a nine-over-par 81 today.
Louis' record when leading after the opening round is actually quite good. He's held a clear lead just four times in his career to date and he's gone on to win on three occasions but he's also been tied for the lead five times after round one without winning.
Since 1996, we've seen 14 men hold a clear lead in this event after the opening round and only four of them (28.6%) went on to win and on the European Tour over the same time period, 36 players have held a three-stroke advantage and only nine (25%) have gone on to win.
These are all small sample sizes really but anyone punting on the strength of Oosthuizen''s record when holding a clear first round advantage will be wanting to press the blue button but those looking at the wider picture will be hitting the pink one.
Other factors also need to be considered. The leaderboard is quite weak below Louis, with many fancied players starting slowly so that's a plus for the backers but layers, like myself, will point to the fact that Louis was in hospital yesterday and was awake during the night and in discomfort. How much will that affect him as the week wares on? And was he running on adrenelin today having just been relieved to have started the event?
All things considered, I'm happy to be against him so early on in the tournament and if he streaks away from here to win his first Nedbank Golf Challenge title so be it.
Bad weather has delayed the start of the Mayakoba Golf Classic in Mexico but in case you missed it earlier in the week, here's my preview.
Nedbank Golf Challenge Pre-Event Selections:
Kurt Kitayama @ 36.035/1
Bernd Wiesberger @ 38.037/1
Justin Harding @ 85.084/1
In-Play Trades
Louis Oosthuizen layed at an average of 2.0811/10 & backed @ 2.89/5
Tommy Fleetwood backed @ 9.08/1
Matthew Fitzpatrick backed @ 25.024/1
Marcus Kinhult backed @ 26.025/1
Mayakoba Golf Classic Pre-Event Selections:
Harris English @ 60/1 (Sportsbook)
Si Woo Kim @ 90.089/1
Brendon Todd @ 110.0109/1
Russell Henley @ 120.0119/1
Zach Johnson @ 130.0129/1
Scott Piercy @ 140.0139/1
Keith Mitchell @ 150.0149/1
Fabian Gomez @ 180.0179/1
Patton Kizzire @ 240.0239/1
Zac Blair @ 270.0269/1
Luke Donald @ 330.0329/1
James Hahn @ 390.0389/1
Satoshi Kodaira @ 420.0419/1
Mackenzie Hughes @ 420.0419/1
Jason Dufner @ [440.0] N/R
*You can follow me on Twitter @SteveThePunter
Discover the latest articles
Read past articles