The Punter's In-Play Blog: Is solid Stenson poised for Scottish success?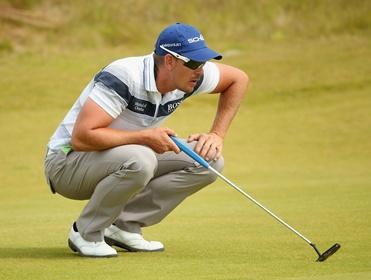 Chris Paisley, three off the lead and a huge price
Pre-event shots, Branden Grace and Zach Johnson hold chances either side of the Atlantic but with confidence low, Steve isn't getting excited. Read his final in-running post of the week here...
"It's never easy to follow-up a low round and doing so when trying to win your first PGA Tour event doesn't make it any easier."
08.35 - July 14, 2013
After three rounds of the Scottish Open the cream has risen to the top. On a score of 16 under-par, Henrik Stenson holds sway by two over a group of four that includes one of my pre-event picks, Branden Grace. The Swede will play alongside Phil Mickelson in the final two-ball at 3.25pm and my man lines-up alongside round one leader, John Parry, ten minutes earlier.
With low scoring the norm and with a number of players on his tail, at first glance Stenson looks vulnerable but I wouldn't want to take him on. He's hitting the ball superbly and he's a proven multiple winner.
Phil Mickelson is the obvious danger and he too played beautifully yesterday... once he got going. He started slowly and had to wait until the 8th before registering a score under-par and he did the same thing on Friday, bogeying the 1st and 4th holes and playing the front nine in level par. And he aslo bogeyed his very first hole of the event, so if you want to get with Phil, it might make sense to see how he starts off first.
Branden Grace is the third favourite and he really ought to be a big danger to Stenson. We didn't see much of his play on Sky yesterday but he must have played well as he hit 12 out of 14 fairways, 17 of 18 greens and he gave himself chance after chance for birdie. Had he putted a little bit better (I saw him miss at least four six to eight footers) he'd be leading.
I'm pleased to see the wind is forecast to blow a bit harder today as Grace is a magnificent wind player but look at the leaderboard, who up there isn't? Watching the play so far this week, the wind has appeared almost non-existent at times but the leaderboard is littered with fine wind-exponents so it might have been trickier than it looked.
If I hadn't already had someone in with a very obvious chance on a Sunday every week for the last five or six weeks without getting one over the line, I'd be quite confident that Grace might win but you know what it's like when things don't go right for a while, eventually you begin to wonder whether they ever will again!
Raphael Jacquelin on -13 and Paul Casey on -11 are the two I'll have my eye on but for now I'm going to stick with what I have and hope Grace can do me a much-needed favour.
Day three at the John Deere Classic didn't go as well as I'd hoped for. In-running play, Troy Matteson, birdied two of the first three holes and then went AWOL, pre-event pick, Steve Stricker, went on a steady par run while almost everyone else was banging in birdies left right and centre and my other pick, Zach Johnson, struggled for much of the day.
Luckily, Zach holed some ludicrously long putts and finished well, otherwise I'd be out of the game. He birdied three of his last six holes and made a brave up-and-down at the last to save par after a bad drive and he goes into round four three off the lead, held by Daniel Summerhays.
Summerhays holed just about everything he looked at on his way to a nine-under par 62 yesterday and he might struggle to back that score up today. It's never easy to follow-up a low round and doing so when trying to win your first PGA Tour event doesn't make it any easier.
As detailed in the In-Play section of the preview, third round leaders don't have a terrific record in this event and with David Hearn, currently lying in second (two behind Summerhays and one ahead of Zach), also looking to break his PGA Tour duck; I really ought to be confident about Zach retaining his title. He won from four back last year so three back in third shouldn't seem insurmountable but as stated earlier, I'm not exactly brimming with confidence.
I'll be back in the morning with this week's De-Brief and my Open Championship preview.
10.55 - July 12, 2013
Day two of the Scottish Open didn't pan-out how I'd expected it to at all. I felt after round one that the leaders had a big advantage, but only three of the top-22 after round one progressed. Scotland's Chris Doak moved up from third to take the halfway lead, with his second successive 66, Peter Uihlein climbed seven places up into a tie for second and Lorenzo Gagli improved three places with another five-under-par 67. The other 19 in the top-22 after round one all went backwards!
The breeze got up slightly in the afternoon but there wasn't really any rhyme nor reason why the likes of Phil Mickelson, Mikko Ilonen, Kiradech Aphibarnrat and my man, Shane Lowry, failed to break 70. Backed before the off at 44.043/1, Lowry was bitterly disappointing; he hit a low of 7.06/1 when he birdied two of the first three holes but he went backwards after that and he'll need a miracle to figure tomorrow now.
Branden Grace, who I'd given up on after round one, moved through the field impressively and he's now just four off the lead but I'd much rather be in Mike Norman's shoes, or Paul Krishnamurty's...
Mike's in a good place this morning with three of his five picks - Ross Fisher, Francesco Molinari and Garth Mulroy, all within four of the lead and Paul has a chance to double-up with his Find Me A 100 Winner column. Hot on the heels of his brilliant win with Jonas Blixt at the Greenbrier Classic on Sunday, Victor Dubuisson sits just two back at halfway. Good luck lads!
I thought this event looked as hard now as it did before the off and I was going to leave it alone for now but at an insultingly big 210.0209/1, I couldn't resist a small wager on European Tour rookie, Chris Paisley, who's just three off the lead. He isn't hitting it far or particularly straight off the tee but he's finding enough greens and he's putting superbly and that's just too big.
With Lowry tumbling down the leaderboard at pace and with Patrick Reed, a player I've backed many times at huge odds but not this week, shooting the lights out and streaking clear at the John Deere Classic, I wasn't enjoying yesterday afternoon much at all, and then it got worse!
I've been chipping away at Thomas Bjorn for next week's Open Championship for a month or so now and having built up a lovely position at an average of 150.0149/1, just about the last thing I wanted to hear was that he was injured! He withdrew yesterday with back problems so if you too fancy the Dane for next week's Muirfield test, you might want to hold your horses.
Apart from the fact that pre-event selection, Steve Stricker, three-putted the last hole to make bogey from 14 feet yesterday, I'm happy enough with the state of play at the John Deere Classic. My other pick, Zach Johnson, picked up where he'd left off on day one and caught morning starter Reed and that pair were joined by Lucas Glover, on 12 under-par, after he'd scooted round in just 62 strokes. That wasn't the low round of the day though - Chez Reavie took just 61!
Zach heads the market, with Stricker, who's three off the lead, the only other player trading at a single-figure price. I really ought to get Reed onside, for my sanity at least, but I'm not going to as I've already staked enough.
Boo Weekley, backed at the end of round one at 34.033/1, putted like Blind Pugh in round two, missing several putts under five feet and he looks too far back now on -7 but I did make one other play that fared better.
Last year's runner-up, Troy Matteson, was still available at 80.079/1 after he made a hole-in-one at the third yesterday and he finished the day two off the lead.
History suggests that Deere Run is a hard place to play catch-up so that bogey on the last could prove costly for Stricker but we'll see. If he gets on a roll early today he could still be the man to beat but he certainly needs to get his skates on.
23.35 - July 11, 2013
So much for hanging fire! I've just added Boo Weekley in the John Deere Classic at 34.033/1. He's safely in the house on -5 and just two off the lead.

23.05 - July 11, 2013
After a day of ridiculously low scoring on a wonderful sunny day in Scotland, where 117 players broke par, John Parry leads the way following an opening eight-under-par 64 and Phil Mickelson heads the Scottish Open market after an opening 66.
Both Parry and Phil, and my man Shane Lowry, who also shot 66, were amongst the wave of morning starters that enjoyed the best of the conditions. The course was perfect and there wasn't a breath of wind so it was almost surprising to see that they only averaged 0.75 shots better than their afternoon counterparts.
I'm going to let this roll until tomorrow afternoon when it might start to thin out a little bit more but if you do want to get involved, I wouldn't scan too far down the leaderboard. As highlighted in the preview, with such low scoring, making ground is going to be devilishly hard and you'd have to expect at least one or two of the 22 players on -5 or better will be able to hit three more low rounds.
I added to the two picks in the preview with Branden Grace at 60.059/1, after it was published, but as he only managed to shoot one-under-par, I've already given up on him.
Over at the John Deere Classic, favourite backers, myself included, were soon very happy with their lot, as Steve Stricker opened up with a pitch-in eagle at the 10th and a birdie at the 12th. Birdies followed at the 17th and the 2nd but then out of the blue he made back-to-back bogeys at holes 4 and 5. He eventually finished on -4 and he currently trails leaders Camilo Villegas and Zach Johnson by three.
At the time of writing, Boo Weekley and Matt Jones have gotten to -5 and a number of afternoon starters are on -4 so the lead could yet be threatened but as I've backed both Stricker and Zach before the off, I'm holding fire for now here too.
Scottish Open Pre-Event Picks:
Shane Lowry @ 44.043/1
Branden Grace @ 60.059/1
Brooks Koepka @ 100.099/1

In-Play Bet:
Chris Paisley @ 210.0209/1
John Deere Classic Pre-event Picks:
Steve Stricker @ 10.09/1
Zach Johnson @ 23.022/1
David Duval @ 1000.0

In-Play Bets:
Boo Weekley @ 34.033/1
Troy Matteson @ 80.079/1
*You can follow me on Twitter @SteveThePunter

Discover the latest articles