The Punter's In-Play Blog: Luiten still worth opposing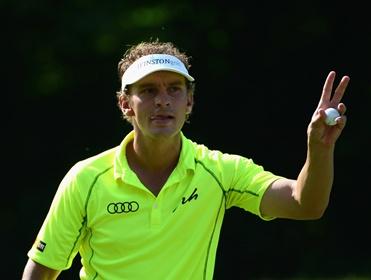 Joost Luiten, three clear in Austria and odds-on
Joost Luiten leads by three at the Lyoness Open but Steve thinks he's still vulnerable. Whilst in the States, Shawn Stefani sits atop of the St Jude Classic leaderboard - can he land our man's monster-odds wager?
"The Dutchman trades at 1.68/13 and if he continues where he left off the others are wasting their time turning up but it's never that simple. All of the last four third round leaders of this event have been beaten and Thorbjorn Olesen led by three last year before finishing 5th!"
11.10 - June 9, 2011
After an hour or so of the live coverage of yesterday's third round at the Lyoness Open, I thought I'd got it sussed. In-running pick, Miguel Angel Jimenez ,was flying along making birdies at will and as I suspected might happen, halfway leader, Joost Luiten, was faltering badly, playing the first five holes in two over-par but then it all changed in an instance.
Looking for his fourth birdie in five holes, Jimenez played his third short to the par five 7th and hit a sprinkler head. Instead of trickling up to the hole for another birdie opportunity, the ball bounced miles in the air, missing the green and luckily, the adjacent lake. He skilfully got up-and-down for par but momentum was lost thereafter and he made just one birdie, at the drivable par 4 16th.
Luiten, on the other hand recovered brilliantly, playing the remaining 13 holes in seven under-par and having now reached -16, he takes a three stroke lead into today's final round.
The Dutchman trades at 1.68/13 and if he continues where he left off the others are wasting their time turning up but it's never that simple. All of the last four third round leaders of this event have been beaten and Thorbjorn Olesen led by three last year before finishing 5th!
I'm still not convinced by Luiten and I've added Thomas Bjorn now too. The Dane sits on -11, alongside France's Romain Wattel, one ahead of my other in-play wager, Jimenez, and two behind two other Spaniards, Eduardo De La Riva and Jorge Campillo, on -13. I'm hoping that if there is to be a stumble the old-heads will come through and seize the initiative.
If Luiten's turnaround yesterday was noteworthy, pre-event wager, Shawn Stefani's in the St Jude Classic, was remarkable.
After a tremendous start, playing the first ten holes in four under-par, Stefani made one almighty mess of the simple par three 11th, recording a whopping triple-bogey seven. I have to admit, I feared the absolute worst at the time and when he found water again on the 15th, having just got back on track with a birdie at the ultra-tough 14th, I thought the game was up again but no, he wasn't going to give up as easily as I was.
He chipped-in for par after taking a penalty drop on 15 and then birdied the last three holes! It was a truly remarkable finish and he now goes into today's final round one clear of Harris English, four clear of Patrick Reed, Nicholas Thompson and Scott Stallings and five ahead of Phil Mickelson and Eric Meierdierks.
I still haven't layed any of my wager back yet but I will do at some stage I'm sure and I'm a little miffed I missed out on getting Reed and Mickelson onside. I wrote yesterday that Lefty looked capable of getting involved but as I had to go out early evening, I didn't get him onside and Reed has been a regular play of mine all year at monster-odds.
It's going to be a bit of a nerve-jangling evening and if either Reed or Lefty get the better of Stefani, I might not be in the best of moods but I'll be back tomorrow regardless with the weeks De-Brief and with my US Open preview.
09.45 - June 8, 2011
I was surprised to see all three pre-event picks recover from really slow starts to make the weekend at the Lyoness Open but in truth, only Simon Wakefield, who yesterday shot an impressive seven under-par 65 (fully ten shots better than he managed on day one!), has any sort of chance at all, and he trails halfway pace-setter, Joost Luiten by seven strokes, so he'll need another super-low effort again today.
Luiten trades at 3.211/5 this morning and that looks fair enough to me. With Eduardo De La Riva, Callum Macaulay and Paul Waring, who were all matched at - at least 200.0199/1 before the off, his closest challengers, the Dutchman, strongly endorsed by Mike Norman before the off, really should be the man to beat over the next two days but I'm happy to look elsewhere.
The Diamond Club has hosted the event in each of the last three years and over that period, no halfway leader, or third round leader has managed to win. Thorbjorn Olesen traded at heavy odds-on last year before fading badly on day four and I'm happy to take on Luiten given that stat, and given, as stated yesterday, he is just one from 120 on the European Tour.
The one I like at halfway is Spanish veteran, Miguel Angel Jimenez, who sits four off the lead on -7. He finished scruffily yesterday, and has already been matched at as low as 4.84/1, but he can kick-on again today and I thought he was a decent price at 13.012/1.
At the St Jude Classic, it was disappointing to see pre-event pick and joint-leader, Martin Flores, open up with two bogeys but his poor effort was soon forgotten, thanks to Shawn Stefani, who was also backed before the off at a huge price.
Harris English looked like opening up a substantial lead after he played his first five holes in five under-par but a bogey at the last and a fast finish from my man Stefani, saw his lead reduced to two. English is on -10 and Stefani -8 now and their closest pursuers are Scott Stallings and Paul Haley II on -5.
The stats would suggest that may be as far back as you can go when seeking out this year's winner, given that Len Mattiace, who trailed by seven at halfway in 2002, is the only victor to be any further than five shots back at this stage this century but the leaders look a bit vulnerable to me. Both men are looking to win their first PGA Tour event and it would be no surprise at all to see the nerves kick in today.
The bunch of five on -4 don't look particularly fearsome but there are some quality players circling on -3 and -2 and should the front two wobble, they'll be back in it. Keep an eye on the likes of Dustin Johnson and Phil Mickelson, whose short game looked to be tuning-up nicely yesterday ahead of next week's US Open. They're both capable of very special golf when in the mood and I wouldn't be surprised to see either man muscle in on proceedings.
12.10 - June 7, 2011
After what had been a disappointing day yesterday, with all three of my pre-event picks at the Lyoness Open shooting an over par score, Martin Flores finally gave me something to cheer about when he shot -4 to tie for the lead at the St Jude Classic. And had Shawn Stefani, another pre-event pick at a huge price, not bogeyed the last, he'd have been sitting alongside him on -4.
To say it's tight in Memphis is an understatement - six players are tied at the top, 11 more are tied for 7th and a massive 56 players in total are all within four shots and under-par. Considering the last two winners failed to break par on day one and that they both came from five back at halfway, it's fair to say we have an open event!
I'll be keeping an eye on the in-running market today but it looks too early to get involved.
Over in Austria, it was fantastic to see Tom Lewis finally find some form, shooting a nine under-par 63 to lead after round one of the Lyoness Open but he's dropped back this morning.
That 63 would have been a course record ordinarily, but after between eight and nine centimetres of rain in the week leading up to the event, the fairways were deemed wet enough for placing to be put in play so unfortunately for Tom, it won't go into the record books.
I think everyone's surprised to see how well the course is playing after all that rain. It was widely assumed that we'd have a reduced event at least but the suns out, the clouds have gone and it now looks likely that we'll get a full 72 hole tournament.
Mike Norman's headline selection, Joost Luiten, has just posted a four under-par 68 to follow up his opening 65 and he now leads on -11 and trades as favourite. That price will shorten or lengthen depending on what defending champ, Bernd Wiesberger, and Spain's Miguel Angel Jimenez do this afternoon.
They're definitely the dangers to the Dutchman at this stage and with the wind nonexistent, there's no reason at all that they can't catch him. The draw had no bearing at all yesterday- the morning starters averaged 72.68 and the afternoon guys 72.67 and I can see a similar scenario today. I'm quite hoping they don't get to him though as I'd quite like to see Luiten shorten further so I can look to take him on from halfway.
Luiten's a fantastic talent but with just one win in 120 European Tour starts, he's just the sort of player I'd look to be against with a halfway lead.
Lyoness Open Pre-Event Selections:
Simon Wakefield @ 110.0109/1
Robert-Jan Derksen @ 130.0129/1
Thomas Levet @ 170.0169/1
In-Play Bet
Miguel Angel Jimenez @ 13.012/1
Thomas Bjorn @ 14.5
St Jude Classic Pre-Event Selections:
D.A Points @ 70.069/1 & 67.066/1 Fixed Odds
Martin Flores @ 200.0199/1
Shawn Stefani @ 250.0249/1 Fixed Odds
Jeff Maggert @ 290.0289/1
Stephen Ames @ 350.0349/1
Bobby Gates @ an average of 560.0559/1
Matt Bettencourt @ an average of 620.0619/1
*You can follow me on Twitter @SteveThePunter

Discover the latest articles