The Punter's In-Play Blog: Glover the man to beat now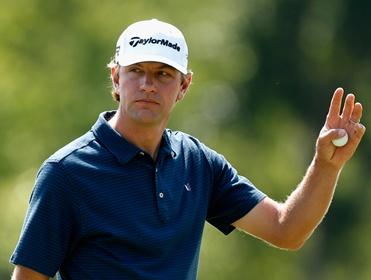 Lucas Glover, the man to beat in Louisiana
Steve takes one last look at his book in Louisiana where thunderstorms are forecast and where the Zurich Classic is due to start early. Read his final in-running thoughts here...
"Glover's very much the man to beat and at 3.711/4 he looks a very fair price to me. The immediate chasers have pressures of their own to overcome, history at the venue suggests he's in a very commanding position and he also has his US Open win back in 2009 to draw on."
12:00 - April 28, 2013
Australia's Brett Rumford has won the Ballantine's Championship, beating Peter Whiteford and Marcus Fraser in a playoff and I'll have more on that tournament in tomorrow's De-Brief but for now, with a round to go and an earlier than expected start in New Orleans, I'm turning my attention to the Zurich Classic.
Having had high hopes for pre-event pick, Boo Weekley, the third round was largely disappointing. Boo started the day one shot behind halfway leader Lucas Glover but he ended it four adrift. Here's the latest leaderboard. In addition to their current scores, I've also quoted the players prices to back, as at 11.45am and how my book looks in relation to each.

Lucas Glover -14 3.711/4 +£566
Billy Horschel -12 6.25/1 -£171
Jimmy Walker -12 8.88/1 +£65
D.A points -12 8.88/1 +£436
Kyle Stanley -12 11.010/1 +£669
Kevin Stadler -11 24.023/1 -£171
Boo Weekley -10 36.035/1 £3099
Ricky Barnes -10 46.045/1 +£496
Henrik Norlander -10 75.074/1 +£1208
Ken Looper -10 110.0109/1 +£1922
Justin Rose -9 32.031/1 -£201
Nick Watney -9 36.035/1 -£215
Harris English -9 70.069/1 +£198
Luke Guthrie -9 80.079/1 +£1208
Ken Duke -9 110.0109/1 +£1208
Bobby Gates -9 210.0209/1 +£1208
-8 and 95.094/1 Bar
As you can see, I still have a number of losers in the book and my biggest concern has to be Billy Horschel, who was one of a number of players to make a big move yesterday.
I could level things off now and ensure I make a profit but I'm going to wait and trade in-running. Obviously, I'd love to see Boo rally and make it a very nice week but I have to be realistic and I suspect that's highly unlikely.
So far, there have been seven renewals of this event staged at TPC Louisiana and the first winner, Tim Petrovic in 2005, is the only one to date to come from any further than a shot back after three rounds. Andres Romero trailed by one in 2008 and the other five were all either leading outright or tied for the lead.
It looks very congested and at first glance, Glover looks vulnerable. Indeed, he's said himself after round three.
"I've got the lead, I've got a big bull's-eye on my back, so they're going to be guns-a-blazing, and I'm going to have to do the same thing.''
But he's very much the man to beat and at 3.711/4 he looks a very fair price to me. The immediate chasers have pressures of their own to overcome, history at the venue suggests he's in a very commanding position and he also has his US Open win in 2009 to draw on. He said this yesterday about his success at Bethpage Black four years ago.
"That's about as much pressure as you can get, and I executed at a pretty high level there, so that will be in my mind tonight and in the morning.''
The weather forecast suggests that thunderstorms are a distinct possibility today in Louisiana, which is why the leaders tee-off at 15.01 UK time.
I'll be back tomorrow with the De-Brief.

23:15 - April 27, 2013
It's been a disappointing evening tracking Boo Weekley's demise in Louisiana but I'm not going to dwell on the negatives. My Zurich Classic book is in good order and I'll be back tomorrow with details but the Zurich's not the only event of the week...
The Ballantine's Championship leaders, Alex Noren -9 2.915/8 (to back), Pablo Larrazabal -8 5.49/2, and Peter Whiteford -8 11.521/2, all tee-off at 2.30am UK time and they'll be doing so without me. I have absolutely no intention of getting up but I have finally struck an in-running wager, on pre-event favourite, Louis Oosthuizen.
The South African trails Noren by four strokes and that's far from insurmountable. I can't say he's a confident selection but at 14.013/1, he looks at least a couple of ticks too big.

06:45 - April 27, 2013
At the time of writing, there's an almighty logjam at the top of the Ballantine's Championship leaderboard and I'm still leaving the event alone for now.
The halfway leaders have not long started round three and it's live on Sky. With two players I've backed umpteen times in Kiradech Aphibarnrat and James Morrison right in the thick of it, I can't begin to pretend that I'm enjoying watching it but that's more than enough moaning, things are going well in Louisiana at the Zurich Classic...
As detailed on day one, I started out the week laying 19 players before the off and I've been adding others as the event's progressed. Lucas Glover, on -12, now leads by a single stroke over one of my pre-event selections, Boo Weekley, and the presence of Boo has been a huge bonus.
I've layed both the leading pair now, as well as D.A Points, a further stroke back in third, but they're all winners in the book, Boo especially so.
The only losers I have in the top-11 players as it stands now are Ernie Els (on -8 and four off the lead) and Justin Rose (-7 and trailing by five). Ernie loses me £257 and Justin £352.
My worst result now would be Nick Watney. He's currently six off the lead on -6 and should I do no further trading and he won, he'd cost me £366.
Boo would be a cracking result, Glover would win me £302, Points £292, and the majority of the field, including fourth-placed Morgan Hoffman, who I haven't yet layed, all currently win me £1063.
History strongly suggests I don't have to worry about Watney and the man to be on now is Glover. The last four winners of this event were all in front at this stage.
The leaders go out again at 6.45pm, UK time, and the plan tonight will be to try and trade myself into a no-lose position by the end of round three.

11:00 - April 26, 2013
The Ballantine's Championship is still in progress but for now, I'm letting it play our without me. I will take a good look when play stops but at this stage, I'm leaning towards leave it alone and concentrating all my efforts on the Zurich Classic.
Of the three I backed before the off, only Rory Sabbatini disappointed. Graham DeLaet shot a four under-par 68 and sits four off the lead, set by Ricky Barnes, and Boo Weekley shot 65 to trail by just one.
My lay book looked great until the afternoon starters began, but now it doesn't look so hot. Five of the 19 players I layed before the off, Ernie Els, Rickie Fowler, Billy Horschel, Chris Kirk and Jimmy Walker, all shot five under-par 67's in the afternoon.
I layed another two in-running yesterday - Greg Chalmers and Harris English and I'm now staring down the barrel of a worst case scenario loss of £706. There's a long way to go but as it stands, should I trade no more, I stand to win £746, should anyone I haven't layed go on to win.
I've toyed with laying a lump of my Boo Weekley wager back but I'm going to take a gamble and leave it for now. A good second round from Boo will make my book, a poor one could break it, and so fingers are firmly crossed.
History suggests he's a good position, the last four winners have been no worse than tied 8th after round one and all of them were in front by the end of day two. In theory, the fact that I haven't yet layed any of the top-five should be in my favour but I'm under no illusions. None of the five would put the fear of god up the chasers at this early stage.
For the record, the afternoon starters enjoyed quite an advantage over those that had teed off in the morning yesterday, shooting a shade over one stroke less on average.

13:10 - April 25, 2013
I don't usually kick-off the In-Play Blog this early but as I've had a change of tactics this week, I thought I'd better get the ball rolling.
There's not much to report from the Ballantine's Championship, where following a two hour delay for poor visibility, round one is yet to finish. My three outsiders, listed below, haven't started as I would have hoped and I haven't got involved in-running.
The story of the morning has been the start by pre-event favourite, Louis Oosthuizen, who has already been matched at just 2.1011/10. I watched a bit of this morning's coverage and his play was reminiscent of that displayed during his demolition job at the Open Championship three years ago at St Andrews.
After birdies at the first four holes, a poor drive on the par 5 5th put a stop to the run but further birdies followed at the 6th and 8th holes. It looked like he was going to set a very stern early target but as so often happens with super-fast starts; the momentum was lost on the back-nine. Bogeys were made at the 10th and 12th holes and I was left wondering why I hadn't layed him. Especially given this week's tactics at the Zurich Classic...
Having backed three relatively big-priced picks on Monday, the plan had been to wait and see how the first day developed and then to look at getting some of the early pace-setters onside. As detailed in the preview, front-runner have a terrific record at this event and that looked a sensible plan but I decided yesterday to get a bit more involved.
I've got family stopping for a few days so I won't be able to track the play as closely as I'd like so I haven't gone mad by any means but I've decided to lay the front end of the market before the off.
I'm not mad keen on the favourites, although I'm airing on the side of caution with Jason Dufner and Bubba Watson, but it's the players a bit further down the list that look short to me and I've layed everyone currently trading at 65.064/1 and below with the obvious exception of Graham DeLaet, who I backed on Monday at 85.084/1.
I don't usually quote actual figures as I don't see it as either relevant or to be frank, anyone else's business, but for this week only I will, as I don't think I can explain it clearly enough without doing so.
I've layed a total of 19 players and if I don't touch the market and just leave it until the end of play, should any of those 19 win I will lose an amount ranging between £169 (Bubba) and £819 (Cameron Tringale). Should I do nothing and all 19 get beat I stand to win £636.
I don't plan to leave things alone completely but I don't want to meddle too much too early either. If a host of fancied players get off to a flying start today I could well be shrugging my shoulders and merely waiting to pay out but if they don't, I'll be in a strong position.
I've picked this event to lay the fancied players for a number of reasons. We've had a lot of upsets already on the PGA Tour this year, this event has produced a few shock winners recently (although not the last two years) and as stated previously, some of those trading below 65.064/1 look skinny to me.
Ballantine's Championship Pre-Event Selections
Gregory Havret @ 160.0159/1
Gareth Maybin @ 160.0159/1
Andreas Harto @ 230.0229/1

In-Play Bet
Louis Oosthuizen @ 14.013/1
Zurich Classic Pre-Event Selections
Rory Sabbatini @ 85.084/1
Graham DeLaet @ 85.084/1
Boo Weekley @ 90.089/1
Zurich Classic Lay Book
Worst case scenario -£819
Best case scenario +£686
Standings after round one
Worst case scenario -£706
Best case scenario +£746
Standings after round two
Worst case scenario -£366
Best case scenario +£1063
Standings after round three
Worst case scenario -£215
Best case scenario +£1922
Note: Above Lay Book figures don't include pre-event picks
*You can follow me on Twitter @SteveThePunter

Discover the latest articles