The Punter's In-Play Blog: Get with Snedeker to come through the field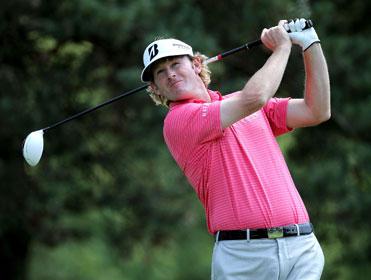 Brandt Snedeker - can he come from three behind today?
With bad weather having a say in both tournaments on Sunday Steve believes the leaders could be vulnerable, and it's a proven winner who our man is counting on to come through the field Stateside...
"Most of Brandt's wins have come from off-the-pace and this looks to be set-up perfectly for last year's FedEx Cup Champ and at 12.5, I thought he looked a great price."

10.30 - June 30, 2013
Well, the least said about Peter Uihlein's third round at the Irish Open the better! He birdied the 1st and was matched at a low of 4.03/1 but that was as good as it got. A double-bogey at the 3rd, a bogey at the 5th and 15 pars to accompany that sole birdie resulted in a two over-par 74 and he's now fully six shots off the lead - held by Joost Luiten.
Luiten is one clear of Pablo Larrazabal and three clear of Robert Rock but with scoring tough today we could see a day of much change. Of the two leaders, Larrazabal could be the one to enjoy the breezier conditions most, he tweeted on Friday, "Tough conditions out there... I played great on the wind today... Going for a fun weekend..." and then yesterday, "Mmm... Looks like there is going to be windy conditions again... Interesting..." But I think they could both be vulnerable.
We saw yesterday with Uihlein, how quickly things can change around here and I was sorely tempted to lay the leaders this morning but after much deliberation, I'm leaving things alone for now. I want to see for myself how bad the wind is and I'm a little concerned about getting stuck into Pablo given how confident he sounds about playing in the wind.
After a calamitous third round at the AT & T National, where the 11th hole in particular caused plenty of carnage, four men are tied at the top on -7. The experienced multiple-winner, Bill Haas 4.47/2, the one-time PGA Tour winner, Andres Romero 6.86/1, and two players looking for their first PGA Tour wins, Roberto Castro 8.27/1 and James Driscoll 8.615/2.
Bill Haas may have won the FedEx Cup in 2011 but he's looked a nervous wreck in-the-mix since, Romero has already been matched at just 2.8415/8, before double-bogeying 11 and bogeying 12 yesterday, and the other two are trying to notch for the first time, so all four look vulnerable to me.
The immediate chasers don't inspire much confidence either but lurking three back on -4, looks a serious danger in the shape of Brandt Snedeker. Most of Brandt's wins have come from off-the-pace and this looks to be set-up perfectly for last year's FedEx Cup Champ and at 12.5, I thought he looked a great price.
Watch out for the early start stateside. With bad weather forecast, they're going off in three-balls and starting early with the leaders teeing off at 10.30am (3.30pm UK time).
As always, I'll be back tomorrow with my De-brief.

11.00 - June 29, 2013
We've reached the halfway stage of the Irish Open and disappointingly for organisers and fans alike, all four Irish major winners, Rory McIlroy, Padraig Harrington, Graeme McDowell and Darren Clarke have failed to make the cut.
I watched much of Rory's second round yesterday and I know it wouldn't be the case, but it looked as if he was playing without care. Maybe it's just his natural body language but he just seemed disinterested to me. Anyway, let's not waste time on those not even playing let's have a look at who is and who might now win.
Peter Uihlein and the rejuvenated Robert Rock are tied at the top on -9 and at around 6.05/1 the American youngster looks a fair price. He's already won the Madeira Islands Open and he certainly won't be frightened to win again. And according to this article, he won't mind if the wind continues to blow - as its forecast to do tomorrow.
According to the market, local hero Shane Lowry is Uihlein's biggest challenger and I'm not about to disagree. Lowry, like all of my picks also, got the wrong end of the draw (those drawn early/late averaged 1.31 shots more than those drawn late/early) and he's needed a tip-top short game to get within two of the lead - he tops both the sand save and putting stats at halfway.
And on the subject of stats - there was much talk before the off about how accurately players needed to drive the ball this week but that hasn't been the case at all. Half of the current top-ten are ranked in the 100's for driving accuracy and Uihlein ranks 134th. So far he's hit just 8 of 28 fairways!
I haven't given up on Paul Lawrie yet (six back) or in-running play, Thomas Bjorn (four off the lead) but I've had a very small saver on Uihlein. I wouldn't be in any sort of hurry to back joint-leader, Rock, and 6.25/1 about the American is more than fair.
Play was suspended at the AT & T National yesterday with some of the players having only played five holes of round two. They'll be back at 7.00am (12.00pm UK time) to finish up and I'm going to let this one roll today.
It's a very young looking leaderboard at present and I can't say I'm keen on anyone, so playing the waiting game looks sensible. After a tremendous second round, I've got long-shot, David Lingmerth, on the fringe of contention anyway and that will do me for now, I'll watch tonight's play and go from there.

09.10 - June 28, 2013
At the beginning of the week the weather forecast had suggested that an early/late draw would be the favoured one at the Irish Open, so when my selections were all drawn to start early yesterday I was more than happy but weather forecasts have a very nasty habit of not materialising as promised and that's been the case so far. The afternoon starters yesterday, who enjoyed largely dry and relatively calm conditions, averaged 0.35 shots less than those that were irritated by the morning rain.
Today was supposed to be wild and wet this morning before easing this afternoon but that's not now the case. The wind is due to increase this afternoon, albeit only slightly, so the early starters today have a chance to get away and I'm really regretting not being on one of them from the get-go...
I'm a big Michael Hoey fan - his wins to runs ratio means he's often wildly over-priced and that seems to have been the case this week. I somewhat lazily didn't research him properly this week and when I read this tweet on Monday, "Disappointed with my closing bogies in both rounds today at Sunningdale in The Open IFQ, but great to be back out playing" I lazily assumed that he'd been out injured and moved on but he'd been taking a break from the game, awaiting the birth of his first child - born last Thursday.
If I'd have been aware of the facts I'd have definitely thrown a few quid at him at over 300.0299/1 but I've missed the boat. Given he hasn't played in a while he may bounce this morning, and at the time of writing, I see he's over-par this morning, so I've done the right thing not diving in but I have had a couple of bets since I posted my preview. Before play started I added Gregory Havret but the least said about that the better and then I backed Thomas Bjorn modestly in-running yesterday morning.
I wanted him for a very tidy sum last week at the BMW International where he finished second behind Ernie Els and I couldn't let him go un-backed this week once he'd started well. I thought he was short enough, despite how well he's been playing of late, before the off at around 17.016/1, but at -3 and safely within the top-ten, I thought anything in double-figures was fair enough.
Another player to have so far proved that his price wasn't too short before the off, as I'd perceived it to be, is Shane Lowry. He represents Carton House, clearly knows the place intimately and he looked for most of the day as though he'd be leading after round one but afternoon starters, Jean-Baptise Gonnet, Peter Uihlein, Joost Luiten and the aforementioned Hoey, all equalled his five under-par 67 and Sweden's Oscar Floren bettered it by one.
The big disappointment on day one was most certainly pre-event favourite, Rory McIlroy, who shot a subdued two over-par 74. He said after the round that he was "just feeling a bit lost" and you have to ask the question, is it still a blip, or is it now a slump?
I wouldn't be in huge rush to write him off, even this week. When Bjorn won here in 2006 he shot 78 on day one and he was even further back than Rory is now. It's going to be interesting how he responds today but he's got his work cut out, just to make the cut. Maybe he should get a few tips from his new robot mate?
At the AT & T National, a number of players commented that the course played much as it had done at the US Open in 2011 though that didn't stop Roberto Castro, who shot a five under-par 66 to lead by two.
I wrote in my preview that I felt that the Players Championship form was worth close inspection, so maybe it wasn't a surprise to see Castro prosper, as he led at Sawgrass after day one too! He lost the plot completely after that though so I fancy the field is far more congested that the scores suggest.
My three picks were all disappointing for different reasons. Ryan Palmer, playing the back-nine first, started well but then played holes 1 - 4 in four over, David Lingmerth opened up with a bogey and finished with one and Martin Laird putted like Blind Pugh!
Laird played superbly from tee to green but just couldn't buy a putt until right at the end of his round, when he birdied two of his last three holes to finish on level par. It looks a tight affair at this stage and I'm going to let things roll but I'm certainly not laying my Laird wager back. If he can get a few putts to drop today he'll be right in-the-mix in no time.
Irish Open Pre-Event Selections:
Paul Lawrie @ 46.045/1
Gregory Havret @ 130.0129/1
Darren Fichardt @ 150.0149/1
Garth Mulroy @ 190.0189/1
In-Play Bet
Thomas Bjorn @ 10.519/2
Peter Uihlein @ 6.25/1
AT & T Pre-Event Selections:
Ryan Palmer @ 60.059/1
Martin Laird @ 75.074/1
David Lingmerth @ 150.0149/1
In-Play Bet
Brandt Snedeker @ 12.5

*You can follow me on Twitter @SteveThePunter
Discover the latest articles