The Punter's In-Play Blog: Can Horschel hang on?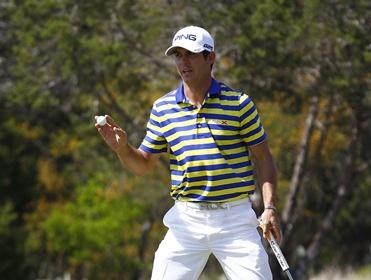 Billy Horschel – Leading after three rounds in Colorado
With a round to go at both this week's event, our man takes a detailed looked at the likely candidates and the past stats. Will Graeme Storm to victory in the Alps and can Billy Horschel convert at Cherry Hills? Read Steve's final in-running update of the week here....
"Since 2010, 24 men have led by three with a round to go on the PGA Tour and only ten of them went on to win. That odds-on doesn't look so tasty anymore does it."
10.00 - September 7, 2014
A scruffy double-bogey at the final hole in round three by Brooks Koepka has blown the European Masters wide open with a round to go and we're left with an intriguing looking puzzle to solve. Here's the leaderboard with prices to back as at 9:50 UK and Ireland time.

Graeme Storm -16 6.05/1
Tommy Fleetwood -15 3.8514/5
Brooks Koepka -14 4.57/2
David Lipsky -13 15.5
Jamie Donaldson -12 9.28/1
Richie Ramsay -12 17.016/1
Tyrell Hatton -12 38.037/1
Shane Lowry -11 22.021/1
Victor Dubuisson -10 36.035/1
Edoardo Molinari -10 80.079/1
-10 and 1700.0 Bar

With much thanks to a hole-in-one at the 11th hole and some terrible play from one or two others yesterday, Hartlepool's Graeme Storm finds himself in front with a round to go but he looks vulnerable and is priced up accordingly. 
The 36-year-old has been an ever-present on the European Tour for many years but still has just one win to his name - the 2007 Open de France. He led three times with a round to go on the Challenge Tour in 2004 and he converted twice but he's never struck me as a solid in-contention performer on the European Tour. The bare facts are that he's previously led twice through 54-holes and on both occasions he was well beaten. He shot 76 at the 2006 New Zealand Open where he tumbled down to 18th and he fell from first to fifth at the KLM Open two years ago with a final round of 73. Yesterday's leaders, Richie Ramsay and Jamie Donaldson, both showed how hard it is to lead and I fancy Storm will struggle today.
Tommy Fleetwood has had just two gilt-edged chances to win on the European Tour and to his credit, he took one of them. He led the Volvo Golf Champions event in January through three rounds before falling to third with a lacklustre 72 on day four but prior to that, he won the Johnnie Walker Championship just over a year ago, having been tied for the lead with a round to go. As an up-and-coming star of the Tour with a win already recorded, he's the worthy favourite this morning but at the prices I marginally prefer Koepka...
The young American looks a world star of the future and Tom Watson even considered him for a wildcard pick at the upcoming Ryder Cup. He didn't play brilliantly when he hit the front yesterday and his double bogey at the final hole, where he fatted his approach shot from fairway bunker to greenside pond, wasn't a thing of beauty, but I can see him overpowering his opponents today. There's not enough meat on the bone for me at just 4.57/2 but he's my idea of the most likely winner from here. 
Fellow American, David Lipsky, who plies his trade on the Asian Tour, has to be considered given he's just three back and that he's already shown that he can compete in the heat of battle on the European Tour. He sat third and two off the lead with a round to go at The Championship back in May and shot 65 to finish second. On that evidence, he's not to be dismissed but with graduation to the European Tour, as well as the title, up for grabs, the pressure might just tell at the business end of the event.
My two picks, Jamie Donaldson and Richie Ramsay, were desperately disappointing yesterday but they could conceivably bounce back today. Donaldson had raced to a three stroke lead and driven almost pin-high at the par 4 7th when he was matched at just 1.794/5 but to say he played poorly thereafter is an understatement. He triple-bogeyed the 12th and doubled the 14th.  
The pre-event favourite is more than capable of blitzing his way around here in six or seven or even more under-par, has nothing to lose now, and I can see him going low. Given he has four strokes to make up on the leaders he obviously has it all to do but I wouldn't be surprised to see him win and he looks a fair price to me at anything over 9.08/1. I had the good sense to lay him at 1.84/5 yesterday but I've backed him back again at 9.28/1.
Ramsay was clearly nervous and opened up the third round with three bogeys in his first four holes but if I'm to think positively, he should be better suited coming from off the pace.
Tyrell Hatton is a rookie that has gotten a bit too excited in-contention and even though he's a further shot off the lead, I prefer the chances of Shane Lowry but he has it all to do and his price of 22.021/1 is certainly not generous. 
We probably can't look beyond the first eight. Constantino Rocca shot 62 in round four to win from five back in 1997 but four is the largest deficit made up since then. Sven Struver, in 1998, and Jean-Francois Lucquin ten years later, both won from four back and Thomas Bjorn won the first of his two titles, in 2011, from three off the pace but every other winner has been within two of the lead.
Over at the BMW Championship, where Jason day, Phil Mickelson and Keegan Bradley have all withdrawn, yesterday's market leaders, Rory McIlroy and Sergio Garcia, have dropped away tamely. Here's the leaderboard with prices to back as at 9:50 UK and Ireland time.

Billy Horschel -13 1.834/5
Ryan Palmer -10 6.611/2
Martin Kaymer -8 10.09/1
Bubba Watson -8 13.012/1
Rickie Fowler -7 16.5
Sergio Garcia -6 42.041/1
-5 and 60.059/1 Bar

At first glance, three strokes looks a big lead and even though I'm not a fan of backing odds-on shots, Billy Horschel looked a fair price at 1.834/5 to convert his lead but on closer inspection, I'm more than happy to look elsewhere. Since 2010, 24 men have led by three with a round to go on the PGA Tour and only ten of them went on to win. That odds-on doesn't look so tasty anymore does it.  
Although Horschel hit an absolute shocker on the 72nd hole last week, when he needed a birdie to tie for the lead but found wasteland with his approach, and he's a jumpy type who looks like he could get jittery in-contention, I quite like his chances. I think he has the necessary minerals to step up and dominate the final round and his nearest pursuer, Ryan Palmer, has struggled in-the-mix of late, but those stats have really put me off. 
I'd given up on my only in-play bet, Martin Kaymer, before yesterday but he made a lovely run through the field in round three and I'm happy to have him onside. He's a multiple major winner who isn't afraid to win and so is the man alongside him on the same score...
Like Kaymer, Bubba Watson will need a bit of help from Horschel but being five back may suit him. He won the Northern Trust Open by two strokes in February, having trailed by four with a round to go, and I've decided to have a modest wager on him at 13.012/1.
I'll be back tomorrow with the De-Brief.

11.20 - September 6, 2014
Nothing ruins an intriguing looking tournament quite like an inch or two of rain. The green staff at Cherry Hills would have worked their socks off to get their pride and joy prepared for this week's BMW Championship and after round one, when nobody bettered three-under-par, and with the course drying out following last week's rain we looked set for a fascinating duel between the world's best golfers and a classic old layout. 
So what happened on Thursday night? An inch of rain fell, the course softened back up again, and Sergio Garcia and Ryan Palmer both shot six-under par 64s. Nobody managed a 65 but five men also bettered the best on Thursday and shot 66 so even though plenty of players did struggle yesterday, and especially my picks, the course hasn't been allowed to show its true potential, thanks to the rain.
Here's the halfway leaderboard with prices to back, as at 11:15 UK and Ireland time.
Sergio Garcia -8 4.3100/30
Ryan Palmer -7 12.5
Rory McIlroy -6 3.185/40
Billy Horschel -6 13.5
Bubba Watson -4 28.027/1
Hideki Matsuyama -4 38.037/1
Graham DeLaet -4 44.043/1
Adam Scott -3 22.021/1
Rickie Fowler -3 26.025/1
Henrik Stenson -3 29.028/1
Jordan Spieth -3 44.043/1
-2 and 55.054/1 Bar
Incredibly, Garcia claimed he didn't play especially well yesterday and maybe he didn't. He only took 21 putts and such a low tally often covers up a multitude of errors with the long game so he could be worth opposing from here on in. I'm no fan of his anyway and given how irregularly he manages to win, he rarely represents value and that's again the case here with still two rounds remaining.
His closest pursuer, Ryan Palmer, is a in a rich vein of form but he's been disappointing at the business end of recent events and given he'll have a preoccupation with getting inside the top-30 of the FedEx Cup standings (currently 30th) in order to qualify for the finale at East Lake next week, he's probably best left alone also. 
Rory is the worthy favourite and a very decent price at 3.02/1 or more. The soft conditions are a plus now and I can easily see him dominating over the weekend but I thought that last Sunday and he disappointed. He complained of fatigue after Monday's poor showing in the final round of the Deutsche Bank and that's the reason I'm not getting involved. I can live without backing a 2/1 winner and I'll be fatigued myself if I stay up and trade this event into the small hours.
It's been a bit of a disastrous event so far and I'm going to leave it alone for now. I've plenty of interest in the European Masters, where the leaders have just teed off, so I'm going to concentrate my efforts there for now. It's live on Sky at midday and I'll be back later to evaluate the state of play after round three.

20:50 - September 5, 2014
Pre-event picks, Richie Ramsay and Jamie Donaldson, sit first and second at the halfway stage of the European Masters but I'm far from counting my winnings just yet. Donaldson was little more than a stake saving wager anyway and Ramsay looks vulnerable enough in front. 
He's held the halfway lead five times before on various tours but failed to convert every time and 36-hole leaders don't have a great record in this event either. Thomas Bjorn was tied with Stephen Gallacher at this stage last year before going on to win but plenty have suffered from the weekend wobbles at Crans. Rory McIlroy (twice), my man Donaldson, Julien Quesne, Simon Dyson, Thomas Aiken, Oliver Wilson, Thomas Aiken, former winner, Brett Rumford, and Gary Boyd, have all failed to convert a halfway lead or co-lead in the last seven years and at just a shade over 5.04/1, Ramsay doesn't represent any sort of value.
I'm more than happy to have Donaldson covered already and he's certainly the man to beat. He's already won this year (at the Czech Masters last time out) and will be really looking forward to representing Europe in the Ryder Cup in three weeks time. The pressure is well and truly off now and he has, in all likelihood, already achieved this year's ambitions so in theory he should be really relaxed and take all the beating but he's never been the most reliable in-contention and I wouldn't be rushing in at a shade under 4.03/1.
Brooks Koepka (two off the lead), Shane Lowry (three behind Ramsay) and Ryder Cupper, Victor Dubuisson, who trails by four are the next three in the betting but the one I like at the prices at this stage is Marc Warren.
The recent Made In Denmark winner started slowly this week and after being four-over par through nine holes of yesterday's first round he must have thought he was heading for a weekend off but he's turned it on since then...
He played the front-nine (his second nine) in five-under par yesterday to end the day under-par and then followed that up with the best of the day today - a seven-under par 63. He's clearly in form still, will be keen to chase down a fellow Scot in front, and looks a great price at anything over 25.024/1.
I'm a bit disappointed to hear that they've had lots of overnight rain in Colorado, which is bound to make scoring easier at the BMW Championship, but I'm sticking with my in-play bet, Martin Kaymer, and I'll be back tomorrow to look at the state of play at halfway. 
The second round is underway and it's live on Sky Sports at 22:00 UK and Ireland time.

11:50 - September 5, 2014
The second round of the European Masters is well and truly under way and one of my pre-event picks, Richie Ramsay, is currently leading the field. As one of today's earliest starters, he's just finished his second round and he's leading by two on -12. It's hard to comment on an event while it's in progress so I'll take a more detailed look at that one at halfway.
At the BMW Championship, pre-event favourite, Rory McIlroy, looked to be taking a vicelike grip of the event when he raced to five-under par through 12 holes. He was matched at just 2.427/5 as punters clambered to get him onside but he failed to add to the birdie haul, bogeyed the 7th and 8th holes (his 16th and 17th of the round), and ended the day tied for the lead on -3. He's currently trading at a prohibitive looking 3.55/2.
The threat of thunder stopped play with a few groups still on the course but I've seen enough to know this isn't going to be an easy event in which to find the winner. I like the look of Cherry Hills - there are plenty of chances to score but shots can be dropped in no time. My impression so far is that great scrambling will be the key to success, that come Sunday night we should get a very deserved winner, and that finding the winner this early in proceedings is going to be tough, but I've had a go!
With the possible exceptions of Erik Compton (-1) and Phil Mickelson (level), my pre-event picks have been disappointing and what I should probably do now is let the event roll until halfway and then take another look but I couldn't resist a small bet on US Open and Players Champion, Martin Kaymer.
The likable German caught my eye last week and was on the shortlist before the event and now that he's one of the nine players tied for 4th on -2, a stroke behind Gary Woodland, Jordan Spieth and Rory, and still a generous price at 22.021/1, I felt I had to get him onside.
He made a complete and utter mess of the par 5 17th, where he recorded a double-bogey seven, but that was his only blemish and with just a few players left to finish their rounds, Kaymer is alongside co-leader, Woodland, at the top of the greens in regulation stats after day one. 
It's an incredibly bunched leaderboard but on a course where scoring is going to be tough, being up with the early pace should prove a huge plus and I have no idea why such a ruthless closer of events should be almost twice the price of someone like Sergio Garcia on the same score. 

European Masters Pre-Event Selections:
Jamie Donaldson @ 13.5 (stake saver only)
Bradley Dredge 44.043/1
Richie Ramsay @ 46.045/1
David Howell @ 75.074/1 
Max Kieffer@ 150.0149/1
In-Play Bet
Marc Warren @ 27.026/1
Jamie Donaldson layed at 1.84/5 and backed at 9.28/1
BMW Championship Pre-Event Selections:
Phil Mickelson @ 38.037/1
Graeme McDowell @ 60.059/1
Hunter Mahan @ 60.059/1
Erik Compton @ 330.0329/1
Tim Clark @ [360.0
Ben Crane @ at an average of 400.0399/1
In-Play Bets
Martin Kaymer @ 25.024/1
Bubba Watson @ 13.012/1

*You can follow me on Twitter @SteveThePunter
Discover the latest articles