The Punter's In-Play Blog: Can Furyk break his last round lead hoodoo?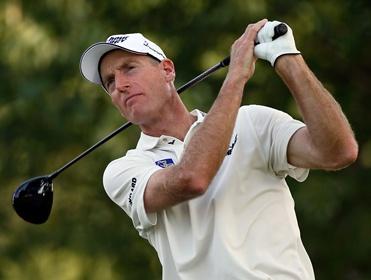 Can Jim make his one shot lead count?
Jim Furyk takes a one-stroke lead in to today's final round at Pebble Beach but he's failed to convert his last eight third round leads. Can he finally get across the line for the first time since 2010?
"Of the top-26 on the leaderboard, 14 players birdied the last today, two made eagle and nine pared it. Only one player messed the hole up and made bogey, and that was Hend."

11:20 - February 15, 2015
The True Thailand Classic has finished and my pre-event pick, Scott Hend, despite leading by a couple of strokes and trading as short as 1.635/8 deep into the back-nine, has failed to convert but that's where the bad news ends.
Andrew Dodt went on to lift the trophy and he was brilliantly picked out by Paul Krishnamurty in both his Find Me a 100 Winner column AND the each-way column!
 
I'll have more on that event in tomorrow's De-Brief but for now I'm going to concentrate on the AT&T National. Here's the current leaderboard with prices to back at 11:00.
 
Jim Furyk -18 3.412/5
 
Brandt Snedeker -17 3.45
Matt Jones -17 7.87/1
 
Nick Watney -16 7.413/2
 
Kevin Chappell -14 32.031/1
 
-13 and 44.043/1
 
Jim Furyk's last win came at the 2010 Tour Championship and since then he's led eight times with a round to go without winning. Whilst he's been poor in-contention at times, on a number of occasions he's not done an awful lot wrong but the fact remains, he's carrying quite a bit of baggage now and given he has such a hoodoo to break, he can't possibly considered value to finally win again.
 
In contrast to Furyk, Brandt Snedeker has positive vibes to draw on. He was tied for the lead here two years ago before powering to a comfortable two-stroke victory so of the two, I much prefer Sneds but I can go without backing him at less than 4.03/1 also. 
 
Matt Jones is hardy prolific and he need an awful lot of help from Matt Kuchar to win his only title - the Shell Houston Open last year - so I'm not keen on him either. Nick Watney has more than enough ability to win from here but he was in a great position last week at the Farmers Insurance and failed miserably. 
 
As mentioned yesterday, Dustin Johnson lost by a stroke having trailed by nine with a round to go last year and a couple of winners this century have come from way off the pace. Phil Mickelson was six back in 2012 and Davis Love trailed by seven in 2001 so it is possible to come from some way back. 
 
I've not liked the look of this event from the start and I'm not overly enamoured by it still. I suspect one of the front four will get the job done but it's not totally inconceivable that all four fail so I've thrown a couple more darts for this evening's entertainment.
 
Pat Perez can go really low when in the mood and could close from five back and also tied sixth, I've given Andres Gonzales another go. I backed him from a similar position last week but he was very disappointing but at 120.0119/1 I thought he was worth a few pounds.
 
In-Play Bets
Pat Perez @ 85.084/1
Andres Gonzales @ 120.0119/1
11.50 - February 14, 2015
With pre-event pick, Scott Hend, leading with a round to go at the True Thailand Classic, I should arguably be happy with my lot, especially given he had his share of fortune out on the course today, but I can't help but feel a bit aggravated by his finish. He led by three strokes when he birdied the par 4 17th and he was matched at just 2.1411/10. I thought I'd wait to see how he fared on the easy and reachable par 5 before laying any of my bet off but that proved a mistake.
Of the top-26 on the leaderboard, 14 players birdied the last today, two made eagle and nine pared it. Only one player messed the hole up and made bogey, and that was Hend. It's ridiculous to moan when you have the leader going into the final round but had he made 4 instead of 6 he'd be three clear now instead of one which would have meant I could have layed some of my bet off at around evens and had a nice stress-free lay-in tomorrow. Anyway, that's more than enough moaning, here's the current leaderboard with prices to back at 11:30.
Scott Hend -15 3.711/4
Thongchai Jaidee -14 3.814/5
Miguel Angel Jimenez -14 5.24/1
Kiradech Aphibarnrat -12 12.5
-11 and 20.019/1 Bar
I sincerely hope I'm wrong but I think Hend's ugly finish was at least partly down to the fact that he realised what a great chance he had. He would have known where he was on the leaderboard and how he could have opened up a bit of a gap with an eagle or birdie at the last and I'm more than a bit concerned that it could be a sign of what's to come tomorrow. 
Whilst Hend played well to win in Hong Kong a few months back, the leading pack underperformed that day and I'm hopeful he can convert tomorrow but I'm far from confident. In his favour however, is the fact that his closest rivals have even more pressure to overcome...
Thongchai Jaidee is bound to feel nervous, trying to win in front of his home fans, as will Kiradech Aphibarnrat, currently fourth, and Miguel Angel Jimenez is looking to become the oldest winner on the European Tour for a third time! He could be getting a bit tired now having reportedly been ill but he looks the best priced of the leading pack at over 5.04/1 and I've had a tiny wager on him to get my stakes back.
I think the front four all look vulnerable and I can see an off the pace winner tomorrow but quite who it might be is almost impossible to call. Paul Krishnamurty won't have given up on his each-way selection and Find Me a 100 Winner pick, Andrew Dodt, and Dan Geraghty's each-way pick, Alex Noren, is still lurking menacingly too.
Over at the AT&T Pebble Beach National, Brandt Snedeker is now a warm 4.57/2 favourite to win but he looks too short to me. Here's the leaderboard with prices to back at 11:30.
Brandt Snedeker -12 4.57/2
Matt Jones -12 14.5
Justin Hicks -11 55.054/1
Ten players tied on -10
Given Snedeker has played at Monterey Peninsula and the toughest of the three courses, Spyglass Hill, already and the he now spends the weekend at Pebble Beach, he's in a favourable position but on such a packed leaderboard, he's going to have to keep going low and I wouldn't want to be backing him at such a short price.
The vast majority of the leaders were un-fancied before the off and most of them will be playing the toughest of the three courses, Spyglass Hill, today but one of the ten tied for fourth, Dave Tindall's outsider, Alex Prugh, doesn't. He recovered brilliantly after a horror start to his second round at Pebble yesterday and given he plays Monterey today, he could be in a nice position by the close of play and he'll have his supporters at 26.025/1. 
Jason Day, four off the lead, and Jordan Spieth, who's five back, are the second and third most likely winners according to the market but the one I like is FedEx Cup champ, Billy Horschel...
Like Sneds, Horschel will play Pebble over the weekend and he looks a decent price at 16.015/1 given he trails by just two and I've also had what I'd have to describe as a poor-value stab on course specialist, Dustin Johnson. DJ trails by five and has to go ultra low over the weekend but we do at least know he's capable, and especially here. He's won this event twice already, blew a three-stroke lead at Pebble in the 2010 U.S Open and only lost by a stroke in this event last year, having trailed by nine with a round to go!
I don't feel as though Johnson's a great price at just 26.025/1 but after his enforced six month break, he looked to be warming to the task nicely yesterday when he shot five-under-par around Spyglass Hill and if he gets going early today his price will collapse. 
I'll be back tomorrow with a look at the state of play with a round to go.

11.50 - February 13, 2015
We've reached the halfway stage of the True Thailand Classic and despite feeling under the weather, Miguel Angel Jimenez, is out in front on 11-under-par. Here's the leaderboard with prices to back at 11:40.

Miguel Angel Jimenez -11 5.49/2
Kiradech Aphibarnrat -10 6.611/2
Thongchai Jaidee -9 6.86/1
Scott Hend -9 9.89/1
Richard T Lee -9 40.039/1
-8 Bar and 15.014/1 Bar

Another week and another player somehow manages to compete at the highest level whilst suffering with flu! I'm not having that one moment, if Miguel has flu then it's a mild dose of wine flu. Nobody could play to the level he is this week while suffering with proper flu but according to the commentators that's what he's got. Quite what's wrong with him I've no idea but it's enough of a worry to put me off.
He's already the oldest winner on the European Tour - a record he's broken twice - and that's something else that puts me off him a bit. At 51, if he isn't 100%, it's asking an awful lot of him to keep going all weekend.
Kiradech Aphibarnrat, who has played with Jimenez over the first two days, is his nearest challenger and he'll have his supporters but I'm not one of them. He's been a bit cold of late (shot 80 in round one in Malaysia last week) and I just worry he won't be sharp enough over the weekend. And playing in front of his own supporters will pile on the pressure too - he's zero from 25 when playing in his homeland. I'm not for a second saying he's worth taking on but he's not my idea of a value price at less than 7.06/1.
Fellow Thai, Thongchai Jaidee, is the big name lurking at this stage but again, if there's value in his price I can't see it and the same can be said of Alex Noren, who trails by four but trades at just 15.014/1. I watched quite a bit of the Swede's second round today and it wasn't pretty. He looked a bit tired to me and with so many in front of him; he has it all to do to win.
I was very disappointed in my each-way selection, Prayad Marksaeng, today. He followed yesterday's five-under-par in the trickier afternoon conditions with a level par 72 this morning but my only other pre-event pick, Scott Hend, has fared well. He sits two off the lead and has a great chance if he can cut out a few mistakes and I've added one other-now in first round leader, Michael Hoey.
The Irishman, who turned 36 today, couldn't match yesterday's heroics but that's hardly surprising. He hit every green yesterday and it's never easy to back up a low round. He's already won five times on the European Tour and this looks a good chance for him to make it six. 
I haven't liked the AT&T Pebble Beach National from the moment I started looking at it and my opinion hasn't changed yet. I couldn't see any value amongst the market leaders before the off and I'm still struggling.
Justin Hicks and last week's runner-up, J.B Holmes, are tied at the top after round one having both shot eight-under-par 64s around the host course and given they're playing Monterey today, they could very easily still be in front tomorrow.
As you'll see from yesterday's averages (listed below) there was very little between Pebble Beach and Monterey Peninsula, with Spyglass Hill, by almost two strokes, very much the toughest of the three courses. Alex Prugh, tied for ninth and two off the lead, is the only player in the top-14 to have played Spyglass yesterday and he may represent a bit of value at around 28.027/1. 
Monterey Peninsula 68.94
Pebble Beach 70.06
Spyglass Hill 71.77
In theory, Prugh's difficult round is out of the way and he fits the profile of recent winners too. He's an American who finished fifth last week and as highlighted in the preview, the home contingency have won all bar three renewals of this longstanding event and most winners have shown some recent form but although I'm mildly tempted, I'm happy to leave him be for now.
Although he impressed me in-contention last week, he's only ever won once - the New Zealand Open on the Nationwide Tour (now the Web.com) - so he's hardly prolific.
Given he plays Monterey today, I'd have Holmes favourite over Brandt Snedeker, who trails the leaders by one and who plays Spyglass today, but at around 9.08/1, with so much of the event still to play, I'm happy to leave him alone too.
I'll be back again tomorrow when hopefully the picture will be somewhat clearer. 

True Thailand Classic Pre-Event Selections:
Scott Hend @ 32.031/1
Prayad Marksaeng @ 66/1 Sportsbook

In-Play bet
Michael Hoey @ an average of 30.029/1
Miguel Angel Jimenez @ 5.39/2

AT&T Pebble Beach National Pre-Event Selection:
Rory Sabbatini @ an average of 145.0
In-Play Bets
Billy Horschel @ 16.015/1
Dustin Johnson @ 26.025/1

*You can follow me on Twitter @SteveThePunter
Discover the latest articles