The Punter's In-Play Blog: Dramatic finale on the cards in Italy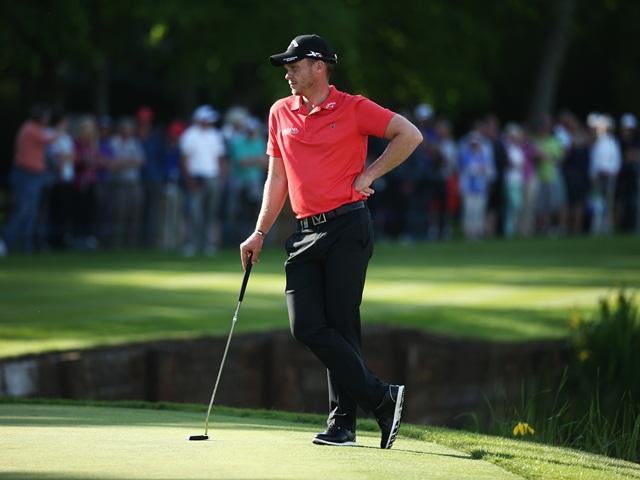 Danny Willett – the warm favourite in Italy
The weather's been kinder over the last 24 hours or so in Milan and we're set fair for a 72 hole event now so read our man's thoughts on the Italian Open ahead of the upcoming fourth and final round here...
"The market strongly suggests that one of the two leaders will take the title but I'm not so sure. The course is yielding extremely low scores and if they're not right on their game this afternoon they'll be caught napping"
10:30 - September 18, 2016
After a long day yesterday and an early start this morning, they've managed to get the first three rounds of the Italian Open completed so here's the 54-hole leaderboard with prices to back at 10:15.

Danny Willett -16 3.45
Francesco Molinari -16 3.65
Alex Levy -15 8.88/1
Chris Paisley -15 21.020/1
Richard Bland -14 18.5
Robert Karlsson -14 18.5
Matthew Fitzpatrick -13 15.5
Alejandro Canizares -13 25.024/1
Nacho Elvira -12 130.0129/1
-11 and 70.069/1 bar

With Masters Champ, Danny Willett, tied for the lead with home favourite and 2006 winner, Francesco Molinari, we look set for a cracking finale to the Italian Open this afternoon. Last year's renewal didn't lack for drama and I can see a similar finish to the event again today. It's live on Sky Sports at midday and it looks like it'll be well worth a watch.
The winner 12 months ago, Rikard Karlberg, began the final round three off the lead and as he made the turn he trailed by six. Martin Kaymer, who at one stage briefly led by five and was matched at just 1.211/5, was beaten by the Swede in extra time. The market strongly suggests that one of the two leaders will take the title but I'm not so sure. The course is yielding extremely low scores and if they're not right on their game this afternoon they'll be caught napping.
Although the very top of the leaderboard has thinned out a bit, there are ten players tied for tenth and five back and if one of those can shoot a 62, 63 or even 64, they're not out of it yet. The likes of Rafa Cabrera-Bello, who once won the Austrian Open from eight adrift with a final round of 60, Rikard Karlberg, Chris Wood, Richard Green and Andy Sullivan are all on -10 and they're all capable of winning from five back.
I was tempted to play a few at long odds from off the pace but instead I've decided to just lay Molinari. The Italian won this event ten years ago having been tied for the lead with a round to go and he also successfully converted form the front at the WGC-HSBC Champions event in 2010, when he got the better of Lee Westwood in what was effectively a duel, but he's still someone I like to take on. He's been within three of the lead with a round to go on 25 further occasions in the last ten years and he's failed every time. In addition to laying him in the win market, I've also layed him modestly in the Top 5 Finish market at long odds-on.
Danny Willett is a much stronger player in-the-mix than Molly and I'm not at all surprised to see he's at the head of the market. When the third round ended Molinari was the narrow favourite but he's drifted from 3.39/4 and Danny's price has just about held firm. Willett has successfully converted his last three 54-hole lead or co-leads and he's definitely the man to beat.
I initially layed the two leaders at 1.684/6 combined this morning but after further reflection, I've decided to back Willett back. If he shortens dramatically I may reduce my potential Molly loses by laying him again, and I may look to lay him in-running, but he has a far better chance than the Italian and he's too big now at around 3.55/2.
We look set for a cracking final round and I'll be back tonight or tomorrow to recap all the action in the Debrief and I'll also be back at some stage today with my Tour Championship preview.

11:30 - September 17, 2016
I was betwixt and between with Matthew Fitzpatrick yesterday. I felt if I left him out he'd catch the leaders and if I backed him he'd go backwards. I decided to back him extremely modestly and I'm glad that's all I did. Chris Paisley missed his eagle putt but tapped in for birdie when play resumed early this morning and he made a couple more before ending the round on -13. And Danny Willett finished his second round with three birdies to get to within one of Paisley. My man, Fitzpatrick, birdied his final hole but on seven-under-par he has it all to do and if the event is reduced to 54 holes he's bang in trouble.
The weather is apparently set fair until this evening so they should get the third round well underway and if we don't get any more rain a 72 hole event is definitely still possible. Any more rain could cause problems though as the course is already sodden and it won't take much more of the wet stuff to cause chaos.
Willett is quite rightly a very warm favourite now at less than 2/1 but Chris Wood is flying this morning. At the time of writing, he's reached ten-under-par with four to play, having birdied six of his last seven holes and I've scrambled on board for small stakes at 9.417/2. Hopefully he can keep going because if he only pars in that's a very fair price.
I've also placed a small bet on Nacho Elvira at 60.059/1. The Spaniard sits on nine-under-par and that's close enough to put in a challenge. He impressed me in Morocco in May when he lost to Jeunghun Wang in a playoff where he was desperately unlucky to lose.
I'm off to the Manchester City v Bournemouth match this afternoon so I won't be able to trade the tournament but that might not be a bad thing. It's very hard to gauge when an event is as disjointed as this and leaving it alone may be the best course of action now.

22:20 - September 16, 2016
With no event on the PGA Tour this week, the Italian Open on the European Tour is the only event I'm monitoring so it's very disappointing to see the weather making it such a tough contest to bet on.
Almost five hours were lost to the storms yesterday and it didn't take long for heavy rain to put pay to the action again today. The downfall didn't begin until mid-afternoon but once it arrived, the already sodden course was soon unplayable again. The players lined up to restart fairly quickly but just before they were due to crack on the heavens opened again and we're left with a bit of a mess.
England's Chris Paisley, who has played 13 holes of round two, leads by one over Danny Willet but he'll move at least two clear when play resumes tomorrow as he has a very makeable eagle putt on the par five 14th. Richard Green, who sits tied for third on -8 and two behind Paisley, is the only player in the field to have completed two rounds and half the field is yet to start their second rounds. It's all a bit of a mess.
Hopefully we'll get four rounds in and before the end of Sunday but there's more rain forecasted for Sunday morning so it's certainly not a given. Willett is the clear and firm favourite now at around 5.69/2 but he's too far from the winning line to back at such a short price. The Masters champ hasn't been in the best of form of late and although he's obviously the man to beat, it's worth remembering that soon after his triumph at Augusta he lost his way in the BMW PGA Championship and the Irish Open from stronger positions than this.
I could very easily have left the event alone completely for now but I've talked myself in to a tiny bet on Matt Fitzpatrick at 20.019/1. He has only five holes left to play in round two and he's currently four off the pace but he managed third here last year after a much slower start and I didn't want to leave him out.

16:05 - September 15, 2016
With no PGA Tour action this week, we only have the Italian Open to focus on so it was very frustrating to lose almost five hours of play to the weather today. The start was delayed due to the threat of lightening and then, not long after they'd started late, play was suspended again for the same reason.
The heavens opened and when they eventually got going the course was sodden. Scoring was always going to be low anyway but the soft greens meant for target golf and anyone not making plenty of birdies has been left behind already.
Four of my seven pre-event picks have started the event and they've all been disappointing. Julien Quesne and Brandon Stone have been particularly poor and after Soomin Lee had birdied three of his first five holes, he's been rubbish too.
The 2006 winner, Francesco Molinari, is pleasing the home fans and the defending champ, Rikard Karlberg, has also started well but it's very early days.
They're going to do well to get this tournament on schedule by the weekend, even if there are no further delays and I fancy those that were drawn afternoon/morning might just get the better of it. Those on the course now, that should have finished at lunchtime, assuming no further delays, are going to play at least some of their second rounds late tomorrow but they'll probably have to come back early on Saturday to finish round two. Their first two rounds are likely to stretch over three days, whilst some of those on the opposite side of the draw will get done tomorrow.
I'm not doing anything just yet but I'm going to have a keen eye on those that were drawn pm/am and I'll look to strike as they're finishing up their second rounds. I'm also going to be keeping an eye on Molinari's price. If he keeps on making birdies, he's going to go quite short in the win market and there might also be an opportunity to take him on in the place markets too.
Molinari sat tied for second after round one last year but tumbled down the leaderboard to eventually finish tied for 20th and he always one to look to oppose.

Pre-Event Selections:
Julien Quesne @ 66/1 (Sportsbook)
Brandon Stone @ 75.074/1
Thorbjorn Olesen @ 100.099/1
Soomin Lee @ 170.0169/1
Ashun Wu @ 250.0249/1
Ryan Evans @ 300.0299/1
Pelle Edberg @ 400.0399/1

In-Play Bets
Matt Fitzpatrick @ 21.020/1
Chris Wood @ 9.417/2
Nacho Elvira @ 60.059/1
Layed
Francesco Molinari @ 3.3512/5 and 1.412/5 Top 5 Finish
*You can follow me on Twitter @SteveThePunter