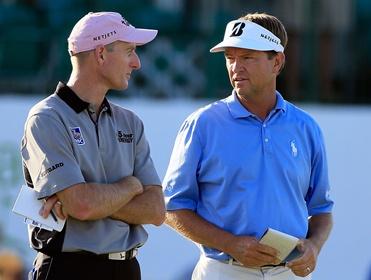 Jim Furyk and Davis Love III, can one of them convert?
Monster-priced pre-event shot, Davis Love, is tied with Jim Furyk at the top of the leaderboard but will their aging nerves hold up at the McGladrey Classic?
"Although I don't like Furyk in-contention, I'm not naive enough to think Love will necessarily fare any better. Nerves will play a big factor for Love too and if you're looking at the event for the first time, avoiding the front two in the market may be the way to go."
12:30 - October 21, 2012
Never the swiftest to see the bleeding obvious, it's just occurred to me that I'd be absolutely stupid not to back David Toms and Michael Thompson. Both were on the shortlist from the very start and both are now five off the lead and trading at triple-figure prices. I've taken [110.0] about Thompson and for some bizarre reason, someone just put up [170.0] about Toms. Thank you very much.

11:15 - October 21, 2012
The Perth International has just finished and I'm delighted that I didn't get involved in-running. Bo Van Pelt, often cruelly nicknamed Bo Van Melt in betting circles, got the better of his compatriot Jason Dufner by two shots, an outcome that I didn't fancy as the most likely.
Following the agonising recent defeat of Garth Mulroy at the Italian Open (backed at [240.0]) and last week's unexpected final round demise of Bernd Wiesberger (backed at [65.0]), I have another big-priced pre-event selection in with a chance this week, in the shape of Davis Love III, backed at [190.0].
With a round to go at the McGladrey Classic, Davis is tied for the lead alongside Jim Furyk on -13. Two shots back and tied for third are in-running picks, D.J Trahan and Arjun Atwal and alone in 5th is the promising Bud Cauley on -10. There's a bunch of five players tied for 6th on -9 and a pack of eight on -8. Logic would suggest it wouldn't be wise to consider anyone outside that top-18 but given Ben Crane won last year from five back, it's just about conceivable that someone from even further than five back could win.
I did a little bit of trading again last night, laying and then backing back Jim Furyk. I've highlighted a number of times how dodgy Furyk is in the mix this year and when he hit [2.0] after just six holes of round three I felt I had to lay him. Just two holes later he'd drifted back out to [2.6] so I backed him back again, thus reducing any potential losses on the event. I also layed some of my Love wager back at [4.1] at the close and I've also added last year's champ, Ben Crane at [46.0]. He's on -9 and four of the lead.
I'm set to break even should Furyk win, make a modest profit if Cauley or any of the other un-backed players win, a decent profit should any of my in-running picks win and I'll have a cracking week if Love prevails. And I still haven't given up on pre-event shots Rory Sabbatini, Chad Campbell and Brian Gay. But who will win?
It made sense for me to back-out of my Furyk lay and make sure I don't have a losing tournament but I wouldn't dream of backing him at just [2.6]. It's been well documented how poor he was at the Ryder Cup, Bridgestone Invitational and US Open but it's also worth remembering that he gave up a golden opportunity at the Transitions Championship in March too. Age is catching up with Furyk, who was never a prolific converter of chances anyway, and he's simply not a player to take a short price about now.
Although I don't like Furyk in-contention, I'm not naive enough to think Love will necessarily fare any better. The Sea Island resident knows the course like the back of his hand and that has to be a big advantage but having the added pressure of being the tournament host isn't going to help. Still suffering the aftershock of his unsuccessful Ryder Cup captaincy, victory in his home town in his very own tournament would be sweet compensation and a very big deal indeed. It's highly likely that nerves will play a big factor for Love too and if you're looking at the event for the first time, avoiding the front two in the market may be the way to go.
I know I'm already onboard from the start but if I were picking out a value play this morning it would have to Rory Sabbatini. He's a multiple winner, capable of shooting very low scores and he's most certainly not afraid to win. The putter hasn't behaved this week but he's hitting the ball superbly and he could just be the one. Anything over [40.0] looks more than fair.

10:50 - October 20, 2012
It looked as though the Perth International had developed into a three-way tussle between American duo Jason Dufner and Bo Van Pelt, and halfway leader Emiliano Grillo. The trio were tied on -11 with Van Pelt and Grillo, playing in the final two-ball, on the final green in two, but then Van Pelt holed an absolute monster to get to -12 and Grillo three-whacked to drop to -10. David Howell and Alejandro Canizares are three shots further back and tied for 4th on -7.
Young Argentine, Grillo, was matched at a low of just [2.2] when he raced to a five-shot lead at one staged today but now he's been caught by the big boys he looks in trouble. Paul Krishnamurty predicted that the course would sort the men out from the boys and he was spot-on. It would be no surprise to see his main pick, Dufner, claim the prize tomorrow now and with hindsight, I should have backed him yesterday. Although he trails his compatriot by one, I still fancy him to get the better of Van Pelt, whose in-contention record is poor, but I've missed the boat now and I'm happy to watch it sail away.
At the McGladrey Classic, with only moderate winds over the first two days, the scoring has been very good so far and halfway leader, Arjun Atwal, has already got it to double digits under-par. The Indian describes his plight as fraught. "I'm in a desperate situation, I got no choice- either win or finish in the top two. So I've just got to grind it out."
With just one PGA Tour win to his name, it would be easy to dismiss the 39 year-old Indian but I haven't. He's clearly well suited to the course, having finished 3rd here in 2010 and he's wriggled his way out of a tight spot before, on more than one occasion. He was in an equally tricky situation when he won on the European Tour in 2008 to earn a two year exemption and when he stormed to victory at the Wyndham Championship in 2010 he was in grave danger of losing his US playing privileges. I managed to get him modestly onside in-running last night at [40.0] and I can see him hanging around.
Tied for second on -9 and one stroke behind Atwal are another couple of veterans, current favourite, Jim Furyk, trading at just [4.3], and tournament host and pre-event pick, Davis Love III. Early pace-setter, Bud Cauley, and another two veterans, Australian Gavin Coles and un-backed pre-event fancy David Toms, are a further shot back on -8 and there are a group of six players on -7.
That group includes two more pre-event picks, Chad Campbell and Brian Gay, as well as in-running pick D.J Trahan, so I have plenty of players in-contention.
Also on -7 is Michael Thompson, who like Toms, was on the shortlist but was un-backed before the off. Twitter was awash with understandably aggrieved Thompson backers yesterday as the young American missed short putt after short putt before topping the day off with a four-putt double-bogey on the 17th. If he gets the putter working properly he could figure come Sunday evening and the same can be said of yet another of my pre-event selections, Rory Sabbatini...
The South African is a further shot back on -6 and probably has too much to do but I haven't given up on him just yet. His poor putting stats mirror Thompson's and he too has missed a plethora of short ones, including one from inside four feet yesterday!
I may be doing ok with a number of pre-event selections but I made a big mistake backing Zach Johnson so soon. He played out a miserable level par 70 yesterday and trails Atwal by five.
Whilst still tempted by both Toms and Thompson, I'm going to leave it alone for now and see what today brings. If one or two of mine have good third rounds I could be entering the final round in a really good position. I'm well aware how this game works by now though and I could just as easily end the evening stomping off to bed in a right ole strop.

14:45 - October 19, 2012
The morning starters are stuttering somewhat at the McGladrey Classic so I've decided to take the plunge with Zach Johnson already. And I've also just backed D.J Trahan at [65.0] - he's two under-par for the day through just four holes and is just one off the lead.

12:05 - October 19, 2012
The second round of the Perth International has just drawn to a close Down Under and the cream is slowly rising to the top. Charl Schwartzel has been appalling and he's missed the cut and I've had a close shave there, as I'd have backed him had he been slightly bigger before the off, but the other two pre-event favourites are bang there.
After rounds of 66 and 67, the surprise four-shot leader is 20 year-old Argentine, Emiliano Grillo, but Bo Van Pelt and Jason Dufner are certainly lurking. Van Pelt is alongside Australian, Jason Scrivener, in second on -7, and Dufner is in the pack of players a further stroke back tied for 4th.
Logic suggests that either Van Pelt or Dufner will overhaul the youngster but with my two pre-event picks out of contention I've decided to leave the event alone and move on.
I knew next to nothing about Grillo before the tournament started but having researched him this morning, he's made sacrifices and worked very hard to have gotten this far and he may well have a big future ahead of him. This short video, made at the Sicily Open earlier in the year, is quite informative if you want to know a bit more yourself.
I can't see the winner coming from outside the front three in the betting and if Grillo were to shoot anything under-par tomorrow he could have a healthy lead on Sunday but that's a big if. If I were forced to make a play at this stage it would be on Dufner but backing anyone at less than [5.0] when they're five off the lead with two rounds to go isn't my idea of fun. I'd like to see the youngster kick on so I'll be watching tomorrow and cheering him on but for betting purposes, at this stage, the event's a done deal.
Away from the leaders, Paul Casey's sad demise was the story of day two. At one point he got to -3 for his round and -8 for the tournament but he came home in an ambulance after that and he still has much to do to get back to his best.
At the McGladrey Classic, with no wind to speak of, scoring was very good on day one. All of my picks shot under-par rounds but only two, and possibly three, have any sort of chance. After opening 65's, Davis Love III and Brian Gay, are three off the lead and Chad Campbell 's 66 sees him four back.
Promising youngster, Bud Cauley, and veteran, Marco Dawson, who's desperately trying to secure his card for next season, have set the early pace with matching eight under-par 62's but they'll have to keep the pedal down when they return to the fray today. With benign weather again forecast, low scores are going to be prevalent for a second time.
I'll obviously be hoping my three fast starters can improve on their already good positions today but I'm certainly not getting excited. The first two winners of this event shot 66 on day one and were positioned in the top-seven, so a fast start looks essential and those alongside Campbell on -4 may already be too far back!
There are 14 players on -5 or better this year, an indication of how easy the conditions are, and if the only two results we have to analyse are anything to go by, it may already concern this front group. A lot will depend on how young Bud responds when he tees it up in round two at 13.15pm UK time. If he continues the hot streak the whole field could be in trouble but if he doesn't, I have my beady eyes on Zach Johnson...
This is Zach's third appearance at the McGladrey but it's the first time he's broken 70 on day one. Like many in the field this week, he lives in Sea Island and this course is made for him. He shot a five under-par 65 yesterday playing in the morning alongside my man Davis Love and that was a very fair effort. Unusually, the better scores were made in the afternoon yesterday and that could be the case again today with the wind forecast to drop.
Zach's a fair enough price now at [8.0] but should the likes of Cauley play well in the morning that price can't shorten, so my plan is to hold off until later. Zach tees off at 17.35pm UK time and with coverage starting at 19.00pm, I should get to see plenty of his play and find a chance to back him, should I choose to do so, at a reasonable price.
I'll also be keeping tabs on David Toms and Michael Thompson. Both were fancied before the off but were un-backed. They're also on -5 after day one.
Perth International Pre-Event Selections:
Brett Rumford @ [30.0]
Terry Pilkadaris @ [130.0]

McGladrey Classic Selections:
Chez Reavie @ [140.0]
Garth Mulroy @ [140.0]
Chad Campbell @ [160.0]
Brian Gay @ [170.0]
Rory Sabbatini @ [180.0]
Mark Wilson @ [180.0]
Davis Love @ [190.0]
Ted Potter Jr @ an average of [270.0]
In-Play Bets
Zach Johnson @ [7.4]
D.J Trahan @ [65.0]
Arjun atwal @ [40.0]
Ben Crane @ [46.0]
Jim Furyk layed @ [2.0] and backed at [2.6]
Davis Love layed @ [4.1]
Michael Thompson @ [110.0]
David Toms @ [170.0]